At A Glance: Our Top 5 Picks for Iconic John Steinbeck Books:
One of the most influential writers of the 20th century, John Steinbeck, did a tremendous job in his books portraying and embodying the working class of California, USA.
The award-winning author has a library full of exceptional works that are described by most as remarkable. But if you're unfamiliar with this literary sensation, where do you begin?
Well, that's where I come in! Today, I'm presenting you with a list of the 6 most iconic John Steinbeck books of all time. Read on to find out more about Steinbeck and his incredible books.
Top 6 John Steinbeck Books That You Should Read
Although John Steinbeck is best known for a handful of iconic books, he has a large library of books that shaped the history of American literature in the 20th century.
Here's my recommendation list of Steinbeck's best works and books that you should definitely read!
IMAGE
PRODUCT
FEATURES
PRICE
Of Mice and Men (1937)
• Formats: Kindle, Audiobook, Hardcover, Paperback & Mass Market Paperback
• Paperback: 112 pages
The Grapes of Wrath (1939)
• Formats: Kindle, Audiobook, Hardcover, Paperback & MP3 CD
• Paperback: 464 pages
East of Eden (1952)

• Formats: Kindle, Audiobook, Hardcover & Paperback
• Print Length: 620 pages
Tortilla Flat (1935)

• Formats: Kindle, Audiobook, Library Binding, Paperback & Mass Market Paperback
• Mass Market Paperback: 224 pages
To a God Unknown (1933)
• Formats: Kindle, Audiobook, Hardcover, Paperback & Mass Market Paperback
• Paperback: 240 pages
Cannery Row (1945)

• Formats: -
• Paperback: -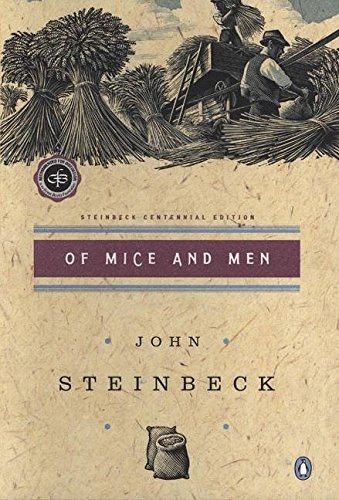 Kicking off the list with one of Steinbeck's most popular books of all time. The book is one of the most popular books in the "social criticism" genre.
The novel tells the story of two struggling ranch workers, George Milton, and Lennie Small, who went on a journey traveling from one place to the other in the region of California looking for new jobs.
The book displays the hardships that a migrant worker would go through while finding an opportunity for work during the Great Depression Period in the United States.
Similar to multiple books that Steinbeck wrote, this one is heavily influenced by his own experiences as a migrant farmworker in the early 1900s, where his family left Oklahoma following a similar path.
The American Library Association considers "Of Mice and Men" as one of the most heavily banned and challenged books of the last century, due to vulgarity and strong language.
However, according to the BBC, the book is also taught to children in English Schools with revised versions.
The short tale has a lot of power and beauty to offer, and the book is considered by many as the greatest piece of work by the award-winning author, so it's definitely worth a read!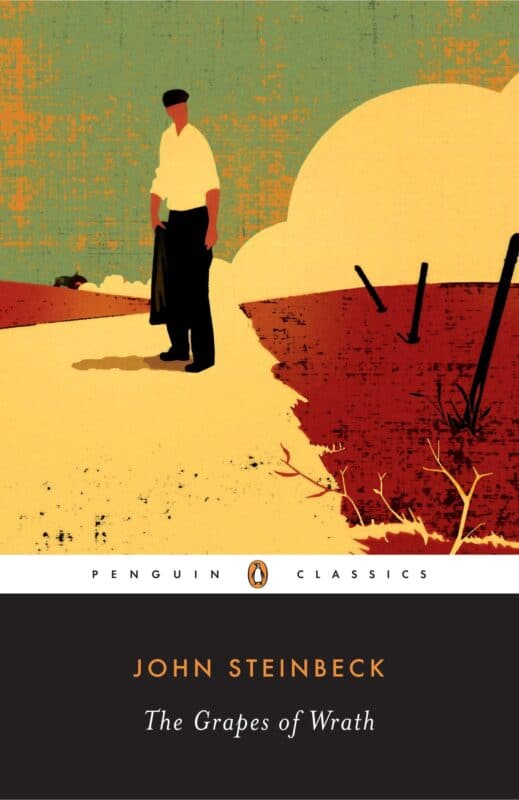 The Grapes of Wrath is another masterpiece by the American Novelist that you must've heard about at least once before.
The book is read in literature classes in American colleges and high schools because of its iconic status. Throughout its first 75 years of publishing The Grapes of Wrath novel sold 14 million copies!
Moreover, there are multiple movie adaptations for the story, with the 1940's 'The Grapes of Wrath' movie, starring Henry Fonda and John Ford.
The book won multiple awards, most notably the National Book Award. It's also the reason why Steinbeck earned his Pulitzer Prize for Fiction.
Not only that, but it was also one of the pillar novels that the Nobel Prize Academy based their award in Literature on when they awarded it to him back in 1962.
In my opinion, along with "East of Eden", this one is also had the closest moments where Steinbeck "poured his heart out" while writing.
The strong similarities between the Joads family in the novel and Steinbeck's real background are staggering.
Similar to Steinbeck's family, the Joads were also a low-income family that was originally from Oklahoma. The economic hardships struck them following a drought and various changes during the Great Depression and the Dust Bowl era.
The problem keeps piling up on the tenant farmer's family, forcing them out of work. In the hope of a better life and job opportunities, the family moves to California along with other families.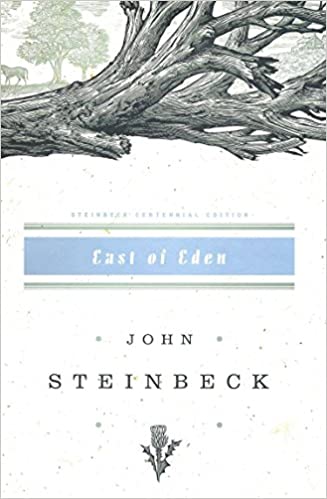 The East of Eden is one of Steinbeck's most ambitious novels since the huge success of "The Grapes of Wrath and "Of Mice and Men" in the late 1930s.
Steinbeck originally meant to address his two young sons, Thomas and John. He wanted to capture the life in Salinas Valley for them.
A lot of critics believe that the "East of Eden" is Steinbeck's best book, as he somewhat reached the peak of his literature maturity while writing this book. In fact, they might not be mistaken, as Steinbeck's wife said that he considered this book the "most personal" book to him.
It's a rather large novel that's about 250,000 words long. Similar to the previous two entries on the list, this one is also based on Steinback's family.
However, this novel, unlike the previous two, has a strong moral theme. It displays the fight between good, evil, and the endurance of the human soul. It's a story about freedom of choice and forgiveness.
This time, the Hamilton family in the novel is said to be based on Samuel Hamilton, which is Steinbeck's maternal grandfather. In fact, even a young John Steinbeck himself appears in the novel but as a minor character.
The book tells the story of two families, the Trasks, the Hamilton's, and the intricate details between the two families.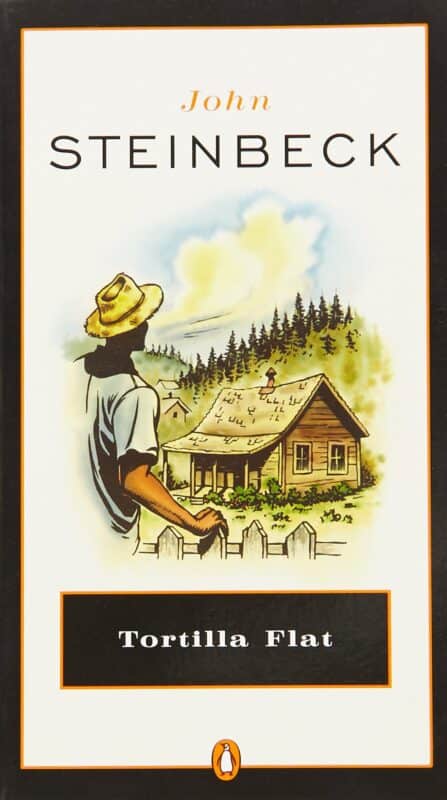 Tortilla Flat is one of the earliest books by John Steinbeck. In fact, it is considered by many as his first successes on a critical and commercial level.
The book beautifully presents Danny and his small band of Hispanic friends, and their abilities to get by.
The book gives you a more in-depth insight into the conditions of true poverty that this group of friends had to live in after the end of World War I.
The name "Tortilla Flat" is the name of the tumbledown section in Steinbeck's town of Monterey, California. The area where mixed-race "Paisanos" of Spanish and Indian Mexican people lived.
The book tells the tale of this wine-drinking and daylight-loving, anti-social youth friends who will only work when necessity demands and often break the law.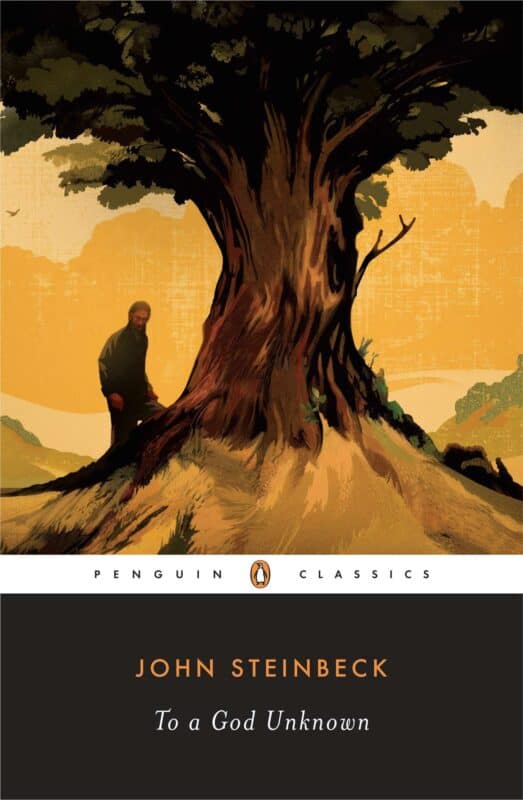 "To a God Unknown" is one of the most underrated books by John Steinbeck. Perhaps this is because it came out before his booming success following Tortilla Flat.
Steinbeck considered this book difficult to write and it took him 5 years to finish and publish the book.
To give you a better perspective, this is more time than he needed to finish his largest novel "East of Eden". In this epic, Steinbeck portrays the roots of the relationship between a man and his land.
The plot follows Joseph Wayne and his three brothers, who move to California to establish and work on a ranch as their father dies.
Despite their prosperity and success, the drought strikes their land to take away everything they've grown.
This leaves the four brothers in poverty, which shake their faith in god. The mythical tale explores attempts to control the forces of nature to bring back their life to their land.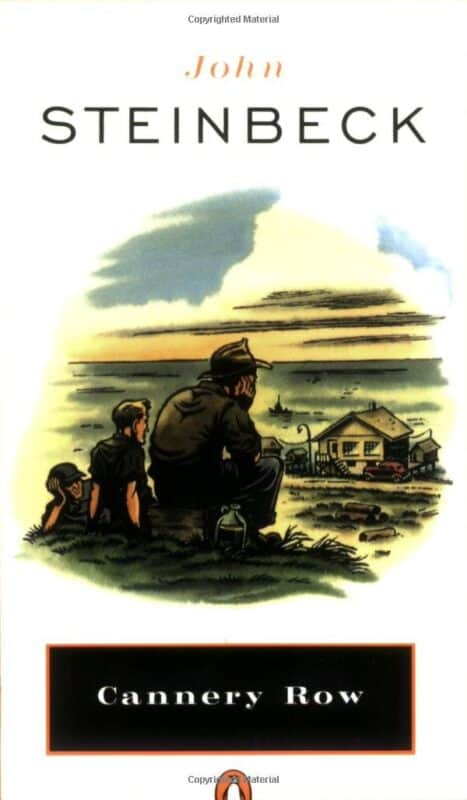 Last but not least, Cannery Row is a novel that is also set in Monterey, California about a street lined with sardine canneries, hence the name. Steinbeck had his influence on the Cannery Row street from the actual "Ocean View Avenue".
In fact, the street was later renamed to "Cannery Row" in honor of the iconic novel by John Steinbeck.
The plot revolves around the people living and working in that street, including a local grocer named "Lee Chong", a marine biologist simply named "Doc", and an outcast leader named "Mack".
In addition to the compelling story, you can also notice how Steinbeck's language developed over the years through this book.
The story is well represented by rich characters mixed with light humor, although I'd have loved it if there was a deeper backstory of the unnamed "Doctor".
If you're interested in California history during the Steinbeck period, this book is a solid must-read!
Who Is John Steinbeck?
I've always had a thing for knowing more about the author of the book I'm reading, especially if they're among the greatest writers of their era. This criterion fits John Steinbeck Perfectly, as he has been dubbed as "a giant of American letters".
John Ernst Steinbeck Jr. is an American author and novelist who wrote multiple books that depict the social and economic issues of his times in the United States.
He was born on the 27th of February 1902 in Salinas, California. He was born to a working-class family with a father who tried several jobs in order to keep the family fed.
In addition to novels, Steinbeck wrote a series of short stories, with most of them set in his hometown in central California, the Salinas Valley, and the Coast Ranges regions. Most of these stories were about the difficulties of life as a migrant worker.
Due to the harsh living conditions, Steinbeck had to drop out of college and work as a manual laborer for some time before becoming a successful writer.
As you might've expected, John Steinbeck's rough beginnings had a huge influence on his writings.
The realism of portraying social and economic problems at these times also earned him multiple awards.
In addition to writing, Steinbeck served as a war correspondent for the New York Herald Tribune newspaper during World War II.
On December 20, 1968, John Steinbeck died in New York City at the age of 66 due to heart diseases.
What Awards Did John Steinbeck Win?
John Steinbeck won multiple awards for his works. The most notable ones of these awards are Pulitzer Prize for Fiction in 1940 and Nobel Prize in Literature in 1962.
The Pulitzer Prize was awarded to him for his novel "The Grapes of Wrath", in which the Joad family faces hard times on their move from Oklahoma to California searching for a better life, only to find more difficulties and tragedy along their journey.
Steinbeck won the Nobel Prize in Literature for his body of works that "combines both realism and imaginative writing to produce sympathetic humor and keen social and personal perception".
However, there was a huge controversy and heavy criticism from Swedish newspapers to the Academy's choice.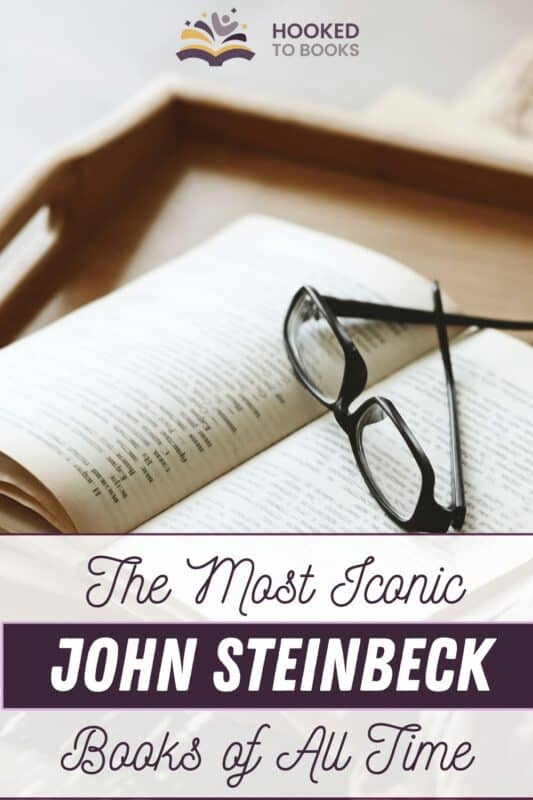 What Is the Complete List of John Steinbeck's Works?
Throughout his writing career, John Steinbeck managed to write 33 books, 16 of which are novels. Additionally, he had two collections of short stories, comic novels, and non-fiction books.
If you're an avid fan who's interested in his books, here's the complete list of all the pieces of work that John Steinbeck had to offer:
Novels
● "Cup of Gold: A Life of Sir Henry Morgan" – 1929
● "To a God Unknown" – 1933
●    Tortilla Flat – 1935
●    In Dubious Battle – 1936
●    The Grapes of Wrath – 1939
●    The Moon Is Down – 1942
●    Cannery Row – 1945
●    The Wayward Bus – 1947
●    East of Eden – 1952
●    Sweet Thursday – 1954
●    The Short Reign of Pippin IV: A Fabrication – 1957
●    The Winter of Our Discontent – 1961
Novellas
●    The Red Pony – 1933
●    Of Mice and Men – 1937
●    The Pearl – 1947
●    Burning Bright – 1950
Short Stories
●    The Pastures of Heaven – 1932
●    The Long Valley – 1938
Non-fiction Books
●    Their Blood is Strong – 1938
●    Sea of Cortez: A Leisurely Journal of Travel and Research – 1941
●    Bombs Away: The Story of a Bomber Team – 1942
●    A Russian Journal – 1948
●    The Log from the Sea of Cortez – 1951
●    Once There Was A War – 1958
●    Travels with Charley: In Search of America – 1962
●    America and Americans and Selected Nonfiction – 1966
What Movies Are Based on John Steinbeck Books?
Some of the classics by John Steinbeck's books have been made into movies. The first movie was about "Of Mice and Men" in 1940.
While there are almost movies for every novel by John Steinbeck, some movies are worth watching. This includes:
● "The Forgotten Village" – 1941 (Documentary film)
● "Cannery Row", starring Nick Nolte and Debra Winger in 1945
● "Viva Zapata!", starring Marlon Brando in 1975 
● "In Dubious Battle", starring James Franco and Selena Gomez in 2013
Keep in mind that John Steinbeck didn't base both "The Forgotten Village" and "Viva Zapata!" films on novels.
Wrap Up
There's no doubt that John Steinbeck is among the greatest authors of our time, and this list of his most iconic books serves as proof of his literary excellence.
If you're not entirely sure where to begin your John Steinbeck books reading journey, a wonderful place to start is "Of Mice and Men"
It's easily the book that engraved his legendary status along with The Grapes of Wrath and East of Eden.