eBooks have revolutionized reading for many bookworms. Thanks to the wonders of modern technology, we're no longer limited by the space on our bookshelves; we can collect as many books as we please and fit them all in our pocket; hurrah!
But for the less tech-savvy bibliophiles out there, downloading eBooks can be a bit daunting at first, especially if you don't know which format to choose. I was in that position myself when I first got into digital reading, and I'm not ashamed to say that all those file types were a mystery to me! But after a little research and some guidance from my fellow eBook-obsessed friends, eBook formats are no longer the minefield they once were. I've found the perfect file types for my e-reader, and in this article, I'm going to help you do the same.
Don't worry; you don't need to be remotely techy to navigate your way through the different eBook formats. I'll break it down in simple terms so you can pick the right one for you, each and every time.
5 Types of eBooks Format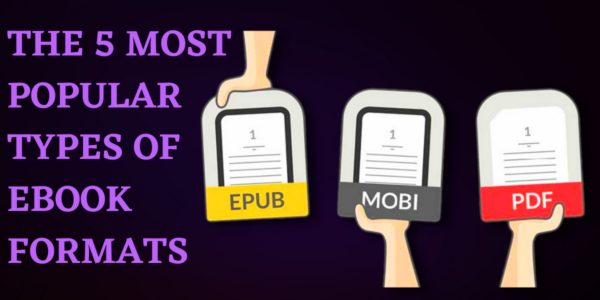 There's a pretty long list of eBook formats, but you're unlikely to use the majority of them. There are only five widely used ones that you need to know about; EPUB, MOBI, AZW, PDF, and TXT.
1. EPUB (.epub)
EPUB (short for electronic publication) is the most commonly used eBook format out there. It's supported by pretty much every type of e-reader, with the notable exception of the big daddy of all digital reading; Amazon Kindle. You can also read EPUB eBooks on a wide variety of other devices, like a laptop, smartphone, or tablet.
Most EPUB files are 'reflowable,' meaning the text and images will automatically arrange themselves to fit your device's screen. But some EPUB files are 'fixed layout,' which means the text, images, and layout design all stay the same, no matter what device you open them in. This type of EPUB file is more commonly found with interactive eBooks that feature things like animations or read-aloud technology. They're relatively uncommon outside of the children's book world, and most regular readers are unlikely to encounter fixed layout EPUB files.
How to read EPUB files on your Kindle device?
Kindle devices are one of the most popular types of e-Readers, so why on earth can't they support the most popular file format out there? Unfortunately, I can't answer that question, but I can provide a simple solution to the problem. Thankfully, you can easily convert EPUB files into Kindle-friendly files. Skip ahead to How to Covert an eBook to a Different Format to find out more.
2. MOBI (.mobi)
MOBI files, short for Mobipocket eBook files, were the original file type of choice used by Amazon Kindle. In recent years, Kindle has dropped MOBI files in favor of the AZW format, but they are still supported. You're most likely to come across them in the Kindle library, especially when searching for older eBooks.
This type of file format doesn't support animation, sound, or video, but its simplicity makes them ideal for devices with low bandwidth.
There are two main differences between MOBI files and the much more popular EPUB file format. Firstly, unlike EPUB, MOBI files are compatible with Kindle devices. Secondly, EPUB files tend to be protected by Digital Rights Management (DRM), and MOBI files are not. For more information about DRM, skip to the section below.
Aside from DRM considerations, then it doesn't really matter which file type you choose; as long as your device is compatible, MOBI or EPUB will work in more or less the same way.
MOBI files work on most e-readers and other devices, with the exception of Sony and Nook e-readers. The MOBI eBook format also appears with the extension .prc.
3. AZW (.azw) and AZW3 (.azw3)
After Kindle discontinued the MOBI format in 2011, they replaced it with AZW files (also known as Kindle Format 8).
Exclusive to Kindle, these file types use the MOBI format, but unlike MOBI, they feature DRM protection. AZW and AZW3 files also allow for advanced features such as bookmarks, last known page, annotations, and highlights.
The AZW format is only available from the Kindle library, but you can still open and read it once you've downloaded it, even if you don't have a Kindle device. There are several ways to do this, including converting the file into a new format (more information on this below), but the easiest way is to use the free Kindle Cloud Reader, which you can access from any device using your web browser.
AZW eBook formats also appear with the extension .kf8; .kfx
4. TXT (.txt)
TXT files, also known as Plain Text files, are the most straightforward and simplistic eBook format there is. They are used exclusively for alphabetic letters and numbers, so eBooks that contain images or interactive media are not supported by this file type.
Because of this, the TXT file format is more suited to documents like research papers or text-heavy eBooks like encyclopedias without pictures. Thanks to their simplicity, you can read TXT files on pretty much any device, including a Kindle.
TXT files are the original and oldest eBook format out there. They existed even before the birth of eBooks, and over the years, countless publications have been converted into TXT format and distributed online for free by the likes of Project Gutenberg and similar organizations.
5. PDF (.pdf)
The PDF (Portable Document Format) file format is used for general word processing and document sharing, but it's a super popular file format for eBooks too.
Originally released by Adobe Systems in 1993, traditional PDF files feature a fixed layout. This means that, unlike reflowable file types, the text, images, and design remain the same regardless of the device you open it in. For this reason, some PDF eBook files can be difficult to read on devices with smaller screens, but e-readers, tablets, and laptops all work fine.
PDF eBooks aren't sold by the likes of the Kindle store or the iBookstore, and they don't feature DRM protection. That being said, they can be read on pretty much any device, and since PDFs aren't attached to any particular platform, they're a popular file format for widely distributed free eBooks and out-of-copyright books.
What is DRM?
DRM (Digital Rights Management) is a common feature of many eBook files. Designed to combat piracy, files with DRM are locked to a particular platform and protected from illegal sharing and actions like copy & paste and printing.
This form of copyright protection is great for many authors, but it can be a hassle if you like to read eBooks on several devices. If you'd prefer to export your file to other platforms, avoid downloading from big eBook stores like Kindle and Apple Books, and use DRM free sites instead, such as Lulu, Smashwords, and OpenBooks.
How to Choose the Right eBook Format for You?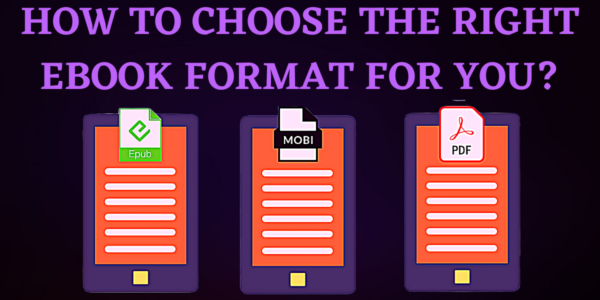 Now you know about the five most popular types of eBook formats, here's a handy compatibility guide to help you choose the right one for your device.
Kindle and Kindle Fire
Kindle users should look out for MOBI, AWZ, and PDF files. Remember that MOBI files also appear with the extension .prc, and AWZ formats sometimes have the extension .kf8; .kfx.
As I mentioned above, Nook and Sony e-Readers don't support the MOBI file format. If you have one of these devices, look for EPUB files, PDF files, or TXT files.
All Other Tablets, e-Readers, and Smartphones
Most other devices, such as e-readers, tablets, iPads, and smartphones, are compatible with PDF and TXT files, as well as the most popular eBook format EPUB.
If you have a relatively good download speed, then for non-Kindle users, EPUB should be your go-to format. That's because it's the most versatile and compatible file type around, and most are easy to read and look good on small and large screens alike.
If you're looking to read an exact replica of an original printed book, then PDF files are your best bet. Just remember that PDFs are best viewed on a larger screen, such as a tablet or laptop, rather than a smartphone.
How to Convert an eBook to a Different Format?
From the five major eBook formats I discussed above, there is something to suit every type of device. That being said, there might still be occasions where you need to convert an eBook from one format into another.
It is converting file formats used to be a long and complicated job involving in-depth knowledge of HTML and CSS. But thankfully, these days, there are online converters and free-to-use software that can do the job for you.
The most popular format conversion tool out there is calibre-ebook.com, a free, open-source eBook library management app that's compatible with pretty much any device you can imagine.
It allows you to transfer your e-books from one device to another in seconds, and it even calculates the best file format for your needs. Calibre can convert pretty much any eBook file format, not just the five most popular ones we've discussed here. Most of the time, it works without a hitch, but occasionally there are issues in formatting, particularly when it comes to working with PDF files.
Conclusion
I hope this guide has helped to demystify the different types of eBook formats so you can choose the right one for you and your device.
If e-books are your thing, then check out Hooked to Books' extended range of handy guides and informative articles on the subject. We've covered all kinds of eBook-related topics, such as How to Write an eBook, How to Self-Publish an eBook, The Best eBook Reader Apps, and much more.