Airwoman Description
Author: Zara Quentin
Pub. Date: October 25, 2016
Publisher: Zara Quentin
Pages: 316
Formats: Hardcover, eBook
Find it: Amazon, Amazon UK, Amazon Australia , Kobo, Smashowrds, B&N, iBooks, TBD, Goodreads
A father murdered by magic. A daughter's cosmic quest for clues could make her the next victim…
Jade Gariq dreams of a new calling. While she wishes she could join the elite force that protects her home world from interdimensional threats, she's stuck working for the family business. But everything changes when her father is found dead with traces of magic on him… magic that should only belong to the mythical Dragon-Gods…
To uncover the mystery behind her father's murder, Jade must follow the clues to an uncharted world. Beyond the portal, treacherous jungles, surprising betrayals, and a killer bent on tying up loose ends stand in her way of the truth. It'll take every ounce of Jade's cunning to solve her father's death, but can she avoid his fate?
Airwoman is a high-flying YA fantasy novel set in a stunning new Dragonverse. If you like fascinating worlds, memorable characters, and a dash of romance, then you'll love Zara Quentin's action-packed adventure.
Airwoman Excerpt
Jade Gariq is looking for her friend and secret crush, Axel, who has disappeared without a word…
She ran her eyes over the rest of the information held for his departure and saw the last entry, his intended destination. The room spun.
"What's going on in here?" Leuven stood in the doorway. "Airwoman Gariq? What in the Dragonverse are you doing here? You don't have permission to leave Force HQ."
Jade reeled from what she'd seen in the Portal Record. "No, sir," she whispered.
"Then what are you doing here? Answer me."
Jade opened her mouth and shut it again.
"Well?"
"She came to give me a message," Kyssa cut in.
Leuven turned his hard stare on Kyssa. "Flying Officer…?"
Kyssa cleared her throat. "Harris, sir."
"Well, Flying Officer Harris, could this message not wait until the end of your shift?"
"It was from my mother, sir. She is unwell."
Leuven paused, staring from Kyssa to Jade and back again. "That is no excuse, Harris, as you well know," Leuven turned his attention back to Jade. "How exactly did you come to have a message for Flying Officer Harris when you have been confined to training for the last week?" Leuven pressed his mouth into a line. "You were absent this afternoon when you should have been with your unit. Now you are here when you're supposed to be at Force HQ. It seems you have trouble following orders, Gariq. Perhaps you think they don't apply to you? Perhaps coming from one of Taraqa's most prestigious families has led you to believe you are above my training regimen?"
Jade started to shake her head, but Leuven wouldn't let her speak.
"I don't want to hear excuses, Gariq. Let me tell you something, and you'd better listen up because you won't make anything of yourself until you learn this. Forget who you were. That was nothing. That person is gone. Now you're a Traveller. Now you're one of us. In the Traveller Force, you don't get by on who you know or who your daddy was. You get by on who you are and what you can do. Got it?"
Jade swallowed, frozen in place. Leuven seemed to take that as a yes.
"Get back to Force HQ."
Jade flushed.
In her mind, she could still see Axel's scrawled entry into the Portal Register, as though it was permanently imprinted on her brain. Her chest constricted as she remembered his intended destination.
It was Premye.
Buy Airwoman today to let your imagination take flight!
For a free preview of Airwoman, find it at: http://www.zaraquentin.com/
About Author Zara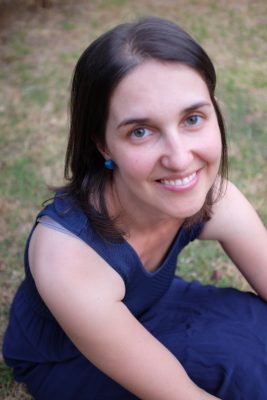 Zara Quentin is the author of Airwoman, the first book in the Airwoman series. She was raised in Adelaide, Australia, with one younger sister. Zara grew up with a strong sense of adventure, which she inherited from her parents, who took her and her sister on trips to the United States, Europe, and Asia.
She also inherited a love of reading from her mother. Throughout her childhood she explored fictional places through books, and in particular, through fantasy novels. She'd turn the black and white text on the page into the colourful worlds of her imagination.
After graduating from high school, Zara studied at the University of Adelaide and has lived in France, London, and Auckland, New Zealand. She is always determined to fit in as much travel as possible, spending time in Europe, the United States, southern Africa, Morocco, Peru, the Pacific and south-east Asia.
Zara now resides in Melbourne, Australia with her husband and three children. She is currently working on the next instalment in the Airwoman series.
Find Zara:
Website | Twitter | Facebook | Instagram | Goodreads | Amazon
Giveaway Details:
Tour Schedule:
Week One:
10/30/2017- Mythical Books– Interview
10/30/2017- Blushing Bibliophile– Review
10/31/2017- Rabid Readers Book Blog– Excerpt
10/31/2017- To Be Read– Review
11/1/2017- BookHounds YA– Guest Post
11/1/2017- jrsbookreviews- Review
11/2/2017- Maddie.TV– Interview
11/2/2017- My Creatively Random Life– Review
11/3/2017- Books,Dreams,Life- Excerpt
Week Two:
11/6/2017- The Hermit Librarian– Guest Post
11/6/2017- J Heart Loves Books– Review
11/7/2017- YA and Wine– Interview
11/7/2017- Lori's Little House of Reviews– Review
11/8/2017- Hooked To Books– Excerpt
11/8/2017- Two Chicks on Books– Interview
11/9/2017- Spilling Words– Excerpt
11/10/2017- Daily Waffle– Interview
11/10/2017- Perspective of a Writer– Review