Genre: Professionals & Academics
Author: Walter Isaacson
Title: Steve Jobs (Buy the Book)
Summary
"Being the richest man in the cemetery doesn't matter to me… going to bed at night saying that we've done something wonderful… that's what matters to me". -Steve Jobs
Steve Jobs was a man defined by integration. His personality, experiences, idiosyncrasies, and passion were poured into each of the companies that he built. The products that he created were an extension of himself, and he grew increasingly protective and attached to them, maybe even more than to his own family. He was a man known for his intensity and desire for complete control in his quest for perfection.
He once stated, "we do these things not because we are control freaks. We do them because we want to make great products, because we care about the user, and because we like to take responsibility for the entire experience rather than turn out the crap that other people make."
Although he had a love for Zen Buddhism and claimed it gave him his focus and love of simplicity, he never truly found his inner serenity. He was known to be impatient, rude and quick to anger at times. Jobs was brutally honest and felt that it was "his duty to say when something sucks rather than sugarcoat it." He was a contrarian throughout his life and believed that if the majority were always right then, everyone would be rich.
There was a focus instilled in him that nothing, not even cancer, could disrupt. His ideas became visions; his visions became products, and his products later became the start of new ideas. Seeds of visions were planted by Jobs' hard work and success; and still today, his "seeds" are creating new "insanely great" products.
He felt that doing something wonderful was not measured by what others regard as worthy, but rather by doing something that you love and pouring your whole heart into it. Steve Jobs left more than one dent in the universe.
Steve Jobs began his career in the mid-1970s after leaving Reed College, without graduating, and taking a position with Atari as a programmer. At the same time, his high school friend, Steve Wozniak, invented a machine they both used to make free long distance phone calls called "Blue Box," soon to be followed by another Wozniak invention named Apple 1 (while working for HP).
In 1980 they took Apple public as the most oversubscribed IPO since the Ford offering in 1956. The age of personal computing had begun. The rest is (truly) history.
Jobs' next twenty years were filled with both great success and periodic failure. He continually struggled with many in his personal life while constantly moving towards greater technological and commercial success. In the mid-1980s, he helped to create the Macintosh, which tightly aligned hardware and software for the first time yet was a commercial failure.
This period disrupted Jobs' relationships within Apple, and he assigned himself to one of the firm's least profitable divisions (higher education) and later resigned to begin NeXT, taking a team from Apple with him.
This too was not a commercial success but did produce a valuable new operating system that would later accrue to Apple's benefit when NeXT was purchased by Apple for $400 million.
During this period, Jobs also began to work with Lucas Films which he soon purchased and renamed Pixar. At Pixar animation studios, Jobs became fascinated by the intersection of creativity and technology and became obsessed with animated short films. It was at Pixar that Jobs realized it would be vitally important for people to come to engage with technology in much the same way children play with their toys.
He also came to believe "that products have an essence to them, a purpose for which they are made." In the mid-1990s, Pixar animation studios went public for $1.2 billion.
After the purchase of NeXT, Jobs soon returned to Apple but not as the chief executive until 1997. When he reassumed the leadership of Apple, Jobs was not pleased with what the company had become and set out to revitalize it. A new culture was implemented using the slogan "Think Differently," and Apple employees were challenged to return to their creative roots. Specifically, they were asked to focus again on making "insanely great products" that were tangible and to simply believe that "the money would follow." They did, and it did.
Apple focused increasingly on going beyond complexity and moving towards simplicity. In this new era at Apple, Jobs began with the iMac, an approachable all-in-one desktop computer. Jobs also began to take more control of the end-to-end Apple process by forming Apple stores, against the will of his Board of Directors. The stores were an immediate and huge success. The stores were designed to think primarily about why the customers were there, rather than simply about the products themselves.
By this point, the evolution of traditional personal computing was cresting, and Jobs was among the first to recognize and to act upon that change. In 2001 Apple introduced iTunes, which became central to the music industry, and iPods which launched Apple into mobility oriented technology.
Jobs also realized the central emerging threat to Apple's success was the proliferation of the mobile cell phone. Soon thereafter Apple elected to move decisively into that arena with the introduction of the iPhone, choosing to cannibalize many of their own products.
Finally, Apple introduced the iPad. Both of these products now dominate their respective product categories. What had started thirty years earlier as the Blue Box to make free long distance phone calls, designed by a couple of enterprising teenagers, had matured into a series of powerhouse products that in many ways ruled the world. Apple was also becoming the largest company on the planet.
However, no amount of special ability, financial success, or fame is sufficient to overcome the final facts of life. In the end, we are all just men; and regardless of our giftedness or our net worth, we are ultimately both flawed and finite.
Like every man Jobs was also highly flawed, perhaps in ways that were symmetric to his personal strengths. While his relationships with things was extraordinary, his ability to forge loving relationships with those around him was nearly none existent. His wife remarked, "like many great men whose gifts are extraordinary, he's not extraordinary in every realm."
His life was also cut short by complications with his immune system, probably caused by his obsession with work, by his refusal to listen to others, and then ultimately by the ravages of pancreatic cancer. By the age of 56, Steve Jobs was dead.
Steve Jobs has a legacy as a modern-day industrial, and technological pioneer whose life work has radically changed the lives of perhaps billions of people along with the way business and politics are conducted around the world. Whether his contributions are ultimately for the betterment of mankind is perhaps in the eye of the beholder, and only history can be the final judge.
In the end, he did not wait for consumers to tell him what they wanted. He ran ahead and defined that for them, by the millions. Then he supplied the desire that he had created and then turned that desire into a need.
Today, April 2012, Apple is the fourth company in history to grow to 4% of the S&P 500. The chart below adds them to the other three. The realization may be sobering, but it is history, nonetheless.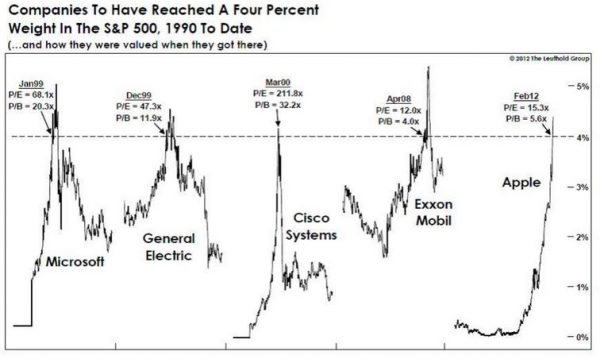 The Start of Something Great
Steve Jobs was born on February 24, 1955, to two unwed University of Wisconsin graduate students, Joanne Schieble and Abdulfattah Jandali. However, because of family disapproval, the unnamed baby boy was given up for adoption.
His biological parents married soon after giving him up and had another child, whom Steve would meet later in life. Steve was adopted by Paul Jobs, a mechanically inclined high school dropout, and his wife Clara who was then working as a bookkeeper. They lived in Mountain View, California in the heart of Silicon Valley.
Steve Jobs knew from an early age that he was adopted, and although he never claimed to feel abandoned, his family and friends believed that this was not the case. These unproclaimed feelings of abandonment greatly contributed to the development of his distant personality.
He grew up working on cars and machines, but most notably the electronics within them.
He quickly took a liking to how electronics worked and always had an overwhelming curiosity with everything that he observed since his early childhood. This curiosity would be a key character trait throughout his life.
In the classroom, there was a struggle between Jobs and his teachers because he was obviously an intellectual child, and he was well aware of that fact. At the end of his elementary school years, Jobs demanded that his parents move to a better school district after he scored at a high school sophomore level in standardized testing.
In high school, he took an electronics class where he met his life-long friend and business partner, Steve Wozniak. They took an interest in electronics together, and it was not long before they were starting business ventures such as "The Blue Box" which enabled anyone to place a long-distance call for free.
Naturally, being high school students, one of their first tests of Blue Box was to prank call the Vatican. While "Woz" just wanted to use it for humor's sake, Jobs saw an opportunity to market Woz's invention and convinced him to do so. The Blue Box business did not last long, but it "paved the way for many more adventures together" Jobs recalled. He states that without the Blue Box there would not be an Apple.
After high school, Jobs' parents forced him to apply to college. He only applied to Reed College, a small, private liberal arts school in Portland, Oregon. He was accepted; but after six months of attending, Jobs was extremely perturbed that he had to abide by a class schedule and could not attend the classes that he was interested in, so he decided to drop out. He stayed there for a little over a year auditing classes and sleeping on the floor of his friends' dorm rooms.
One of the classes that fascinated him was calligraphy.
This class was seen as his first exposure to the intersection of art and technology that would soon define his life and later play a key role in the development of Apple and Pixar.
During the launch of Apple, in late 1977, Jobs found out that his girlfriend, Chrisann Brennan, was pregnant. At that time, he felt that a child was merely an unnecessary distraction, so he adamantly denied that the child was his.
Jobs had a way to distort reality into whatever he felt would be more convenient for him which was exactly what he did concerning his "alleged" daughter. There was no discussion of marriage, and the only role he played was to help name the baby "Lisa" days after birth. Chrisann and Lisa lived not too far from Jobs but rarely saw him. He continued to deny paternity even after a DNA test and court orders.
Jobs would not initiate a relationship with Lisa until she was seven years old. This was odd, as Steve felt abandoned as a child himself, but Apple was more important to him at the time.
When Jobs was thirty-one years old, he was in the process of buying Pixar and trying to get his company NeXT off of the ground, when his mother Clara was diagnosed with lung cancer.
He claims that he had the most intimate conversations with her while at her deathbed, asking her many questions about his adoption and learning more about his biological parents. Clara passed away shortly after being diagnosed.
His conversations with his mother inspired Jobs to learn more about where he came from, leading him to search more intently for his birth mother.
He found her in Los Angeles and learned that he had a sister named Mona Simpson, who resided in New York City. Steve never intended to track down his biological father because he resented him for the way he abandoned his family. This of course was very ironic because Jobs had practically abandoned his own daughter nearly seven years prior. Through all of these experiences, Jobs was finally beginning to see the importance of family.
Jobs met his wife, Laurene Powell, at Stanford Business School when he visited to give a "View from the Top" lecture. He asked her to dinner that night and quickly fell in love with her. Two years later on March 18, 1991, they were married at Yosemite National Park and already had a child on the way.
They moved into a small two-story house in Palo Alto where their kids could have a back yard to play in and be close to their friends. Steve and Laurene had three children named Reed, Erin, and Eve. Unfortunately, he did not have a strong relationship with his children for the majority of his life.
Jobs was very minimalistic in all aspects of his life; this proved true in his month-long debates about which washing machine to install in the house and the lack of furniture that he owned. He needed little for himself but wanted much for the world, which set the stage for the makings of great visions into reality.
An Apple Seed Begins to Grow
Jobs eventually left Reed College in 1974 and moved back to Silicon Valley where he then got a job at Atari as a video game designer. After several months at Atari, the strong interest in Zen Buddhism that he discovered in college led him to leave his position in order to seek "enlightenment" in India.
Jobs later credited his keen self-awareness and intuition to his exposure to Eastern teachings and spirituality–most of which he gained through multiple trips to various Eastern countries. He returned to Atari seven months after his first departure to India.
Steve Wozniak first laid eyes on the blueprints of a microprocessor that would later inspire him to create the first personal computer while attending a weekly computer club meeting in the garage of a friend. He revealed his invention to Jobs who was immediately impressed.
Although Woz's original reaction was to share his newfound discovery with the rest of the computer club, Jobs had more profitable intentions for the design; and from there, the first Apple Computer was born.
The first computer was named the "Apple I" and was the start of a revolution in the consumer retail industry.
Since Steve Wozniak was still working for HP at that time and was not fully convinced of Apple's potential, they added a third partner, Ronald Wayne, who Steve Jobs had previously worked with at Atari. Through borrowed spaces in family's and friend's garages and the capital raised by selling Jobs' prized Volkswagen Bus, the three partners were able to scrounge together the parts to produce 200 Apple I computers which they later sold primarily to a local computer shop.
The Apple I came simply as a circuit board, meaning that the customer had to supply the monitor, the keyboard and the case. Jobs soon realized that Apple needed to create an integrated package and that they would need a significant amount of capital in order to support these ambitious plans.
Due to a previous failed business venture, Ron Wayne was too nervous about continuing with Apple and decided to sell his ten percent stake in the company for $800. If he had kept his stake, it would have been worth $2.6 billion in 2010.
Jobs and Wozniak traveled all over Silicon Valley attempting to earn funds for their new company endeavor. They were eventually able to get a supportive line of credit to start producing the "Apple II" from Mike Markkula, a Silicon Valley investor who Jobs happened to get along with.
The Apple II was first sold in 1977 and is credited with creating the personal computer market. Millions were sold well into the '80s. This was Apple's first sign of significant success with a great product. Most will say that the Apple II was Wozniak's creation and that this would inspire Steve to find his own spotlight in the future.
Apple Computer Co. went public the morning of December 12, 1980 and was the most oversubscribed IPO since Ford Motor Company in 1956. At the age of 25, Steve Jobs was now worth $256 million. Apple was still riding the coattails of the Apple II's success and was searching for something new to keep itself on the map.
One Thing Leads to Another and Another
At the end of 1980, Jobs was ousted from a project he started within Apple because of multiple conflicts that arose from his presence in the office. He had a very demanding personality, held nearly impossible expectations and was very destructive to everyone around him. This falling out led Jobs into the already started and original "Macintosh" project, where he began to completely take control by recruiting employees from within Apple to be on the Mac team and buying new office space off the Apple campus.
Jobs' philosophy was that to make a computer truly great, its hardware and software had to be tightly linked.
He required end-to-end control with all of his products at Apple, starting with the Macintosh. Unlike other product developers, Jobs did not believe the customer was always right: "they don't know what they want until we show them" was his belief and the driving force behind his visions.
As the Mac grew into a bigger and bigger project, Jobs realized that he was not capable of running an entire company at the time, so he recruited the president of the Pepsi Cola division of PepsiCo, John Sculley, to become the CEO of Apple. Sculley was a Master of Marketing, which was exactly what Jobs was looking for an addition to his team. Once Steve began to focus solely on the development of the Mac, it consumed his life.
The launch of the Mac took place during the third quarter of Super Bowl XVIII, and it was a sensation. However, this sensation proved to be short-lived as sales of the Macintosh decreased exponentially as a result of lack of performance. Jobs had spent so much time ensuring that every part of the Mac was of the highest quality that he had consequently sacrificed the overall performance of the finished product.
By 1985, the tension between Jobs and the rest of management was at an all-time high. He was in constant denial, blaming the initial failure of the Mac on everybody but himself. His future at Apple seemed to be dwindling.
One of Apple's weakest divisions was the university and education market, so when Jobs' plan for the "Big Mac," an education-based Macintosh, had been squashed, that proved to be the "final straw" for him. Jobs could see his departure coming so when he saw an exit opportunity that involved leaving on his own terms; he took it. He secretly recruited a team from Apple to depart with him, and he resigned from Apple on September 17, 1985, to start up a new company by the name of "NeXT."
NeXT Inc. was designed to specifically target the higher education and business markets. Jobs and his engineers came up with a computer that could handle the complex information that was entered into university research labs. NeXT ran into problems early on.
They were running out of capital quickly; they could not get Microsoft to write software for the NeXT computer, and Apple had filed a lawsuit against Jobs. NeXT was never nearly as successful as planned; and when the computer was finally launched, they only sold about 400 per month. Despite these difficulties, NeXT was able to create an influential operating system, "NeXT STEP," which would later be bought by Apple.
While launching NeXT, after his departure from Apple, Jobs received a call from an ex-Apple employee that worked in LucasFilms' Computer Studio division. Jobs visited the studio and was fascinated with the beautiful intersection of creativity and technology. Jobs quickly purchased a majority of the computer studio and became chairman of what he named "Pixar" after the division's Pixar Image Computer.
Initially, Pixar was primarily a computer hardware provider and only did animation on the side. Jobs' plan was to revitalize the computer hardware sales, yet ironically, he found himself obsessed with the short films created in Pixar's animation studio and soon realized this was what he would focus on. Because of his perfectionist tendencies, Pixar became known as the best animation studio in the nation.
Pixar was up and running with Jobs in control and movies on the forefront of his vision, but Pixar was on the verge of bankruptcy so they could not finance this endeavor alone.
Jobs pitched the idea of collaborating on a movie to the head of Disney's film division, Jeffrey Katzenberg. Like Jobs, Katzenberg was known to be extremely passionate and driven. In May 1991, the two men came to an agreement. Pixar would be paid about 12.5% of the ticket revenues while Disney would own the movie and the rights to the characters in the movie.
There would also be an option for two more films with Disney. The idea for their first movie Toy Story came from a belief that both Katzenberg and Jobs shared, "Products have an essence to them, a purpose for which they were made." Computers need to interface with a human; a toy needs to be played with by a child.
Buzz Lightyear and Woody were created to be those toys. From there the storyboards were created, but conflict occurred. Katzenberg wanted the characters to have a dark side so it would appeal to all ages, not just kids; what came from that was terrible, and production was halted. Jobs, who had stayed in the background trusting his team at Pixar, stepped forward and put up his own money to continue the work in the way they originally wanted the story to go. Jobs was excited to see that his vision could possibly transform the movie industry. There was more conflict between Jobs and Katzenberg over the budget, but eventually, the movie was completed.
"Whose movie was this?" was the question the two companies fought over.
Jobs touted Toy Story as a Pixar movie claiming that Disney was just the distributor and marketer. Disney, on the other hand, saw it as their movie because they financed and marketed it. Jobs soon realized that to be treated as an equal, Pixar would need its own funding and decided to go public. The Pixar IPO was the biggest IPO of the year surpassing Netscape. The company was valued at $1.2 billion by the closing bell of its IPO date.
Back at Apple
After Jobs resigned from Apple in 1985, Apple continued to coast on its high-profit margins and dominance of the desktop publishing industry. Microsoft was slowly gaining market share. By the time Windows 3.0 came out, Microsoft had mastered the Graphical User Interface (GUI) that differentiated the Macintosh from all other personal computers, leading Apple to begin losing market share.
Jobs claimed that John Sculley was hiring corrupt people with corrupt values and was ruining the company he once had control over. His disgust with Apple became so great that when once asked to autograph a Stanford student's Macintosh keyboard, he would refuse until the student pried off all of the keys on the keyboard that were added after Jobs' departure.
Apple needed a new operating system for the Macintosh and soon realized the one they had "in the works" would not be competitive with Microsoft. They decided to look outside of the company for an operating system that would fit well with the Mac and considered Steve Jobs' NeXT to provide the software they needed. Apple bought NeXT for $400 million, and Jobs returned to Apple as the advisor to the chairman.
In July of 1997, Gil Amelio resigned as the CEO of Apple, leaving interim CEO Steve Jobs. Jobs soon realized the company was vastly different from the company he had left twelve years prior. Wanting to completely revitalize Apple, he asked his long-time friend Lee Clow to develop a new marketing campaign.
The "Think Different" campaign launched at the end of that year, which was a movement to rebuild the concepts the company was founded on challenged the consumer, as well as the employees at Apple, to remember where they came from and who their heroes were.
"This wasn't a campaign about processor speed or memory; this was about creativity." Jobs then went on to make a more tangible impact. In his first year back, Jobs laid off 3,000 employees saving a balance sheet that was 90 days away from insolvency. The next fiscal year returned a $309 million profit, up from a loss of $1.04 billion the previous year. He transformed the company's focus from making money to making great products. He was confident that the money would follow, and he was right.
With this "rebuilding" movement, Jobs was looking for people within Apple who had interests and perspectives that aligned with his. One such person was Jony Ive, the head of Apple's Design department who was not happy with the direction Amelio and Sculley were taking the company. Jobs convinced I've to stay on board and make "insanely great products" with him. They claimed to be "soul mates" in their devout love of true simplicity that came from conquering complexities, not just ignoring them.
Visions Became Insanely Great Products
The first of many insanely great products that came from the Jobs-I've collaboration was the iMac, an all-in-one desktop computer that was one of the first Apple products to sell for less than $2000. It had a futuristic-type plastic case that was painted blue and displayed the curves of a teardrop. It looked much different than any other computer in the world and was built to take the "fear of computers" away from consumers.
One way I've achieved this was by designing a handle for the top of the iMac. Realistically, no one was going to carry around their desktop computer with them, but he declared that a handle made the computer more approachable. These were the types of things that differentiated Apple from its competitors; they looked to overcome a problem before they were even sure it existed.
It was very apparent that Jobs despised not holding control over any aspect of his life, especially his life at Apple.
For the majority of his career, Jobs felt he had little control over the process of purchasing an Apple product. He was extremely frustrated that the person pitching his product to a potential consumer could be a high school dropout who only half-heartedly memorized the standard details of his product. In early 2000, Jobs brought Ron Johnson from Target to head his Retail division and develop an Apple store.
The Apple Board of Directors was very displeased with this decision, considering Gateway Computers had recently tried the very same approach and eventually failed horribly. The Apple stores developed a new concept in consumer retail, thinking about why the customer is there and not just about the products.
These stores were organized into separate sections based on what the customer wanted to accomplish with a new Apple product rather than on what the consumer thought he was interested in purchasing. The first Apple store opened May 2001 in Tyson's Corner, Virginia. By 2004, Apple stores were averaging 5,400 visitors per week and set a record for the line of stores quickest to hit the billion-dollar revenue milestone.
It seemed apparent that the personal computer industry was dying down as all of the excitement slowly began to fade over the years. Jobs was not at all satisfied with letting this happen, so he began thinking once again about how he could revolutionize the industry. In 2001, he launched a new strategy that would transform the personal computer into a "digital hub" with the capability to connect multiple devices such as video camcorders and music players. If he could connect the capabilities of these devices to this "digital hub," then he could also create simpler mobile devices that could out-perform the competition.
Steve Jobs realized that the music industry was steadily growing larger as people began to download music using internet platforms such as Napster.
He saw an opportunity to create an organizational tool for music as well as a portable music player to fully integrate with the rest of Apple products. In 2001, he introduced the iTunes software with his new digital hub strategy and quickly began working on the "iPod," a revolutionary portable media player that allowed the user to store up to 5,000 songs and scroll through them with the simple touch of a finger. The iPod was unveiled on October 23, 2001; and by the end of the year, 100,000 had been sold; yet another vision had been transformed into a reality.
A magnificently smooth connection was created to tie one's computer, iTunes software and the iPod in order to manage music that one already owned. In order to purchase new music in the past, the consumer had to either download songs illegally online or venture out to a store and buy a CD, which led Jobs to his next vision.
He met with executives from the world's five largest music labels and gradually convinced them to take part in the iTunes store, which would allow consumers to buy individual songs through iTunes for .99 cents, giving the record labels a large majority of the revenue. The iTunes store was announced in October 2003 and reached two million downloads in a little over two weeks.
Through all of these new advances in technology, Jobs created a turning point in yet another industry, almost single-handedly. Despite this outrageous success, Jobs felt it most important to find a way to capitalize on his end-to-end control of products once again.
The iPod had an enormous market share in the portable media player industry as a result of the popularity of iTunes and the iTunes store, which led to iPod sales accounting for over half of Apple's revenue; all at the time when iPods solely worked with Apple computers. This in turn motivated more people to purchase computers from Apple and created what some people claimed to be a monopoly over the music industry.
Cancer Steps In
By 1997, Jobs was the active CEO of both Apple and Pixar. He was exhausting himself daily causing his immune system to weaken greatly. He developed not only multiple kidney stones over the following two years but also contracted many other health problems.
Once Pixar was acquired by Disney, Jobs had more time, which helped to temporarily ameliorate his health. In October 2003, Jobs ran into the urologist who treated him five years earlier for kidney stones and was asked to come for a follow-up CAT scan. The scan revealed a mysterious shadow on his pancreas; further study revealed the shadow was a tumor.
The doctor told him to get his affairs in order, which was the doctor's way of telling Jobs that he only had months to live.
Further analysis of the tumor indicated that it was a very rare form of pancreatic cancer that was actually treatable. All that was needed was a surgery to remove the tumor, but to the horror of Jobs' family and friends, he absolutely refused surgery. He did not want to open up his body for what he believed to be an unnatural process and in turn, decided that his strict vegan diet along with herbal remedies and other natural treatments were all that he needed for healing.
Nine months later, he gave in to the doctor's diagnosis and voluntarily agreed to surgery. Unfortunately, by this time, cancer cells had already spread to other parts of his body, especially his liver. The doctors operated to remove cancer on his pancreas, but they could do nothing for his liver. This was only the first of multiple battles Jobs would soon face with the cancer that eventually lead to his death.
Where to Go from Here
By 2005, Apple was at its peak, and it seemed as if no other company could compete with them. Instead of basking in his success like most CEOs might have done in this situation, Steve Jobs only continued to ask the question "Where could we mess this up?" After much deliberation, he came to the conclusion that "the device that can eat our lunch is the cell phone."
His first strategy to combat this issue was to partner with Motorola, eventually leading to the phone called the "ROKR" that quickly failed. From there, Jobs decided to do everything in-house and added cell phones to Apple's Consumer R&D division.
The "iPhone" was launched as the first multi-touch smartphone completely controlled by simply using fingers on a screen.
It was a phone, an iPod, and a breakthrough internet communication device all in one.
Competitors and consumer reviews stated that the iPhone would be too expensive to take off and even if it did, it would just cannibalize the sales of iPods. Jobs responded with one of his key business rules, "Never be afraid of cannibalizing yourself; if you don't cannibalize yourself, someone else will."
Despite these predictions, the iPhone went on to great success, with four successors to the original design and many more expected to come. Jobs was a man that did not make many compromises in his life, but the few that he did make were very critical to Apple's success.
A perfect example of this was the App Store created for the iPhone that would also later be compatible with the iPad. While Jobs always liked complete control of his products, he realized that if he did not allow outside developers to create new apps for the iPhone constantly, they would eventually move on to the next smartphone available. This compromise proved to be a smart decision when Apple reached one billion app downloads on the iPhone alone in 2009.
Cancer Strikes Again
By 2008, it was quite clear that cancer was quickly spreading its way through Jobs' body. He developed an eating disorder due to the removal of part of his pancreas and was losing weight rapidly when it came time to announce the iPhone 3GS in June 2008.
The launch event was overshadowed by his obvious health complications and overall sickly appearance. His health issues became common knowledge, and by October, Apple's stock price had dropped approximately 50% due to public concerns.
In January 2009, Apple's legal team forced Jobs to take medical leave, as it was not considered fair to shareholders to have him as CEO in this condition.
He was in desperate need of an almost immediate liver transplant and eventually found a donor in Memphis, Tennessee.
Even though the surgery was deemed successful, doctors still found cancerous masses in Jobs' body. Throughout the lengthy recovery, Jobs had the opportunity to strengthen relationships with family and friends. Jobs' daughter, Lisa, even came to visit him twice in Memphis, despite their distant and very frayed relationship. It did not take long for Jobs to dismiss his newfound phase of gratitude and go back to leading with his confident and demanding behavior. In May 2009, Jobs returned to Apple and got right back to work where he left off.
The multi-touch technology had inspired the iPhone was originally intended for a tablet, but Jobs' keen awareness had highlighted Apple's vulnerability in the cell phone industry. Once Apple showed its dominance with the iPhone, it was time to go back to the drawing board and design the tablet they dreamed about for years. In January 2010, Apple unveiled the "iPad." One of Jobs' strengths was his ability to convey his thought process in the design of a product and later ingrain that very process in the minds of the general public.
This stemmed from his philosophy of showing the customer what they need and then meeting that need. Jobs was foresighted throughout his life, and the iPad was no exception. Before the iPad went on sale, he was already working on how to improve it and even began designing the "iPad 2".
Steve Jobs was constantly redefining reality. He knew the world around him was constantly changing, and Apple had to be able to change with it. By turning the Macintosh into a digital hub in 2001, he created a centerpiece for a plethora of devices. By 2008, Jobs saw the need to move this digital hub towards cloud computing and created a cloud-computing product called "MobileMe" in which all information and data could be stored in an online "cloud" and be synched with all of one's devices.
Unfortunately, MobileMe was not designed well, so Jobs was quick to remove the man in charge and take control. He knew he had to regain consumer faith in Apple's ability to fully integrate all of their mobile devices and computers. Apple released the "iCloud" in June 2011 and rejuvenated Apple's concept of a seamless connection and giving them a competitive advantage in the next wave of digital technology.
The "Real" Business at Hand
When Jobs was diagnosed with cancer, he "made a deal with God or whatever, which was that [he] really wanted to see Reed graduate in June 2010." He claimed that this is what got him through 2009. After realizing this was one of the first times he ever focused a goal around his family, Jobs began to look for a balance between family and business by making isolated attempts to reconcile those relationships.
He surprised Laurene for their twentieth wedding anniversary (a day which he usually forgot every year). Despite trying to show more interest in his daughters by taking them on trips around the world and spending more time with them individually, he never felt much of a connection with them.
When Laurene was questioned about Jobs' distance from his family, she would reply, "like many great men whose gifts are extraordinary, he's not extraordinary in every realm."
Although it is apparent that Jobs never quite found a balance between family and business, his efforts showed an immensely different mindset in his later years.
As he continued to work, his condition worsened towards the end of 2010, and he was living in constant pain. By Christmas time, he had lost more than forty pounds, leaving him at a just 115 pounds. It was quite apparent that this was not just another bad spell and that a third and final medical leave would soon take place.
In January 2011, he announced to Apple's Board he would be taking another medical leave, and Tim Cook would run operations until he returned. He knew he might not return, but he could not bear to permanently "leave his homeland." Some of the best oncologists in the world worked towards a cure for his cancer, but hope was quickly diminishing by the day.
While Jobs was ill, he had many visitors, including his first daughter Lisa, who traveled from New York to see him although she didn't move to Palo Alto as Jobs requested. He was happy they were able to reconcile their relationship after many years of not speaking.
The list of visitors continued with Larry Page of Google, Bill Clinton and ironically his life-long competitor Bill Gates. Even on his deathbed Jobs was brutally honest, while simultaneously brushing off wisdom to anyone in the Valley. In a reflection of his life, he recalled many instances where people such as Bill Hewitt poured into him; and in return, he wanted to spend the last days of his life "paying it forward."
On August 24, 2011, Steve Jobs resigned as CEO of Apple at the regularly scheduled board meeting and told the Board he would like Tim Cook to be his successor. Even after he resigned, he stayed for the duration of the meeting and berated a product review presentation, like nothing had even changed.
At the Core of the Apple
Steve Jobs was a man defined by integration. His personality, experiences, idiosyncrasies, and passion were poured into each of the companies that he built. The products that he created were an extension of himself, and he grew increasingly protective and attached to them, maybe even more than to his own family.
He was a man known for his intensity and desire for complete control in his quest for perfection. He once stated, "We do these things not because we are control freaks. We do them because we want to make great products, because we care about the user, and because we like to take responsibility for the entire experience rather than turn out the crap that other people make."
Although he had a love for Zen Buddhism and claimed it gave him his focus and love of simplicity, he never truly found his inner serenity. He was known to be impatient, rude and quick to anger at times. Jobs was brutally honest and felt that it was "his duty to say when something sucks rather than sugarcoat it."
He was a contrarian throughout his life and believed that if the majority were always right then, everyone would be rich.
There was a focus instilled in him that nothing, not even cancer, could disrupt. His ideas became visions; his visions became products, and his products later became the start of new ideas. Seeds of visions were planted by Jobs' hard work and success; and still today, his "seeds" are creating new "insanely great" products.
He felt that doing something wonderful was not measured by what others regard as worthy, but rather by doing something that you love and pouring your whole heart into it. Steve Jobs left more than one dent in the universe.
"Being the richest man in the cemetery doesn't matter to me… going to bed at night saying that we've done something wonderful… that's what matters to me". -Steve Jobs
Britt always taught us Titans that Wisdom is Cheap, and that we can find treasure troves of the good stuff in books. We hope this audience will also express their thanks to the Titans if the book review brought wisdom into their lives.
This post has been slightly edited to promote search engine accessibility.