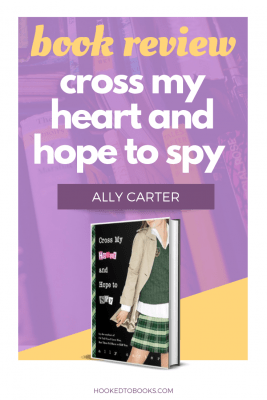 Cross My Heart and Hope to Spy (Gallagher Girls #2)
Ally Carter
Publish Date: October 2, 2007
Hyperion
Purchased Copy (borrow from Megan)
Reviewed by Rachael
Cammie Morgan is back, and it's clear that her life hasn't calmed down since the events of I'd Tell You I Love You, But Then I'd Have to Kill You. At first, giddy anticipation is in the air.
Gallagher Academy, Cammie's elite spy school, is hosting a visit from a covert training center for boys. Soon after the boys' arrival, though, everything goes dangerously awry when a series of security breaches are discovered at the academy. Worse yet, teenage agent-in-training Cammie is being blamed for the penetration. With the school's top-secret status at risk, the Gallagher Girls have to work quickly to save their beloved school. –Goodreads
Sure Megan has already reviewed the most current book in the series, Out of Sight, Out of Time, but hey, some of us are a little late to the party and that's okay. Here's my book review of Cross My Heart and Hope to Spy.
Another Interesting Spy Book
I was super stoked to see if the second book of the Gallagher Girls Series would live up to the hype built in the first book and I was not disappointed in the least! I loved the integration of the boys' school into the world of Gallagher Academy and the girls' daily lives.
Getting Hooked into the Characters of Cross My Heart and Hope to Spy
I much preferred Zach to Josh and I hope this plays out in future books (I'm trying to be good and not constantly bug Megan for spoilers!) It was nice to see Cammie as "herself" with a boy and as expected her roommates are always good for a laugh…makes you wish you were living with roommates that always have your back and shoes to borrow if the need arises!
Can't wait to get one step closer to Out of Sight, Out of Time by reading Book #3 ASAP!