After becoming audiobook addicts we now strive to find the best places to listen to them. We wanted to share with you one of our recent discoveries. You may already use this service just not to stream audiobooks. We are talking about the digital music service, Spotify. So, how can you get audiobooks on Spotify I hear you cry! Don't worry that's what this article is about. We will reveal how you can listen to audiobooks on Spotify. You can enjoy listening to audiobooks on Spotify if you are a free user or have a paid subscription. Also, remember that Spotify free on mobile devices only allows tracks to shuffle. This means that you will skip and miss chapters. If you aren't a premium user then you will have to listen to audiobooks on Spotify's desktop/laptop version. On top of that, if you keep reading until the end you will find our list of the best audiobooks on Spotify too. Finding great free audiobooks is like finding gold in the sand! Time to kick off the instructions!
Our guide on how to get audiobooks on Spotify
Step 1 – Search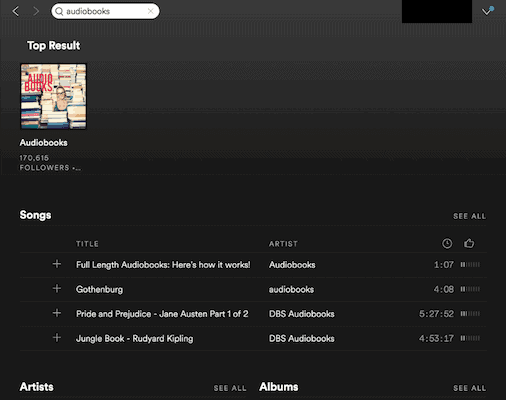 First of all, let us begin with how you can get audiobooks on Spotify. We're going to assume that you are already familiar with the Spotify search bar. If not, open up Spotify and locate it, it's at the top of the screen. Here, go ahead and enter the keyword 'audiobooks' into the search bar and let us start digging! Your screen should look like the one in the image here.
Step 2 – Explore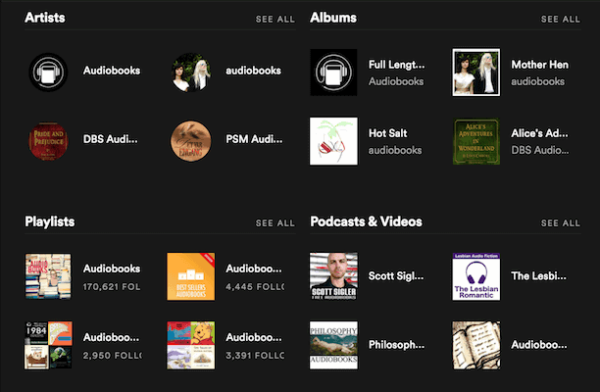 Below the fold of the screen, there are more headings. You will see titles named Artists, Albums, Playlists, Podcast & Videos, Podcast Episodes, and Profiles. You can further explore each of these sections using the 'see all' button on the top right. The next step is to open up the full playlists tab. Trust us it's the best choice.
Step 3 – Pick a genre
After doing this you will find multiple playlists that are genre specific. These range from romance to horror, and there is even a playlist called 'Audiobooks in Queen's English'. Within each of these playlists, you will see lots of different audiobook titles. These are usually the first chapter of the full audiobook.
Step 4 – Select an audiobook
So you've seen an audiobook that tickles your fancy, what next? To start listening from the beginning click on the 3 dots next to the name. Now you will see a drop-down menu appear. Click on the 'Go to Album' button. Full audiobooks on Spotify fall under the albums section. Here you will find more details and the complete audiobook tracklist (like the image below).

Step 5 – Download & Listen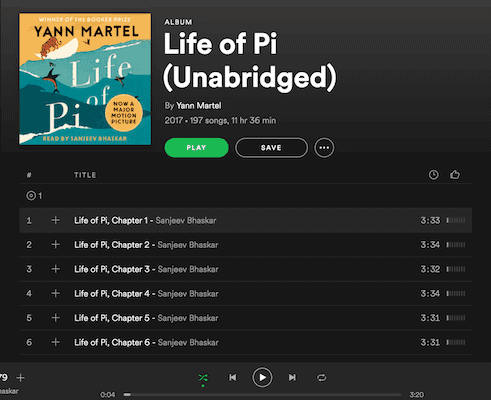 You can go ahead and start listening to the audiobook straight away or save it to listen to it later. If you click save then all these tracks will appear in your songs section which would be quite annoying. We have a solution to this. Our suggestion is to create one playlist for each specific audiobook that you want to listen to. This is the best way to download the full audiobook for offline listening. As we mentioned earlier, if you have a free Spotify account you can kind of only listen on a computer. This is because the shuffle feature is constantly on whilst using the Spotify app.
Our list of the best audiobooks on Spotify
As promised earlier, here is our list of the best audiobooks on Spotify. There are definitely some great audiobooks that you can listen! You might not agree with our audiobook picks. But at least you can search on Spotify for audiobooks now. We have included direct links below to open the dedicated audiobook album page. We also went ahead and created our own playlist of the best audiobooks on Spotify. You can find this playlist by clicking here. Feel free to follow and share this playlist. We will be adding more free audiobooks to it when we discover them. If you discover more top audiobooks on Spotify please comment with them below. This way everyone can benefit, thanks!
Audio Dramas on Spotify
Other ways to enjoy free audiobooks
Listening to free audiobooks on Spotify is pretty straightforward then. There are other ways to enjoy free audiobooks too. The best audiobook services on the market offer free audiobooks when you sign-up for an account. Your membership can be cancelled before the 30-day trial period and you still get to keep the audiobooks forever.
This is doable with Audible, who even offer American customers 2 free audiobooks! Audiobooks.com is another audiobook app that gives you a free audiobook on registration, no questions asked. Then there is Kobo Audiobooks who do the same. This means that you can receive 3 free audiobooks just for registering for an account at these different audiobook services. It's definitely worth the short amount of time that it takes. If you aren't sure on which audiobook to pick you can check out our top audiobook list.
If you have any questions about how to find audiobooks on Spotify feel free to ask them in the comments below. Please, remember to share any top audiobooks that you locate too!