And I Darken is not like any other fantasy or historical fiction novel I have read before. Can you imagine Vlad the Impaler being a girl? Surprising, right?
This book was one fantastic vicious nightmare that is hard to get into because of its complex characters and plot but then equally hard to get out of once you get hooked. The book is different from other historical fiction, and its uniqueness makes it interesting.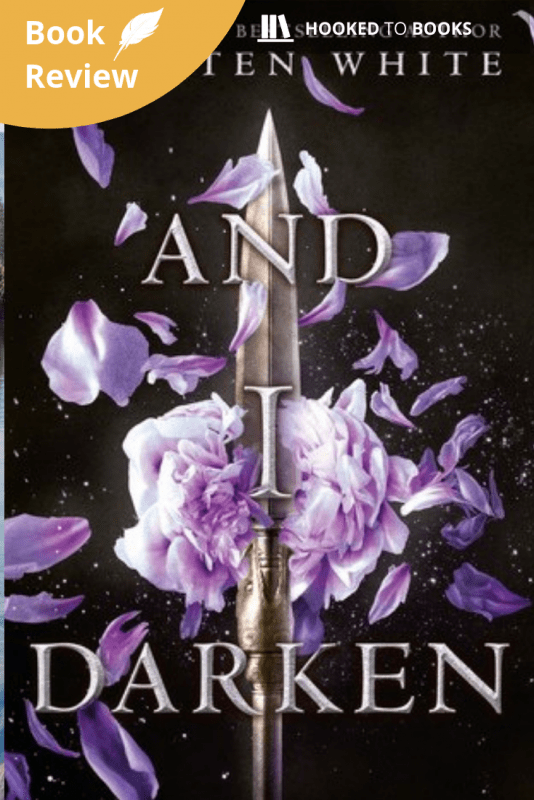 Too many books for your bookshelf? You may need an 
e-reader
.
A Closer Look at the Characters
"Radu is the one who makes friends. I am the one who makes people want to whip me."
That's all you need to know about our two main characters. Brother and sister, even though they don't act like it. Sometimes their relationship with each other is difficult to understand. They are the opposite of each other. Their bond is a complex one for any YA novel filled with jealousy, misunderstanding, anger and yet belongingness to each other.
Radu is the sweet boy with dimples who wins hearts with his smile. He is not a strong one or the brave one. Usually hides in the corner and acts invisibly — the unwanted child. His personality often aggravates his sister but also makes her feel protective of him.
Lada, on the other hand, is feisty, spirited, intelligent but is angry all the time. She comes off as a robust and vicious character from the first moment. She despises weakness and acts brutal and crazy. This is a whole different kind of strong female lead we keep expecting in books.
She is cold, calculating and downright crazy. Lada knows what it means to be a girl in a male-dominated world, so she doesn't let anyone feel the difference. Her confusion with her femininity only tops her fury and disdain for females of the world. However, despite that, she doesn't get derogatory at any point and knows that women also have a power that only they can wield.
Mehmed is the rebellious prince whose charm is intriguing. At no point will you be sure about his character's intentions. Is he genuine or a bigger mastermind than the rest?
A Twisted Vlad The Impaler Retelling
"Souls and thrones are irreconcilable."
I felt like there weren't many plot twists in the book and the ones that did occur didn't surprise me that much. The brutality, killings, bloodshed, and persona of all the characters were known to me because I take an interest in history and it was historical fiction.
To a layman, it would be the most exciting plot ever. I loved the characters and could go on and on about Mehmed, Bogdan, Huma, and Nicole all day, but the storyline wasn't that intriguing for me. I enjoyed Lada's way of talking, Radu's internal conflict, Mehmed's growth and how their stories were interconnected.
Feeling the Darkness of the Book
You will find yourself being pulled into the darkness from the first page. The essence of the book it felt like the title suggests. It lacked that intenseness in some chapters which unnerved me.
The book is set in Eastern Europe, mainly during the rise of the Ottoman empire. The author also captures the feel of the eerie Transylvania quite nicely. The best part about the book is how carefully it captures the essence of the religion prevailing in those areas.
Lada's freakiness and psychotic actions along with her thought-process kept me at the edge of my seat. While Radu was dealing with being thrust into an unknown and scary world, struggling to survive, Lada was finding ways to establish her presence in the dangerous territory.
Radu's journey towards religion and spirituality was quite a contradiction for his sister's will to win back her homeland. Radu kept wanting to find peace while Lada couldn't be happy without a fight every day.
The Book in 3 Sentences
Lada Dragwlya, the brutal princess and Radu, her brother have been abandoned in the Ottoman empire, and they must survive along with finding a way to win back their homeland, Wallachia. Their particular lineage has put a target on their backs, and when they meet Mehmed, the rebellious Ottoman Prince, things go haywire. When Radu started to find comfort in the Ottoman empire, and Lada grew passionate for the rebellious king, they are all drawn together in a vicious circle.
About the Writing Style
"The sooner you stop fighting, the easier your life will be. This is what your purpose is."
Lada stood so abruptly she nearly fell backward. "No."
The narration and dialogues were so deeply connected with the characters that as a reader, I felt like I was living their lives. The characters got embedded in me, and I could predict Lada's and Radu's dialogues before I read them. Similarly, guessing their reactions was fun for me.
The author didn't write a love triangle but a mixture of a complex web of relations. The entire story written intricately, despite being gory is based on historical truth.
"So the question becomes, Daughter of the Dragon, what will you sacrifice? What will you let be taken away so that you, too, can have power?"
The book is fast-paced, engaging and one just cannot put it down. The entire book consists of power dominance and characters to be reckoned with. Feelings aside, the actions of all characters are so ruthless.
And I Darken is not a fairy tale story or boring historical fiction. The book is as engaging as a book from the fantasy genre but more realistic. The gradual addition of plot twists kept the interest factor in the book.
And I Darken is just the first book in the series, it held a lot of intrigue and promise for a fantastic series. The ending leaves one with much pondering over the future of the plot. However, one thing is for sure, Lada, the female Vlad the Impaler, is one memorable character and if you decide to read this book, you will love her too.
About the Author
Pallavi Sareen is an avid reader, a harsh critic, bibliophile, and a dreamer. Accustomed to telling stories, she spends her time amidst the pages of either a book or her diary.