All the Ugly and Wonderful Things is the kind of book that won't cater to everyone's taste. It deals with such subjects that might start up heated discussions.
However, if you want to take a chance, go in blind!
Please don't read the blurb, don't check out the back of the cover and don't read reviews, except for this one because it is entirely spoiler-free.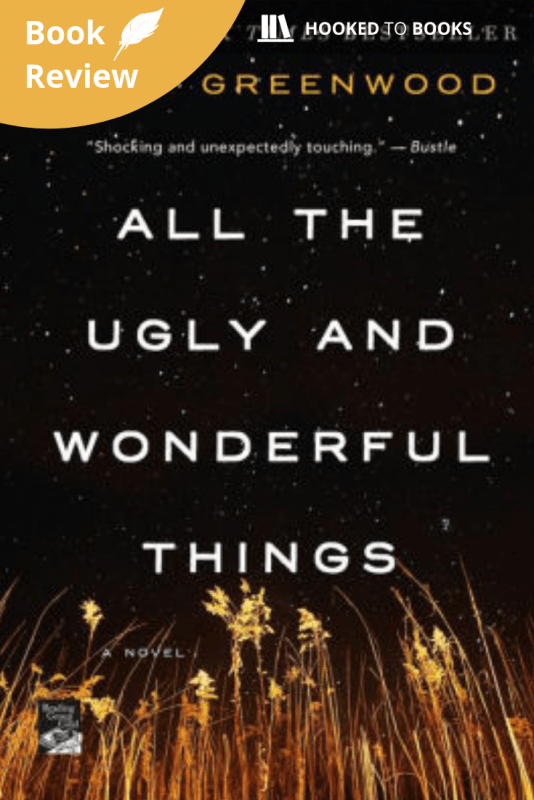 Greenwood Gets You Hooked
When I started reading All the Ugly and Wonderful Things, I knew nothing about it.
It was not like I had to finish it in one sitting, but I did.
It was just that interesting. I didn't want to put it down without knowing what happens with Wavy.
Talking in detail about this book would ruin its essence, which is a mystery for the reader. It might make you expect something different from the book than what it delivers.
However, if you read it, just on face value, the plot, pace, and characters of the book will get you glued on to the pages.
Truly Fantastic Writing
There are so many aspects of this book that I wish to discuss, so let's start with the writing of the book.
I loved how there were so many points of views — we get to see the situation from every angle and through the minds of so many different characters.
That is essential because of the book's theme.
You cannot hope to create the same level of association with the characters and the situation unless you give different outsiders and insider view to it.
Moreover, it was interesting to see how each character justified their behavior and actions in their minds while judging the other characters for their actions.
Writing Style of All the Ugly and Wonderful Things
As for the prose, it is just fantastic. It is my honest opinion that 40% of my liking towards this book is because of the writing. It just flows parallel to the storyline, creating the right kind of feel and stirring the basic emotions in the reader.
When this book ends, it is mainly the writing that leaves you emotionally shattered. You can't react passionately to the entire story.
Too many books for your bookshelf? You may need an
e-reader
.
Get Intrigued by the Characters
The rest of the 60% of my liking would be for the characters and the story. Much like the name of the book, both the characters and the story are ugly and beautiful at the same time.
The most exciting character would have to be Wavy because she is at the center of all the action. Even though other characters are given equal importance, the story seems to be revolving all around her.
I felt most emotionally connected with Kellen despite having no relatability.
The thing is that different readers may have different ways of looking at his character. Some might even hate him for his relationship with Wavy.
The emotions I felt were part of what made me want to write this book review of All the Ugly and Wonderful Things.
Val had to be the most messed up character, the kind that you can't make up your mind about. Should you be judging or sympathetic? Can't figure it out. Also, finally, the one most adorable would be Donal.
I did find Wavy's character to be quite weird in the first few chapters. Since I didn't even know what this book was about, I pictured her as a creepy kid in a horror story.
However, when I read the explanation behind her behavior, her mother's behavior towards her, I was both disgusted as well as sad.
That describes my entire experience of reading this book, sometimes disgusted, sometimes sad.
Deals with Taboo Subjects
A drug dealer father, a mother with germ issues and a little brother to take care of. Kellen was the only rational thing in Wavy's life. I mean I could feel how alone she felt when I read Wavy's narratives (which were my favorite). I could understand how tough her life was.
Also, now that I have already talked about my feelings about this book let's talk about what this book is actually about. It's a love story between an eight-year-old girl who lives in a messed up family and a biker guy who has felt useless throughout his life.
No, it's not like Lolita, their connection isn't due to sexual attraction, and there is nothing creepy or gross about it like one might think at first. It is just a story of how people find love in whatever places they can and in whatever ways it comes.
I can understand how some people would not want to read this, but let me share a secret, I like reading about taboo subjects. I do, and plenty of other readers are also willing to give a book one chance out of curiosity.
The best part about the way this book deals with the taboo subject is that it does not manipulate. No unreliable narrator; just descriptive turn of events.
Similar Book
If you have read the book Forbidden by Tabitha Suzuma and liked it as well, then this book is for you. It has incest, but the plot is nothing like you could imagine.
It also deals mainly with the emotional side of the characters than the practical or sexual side.
To Sum it Up
This book is challenging. You are forced to challenge your thoughts about things you are pretty sure of as the book deals with a meth-dealer father, a biker boyfriend and an 8-year old brother our main character must take care of.
Also, it is emotional, raw, kind of hurts you so much that the characters linger in your mind way after you have finished the book. So, if you think you need to read something like that, pick this up.
About the Author
Pallavi Sareen is an avid reader, a harsh critic, bibliophile, and a dreamer. Accustomed to telling stories, she spends her time amidst the pages of either a book or her diary.