The best part of reading is getting lost in worlds that aren't your own, whether you're witnessing a high school love story or a historical battlefield during a war. In some of the best fantasy books of all time, you get to adventure to worlds that nobody else has previously explored.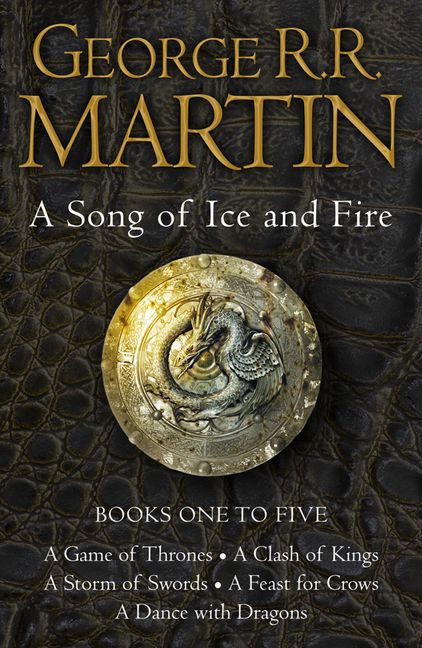 Our Recommendation for Fantasy Book
This paperback box set is the easiest way to read all seven volumes of George R.R. Martin's epic fantasy series, which inspired the smash hit HBO television show, Game of Thrones.
*We earn a commission if you make a purchase, at no additional cost to you.
From the ornate Great Hall and the Forbidden Forest of Hogwarts to the icy white sheaths of the Wall and the glorious architecture of The Red Keep to the magic that lies behind the wardrobe in Narnia, the best fantasy books of all time are the ones that keep you coming back to different worlds, far and wide.
The Best Fantasy Books of All Time
We broke down all of the best fantasy book series, fantasy books for teens, fantasy books for adults, and some new fantasy books.
With this list, you'll discover new worlds to dive into, some magic to unfold, and some legendary tales to enjoy.
| Sr. No. | Title | Publication Date | Print Length | Author | Publisher | Where to Buy |
| --- | --- | --- | --- | --- | --- | --- |
| 1 | A Song of Ice and Fire series | May 1, 2012 | 5600 pages | MARTIN GEORGE | HARPER COLLINS | Amazon |
| 2 | Harry Potter series | October 16, 2007 | 4167 pages | J. K. Rowling | Arthur A. Levine Books | Amazon |
| 3 | Lord of the Rings series | September 25, 2012 | 1728 pages | J. R. R. Tolkien | Del Rey Books | Book Shop |
| 4 | The Chronicles of Narnia series | August 14, 2007 | 7 pages | C. S. Lewis | HarperCollins Narnia | Amazon |
| 5 | Outlander series | January 1, 2019 | | Diana Gabaldon | Arrow | Amazon |
| 6 | Miss Peregrine's Home for Peculiar Children | June 4, 2013 | 382 pages | Ransom Riggs | Quirk Books | Amazon |
| 7 | City of Bones | March 27, 2007 | 496 pages | Cassandra Clare | Margaret K. McElderry Books | Amazon |
| 8 | Children of Blood and Bone | March 6, 2018 | 544 pages | Tomi Adeyemi | Henry Holt and Co. (BYR) | Amazon |
| 9 | The Graveyard Book | August 1, 2010 | 320 pages | Neil Gaiman | HarperCollins | Amazon |
| 10 | Circe | April 10, 2018 | 400 pages | Madeline Miller | Little Brown and Company | Book Shop |
| 11 | The Witcher | October 3, 2017 | 1216 pages | Andrzej Sapkowski | Orbit | Amazon |
The Best Fantasy Series
When you're in the mood for something to consume a lot of time, a new fantasy book series is the way to go.
With several pages to occupy your days, you'll be transported into medieval times and into other lands in the present time. From vaulted ceilings and mossy caves, there won't be a boring page.
1. A Song of Ice and Fire series by George R.R. Martin
The famous series – adapted into the HBO hit – is a magnificent tale interwoven with magic, snow, family drama, titles, reverence, and a war for the ages.
Told from several different perspectives, the series will keep you guessing up until the very end.
2. Harry Potter series by J.K. Rowling
Good meets evil and light meets dark in this massively popular series.
As you flip through the pages, you'll watch Harry Potter grow up alongside massively loyal friendships, disastrous fights, and broken rules as he deals with the rocky frontier of a world in turmoil.
3. Lord of the Rings series by J.R.R. Tolkien
Set in Middle-Earth, you'll watch as mystic drama erupts in a fantasy world over a battle for the destruction of a ring.
One of the most well-known series ever, this is the perfect pick for discovering a new world full of intrigue.
4. The Chronicles of Narnia series by C.S. Lewis
From the very moment that the Pevensie children discover a magical world that lays just beyond a wardrobe, the Chronicles of Narnia immediately brings you alongside the children that have found a world of fantasy and symbolism.
5. Outlander series by Diana Gabaldon
A tale of love and fantasy, the Outlander series takes you down a road of passion, romance, and adventure.
Fantasy Books for Teens and Young Adults
In a time that is so often surrounded by wanting to be someone else, exploring new worlds as a teenager through fantasy books is a delightful way to get away and find new frontiers.
From genocide to graveyards to Greek mythology, you'll find a new favorite in here.
1. Miss Peregrine's Home for Peculiar Children by Ransom Riggs
After a family tragedy unfolds and sixteen-year-old Jacob finds a decrepit building called Miss Peregrine's Home for Peculiar Children, adventure, secrets, and fantasy abound among the halls.
2. City of Bones by Cassandra Clare
When Clary Fray ventures out to the city and sees a murder, she journeys into the adventures and the existence of Shadowhunters. Thrust into a world of secrets, her tale is full of adventure.
3. Children of Blood and Bone by Tomi Adeyemi
Inspired by the lands of West Africa, this debut novel explores what happens after a ruthless king kills an entire generation of people who had magic. Zélie, who lost her mother in the killings, has a chance to take the magic back as the tale ensues.
4. The Graveyard Book by Neil Gaiman
Since the vicious murder of his parents, Bod Owens has been raised by the ghosts of the graveyard that keep him away from the dangers outside. Among the tombstones and the overgrown grasses, you'll watch as Bod grows up among the dead.
5. Circe by Madeline Miller
Most of us know Circe as the nymph who stopped Odysseus on his journey home, but Madeline Miller dives deep into the real story of Circe from her birth as a strange child to the dangers she finds herself facing.
New Fantasy Books
Amid new releases, fantasy takes up some stunning shelf space. From murder and royalty to tracking and amphibians, these new books are certain to find a new spot on your favorites corner.
1. Magic for Liars by Sarah Gailey
Ivy and Tabitha Gamble have always been different. And Ivy has not wanted to have anything to do with Tabitha's magical "differences."
After a murder occurs at the school Tabitha teaches at, Ivy has to explore those secrets to find out what truly happened.
2. The Ruin of Kings by Jenn Lyons
At the beginning of a new series, Kihrin discovers – much to his chagrin – that he is a long-lost prince. As he discovers magical secrets and fantastical dangers, Kihrin finds out that he may not be a hero after all.
3. Titanshade by Dan Stout
The book follows the story of a homicide cop who works in a town of sorcerers and amphibians. You'll follow along as the cop, Carter, tries to solve a certain murder before it's too late.
4. Spine of the Dragon by Kevin J. Anderson
As the start to a new series, this book explores what happens when two dueling continents must come together to defeat a reawakened race that wants to destroy the world.
5. Black Leopard, Red Wolf by Marlon James
Known far and wide for his hunting abilities, Tracker is sent off in search of a boy who disappeared years ago. On his expedition, Tracker encounters strange creatures and forces that don't seem to want him to reach his destination.
Fantasy Books for Adults
Everyone needs a selection of books to keep them guessing, and that includes adults.
From circuses and carnivals to monsters and legends, these fantasy books for adults are a sure venture into another world.
1. The Witcher by Andrz ej Sapkowski
The Witcher Saga is an epic fantasy series set in a world where humans, gnomes, dwarves, and elves live side by side.
But while they've lived in relative peace for over a century, suddenly, war is on the cards, and the only one with the power to stop it is a childbearing extraordinary power.
2. The Night Circus by Erin Morgenstein
Amidst the striped tents of a circus only open during the nighttime, two magicians who have always been at odds begin to fall in love – and magical consequences ensue.
3. Daughter of Smoke and Bone by Laini Taylor
Karou is interesting – and she's not quite sure why. She sketches monsters, has (naturally) blue hair, and speaks languages that aren't all human.
After a chance meeting in an alley, star-crossed love and secrets abound everywhere.
4. Caraval by Stephanie Garber
Scarlett has always lived on a tiny island with just her sister and cruel father. She's never wanted anything more than to see Caraval, the far-away carnival that only happens for one night.
When Scarlett and her sister are snuck away to see the carnival, magic, and terror ensue.
5. The Fury Triad by Patricia Burroughs
Using Arthurian legends, this dark fantasy is the story of Persephone Fury. The book shows what happens when mythology, magic, and darkness collide.
6. American Gods by Neil Gaiman
After three years in jail, Shadow desperately wants to get back to his old life. However, his wife and best friend are killed in an accident before he's released. Shadow meets a man who, strangely, seems to know much more about Shadow than Shadow does himself.
What do you think are the best fantasy books? Let us know which books you would add to the list!