Biographies are one of the most popular genres of books, and we're breaking down the best biography books of all time for you here.
Whether you're looking for a juicy presidential biography, a fantastic feminist biography, a biography of a war general, or just a generally good biography, we have you covered.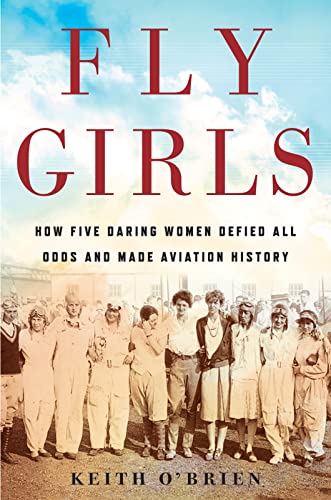 Fly Girls: How Five Daring Women Defied All Odds and Made Aviation History
Our Top Recommendation for One of the Best Biography Book
Fly Girls is the story of five unsung heroines of aviation history. Author Keith O'Brien brings their incredible yet forgotten achievements to life while taking us on a captivating trip back in time to the cut throat, high stakes world of the national air races in the early 20th century.
*We earn commission if you make a purchase, at no additional cost to you.
What Are the Best Biographies of All Time?
| Sr. No. | Title | Publication Date | Print Length | Author | Publisher | Where to Buy |
| --- | --- | --- | --- | --- | --- | --- |
| 1 | Fly Girls | August 7, 2018 | 352 pages | Keith O'Brien | Mariner Books | Amazon |
| 2 | Ruth Bader Ginsburg A Life | October 16, 2018 | 752 pages | Jane Sherron de Hart | Knopf | Amazon |
| 3 | Tesla and Edison | January 30, 2019 | 184 pages | The History Hour | Independently Published | Book Shop |
| 4 | Elon musk | January 24, 2017 | 416 pages | Ashlee Vance | Ecco | Amazon |
| 5 | The Good Neighbor | September 4, 2018 | 416 pages | Maxwell King | Abrams Press | Amazon |
| 6 | Destiny and Power | November 10, 2015 | 864 pages | Jon Meacham | Random House | Amazon |
| 7 | The Accidental President | October 24, 2017 | 448 pages | A. J. Baime | Mariner Books | Amazon |
| 8 | Leonardo da Vinci | October 2, 2018 | 624 pages | Walter Isaacson | Simon & Schuster | Amazon |
| 9 | The Life of Elizabeth I | October 05, 1999 | 560 pages | Alison Weir | Ballantine Books | Book Shop |
| 10 | Women Who Dared | September 5, 2017 | 128 pages | Linda Skeers | Sourcebooks Explore | Amazon |
| 11 | Who Was Walt Disney | April 16, 2009 | 112 pages | Whitney Stewart | Penguin Workshop | Amazon |
Here are some of the best biography books of all time, from biographies about women and men to biographies for children to historical biographies to presidential biographies, as well!
Best Biographies About Women
From the women who wrote literal rocket ship code to the story of a woman whose body was used (and profited from) without her consent, these biographies about women are some of the most inspiring, fantastic stories out there – tales of daring, of rebellion, of power, and of defying all odds.
1. Fly Girls: How Five Daring Women Defied All Odds and Made Aviation History by Keith O'Brien
A true story about a group of women who defied all odds during the era of air races in the 1920s and 1930s, this is a fascinating read full of grit, perseverance, and facing discrimination and prejudice head-on.
2. Ruth Bader Ginsburg: A Life by Jane Sherron de Hart
In this biography, you'll learn about the years, beliefs, and passions that have made up the life of one of the most powerful women in politics today (and ever), Supreme Court Justice Ruth Bader Ginsburg.
3. Madame Fourcade's Secret War: The Daring Young Women Who Led France's Largest Spy Network Against Hitler by Lynne Olson
Lynne Olson tells the insanely powerful (and remarkably unknown) story of Marie-Madeleine Fourcade, who led a massive French spy network during the Second World War while shattering expectations and creating a trail of remarkable stories.
4. The Immortal Life of Henrietta Lacks by Rebecca Skloot
Ethics, race, medicine, and science come together in the remarkable story of Henrietta Lacks, whose cells were taken without her knowledge and used for some of the most massive medical breakthroughs in history.
While this book will keep you furiously turning pages, it will also make you think about issues that have plagued our society from the beginning.
Best Biographies About Men
From an artistic visionary and the son of a president to a tech superstar and one of the most beloved figures in American childhood, these are some of the best biographies of men of all time that explore the lives and contributions of some of the most important people in society.
1. Tesla and Edison: Two Outstanding Inventors by The History Hour
Nikola Tesla and Thomas Edison were pioneering men who paved the way for the future of electrical engineering. Without their brilliant inventions, the world as we know it today would be a very different place, but how much do we really know about these misunderstood savants?
This fascinating biography offers a deep dive into their fascinating lives and careers. It unravels the untold facts that history forgot.
2. Elon Musk: Tesla, SpaceX, and the Quest for a Fantastic Future by Ashlee Vance
This biography about tech visionary Elon Musk explores the vast career and life of Musk while also discussing the possibilities it has opened for the rest of the world.
3. The Good Neighbor: The Life and Works of Fred Rogers
This book goes into depth about the face behind Mister Rogers' Neighborhood, using oral histories, interviews, and historical documents to paint the picture of one of America's most beloved figures.
4. Robin by Dave Itzkoff
In this biography about the beloved Robin Williams, author Dave Itzkoff dives into Williams' comedic genius, his storied career, and the demons he hid beneath it all.
5. The Day John Died by Christopher Andersen
From the second his father became the president, John F. Kennedy, Jr. captured the hearts of America. In this biography, Andersen delves into Kennedy's childhood, his marriage, and eventually his tragic death.
Best Presidential Biographies
The presidents of the United States have been the most powerful people in the world since the colonies, and these incredible presidential biographies explore assassinations, war, and changing frontiers to paint the portraits of the men who have painted America itself.
1. Destiny and Power: The American Odyssey of George Herbert Walker Bush by Jon Meacham
Using diaries and interviews with Bush Sr. himself, Jon Meacham paints a portrait of an incredibly private president who served the nation as a congressman, an ambassador, head of the RNC, vice president, and finally president.
2. The Accidental President: Harry S. Truman and the Four Months That Changed the World by A.J. Baime
This biography explores the tumultuous, intense first four months of the Truman presidency, taking you everywhere from Hiroshima to Nagasaki to Berlin as World War II ends and the Cold War begins.
3. Thomas Jefferson: The Art of Power by Jon Meacham
One of the most iconic names in politics is examined in this book, which discusses the beginnings of some of the earliest and deepest roots in American history during Jefferson's presidency.
4. Destiny of the Republic: A Tale of Madness, Medicine and the Murder of a President by Candice Millard
This book about the 20th President of the United States – who was in office only six-and-a-half months before death by assassination – explores the short presidency of James Garfield, one that is vital but so often forgotten.
Best Historical Biographies
The world has more history than any of us can ever comprehend, but these historical biographies do a great job of discussing an incredible artist and true royalty to an American history maker and the make-up of an ancient city, showing us the stories that have built cities, nations, dynasties, and cultural revolutions.
1. Leonardo da Vinci by Walter Isaacson
Everyone knows the name Leonardo da Vinci, and this book shows the story of the man behind the iconic "Mona Lisa," from his scientific passions to his intense creative genius.
2. The Life of Elizabeth I by Alison Weir
This biography paints an intimate picture of an immensely private queen, uncovering secrets and dissecting history in a thrilling tale of old.
3. Alexander Hamilton by Ron Chernow
One of the most scandalous and influential men in American history, Alexander Hamilton's biography shows the incredible life and adulthood of an incredibly important figure.
4. Jerusalem: The Biography by Simon Sebag Montefiore
Covering three thousand years of history, bloodshed, and religion, this biography breaks it all down from the days of King David, early Judaism, and the beginnings of Christianity and Islam to the Middle Eastern conflict that so often dominates global deadlines.
Best Biographies for Kids
Inspiration, knowledge, and motivation lie in the pages of these kids' biographies, which take your children on a space shuttle, through the land of Disney, on airplanes, and exploring the rainforest.
1. Women Who Dared: 52 Stories of Fearless Daredevils, Adventurers, and Rebels by Linda Skeers
Stories of incredibly strong women abound in this biography, which tells some of the most daring adventures and rebellious tales of women across time who have made waves throughout history.
2. Who Was Walt Disney? by Whitney Stewart
The story of the man who created Mickey Mouse ears that dominate Americana, this children's biography of Walt Disney is an inspiring story that shares the history behind a man who made millions of children's childhoods.
3. Ordinary People Change the World books by Brad Meltzer
Simply put, ordinary people change the world – it's true. Brad Meltzer's children's biographies tell the stories of everyone from Amelia Earheart and Gandhi to Billie Jean King and Jane Goodall, providing a well-rounded education on some of the world's greats.
4. Counting on Katherine: How Katherine Johnson Saved Apollo 13 by Helaine Becker
Apollo 13 rose into the sky based on long mathematical equations and calculations rooted in sexism.
This children's biography on Katherine Johnson explores the story of one of the most larger than life figures in NASA history – one who was so often thrust into the shadows.
What Are Your Favorite Biography Books?
Whether you are looking for inspiration and motivation or an engaging story of a powerful biography, these biographies – the best biography books of all time – provide a look into some of the most influential people in the world and American history.
About the Author
At the ripe old age of 3, Susannah decided that life was just a blank canvas and took Magic Marker to the newly installed carpet in her room just to "see what happened." She's taken that approach to life since, curious about pretty much everything.
She earned a journalism degree from Texas A&M University with the mission of making asking questions and telling stories her life, and since then has done everything from social media strategizing and content creation on the national level to writing a career column for USA TODAY.
Susannah is a high school teacher and yearbook adviser with a huge passion for reading (Harry Potter is her absolute favorite), and is excited to bring another book-loving voice to Hooked to Books.