October is the perfect time of year to curl up with a great horror novel. As the leaves fall from the trees, the air gets crisp, and pumpkin pops up everywhere from the streets to the coffee shops, nothing sounds better than a delightfully scary book. You may find yourself wondering, what are the best horror books of all time?
Iconic scary stories have been a piece of the Halloween-time vernacular for as long as any of us can remember, from the classic stories of Edgar Allan Poe and Henry James to the modern horrors of Stephen King and Anne Rice.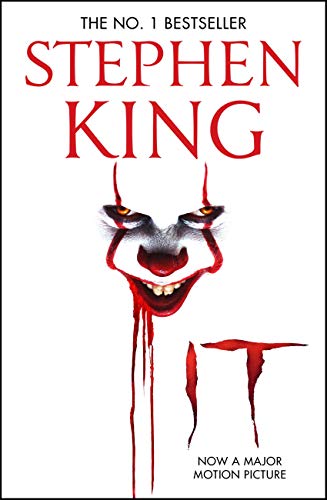 Our Recommendation for Horror Book
This spine-tingling landmark novel from the Master of Horror tells the tale of seven men and women who revisit their haunting hometown to confront the evil clown who terrorized their childhoods.
*We earn a commission if you make a purchase, at no additional cost to you.
Whether you're interested in stories about the supernatural or you're more into ax murders, these books have you covered.
From shark attacks and pieced-together zombies to a cannibalistic serial killer and an exorcism gone wrong, the best horror books of all time will have you satisfied and terrified at the same time.
Best Horror Books of All Time
Make a bowl of buttery popcorn, pour a steaming hot mug of apple cider, grab a fuzzy blanket, and settle in with one of the best horror books of all time to make your October a spooky literary masterpiece.
| Sr. No. | Title | Publication Date | Print Length | Author | Publisher | Where to Buy |
| --- | --- | --- | --- | --- | --- | --- |
| 1 | It by Stephen King | July 30, 2019 | 1184 pages | Stephen King | Scribner | Amazon |
| 2 | The Body by Stephen King | June 5, 2018 | 192 pages | Stephen King | Scribner | Amazon |
| 3 | Carrie by Stephen King | December 31, 2018 | 320 pages | | Anchor Books | Book Shop |
| 4 | Frankenstein by Mary Shelley | December 21, 2020 | 144 pages | Mary Shelley | CreateSpace Independent Publishing Platform | Amazon |
| 5 | The Haunting of Hill House by Shirley Jackson | November 28, 2006 | 208 pages | Shirley Jackson | Penguin Classics | Amazon |
| 6 | Dracula by Bram Stoker | August 25, 2020 | 512 pages | Bram Stoker | Puffin Books | Book Shop |
| 7 | Bird Box by Josh Malerman | May 13, 2014 | 272 pages | Josh Malerman | Ecco | Amazon |
| 8 | The Silence of the Lambs by Thomas Harris | September 15, 1998 | 352 pages | Thomas Harris | St. Martin's Griffin; 1st edition | Amazon |
| 9 | American Psycho by Bret Easton Ellis | March 1, 1991 | 399 pages | Bret Easton Ellis | Knopf Doubleday Publishing Group; 1st edition | Amazon |
| 10 | The Tell-Tale Heart and Other Writings | September 13, 2018 | 210 pages | Edgar Allan Poe | Suzeteo Enterprises | Book Shop |
| 11 | The Sleep Experiment by Jeremy Bates | August 27, 2019 | 255 pages | Jeremy Bates | Ghillinnein Books | Amazon |
1. It by Stephen King
The story of a murderous clown named Pennywise who lives in a storm drain is the exact kind of novel that will keep you from getting any sleep. 
Check out our list of the best Stephen King quotes!
2. The Body by Stephen King
Coming-of-age meets spookiness when a group of young boys goes out looking for a body, in a book that marries together terror and heartwarming comedy.
3. Carrie by Stephen King
In the inimitable Stephen King's first novel, readers learn the dangers of treating their classmates with cruelty when Carrie White decides to strike back.
4. Pet Sematary by Stephen King
Widely considered one of King's most terrifying books, this novel confronts the anxiety that comes with mortality and the horrifying side of death in a certain old graveyard.
5. The Shining by Stephen King
Set in the eerie Overlook Hotel, this book is packed full of the supernatural and the super-scary to keep you hiding under your covers and looking over your shoulder as the Torrance family experiences the supernatural.
6. Jaws by Peter Benchley
Telling the untold stories of some of the creatures of the ocean, this story has some teeth and may keep you far away from the waters of the ocean for quite a while. 
7. Frankenstein by Mary Shelley
A classic scary tale, this book tells the story of a science experiment gone wrong and explains to us the terrors that can ensue when humans try to play God.
8. The Haunting of Hill House by Shirley Jackson
An incredibly terrifying and spooky book rooted in the supernatural and the occult, this book recently inspired a Netflix series of the same name, which explores the events that unfold in an insanely scary home.
9. Dracula by Bram Stoker
The famous and iconic vampire Dracula comes to life in this tale, which follows the mascot of vampires from Transylvania to England as he tries to find ways to widen the curse of the undead.
10. Bird Box by Josh Malerman
Set in an apocalyptic near-future world, this book – which inspired the recent Netflix film Bird Box – takes readers on a terrifying, blindfolded journey in the dark.
11. The Silence of the Lambs by Thomas Harris
One of the most suspenseful books and stories of our time, this creepy book takes readers on the journey of FBI agent Clarice Starling as she searches for a notorious serial killer named Buffalo Bill and consults with another one named Hannibal Lecter.
12. American Psycho by Bret Easton Ellis
The underbelly of what actually goes on in some people's minds comes to life in this book, which tells the story of a horrifying man and the double life he leads in New York City once the sun goes down.
13. The Tell-Tale Heart and Other Writings by Edgar Allan Poe
This iconic selection of stories and poems are some of the world's scariest, ranging from Poe's "Tell-Tale Heart" to "The Raven."
14. The Sleep Experiment by Jeremy Bates
This sensational 2019 novel is the perfect modern horror story for anyone who loves the classic works of authors such as Stephen King and Dean Koontz.
It follows a crazed psychology professor who attempts to recreate one of the darkest and deadliest human experiments of all time.
15. The Turn of the Screw and Other Stories by Henry James
Written by perhaps the most classic of all ghost story writers, this essential collection explores the supernatural in ways that will give you chills.
16. Psycho by Robert Bloch
Norman Bates is a part of the scary story vernacular, and this book tells his chilling story (with just a little bit of blood).
17. Rosemary's Baby by Ira Levin
From a spooky apartment to a sickening pregnancy, this tale is an icon for the ages.
18. The Exorcist by William Peter Blatty
A truly famous tale diving deep into the occult, this creepy book tells the story of Regan and the events that ensue once she is possessed.
19. Interview with the Vampire by Anne Rice
Anne Rice is the cornerstone of the vampire genre, and this novel is a wildly enthralling and scary venture into the vampire world.
20. Coraline by Neil Gaiman
As Neil Gaiman has proven time and time again, children's books can be just as scary as their adult counterparts. This book tells the story of Coraline, and what ensues when she finds herself behind a certain previously locked door.
21. The Amityville Horror by Jay Anson
After ignoring the news of the DeFeo family's brutal murder in their new home just a year before, the Lutz family moves into a stunning home on Long Island. In the pages of this book, you'll find out the terrors that ensued in the 28 days they lived in the house.
22. The Strange Case of Dr. Jekyll and Mr. Hyde by Robert Louis Stevenson
The exploration of a split personality disorder makes for a fascinating read in this classic book, which has reached icon status in the book world.
23. Ring by Kōji Suzuki
In this book, which inspired the blockbuster of the same name, a mysterious video tells each viewer that they'll die in a week. After four teenagers drop dead one week past viewing, a journalist works furiously to figure out why.
24. Rebecca by Daphne du Maurier
A classic ghost story told beautifully, Daphne du Maurier's classic explores what happens when a new bride goes looking for answers. 
25. Something Wicked This Way Comes by Ray Bradbury
The sinister Cooger & Dark's Pandemonium Shadow Show's visit to Green Town threatens to destroy everything it can, and this is the story of what happens when people try to figure out its mysteries.
26. House of Leaves by Mark Z. Danielewski
In this haunting tale, readers travel alongside a family who soon learns after moving into their new house that something is just… not right.
What Are Your Favorite Horror Books?
From murderous clowns and crazy high school students to devilish experiences and mysterious carnivals, these books are all you need for a spooky, creepy, and downright scary night of reading.
Whether you prefer tales of the occult or enjoy reading about serial killers, this list of the best horror books of all time will leave chills running down your spine.
We recommend pairing a night of spooky reading with some dimmed lights, a jack-o-lantern, and a cheesy pizza for the ideal reading experience.
If you're feeling fancy, check out the film versions of some of these books after you turn the final page. The Ring, American Psycho, Jaws, and The Shining will have you double and triple-checking that your doors are locked, but they'll certainly keep you entertained.
If you're looking for some more books to add to your list, check out our list of the best books of all time. As always, we want to see what you're up to. Tell us what scary book you choose by tagging us at #hookedtobooks. Happy Scary reading to you all!