Shirley Jackson was an influential American horror and mystery author, most famous for her short story "The Lottery," which she wrote in 1948. This dystopian mini-masterpiece portrays a dark and unsettling side to tranquil small-town America. It was published early in her career and threw her to the forefront of the American literary scene.
Shirley Jackson went on to publish numerous novels and short stories and became well known for her chilling tales of mystery, horror, and intrigue. Since her untimely death in 1965, her works have received even more attention.
Most recently, the prolific author was the inspiration for the 2020 movie Shirley. This fictionalized portrayal of Jackson's life incorporates gripping storytelling based on some of her many successful novels and short stories.
With the release of this movie comes a renewed interest in this fascinating author, her life, and most importantly, her incredible collection of novels.
If you're ready to explore Shirley Jacksons' incredible books, then you've come to the right place. In this article, I'll give you a rundown of her most well-loved works, ranked in from best to lowest.
Shirley Jackson Books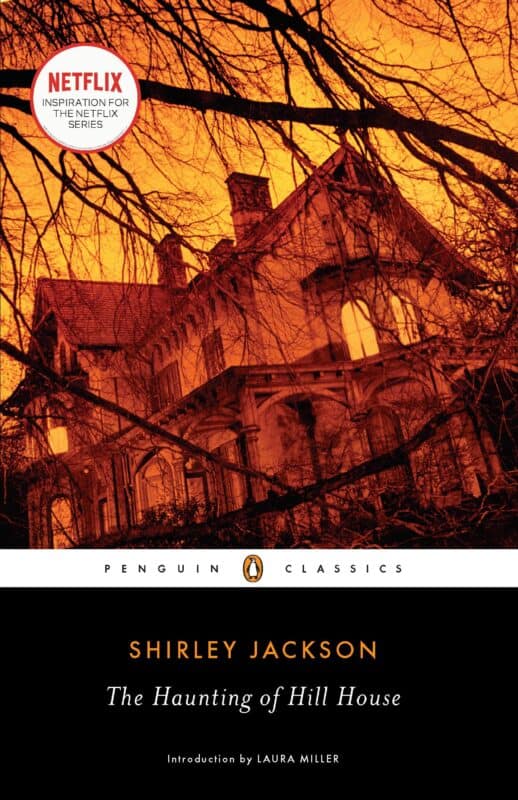 The Haunting of Hill House is Shirley Jackson's 5th novel, which was published in 1959. It immediately received huge acclaim and was described by author Stephen King as one of the 20th century's most important horror novels; not a bad endorsement from the master of horror himself!
This book is a classic haunted house story, told in the most powerful and engaging way. The tale begins when researcher Dr. Montague's curiosity gets the better of him, and he hires three assistants to help him uncover the hidden entities that are living up in the creaky old mansion.
One of these assistants is 32 year old Eleanor Vance. Eleanor is shy, reserved, and full of issues that stem from her childhood. As she enters the mysterious old mansion with its sinister past, she already feels a sense of dread building up inside of her.
What will this unlikely group of strangers find, and will the dark entities within this terrifying structure come out to play?
If you love horror novels, and haunted houses are your thing, then The Haunting of Hill House is an absolute must-read. It has all of the interpersonal rich character studies as the rest of Jackson's novels, but with even more terror and even more suspense.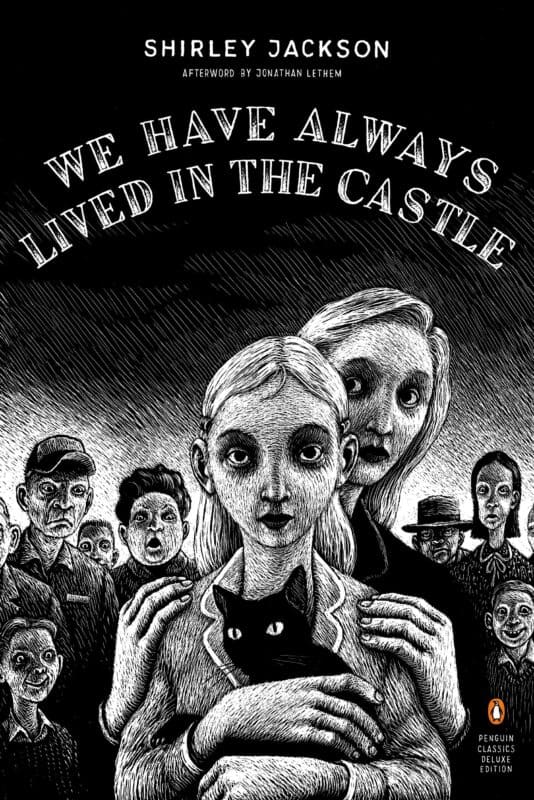 We Have Always Lived in the Castle is Shirley Jackson's 6th and final novel, which was published just three years before her death.
The story follows the fractured Blackwood family, which consists of Merricat, an 18-year-old girl on the fringe of womanhood, her older sister Contance who has crippling agoraphobia, and their old and frail Uncle Julian.
The Blackwood family all live together in their ancestral family home, a grand old mansion overlooking the small town below. At one time, the family was much bigger; there were parents, a brother, and an aunt. But a family tragedy a few years earlier left just three remaining survivors and separated them from the embittered villagers below.
Despite this, Merricat lives a relatively contented life in her Blackwood home until a man named Charles comes to visit. He's claiming to be Merricat's long lost cousin, but something doesn't quite sit right.
The strong-willed and assertive Merricat has no time for cheaters or fraudsters. If this man thinks he's getting his hands on the family's fortune, he can think again. Merricat is fiercely protective and uses her knowledge of spells and magic to defend what's rightfully hers.
This is easily one of Shirley Jackson's most highly acclaimed and well-loved books, partly because the main character is distinct from any others in Jackson's repertoire. Merricat is bold, assertive, and misanthropic, but despite all this, she draws the reader straight in and has us rooting for her success.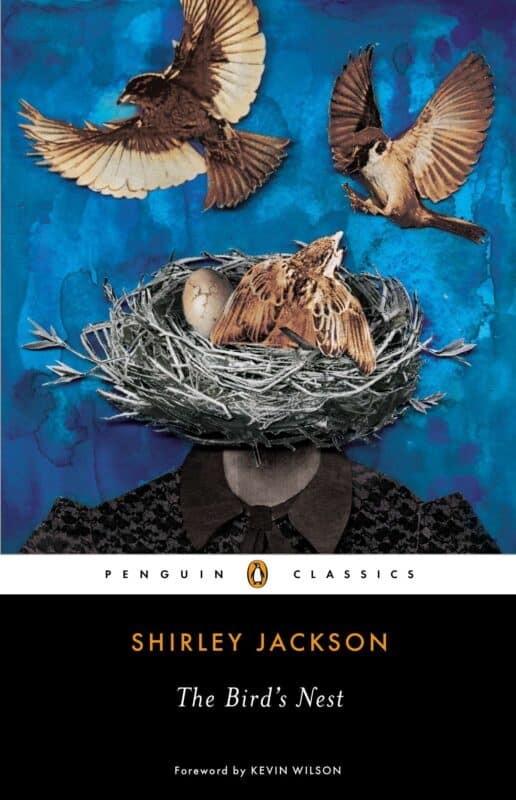 The Birds Nest was published in 1954 and was Jackson's third full-length novel. It follows the story of a young 23-year-old woman named Elizabeth Richmond. Elizabeth leads a rather dull life; she lives with her overbearing Aunt and works a terribly tedious desk job during the day.
She also suffers from frequent headaches and occasionally blacks out altogether. At first, Elizabeth accepts these ailments as a small inconvenience in her life, but gradually, they begin to worsen.
Elizabeth slowly descends into a mental illness and develops split personality syndrome. Her body is now home to 4 different personalities, Lizzie, Beth, Betsy, & Bess , and all of them are pulling her in different directions.
But one of these personalities can remember something that the others can't; a dark tragedy in her past that could hold the key to her mental breakdown.
By this point in Jackson's career, she has fully mastered her own unique style, and it really shows in The Bird's Nest. The way Elizabeth's unified character slowly breaks open into her multiple personalities makes for a gripping read, one that's impossible to put down.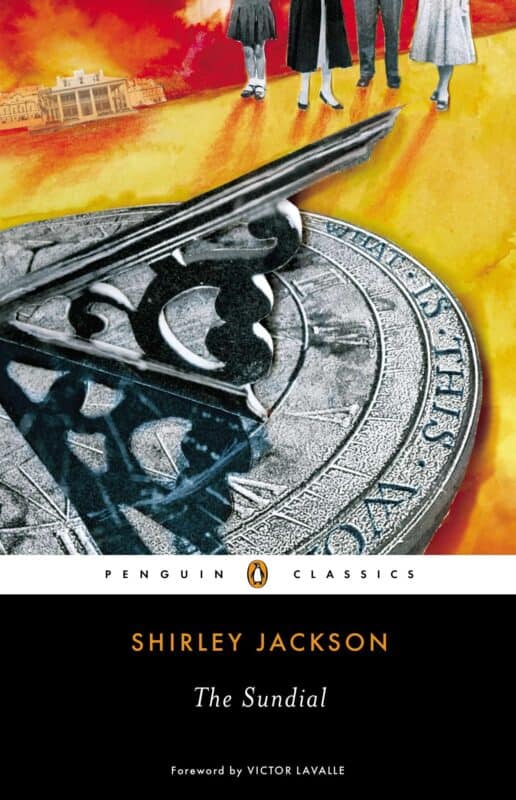 The Sundial was published in 1958 and was Jackson's 4th novel. The story revolves around the well-to-do Halloran family, who are forced together after Lionel Hallorian mysteriously dies.
His funeral is held in the ancestral family home, an old mansion with sprawling rooms, creaky old floors, and remnants of antiquity.
But one day, their Aunt Fanny receives a message from the other side; the ghost of Lionel's grandfather visits her and warns her of the impending apocalypse. He tells her that while the world will end in a matter of days, if the family holds up together inside the old mansion, he'll protect them from their otherwise inevitable deaths.
So as the countdown to the impending apocalypse beings, the Halloran family lock themselves away from the rest of the world. Forced together in the sprawling mansion, tensions quickly rise between them. It becomes clear why it took a death in the family to bring these peculiar characters together; there is little to no love between them. All anyone really seems to care about is preserving the family name.
Each character begins their own journey of self-reflection. Many of them begin to question if it's worth surviving the end of the world after all, if it means living with each other, forever.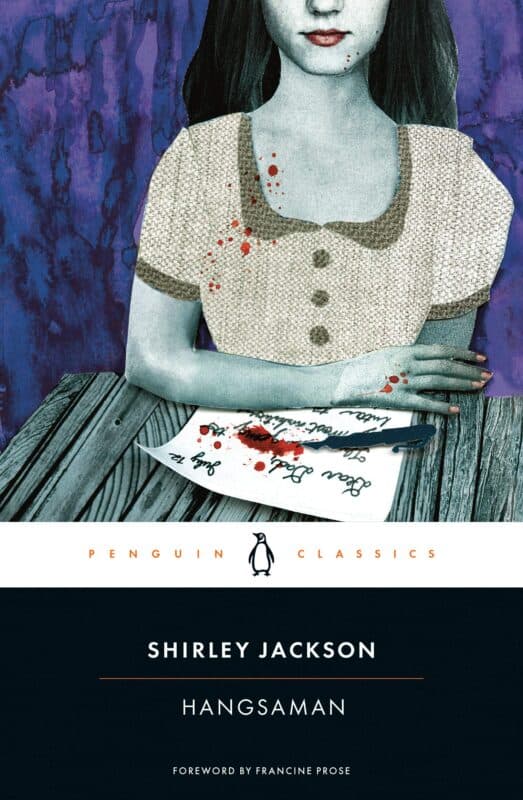 Hangsaman was Shirley Jackson's second novel, which was first published in 1951. The story centers around Natalie Waite, a 17-year-old girl who leaves her unhappy home life to pursue an education.
Natalie is painfully shy and reserved, and when she's thrown in at the deep end at the all girl's college, she struggles to find her place and fit in with her peers.
She begins to develop a crush on one of her professors, which slowly leads to an obsession. As the story progresses, Natalie's grip on reality is getting looser by the day.
This fascinating story is unlike any other from this period in time. Jackson paints such a vivid picture of Natalie's downward spiral and takes us on a journey deep inside her psyche. So much so that by the end of the tale, the protagonist feels like an extension of ourselves.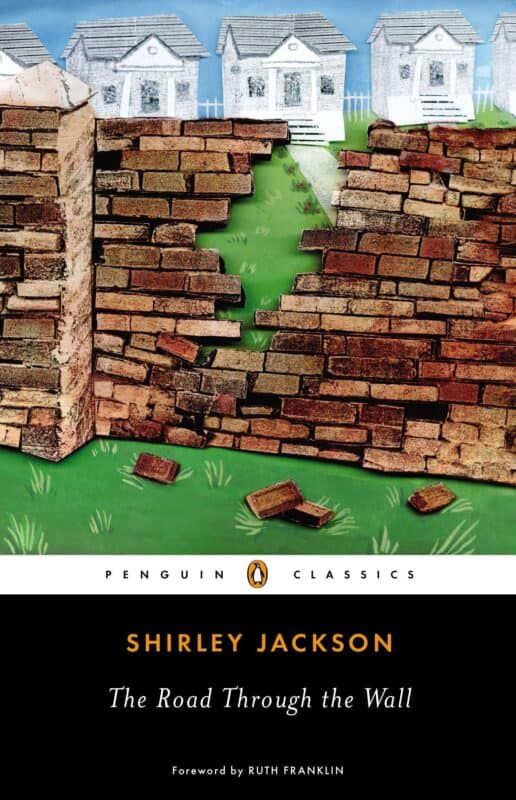 The Road Through the Wall is Shirley Jackson's first novel, which was published just before her breakout short story, The Lottery, in 1948.
This novel follows the lives of a group of neighbors living on Pepper Stree- a middle class, neat and tidy neighborhood filled with characters fixated on outdoing each other.
The Desmond family is firmly at the top of the Pepper Street social hierarchy. Having climbed to the highest possible standing, their only goal now is to move to the other side of the wall. The wall sits at the end of the street, separating it from an ultra high class and ritzy neighborhood on the other side.
But when a developing firm knocks down the wall, the separation between their middle-class bubble and the uber-wealthy is no longer there, at least not physically. The status quo of Pepper Street is flipped upside down, and a terrible tragedy follows.
Since this is Jackson's first published work, her signature style isn't yet fully developed. But even back then, at the beginning of her career, she has a masterful way of balancing the stories of her complex characters and their interwoven lives.
Conclusion
I highly recommend you read all of Shirley Jackson's books; she's a truly unique author who was way ahead of her time.
What's your favorite Shirley Jackson novel, and do you agree with the order I've ranked them in here? Let me know in the comments below!
Check out these other great posts!
10 Modern Classics On The Way to Becoming Classics
6 Ed and Lorraine Warren Books We Recommend
The 10 Best Space Opera Books to Read in 2021
The 10 Best Fantasy Audiobooks (Standalone & Series)