Are you looking for a tablet that lets you read ebooks to your heart's content and also doubles up as a fully functioning laptop?
Gone are the days of separate gadgets for reading, browsing, watching shows and movies, and catching up on work. Now, it's easy to find one device that ticks all the boxes, and many of them are compact enough to easily slip into a bag and take with you on the go.
But if you use your tablet for writing, either at home or on the go, you're going to need a keyboard. In this article, I'll give you a rundown of the five of the best tablets that support a detachable keyboard, so you can read, browse, watch and write, wherever you are.
At A Glance: Our Top Pickup for Best Tablets with Detachable Keyboards
#1. Apple iPad Air 2020 – Premium, high-Performance at a More Affordable Price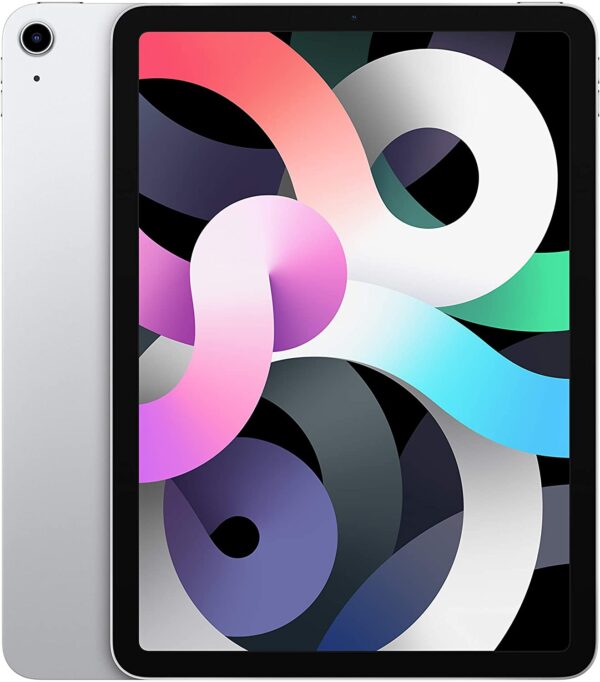 The Apple iPad Air, which hit the shelves at the end of 2020, is a dynamic all-in-one tablet that some users claim rivals Apple's reigning champion of tablet tech, the latest iPad Pro. You can use the same detachable keyboard, the Apple Magic Keyboard, on both of these premium Apple devices.
The Magic Keyboard's seamlessly built-in trackpad and tactile, highly responsive backlit keys make this THE best detachable keyboard on the market right now.
But what about the tablet? The iPad Air's pioneering A14 bionic chip processor makes this one of the most powerful options money can buy. It also features wide stereo audio that makes listening to audiobooks a genuinely immersive experience, even without headphones. Plus, the extra sharp 10.9-inch Liquid Retina display with True Tone and P3 wide color takes movies and TV shows to the next level.
While the Apple iPad Air doesn't quite have all the features of the latest iPad Pro, it certainly retains the best of them, making it a great, slightly more affordable option if you're looking for a super high-performance tablet.
Pros
Compatible with the best detachable keyboard on the market; The Apple Magic Keyboard
All-round high-performance tablet
Cons
#2. Microsoft Surface Go 2- Great performance at a Mid-range Price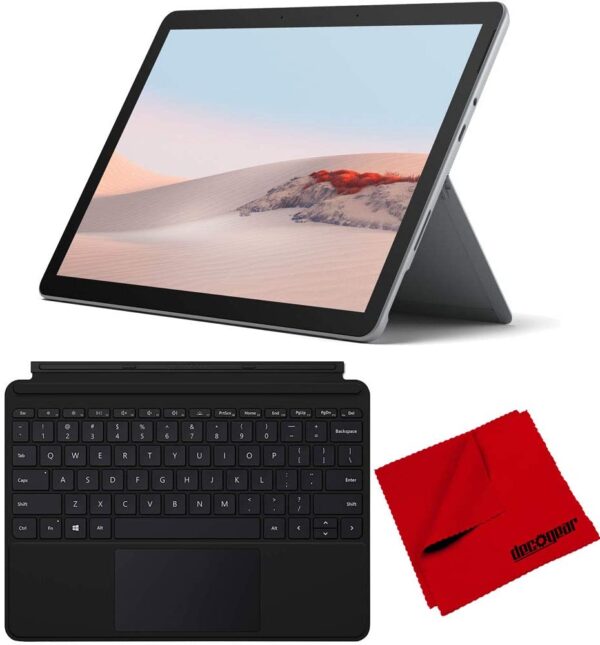 The Surface Go 2 is an ultraportable lightweight device that offers a surprising amount of power and capability for its mid-range price.
The Windows 10 Home operating system and 8th Gen Intel Core m3 processor handle everyday tasks such as video calling, web browsing, sending emails, and of course, typing, plus a whole lot more. And with the keyboard included in one bundle, it won't break the bank.
While the accompanying keyboard isn't going to blow any minds, it's tactile and responsive enough to hold up to regular day-to-day use in the office or at home. The magnetic attachment easily and seamlessly snaps on and off, and the keyboard surface also doubles up as a screen protector when your tablet is in transit.
Pros
Excellent overall performance that can easily replace your office laptop.
Cons
Battery drains quickly with heavy use
Bonus Read: 10 Best Tablets For Reading in 2022
#3. The All-New Fire HD 10 Tablet – eReader and budget workstation combined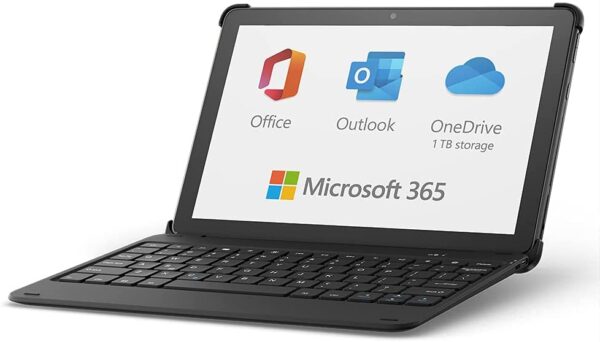 Amazon's latest incarnation of the affordable Fire HD tablet is an all-around user favorite with ebook fans who want an e-reader and tablet combined. And while its lower storage capacity and basic overall design might not replace your office laptop entirely, it's perfect for everyday use, either at home or on the go.
The latest Fire model features a powerful octa-core processor and 3 GB RAM, which is 50% more than the previous generation, plus it's thinner and lighter than ever before, so if you're already an Amazon Fire user, then it's well worth the upgrade.
You can download a huge variety of apps from the Amazon Appstore to upgrade your device, like Kindle, Microsoft Office, OneNote, Zoom, and Dropbox, making this a great all-in-one device for light use. And thanks to the all-new split-screen feature, you can multitask in two apps at the same time. Just bear in mind that the Fire tablet isn't compatible with the Google Play Store.
The detachable Bluetooth Fire HD keyboard is included in the Fire Productivity Bundle, making this one of the most affordable tablet/ keyboard combos on our list.
Pros
Affordable price
Good battery life
Cons
Google Play Store not supported
#4. The 10.5″ Samsung Galaxy Tab S6 – Premium High Performance and Portability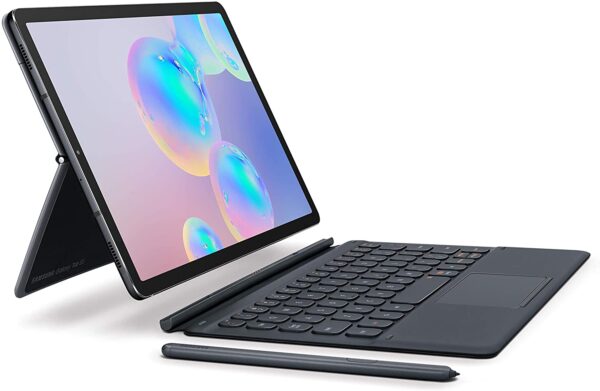 This powerful machine bears an uncanny resemblance to the new iPad Pro with its super sleek, slim design. Yet once you attach the tactile Galaxy Tab keyboard to the built-in trackpad, you'll have yourself a fully functioning laptop that's as capable and comfortable as a desktop computer.
The superfast mobile processor lets you seamlessly switch between apps for effortless multitasking between reading, writing, video calls, gaming, and streaming.
This is also the lightest tablet/keyboard combo on our list, and with an impressive 15 hours of battery life and superfast charging capabilities, it's a solid choice for working on the move.
While it's certainly not a budget option, if you're looking for a premium tablet and keyboard with excellent battery life, then you can't go wrong with the Samsung Galaxy Tab S6. Plus, the S Pen comes included as standard, so you can draw, write, sign documents, and pause, play, and skip at the click of a button without paying any extra.
Pros
Robust, high-performance tablet and keyboard
The best battery life of any tablet on our list
Cons
Also Read: 5 of the Most Popular eBook Formats & How to Find Yours
#5. The 10″ RCA Best Performance Tablet- Simple, Basic, and Affordable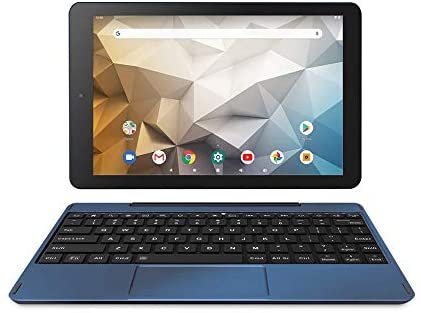 For under $120, the RCA is a fully functioning tablet and keyboard combined, so if simplicity is what you crave, then this model is well worth a look.
While it's not going to win any prizes for overall performance or power, with 2GB of RAM and 32 GB of storage, it's surprisingly functional for such a budget buy.
The detachable qwerty keyboard can be adjusted to form a tablet stand for handsfree viewing; plus, the tactile, sensitive keys are surprisingly comfortable and user-friendly, even when typing at length.
The most noticeable downside of this budget tablet is the battery life; at just 6 hours of average running time on a full charge, it's by far the worst on the list. The screen size is also on the small side, yet while this might be a dealbreaker for some, it makes it easy to slip into a bag and work on the move.
Pros
Cons
Disappointing battery life
Basic features that lack the power of a premium tablet
What to Consider When Shopping for a Tablet with a Detachable Keyboard?
A detachable keyboard is essential if you want a tablet that also functions as a portable workstation. But not all detachable keyboards are built the same, and it's essential to find one that's efficient, practical, and comfortable to use in a variety of situations.
After all, no matter how great your tablet is, if the keyboard doesn't function well, you're going to be less productive, and ultimately, pretty frustrated with your purchase.
But of course, the keyboard isn't everything, so you'll also need to consider what other elements you need in a tablet. Are you looking for a basic, budget-friendly model to use for simple tasks like reading ebooks, word processing, and browsing social media? Or do you need something more powerful to deliver excellent audio and video quality too?
Whatever your budget and preferences, you'll find something here to suit your needs. So, without further ado, here are five of the best tablets with detachable keyboards on the market right now.
Conclusion
Suppose you're looking for portability and convenience with the functionality of a laptop or desktop computer. In that case, a tablet with a detachable keyboard is the perfect solution.
But with so many options on the market, choosing the right one isn't always easy, so I hope this guide has helped you narrow down your choices, whatever your needs and budget are.
Check out the Hooked to Books gadget reviews page for more help finding the perfect tech for bibliophiles.