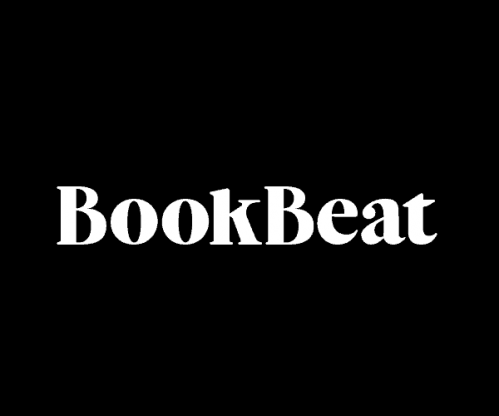 £12.90/month
Unlimited monthly listening
Listen to multiple audiobooks at a time
Cancel anytime
Offline Downloads
14-day free trial
About BookBeat UK
BookBeat UK was created in 2015 when one of the premier publishing companies operating out of Europe, Bonnier Books, teamed up to create a service for digital books that combined people's love of literature and the convenience of technology.
Bonnier Books has more than one hundred years of experience creating and distributing amazing literature. The creation of BookBeat stems from their team's desire to expand their story-telling reach and deliver the best listening experience for literature-lovers.
BookBeat is a digitally-accessed subscription service that allows users to listen to audiobooks and read e-books directly from their mobile device. Their digital library features thousands of audiobooks that are available on the BookBeat app.
Another notable feature they offer is the ability to download and stream audiobooks offline. This is especially helpful for situations where you may not have Wi-Fi but still want to be entertained. All the reputable audiobook services offer this feature. Continue reading our BookBeat review to discover more of their key features.
URL – https://bookbeat.co.uk/
Device Compatibility – iOS & Android
Support for Offline Listening – Yes
Free Trial – Yes
Keep Books After Cancelling – No
Monthly Cost – £12.90
Contact – Use the contact form on their website
BookBeat Library
BookBeat's large digital library hosts thousands of audiobooks and e-books that can be browsed through the "categories" section of their website. The genres they offer are as follows:
Genres/Categories
Fiction
Romance
Children
Youth/YA
Sci-Fi & Fantasy
Personal Development
Biographies
Classics
History
Business & Economics
Swedish
Finnish
Danish
German
Spanish
Italian
Once you select the category you're interested in, you can then filter your search using subcategories. You'll also be able to filter your search by format, language, and other sorting factors like popularity or rating.
This is amazing because it allows you to conduct a narrow and focused search that only generates results that you're interested in. Having such a big library to peruse can be daunting, but these search features make the process much simpler.
Once you select the book that you're interested in, you'll find more information about the book's contents, as well as some book reviews from other people who have enjoyed it. This is helpful because it allows you to peek into a book without dedicating time to reading the entire thing.
On this page, they also provide recommendations for other similar books. If you want to explore books that have similar messages and themes, this is a great way to discover those books.
The audiobooks and e-books will have a rating in the upper right corner of the cover art. This allows you to gauge general opinions about the book and decide whether or not you want to read it.
If you already know what book you're looking for, you can search it by name or author and bypass the normal search options.
Device compatibility
BookBeat's app is available for download on iOS and Android. The app can be accessed through your mobile phone or tablet. Services like BookBeat cater to the on-the-go personality who is looking for entertainment no matter where they are.
Subscribers to audiobook services will most likely be listening from their mobile phone or tablet, so there isn't much need for desktop compatibility. This ties back in with our point about BookBeat's uncomplicated approach to digital listening.
BookBeat App
As we just mentioned, the BookBeat app is downloadable through the iOS app store and Android app store. The app is free and user-friendly.
All of the features we discussed in the "BookBeat Library" section of our review are available on the app as well. By using the app, you'll have a seamless user experience that allows you to listen as much as you want, whenever you please.
Also, we think the BookBeat app has a very attractive and chic design. While this may not be at the top of your priorities when considering a subscription service, we do think it's important to note for all of you design fanatics. Having an aesthetically pleasing app makes the user experience more pleasant overall.
BookBeat vs Audible
While both services offer the same basic services, there are some key differences between the two. Audible's library is larger than BookBeat's, but with BookBeat, users have access to both audiobooks and e-books as opposed to just audiobooks.
In terms of cost, BookBeat offers one type of subscription service that costs €12.90, whereas Audible has a few options. Their monthly options range from $14.95 to $22.95, and the yearly options range from $149.50 to $229.50.
For the price of Audible's most basic service, which only offers one monthly credit, you can have access to all of BookBeat's features.
The fact that BookBeat does boast such a large digital library may actually be a good thing. With Audible, there may be occasions where you have to sift through a lot of books that aren't appealing to you. In turn, this subtracts from your listening time.
With BookBeat, you have a condensed library of bestsellers that makes it easier to find what you're searching for.
Is BookBeat worth it?
Based on our time using BookBeat, we believe that it is worth it. However, Scribd offers unlimited audiobooks too, and at a cheaper monthly rate. They also allow international customers, not just UK and Sweden like BookBeat.
BookBeat offers great features at an affordable price without complicated membership plans. They have a diverse library of audiobooks and e-books across many genres.
Their easy-to-use app is another reason we think BookBeat is a key player in the market. They really took the time to simplify the user experience, making exploring new literature as effortless as possible.
Their competitive pricing is another reason you may want to try BookBeat. Compared to Audible, you get unlimited listening for nearly the same price that Audible offers for a single monthly credit.
One downside of BookBeat is that you must be a UK resident to have an account, unlike Audible, which is available in almost every country in the world. You can bypass this requirement by having a UK payment method, but it's still a limiting factor.
Since BookBeat is a subsidiary of a publishing company, they often offer content from the industry's leading publishers. Because of this, subscribers can get their hands-on contemporary bestsellers from many genres.
Overall, you should give BookBeat a try to decide whether or not the features suit your needs. It's one of the few services of its kind to offer truly unlimited listening. You can sign up for their 2-week free trial here! If you decide it's not for you, you're not obligated to continue your subscription.