Books are a great way to increase our knowledge and gather some wisdom. For some of us, reading books is our favorite hobby! It's a great way to relax and unwind after a long day of work.
Books are also a fantastic conversation starter when meeting new friends. You share your favorite books and authors. You enthusiastically speak about your passion for books and how much you love them.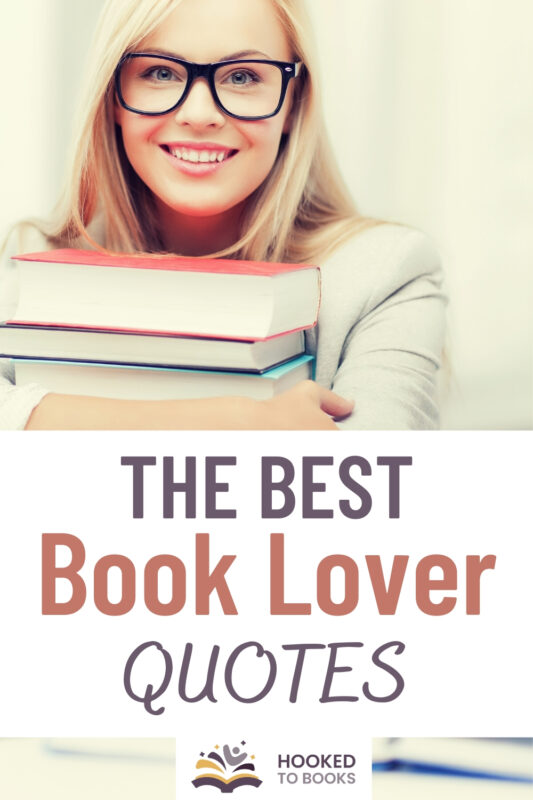 A true book lover can never get enough books. They pride themselves with their large collections and they are always on the hunt for the next best book they can read.
Are you a book lover? If the answer is yes, then keep on reading!
We compiled a list of 24 Book Lover Quotes that you will probably love!
No two persons ever read the same book.

Edmund Wilson
Whenever you read a good book, somewhere in the world a door opens to allow in more light.

Vera Nazarian
Anyone who says they have only one life to live must not know how to read a book.

Unknown Author
The book you don't read won't help.

Jim Rohn
Great books help you understand, and they help you feel understood.

John Green
A good novel tells us the truth about its hero; but a bad novel tells us the truth about its author.

Gilbert K. Chesterton
"I know some who are constantly drunk on books as other men are drunk on whiskey."

H.L. Mencken
There is nothing like the smell of books, both new and old. If someone ever bottled the smell, I would be all over it.

Tiffany King
Some like to believe it's the book that chooses the person.

Carlos Ruiz Zafón
Maybe this is why we read, and why in moments of darkness we return to books: to find words for what we already know.

Alberto Manguel
That's the thing about books. They let you travel without moving your feet.

Jhumpa Lahiri
Reading is a conversation. All books talk. But a good book listens as well.

Mark Haddon
You know you've read a good book when you turn the last page and feel a little as if you have lost a friend.

Paul Sweeney
If you don't see the book you want on the shelf, write it.

Beverly Cleary
The more that you read, the more things you will know. The more that you learn, the more places you'll go.

Dr. Seuss​​
A reader lives a thousand lives before he dies.

George R.R. Martin​
In the end, we'll all become stories.

Margaret Atwood​​
Reading gives us someplace to go when we have to stay where we are.

Mason Cooley
The only important thing in a book is the meaning that it has for you.

W. Somerset Maugham
Make it a rule never to give a child a book you would not read yourself.

George Bernard Shaw
Books serve to show a man that those original thoughts of his aren't very new after all.

Abraham Lincoln
A great book should leave you with many experiences, and slightly exhausted at the end. You live several lives while reading.

William Styron
I divide all readers into two classes; those who read to remember and those who read to forget.

William Lyon Phelps
There comes a time when you have to choose between turning the page and closing the book.

Josh Jameson
Conclusion:
Both authors and readers share their love for books. A good book can do wonders for your life and a true book lover knows that! So, keep on hugging your books and proudly talk about them to your friends!
Did you enjoy our list of book lover quotes? If you did, you should check out our other lists:
50 Inspirational Writing Quotes To Encourage You
20 Most Inspiring Ernest Hemingway Quotes On Writing
30 Inspiring Quotes By Famous Authors
Ultimate List Of Mark Twain Quotes