Ernest Hemingway is one of the most admired writers of the 20th century. He authored many of the classic American literature we love today. Ernest Hemingway's quotes on writing have been inspiring writers, old and new, for decades.
Hemingway's books examine the human experience using a form of tight-prose that the author called the "iceberg theory." The iceberg theory, also known as the "theory of omission," is a writing technique focusing on "surface elements without explicitly discussing underlying themes."
Hemingway believed that great writers shouldn't need to overtly assign context and meaning to their words. The job of the writer, he deduced, is to transfer deeper context in as little explanation as possible. Show the reader the tip of the iceberg, but let them explore its depth in their own mind.
Here are 20 of the best Ernest Hemingway quotes on writing to inspire your next great novel!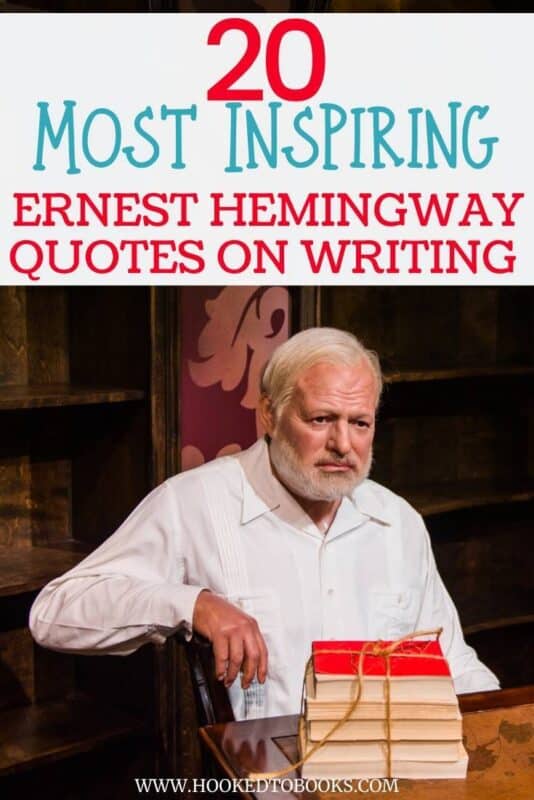 20 Ernest Hemingway Quotes for Writers
Writing is something that you can never do as well as it can be done. It is a perpetual challenge and it is more difficult than anything else that I have ever done–so I do it. And it makes me happy when I do it well.

Ernest Hemingway on Writing
I have to write to be happy whether I get paid for it or not. But it is a hell of a disease to be born with. I like to do it. Which is even worse. That makes it from a disease into a vice. Then I want to do it better than anybody has ever done it which makes it into an obsession. An obsession is terrible. Hope you haven't gotten any. That's the only one I've got left.

Ernest Hemingway on Writing
Ordinarily I never read anything before I write in the morning to try and bite on the old nail with no help, no influence and no one giving you a wonderful example or sitting looking over your shoulder.

Ernest Hemingway on Writing
For Christ sake write and don't worry about what the boys will say nor whether it will be a masterpiece not what. I write one page of masterpieces to ninety one pages of shit. I try to put the shit in the wastebasket.

Ernest Hemingway on Writing
All the critics who could not make their reputations by discovering you are hoping to make them by predicting hopefully your approaching impotence, failure and general drying up of natural juices.

Ernest Hemingway on Writing
Don't let yourself slip and get any perfect characters… keep them people, people, people, and don't let them get to be symbols.

Ernest Hemingway on Writing
In truly good writing no matter how many times you read it you do not know how it is done. That is beacause there is a mystery in all great writing and that mystery does not dis-sect out. It continues and it is always valid. Each time you re-read you see or learn something new.

Ernest Hemingway on Writing
Good writing is true writing. If a man is making a story up it will be true in proportion to the amount of knowledge of life that he has and how conscientious he is; so that when he makes something up it is as it would truly be.

Ernest Hemingway on Writing
The more I'm let alone and not worried the better I can function.

Ernest Hemingway on Writing
It was a very simple story called "Out of Season" and I had omitted the real end of it which was that the old man hanged himself. This was omitted on my new theory that you could omit anything if you knew that you omitted and the omitted part would strengthen the story and make people feel something more than they understood.

A Moveable Feast
I would stand and look out over the roofs of Paris and think, "Do not worry. You have always written before and you will write now.

A Moveable Feast
All you have to do is write one true sentence. Write the truest sentence that you know." So finally I would write one true sentence, and then go on from there. It was easy then because there was always one true sentence that I knew or had seen or had heard someone say.

A Moveable Feast
It was in that room too that I learned not to think about anything that I was writing from the time I stopped writing until I started again the next day. That way my subconscious would be working on it and at the same time I would be listening to other people and noticing everything.

A Moveable Feast
This book began magnificently, went on very well for a long way with great stretches of great brilliance and then went on endlessly in repetitions that a more conscientious and less lazy writer would have put in the waste basket.

A Moveable Feast
When I had to write it, then it would be the only thing to do and there would be no choice. Let the pressure build. In the meantime I would write a long story about whatever I knew best.

A Moveable Feast
I write one page of masterpiece to ninety-one pages of shit. I try to put the shit in the wastebasket.

Ernest Hemingway
Remember to get the weather in your damn book–weather is very important.

Ernest Hemingway
My aim is to put down on paper what I see and what I feel in the best and simplest way.

Ernest Hemingway
There is no rule on how to write. Sometimes it comes easily and perfectly; sometimes it's like drilling rock and then blasting it out with charges.

Ernest Hemingway
After writing a story I was always empty and both sad and happy, as though I had made love, and I was sure this was a very good story although I would not know truly how good until I read it over the next day.

Ernest Hemingway
Love Ernest Hemingway Quotes?
Ernest Hemingway's unique writing style is why he is known as one of the greatest authors of all time. We hope these writing tips from the man himself inspire you! What are your favorite Hemingway quotes on writing? Leave them in the comments!
Want more Hemingway? Check out the greatest Ernest Hemingway quotes of all time!