You've sat down at your desk. Your laptop sits in front of you, and a warm cup of coffee sits to the left of the screen. You've usually got a dozen writing ideas stored up and ready to go. But right now, the inspiration just isn't hitting. Maybe you just need some inspirational writing quotes to feel more encouraged!
Writer's block is something that all writers deal with. We can't access the perfect state of writing flow 24/7. It's only natural that you will struggle to find inspiration and motivation at times.
Fortunately, there are many, many writers who have been there before. Even some of the greatest authors of all time have struggled with a lack of motivation. And they've shared tips to help future writers feel more encouraged about their work.
Writing is your passion. Don't let a bad day, week, or year, discourage you. Here are 50 inspirational writing quotes to keep you going.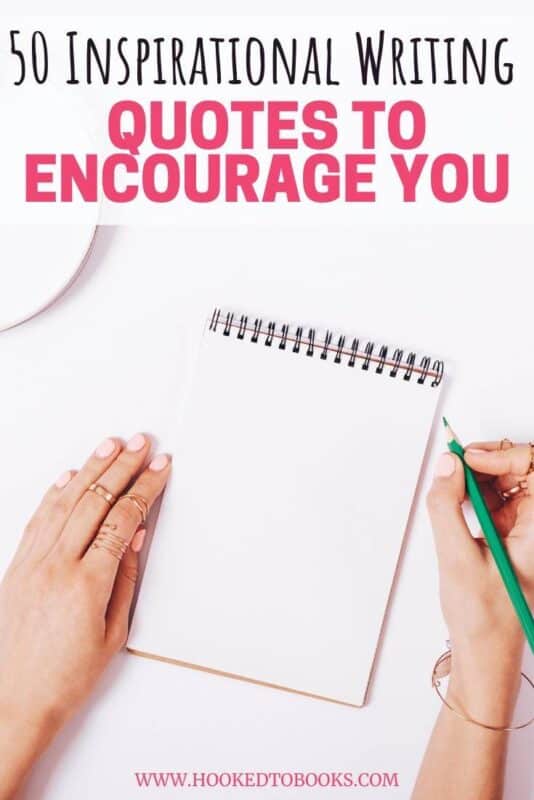 50 Inspirational Writing Quotes
I try to create sympathy for my characters, then turn the monsters loose.

– Stephen King
Read a thousand books, and your words will flow like a river.

― Lisa See
There is no greater agony than bearing an untold story inside you.

― Maya Angelou
It's none of their business that you have to learn to write. Let them think you were born that way.

– Ernest Hemingway
If there's a book that you want to read, but it hasn't been written yet, then you must write it.

― Toni Morrison
You don't start out writing good stuff. You start out writing crap and thinking it's good stuff, and then gradually you get better at it.

That's why I say one of the most valuable traits is persistence. You don't start out writing good stuff.

― Octavia E. Butler
Most writers regard the truth as their most valuable possession, and therefore are most economical in its use.

– Mark Twain
Start writing, no matter what. The water does not flow until the faucet is turned on.

— Louis L'Amour
You have to write the book that wants to be written. And if the book will be too difficult for grown-ups, then you write it for children.

― Madeleine L'Engle
If you can tell stories, create characters, devise incidents, and have sincerity and passion, it doesn't matter a damn how you write.

– Somerset Maugham
One day I will find the right words, and they will be simple.

― Jack Kerouac
Every secret of a writer's soul, every experience of his life, every quality of his mind, is written large in his works.

— Virginia Woolf
It is perfectly okay to write garbage — as long as you edit brilliantly.

– C. J. Cherryh
Everybody walks past a thousand story ideas every day. The good writers are the ones who see five or six of them. Most people don't see any.

— Orson Scott
You never have to change anything you got up in the middle of the night to write.

― Saul Bellow
It took me fifteen years to discover I had no talent for writing, but I couldn't give it up because by that time I was too famous.

– Robert Benchley
I was set free because my greatest fear had been realized, and I still had a daughter who I adored, and I had an old typewriter and a big idea. And so rock bottom became a solid foundation on which I rebuilt my life.

— J.K. Rowling
There are reasons people seek escape in books, and one of those reasons is that the boundary of what can happen is beyond what we do – or would want to see in real life.

– James Patterson
Any man who keeps working is not a failure. He may not be a great writer, but if he applies the old-fashioned virtues of hard, constant labor, he'll eventually make some kind of career for himself as writer.

– Ray Bradbury
I've always believed in writing without a collaborator, because where two people are writing the same book, each believes he gets all the worry and only half the royalties.

— Agatha Christie
A blank piece of paper is God's way of telling us how hard it to be God.

– Sidney Sheldon
Just write every day of your life. Read intensely. Then see what happens. Most of my friends who are put on that diet have very pleasant careers.

— Ray Bradbury
Not that the story need be long, but it will take a long while to make it short.

– Henry David Thoreau
I always wrote. I wrote from when I was 12. That was therapeutic for me in those days. I wrote things to get them out of feeling them, and onto paper. So writing in a way saved me, kept me company. I did the traditional thing with falling in love with words, reading books and underlining lines I liked and words I didn't know.

— Carrie Fisher
If you have other things in your life—family, friends, good productive day work—these can interact with your writing and the sum will be all the richer.

– David Brin
Write while the heat is in you. The writer who postpones the recording of his thoughts uses an iron which has cooled to burn a hole with.

— Henry David Thoreau
My own experience is that once a story has been written, one has to cross out the beginning and the end. It is there that we authors do most of our lying.

– Anton Chekhov
If you wait for inspiration to write you're not a writer, you're a waiter.

– Dan Poynter
I have been successful probably because I have always realized that I knew nothing about writing and have merely tried to tell an interesting story entertainingly.

– Edgar Rice Burroughs
Step into a scene and let it drip from your fingertips.

– M J Bush
First, find out what your hero wants, then just follow him!

– Ray Bradbury
Be courageous and try to write in a way that scares you a little.

– Holley Gerth
There is no real ending. It's just the place where you stop the story.

– Frank Herbert
Most of the basic material a writer works with is acquired before the age of fifteen.

– Willa Cather
A professional writer is an amateur who didn't quit.

– Richard Bach
I love deadlines. I like the whooshing sound they make as they fly by.

– Douglas Adams
Don't forget— no one else sees the word the way you do, so no one else can tell the stories you have to tell.

– Charles de Lint
I almost always urge people to write in the first person. … Writing is an act of ego and you might as well admit it.

– William Zinsser
Words are a lens to focus one's mind.

– Ayn Rand
The writer is by nature a dreamer— a conscious dreamer.

– Carson McCullers
Poetry creates the myth, the prose writer draws its portrait.

– Jean-Paul Sartre
Everywhere I go I'm asked if I think the university stifles writers. My opinion is that they don't stifle enough of them. There's many a best-seller that could have been prevented by a good teacher.

– Flannery O'Connor
Writing is an exploration. You start from nothing and learn as you go.

– E. L. Doctorow
A writer without interest or sympathy for the foibles of his fellow man is not conceivable as a writer.

– Joseph Conrad
A non-writing writer is a monster courting insanity.

– Franz Kafka
The true alchemists do not change lead into gold; they change the world into words.

– William H. Gass
The only thing I was fit for was to be a writer, and this notion rested solely on my suspicion that I would never be fit for real work, and that writing didn't require any.

– Russell Baker
The only writer to whom you should compare yourself is the writer you were yesterday.

– David Schlosser
All good writing is swimming under water and holding your breath.

– F. Scott Fitzgerald
People on the outside think there's something magical about writing, that you go up in the attic at midnight and cast the bones and come down in the morning with a story, but it isn't like that. You sit in back of the typewriter and you work, and that's all there is to it.

– Harlan Ellison
More Writing Tips for Ideas and Motivation
We hope you found these writing quotes helpful! Want more writing tips and motivation? Check out these articles for writers: