Audible, the biggest name in the audiobook industry, has arguably one of the best introductory offers available. This audiobook service is one of our favorites, so we reviewed the Audible product fully here.
If you are only keen to find out what Audible's free trial has to offer then we suggest you keep reading this article.
How Does the Audible Free Trial Work?
First of all head over to Audible.com
Find and press the 'Click to Try Audible Free' button on their homepage
On the next screen, you'll be asked to sign in to your Amazon account. (If you don't have an Amazon account, you'll need to register for one. But who doesn't have an Amazon account?)
The next screen can be seen in the image below. You will see the last 4 digits of your accounts preferred credit card. This is for the billing once the 30-day Audible free trial has ended. The next step is simply clicking the 'Start Free Trial' button
Success! Now you can go to the Audible store to choose your first audiobook!
If you are only coming for the free audiobook, then you can cancel your Audible membership straight after it has been purchased.
You now have access to your chosen audiobook and 2 Audible Originals. We hope that you enjoy using Audible as much as we do, we're monthly subscribers.
If you realise that you love listening to audiobooks, you can allow the Audible Free Trial to come to an end in order to receive your second Audible credit. Alternatively, if you finish your audiobook before the month's end you can start your paid subscription straight away.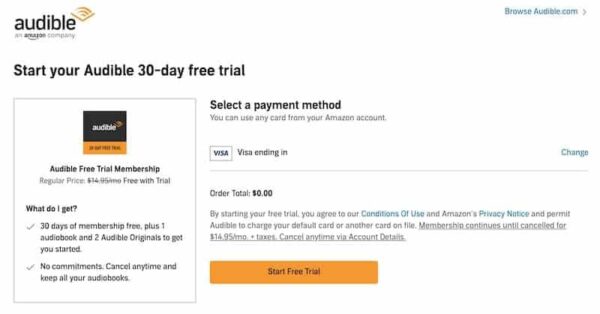 Using the Audible Free Trial
So, you've registered for the Audible free trial, you must be wondering how you can start enjoying their audiobook offering.
It's quite simple to get started, head over to the Audible library where you can start browsing their selection. Now you have the choice between any of the audiobooks in their inventory. Go to the page of the audiobook that you want to purchase (freely), add it your cart and then you will see the option to use your Audible free trial credit.
One tip that we highly advise all of our readers to do is to download the Audible app. This is available on iOS, Android and Windows devices.
The Audible Free Trial Benefits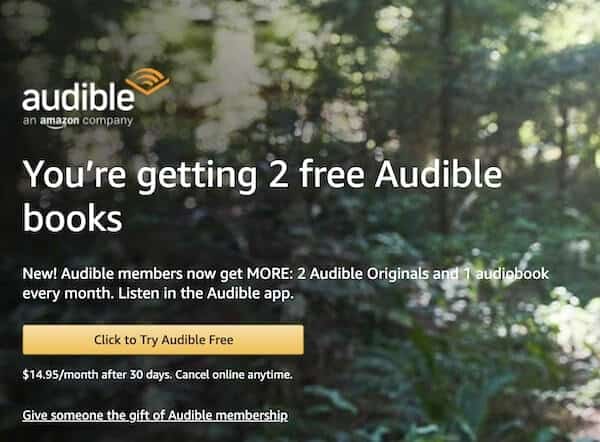 The Audible free trial is one of the most generous audiobook free trials on the market! Upon signing up with your Amazon account you will receive two free Audible credits if you're based in America.
If you're located in the U.K. or any other country for that matter you will receive one free Audible credit. Audible credits are redeemed for audiobooks in the Audible store, 1 credit = 1 audiobook.
Also, the Audible free trial is available for 30 days. During this time you will also be able to listen to not one, but two Audible Originals. These are exclusive audiobook series from the Audible Studios.
Audible Free Trial for Prime Subscribers
If you are already a member of Amazon Prime sometimes there will be special promotions for all customers that haven't yet tried Audible. In the past, the Audible free trial has been extended to a 90-day free trial instead of the usual 30 days. They have even offered 3 audiobooks instead of the standard 1 or 2.
We'll keep an eye out for Prime users and will update everyone if these special offers come available again! If you're not a Prime user you can easily register here.

Recommended Audiobooks to Download using the Audible Free Trial
So, you've signed up to Audible's free trial and got your free credits waiting to be spent. You'll start to think, what audiobook shall I choose first. Well, you can check out our list of the best audiobooks, or go directly to the store and search for your favorite genre.
Before we go, we'll give you 5 audiobooks that we recommend purchasing using your Audible free trial.
These are just 5 great audiobooks that we've enjoyed using Audible. It's up to you to discover what you like. But trust us when we say you won't regret signing up for Audible's free trial!

Audible
Audible boasts the largest audiobook store. With a simple mobile and tablet app it's difficult to look elsewhere. Amazing Audible exclusives are the cherry on the cake! New Audible users will receive a 30-days free trial for the best audiobook service on the market!