Are you a bibliophile with a book problem? Do you spend more on books than you do on groceries? Let's face it, if you're a Hooked to Books subscriber, then I'll bet you're already a bonafide bookworm, and so you'll probably love Amazon's Prime Reading program.
If you've not already heard about Prime Reading, or you want to find out more about what it's all about, then you're in the right place. In this article, I'll give you a full rundown on everything you need to know about Amazon Prime Reading, so you can decide if it's the right service for you.
What Exactly is Amazon Prime Reading?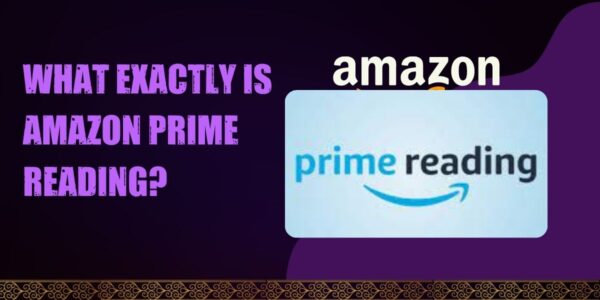 Prime Reading is one of many benefits offered to Amazon Prime members, but this feature has flown under the radar for many customers. As a Prime member, not only do you get benefits on shipping, shopping, and streaming, but you get benefits on reading, too.
Amazon Prime Reading is essentially a private online library of eBooks and magazines that members can borrow entirely free of charge.
There are more than 2,500 books and magazines to choose from in the Prime Reading catalog, all of which you can download for free to your Kindle. If you don't have a Kindle, don't worry, you can also access Prime Reading on any device that supports the Kindle app, such as a tablet or a smartphone.
If you're already an Amazon Prime customer, taking advantage of the Prime Reading service is a no-brainer; it's included in your subscription fee, so you won't pay any extra for the service.
What Kind of eBooks are Available with Prime Reading?
There's something for everyone in the Prime Reading library. The choices are updated and changed pretty regularly, but you'll always find a wide selection of fiction and non-fiction titles spanning all popular genres.
There are tons of classics to choose from, as well as a wide range of children's books, magazines, and graphic novels too. And if you're looking for a shorter read, then you can also choose from a selection of Kindle Singles, novella-length eBooks that are exclusive to the Amazon Kindle Store.
Plus, if you prefer listening to your books, there's a wide range of Prime Reading titles that feature Audible narration too.
Just remember that the Prime Reading library isn't static, and many books only stay available for a limited time. So if you see something you like the look of, don't wait to start reading; otherwise, you might miss out. On the other hand, if you're interested in a title that isn't currently part of the Prime Reading library, be sure to check back regularly, as new titles are added all the time.
How Many Books Can I Borrow with Amazon Prime Reading?
Prime members are entitled to borrow a maximum of 10 titles at any given time, but there's no limit on the amount you can read each month.
If you've already filled up your quota of 10 borrowed books, simply select a book you've already read or one you've changed your mind about and lick to return it. This will free up space to download a new book of your choice.
How Do I Access Amazon Prime Reading?
If you're already an Amazon Prime member, all you need to do is log into your Amazon account and head over to the Prime Reading page to browse through the entire catalog.
For eBooks, magazines, and comics, click on the "Read for Free" tab, or for titles with Audible companions, click on the tab that says "Read and Listen for Free." Your item will be immediately available to download to your Kindle e-reader or the Kindle app, so you can begin reading or listening straight away.
If you're not already a Prime member, then you'll need to register before you can enjoy Prime Reading benefits. Head over to the Amazon Prime page and follow the instructions to sign up. Right now, new members can enjoy all the benefits of Amazon Prime, including Prime Reading, for 30 days free of charge. Just make sure to cancel your subscription before the end of the free trial period if you don't want to continue, otherwise, your account will be charged.
Other Ways to Access Prime Reading
Once you're signed up to Amazon Prime, there are a couple of additional ways you can search for and download Prime Reading titles aside from visiting the main catalog.
You can find Prime Reading books on the main Kindle Store website by checking the box on the left-hand side that says "Prime Reading Eligible." Or alternatively, you can browse for Prime Reading titles using either your Kindle or the Kindle app on any Android or iOS device.
All you need to do is head to the "store" tab within the app and select "Prime Reading" from the options listed below the main search bar. This will bring up the full Prime Reading library, and you can begin downloading books right away.
Click on the "Read for Free" or "Read and Listen For Free" tab on any title just like the method listed above, and it will be ready to read on your Kindle and any device you have the Kindle app installed on.
How Much Does Amazon Prime Reading Cost?
If you're already signed up to Prime, then Prime Reading is included in your subscription, so it's absolutely free!
But if you're not a Prime member, you'll need to sign up and pay a monthly fee, which currently stands at $12.99, plus tax.
If you're confident that Prime is for you, you can also save money by paying for a full year upfront; the current annual membership is $119. There are also impressive discounts for students and anyone receiving qualified government assistance.
And remember, it's not just Prime Reading benefits that you'll get in return for your hard-earned cash. As a fully-fledged Prime member, you can also take advantage of perks like free delivery, free streaming, and exclusive Prime-only deals and offers.
If you opt for a monthly plan, there's no minimum contract, and you can cancel your membership at any time. Plus, you can enjoy all of Amazon Prime's benefits, including Prime Reading, for a full 30 days without paying a penny if you take advantage of the free trial offer (just don't forget to cancel it before the 30 days are up!)
Share the Love!
It's also worth mentioning that Prime Reading is one of the Prime services you can share for free with other members of your household. Amazon lets you sync your account with up to two adults, four teenagers, and four children within the same family, so even if only one of you is a Prime member, you can all enjoy the free perks of Prime Reading.
Is Prime Reading Worth the Money?
If you're already a Prime member, then the answer is a resounding yes. Prime reading costs you nothing extra, so if you're not already taking advantage of all that free content, what are you waiting for?!
But, if you're not yet signed up to Amazon Prime, the question of whether it's worth the Prime subscription fee is a little more complex; it all depends on your habits and preferences.
Suppose you're not a regular Amazon shopper, and you're not interested in the other Prime benefits like free shipping, streaming, and Amazon Prime Day deals. In that case, signing up just to take advantage of Prime Reading probably isn't worth it.
Plenty of other e-book subscription services provide better value for money, with a broader choice of titles and other book-based perks. For example, Kindle Unlimited gives you access to over 1.5 million titles, which is a whole lot more than Prime Reading's limited selection.
But if you've been considering trying Prime, and you know you'll make use of the many offers and perks it provides, then, in my opinion, it's absolutely worth the $12.99 a month subscription fee.
Prime Reading and Kindle Unlimited: What's the Difference?
So now you know all about Prime Reading, you might be wondering how it differs from the Kindle Unlimited service I mentioned above.
Unlike Amazon Prime, Kindle Unlimited is a subscription service focused exclusively on eBooks, magazines, and audiobooks, and compared to Prime Reading, their selection is enormous.
It's also worth noting that the monthly fee for Kindle Unlimited is also a little cheaper than a subscription to Amazon Prime. So, if you're looking for a dedicated reading service and you're not interested in the extra Amazon Prime perks, then Kindle Unlimited is likely a better option.
If you're looking for a more detailed comparison between Prime Reading and Kindle Unlimited, this comprehensive guide will help you decide which service is best for you.
Conclusion
Amazon Prime Reading is one of the lesser-known perks of becoming an Amazon Prime member, and many bookworms are missing out simply because they don't know it exists.
I hope this guide has helped you figure out what Prime Reading is all about. If you're looking for more information on book-based subscription services and reading programs, we have some in-depth guides that cover the pros and cons of some of the most popular options out there, for example, this guide to Amazon First Reads and Blinkist.
And if you prefer -to read the traditional way, you might want to consider signing up for one of these subscription services that deliver hard copy books directly to your door.