As book lovers, we want to instill a love of reading into our kids from an early age. After all, kids who spend more time reading when they're young are more likely to grow up with a love of literature. And of course, getting a helping hand with their reading skills makes them smarter too.
But it's important not to scare kids away from reading, especially if they're struggling. If reading seems like hard work, kids can feel pressured, and the whole experience becomes linked to negative emotions and stress. Instead, reading should be fun. It should be a way for kids to relax, enjoy themselves, and explore the world around them. And that's exactly what these awesome apps promote.
Here are the best free and paid-for reading apps for kids available right now. Each one is designed to help build your kid's confidence and get them hooked-to-books (excuse the pun) for life.
#1. Epic!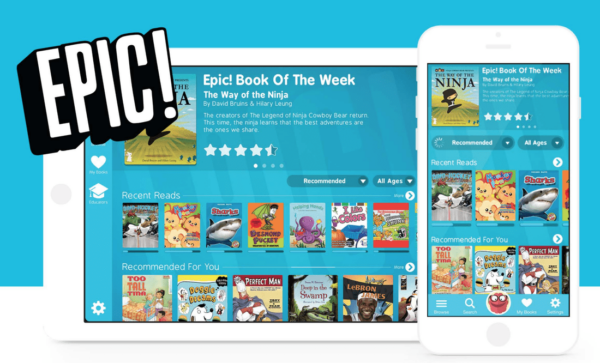 The Epic! app is all about getting kids more excited and engaged with reading. It's a subscription-based app with free and paid-for account options aimed at children aged 2-12 years old.
One of the defining features of Epic! Is the read-along technology to help your kids become more fluid readers. Once you sign up for an account, you'll be granted access to a huge library of over 40,000 titles, and it's not just booked on offer; they have a large selection of audiobooks, educational videos, and games too. These resources are collected from some of the world's most reputable educational content providers, such as the Encyclopedia Britannica, The Smithsonian, and Discovery.
It's super easy to filter your search results by age, reading level, and interest, and since there's such a wide scope of content, there's something for every kid to get excited about.
The Epic! app is a particularly good choice if you have multiple children, as parents can create individual accounts for up to four kids.
Another cool feature of this reading app is the in-depth progress tracker. Parents can receive regular reports and analytics to keep an eye on their little one's development from any smartphone.
Kids can also monitor their own habits and see how their reading improves over time. Just be careful to make sure that this feature is helping rather than hindering. Some kids find this kind of progress monitoring stressful; remember, the emphasis should always be on the 'fun.'
#2. Reading Eggs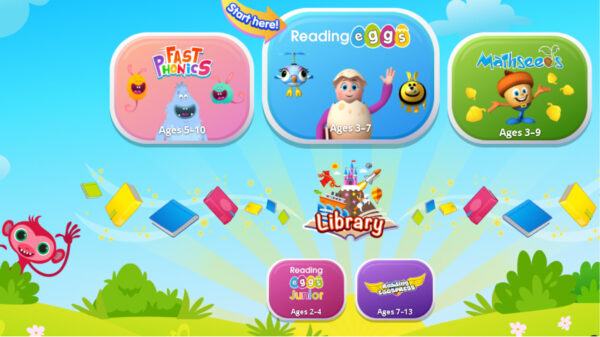 This interactive reading app was developed in Australia in 2008 and has since become one of the most popular phonics-based reading apps in both families and classrooms around the world.
Tailored to children aged from 2 to 13 years old, Reading Eggs takes kids on an exciting journey through five pillars of reading: phonemic awareness, phonics, fluency, vocabulary, and comprehension.
The program is easy to tailor to each child's individual reading level and style, and there's even a huge selection of content designed for young toddlers who haven't started their own reading journey yet.
There's a huge library of multisensory activities, games, and lessons, as well as thousands of books for all ages and abilities. And like most options on this list, Reading Eggs places a big emphasis on gamifying learning; the app dishes out plenty of points and rewards to keep enthusiasm high and foster a sense of accomplishment.
When you first sign up for an account, your child will be prompted to take a placement test to quickly pinpoint their skill level and provide the right content for them, but parents can also tailor the content as they see fit. You can also monitor your child's progress through regular reports and analytics in the parent dashboard section; however, this feature is browser-based and not available on the app itself.
#3. ABCmouse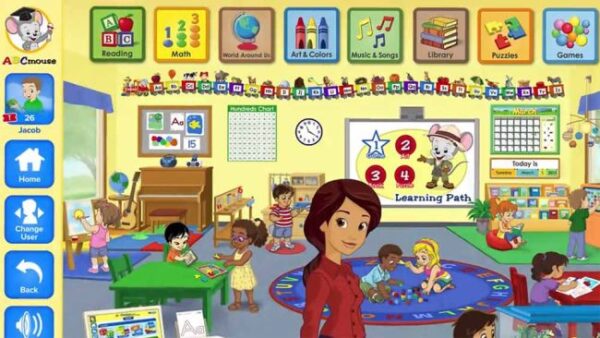 Developed with the Early Learning Academy in collaboration with Age of Learning, the ABCmouse app is a fun and interactive educational tool for kids aged 2-8 years old.
There's tons of content to explore, including digital books, games, songs, puzzles, and animations that introduce early reading skills to kids in a fun and entertaining way.
There are over 9,000 different learning activities and over 850 reading lessons to choose from. The app's creators have tailored their content to various learning styles, so there's something that will benefit every little reader. In addition, each game and lesson rewards your child with points and prizes, making the process even more fun and keeping them coming back for more.
This subscription-based app can support up to 3 different kids on one account. Plus, once you sign up as an Early Learning Academy member, you also get exclusive access to a selection of other unique mobile apps to help kids with their early years education.
ABCmouse also has some handy features that allow you to track your child's development, and they can also monitor their own progress as they go along. Plus, there's an assessment center where kids can challenge themselves to put their learning into action; however, this isn't included in the basic plan and costs a little extra.
#4. ReadingIQ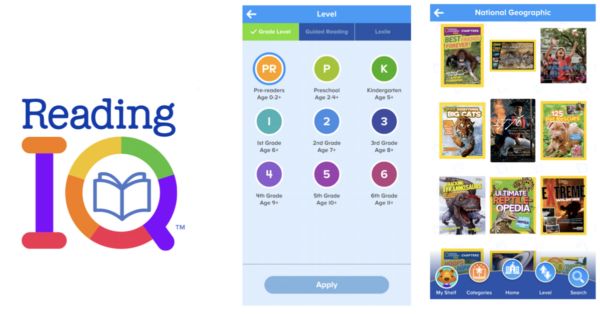 ReadingIQ is another app from the age of Learning, the company behind ABCmouse. Rather than focusing on interactive games, puzzles and lessons, ReadingIQ is all about giving kids access to incredible books to help them explore reading on their own terms.
This subscription-based app is designed for children aged 0-12, so it's a good option for parents of young babies and toddlers looking for some great titles to read aloud to their little ones. And as kids become older and more independent, they can take the reins of their own reading journey.
What really makes the ReadingIQ app stand out is the quality of its book selection. There's a wide array of book types to choose from; everything from picture books, read-to-me books, and easy readers to chapter books and graphic novels. There are also thousands of classic and award-winning titles, as well as bestsellers from the likes of Marvel, Pixar, Disney, and National Geographic.
ReadingIQ also has one of the biggest Spanish- language book collections of any major reading app, so it's fantastic for native Spanish speakers, as well as kids who are picking it up as a second language.
There are tons of fun challenges and progress tracking features in the form of awards, badges, and points that help keep young readers motivated and provide them with a sense of achievement. Parents can also monitor their child's reading progress through the parental dashboard section of the app.
ReadingIQ runs on a one-time subscription basis and is relatively affordable, considering the amount of top-notch content they provide in return. Just watch out for those autorenewals, as you'll be billed again if you forget to cancel.
#5. Hooked on Phonics – Learn and Read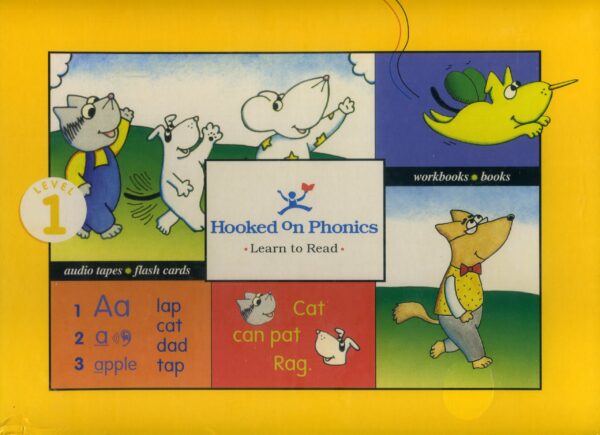 Hooked on Phonics- Learn and Read was one of the first reading apps developed for kids to go mainstream, and it's certainly stood the test of time. Way before its inception as an app, Hooked on Phonics have been using their synthetic phonics instruction since 1987, helping millions of kids around the world learn to read in a fun and engaging way.
Today they've entered the digital era to combine their tried and tested methods with new technology in the form of a subscription-based app.
Using engaging stories, colorful animations, high energy songs, and addictive games, the program acts as a multisensory reading experience that keeps kids entertained as they soak in new information. As children practice their reading skills, they'll earn incentives like badges and points, which keeps up the element of fun.
There are over 275 phonics activities to choose from, all tailored to different learning styles, so there's something to suit every kid. The only thing missing is a placement test to help you figure out your child's reading level. That being said, there are tons of these tests available for free online, so you could always ask your child to complete one before you get started if you're unsure of the level they're at.
Another plus point for this app is the selection of downloadable lessons that your children can use without an internet connection. This is a handy way to unplug your kids from the distractions of the internet while they practice reading on a device such as a phone or a tablet.
#6. Vooks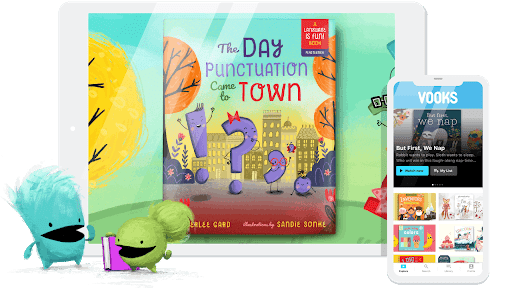 The Vooks app is an interactive library and book streaming platform that transforms regular children's books into a wonderland of color, movement, sound, and read-along narration.
The app has around 100 books to choose from right now, which might not sound like a lot compared with some others on this list, but these are not your average run-of-the-mill books. Each one is specifically designed and curated to captivate little bookworms and keep them engaged. These contemporary titles tend to focus on positive and uplifting messages that promote inclusion and unity, and the developers are adding more and more to their selection all the time.
There's also a great selection of downloadable videos with soothing narration, as well as a collection of free lesson plans to help you if you're homeschooling.
Vooks is a subscription-based service with a low monthly fee, plus there's a 30-day free trial so you can see if it's a good fit for your kids before you commit. Just remember to cancel before the end of the 30 days if you don't want to keep paying, otherwise, you'll be billed.
Conclusion
These reading apps are all designed to make the most of screen time and instill a love of reading in your little ones from an early age. I tried to choose apps that have a wide range of reading levels, as well as a selection of different learning styles and approaches. After all, every kid is different, and as parents, we need to find the best learning approach to suit each little bookworm.
Do you have any recommendations for awesome reading apps to help kids along in their reading journey? I'd love to hear your suggestions; please drop me a comment below