Have you ever spent hours looking for a book that you're almost positive that you own, but you just can't find it amongst your cluttered bookshelves? Or have you ever purchased a copy of a book, only to get home and discover that you already own it? Most bibliophiles, myself included, can relate.
If you're anything like me, you collect books from everywhere. The local library, secondhand bookstores, thrift stores, and online bookstores, not to mention all the books I've borrowed or been given by friends and family. But the more books on my shelves, the harder it is to keep track of them all.
That's why I began researching apps that can help to organize and catalog my book collection. I didn't even know such a thing existed until recently, but I'm so glad I've finally discovered a way to itemize my home library.
The following six apps are all free or cheap to download, and they can change the way you collect books. Most of them work with a barcode scanning feature that operates through the camera on your phone, making cataloging quick and easy.
These apps stop you from making repeat purchases or wasting your time searching for a book you don't own. They also allow you to organize your home library into categories and even differentiate between hard copy books and e-books too.
So next time a friend asks you if you own a copy of a book they want to read, you can check your app and answer them with confidence.
6 Home Library Apps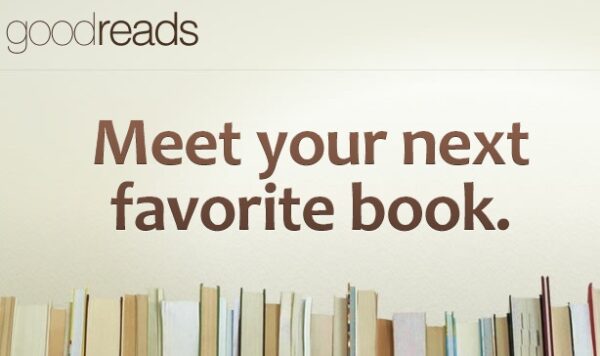 Goodreads is kind of like my online bible these days. I regularly visit the site to figure out which books to read next using their reviews, quizzes, and rankings, and I always check out the synopsis of brand new releases as they come in. But until recently, I had no idea that the Goodreads app lets you can collect and catalog all of your bibliographic information in one place.
Using the barcode scanning feature to quickly compile a database of every title you own, the app allows you to group your books into categories. Once you're finished reading a book, you can add your own review and share your top-rated reads with friends, family, and anyone else with an account.
To get started, download the app (it's free!) and sign up for an online account if you don't already have one. Then begin scanning your books. Since Goodreads is one of the biggest library resources in the world, the app will pull up information about pretty much any book imaginable, but in case you have some older books without barcodes, you can also input information manually.
Once you've finished scanning your books, you can file them into different categories called "bookshelves." There are three preprogrammed bookshelves; "currently reading," "read," and "to read," plus, you can also make your own to categorize your books by things like author, date published, and genre.
Features
Free to download
Barcode scanning feature
Manual entry options
Sort your books by category
Read and add reviews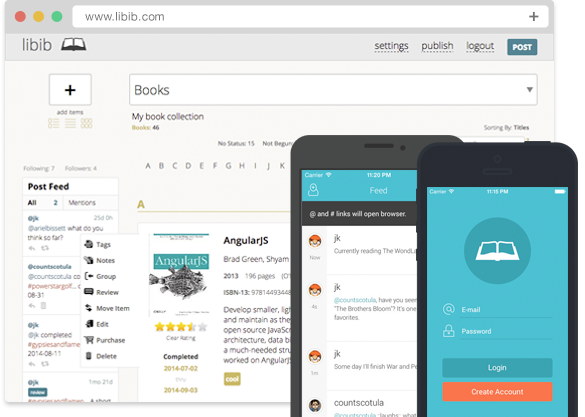 Using the barcode scanning feature, the Libib app lets you scan up to 100,000 books, so no matter how massive your home library is, you should have plenty of space for new titles! As well as books, you can also catalog other items you collect, such as video games, movies, and albums.
Older books without barcodes can be entered manually, and every entry you make is 100% editable after it's been saved; if you give it away or sell it, you can update your library right away.
The basic version of the app is free, or you can upgrade to the paid version, which has a ton of additional features.
There are tools to keep track of how often you read, so you can set daily, weekly or monthly goals if you'd like to challenge yourself.
You can also read and upload your own reviews for every book you own to share with the public. Plus, you can rate existing reviews for their accuracy or add your own personal opinion.
Features
Free and paid options available
Barcode scanning feature
Store up to 100,000 books
Catalog movies, music, and videogames
Track your reading
Read and add reviews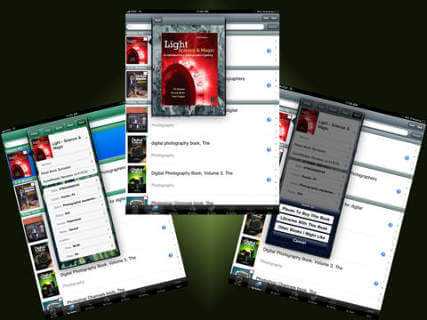 iBookshelf is currently the top-ranked book database app in the app store. It allows you to keep track of and organize your physical and digital books, all in one place.
Like the other apps on this list, you can catalog your home library using the barcode scanning feature. The app then immediately pulls up the details of each book you own from 16 different sources around the internet, including international sources. You can also search for books manually via the ISBN number, the title, and/or the author.
There's also a handy feature that lets you locate books you want to read from libraries and bookstores in your local area. It will even compare retail prices so you can find the best deal, so if there's something on your wishlist that you've been dying to get hold of, you'll know the best place to find it.
One of the unique features of iBookshelf is the ability to track your book loans. If you're the kind of person that loans borrows books to friends and family regularly, this is a really handy way to keep track of who has what book at any given time.
Plus, if you're unsure which books you'd like to read next, there's a built-in random book generator that chooses one for you.
Features
Barcode scanning feature
Manual entry options
Track your book loans
Random book generator
Find a book in your local library or bookstore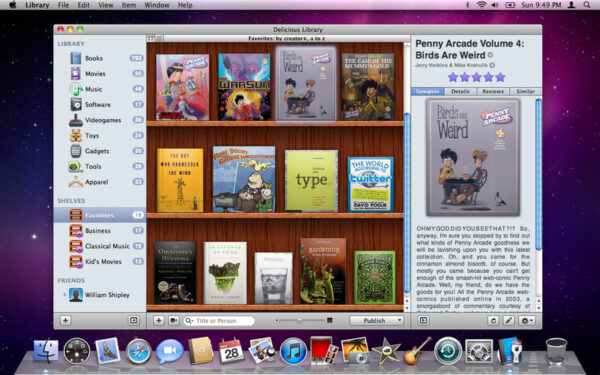 Delicious Library doesn't just allow you to categorize your home library; it also breaks down every book, bookshelf, and section of your book collection into a retail value, so you know exactly what your books are worth.
You can also track any changes in the value of your books as they increase or decrease over time.
The app doesn't just do this for books; you can catalog and evaluate all kinds of things, like music, movies, games, toys, pokemon cards, and much more.
Delicious Library also has a handy feature that allows you to share your home library with friends. If you sync up your collection with others, you can borrow and loan books while always keeping track of which book is where.
Once you've cataloged your book collection into the app, you can rate the books you've already read and receive tailored recommendations for new titles based on your reading taste.
Features
Barcode scanning feature
Know the retail value of what you own
Catalog games, movies, music, and more
Track your book loans
Personalized recommendations for your next read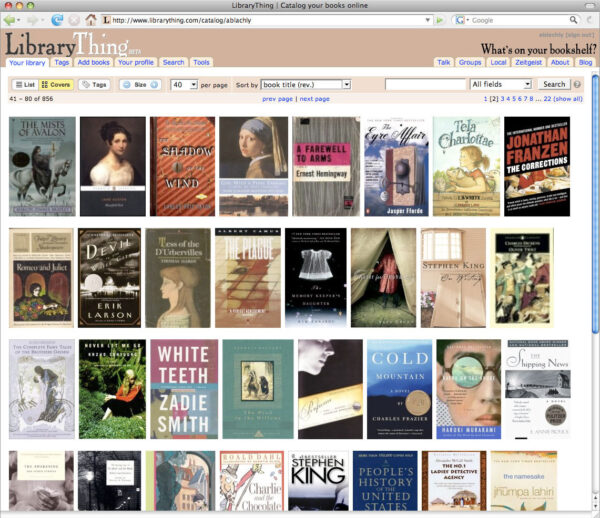 Library Thing is a free traditional book cataloging app that works in a similar way to the Goodreads App. It allows you to catalog a huge number of books using the barcode scanning feature, but unlike Goodreads, you can also add CDs and DVDs to your collection.
Plus, like most of the apps on this list, you can also add your books manually using either the ISBN or the title and author's name.
Library Thing places a strong emphasis on the social aspect of cataloging by making it easy to share your book collection and your book reviews with others around the world. There's also a handy feature that lets you track the titles you've loaned to your friends and family, along with any books you have borrowed.
Visually speaking, I especially like the Library Thing app for its book cover feature. Add any cover to your library by browsing and uploading from online sources, or snap them from your real-life collection with your phone camera.
Features
Barcode scanning feature
Manual entry options
Catalog CDs and DVDs
Track your book loans
Read and add reviews
Photograph and upload your own book covers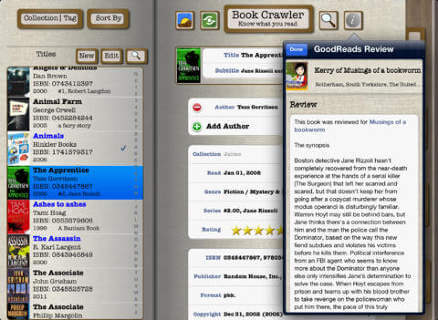 Book Crawler uses its barcode scanning feature to quickly and easily log every book you own. Once you've scanned a title, the app will automatically generate in-depth information on the book from various sources around the internet, including Goodreads reviews.
And like most home library apps out there, you can input information manually, using the author's name and book title or the ISBN number.
Book Crawler is another great, intuitive app for cataloging your own collection, but I also love how it helps to plan out my future reading, too, even for books I don't own yet. You can create categories for books, authors, or even genres that you want to read, and the app will generate suggestions based on your past likes and dislikes.
And just like the iBookshelf app, Book Crawler helps you to locate any book through its database of local libraries and bookstores in your area.
Features
Barcode scanning feature
Manual entry options
Generates in-depth information about any book
Links to Goodreads reviews
Organize and plan your future reading
Find a book in your local library or bookstore
Conclusion
If you're an avid reader, these home library apps can transform the way you organize your book collection and help you keep track of what you own. They're also a great tool to use with friends and family, as you can monitor every book you loan out and keep track of all the titles you've borrowed too
Plus, many of these apps have handy additional features to inspire your next read, calculate the value of your collection, and locate the books you've been searching for. Plus, you can join a community of online bibliophiles who read, write, and rate reviews.
Do you have a favorite home library app that I haven't mentioned here? I'd love to hear about it; drop me a comment below!