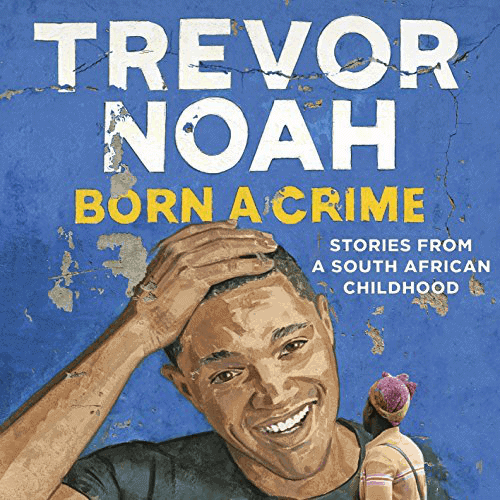 Trevor Noah's audiobook, Born A Crime, gives a valuable perspective through honest voices talking truth to power. He reads the audiobook himself in a lovely cadence, and a beautiful, melodic voice — it's a good treat to your ears and brain. So, patiently listen to this audiobook as it provides compelling stories in a deeply fantastic and enjoyable narration.
Trevor gives an account of his life episodes in a generally linear timeline. In the book, he continually finds himself in trouble when growing up and uses various antics to overcome. Although the anecdotes given might be hilarious, it displays the happenings in the wider social context.
The nice thing about this audiobook is that you get to hear the perspective of "ordinary" people.
Audiobook Details
Author – Trevor Noah
Narrated by – Trevor Noah
Type – Unabridged Audiobook
Length – 8 hours & 44 minutes
Language – English
Release date – 17/11/2016
Publisher – John Murray
Category – Biographies
Born a Crime Audiobook Synopsis
Trevor narrates stories that display his growing up experience in a vivid, often laugh-out-loud, funny and sometimes harrowing manner. Noah forgoes the ordinary narration and otherwise shares his personal journey in an open, friendly and more intimate way.
At a young age, he is accustomed to the power of language influence in a divided country. Listeners not only get to hear his stories in South African-accented English, but also hear some snippets in several other South African languages, including English, Zulu, and Xhosa. Coupled with that, he confidently mimics the voice of his mother, his younger self, his friends, his gran, first crushes, and his schoolmates — which is a bonus of audio.
During the apartheid South Africa era, his existence was considered a criminal act: his birth. Being a child of a white Swiss father and a black Xhosa mother, he, together with his family were in danger of five years imprisonment due to the union of his parents. For that reason, Trevor's mother kept him mostly indoors during the earliest years of his life to avoid consequences from government authorities.
Owing to his mixed-race background, Trevor struggled to find his place in both the pre- and post-apartheid South Africa. In the book, Trevor honestly describes some hard events he faced; surviving on caterpillars for dinner during perilous times, facing life-threatening pitfalls in high school dating, and being thrown from a speeding car driven during an attempted kidnapping. After South Africa's tyrannical ended, Trevor and his mother could live freely and openly.
Read More: 10 Best Audiobook Services You Should Try in 2022
About the author
Noah is a relatable, engaging, and skilled storyteller. He is also host of The Daily Show where he showcases his comedy skills.
In his book Born a Crime, He narrates his wild coming-of-age story during both the twilight days of apartheid in South Africa and the turbulent days of freedom that later followed. In a rather funny way, Noah analyses how ridiculous social and political systems can impact our lives in a much deeper perspective than traditional memoirists.
For instance, he states that "Nelson Mandela once said, 'If you talk to a man in a language he understands, that goes to his head. If you talk to him in his language, that goes to his heart.' He was so right."
Trevor Noah is a rare and wit person, who often appreciates the good stuff that life offers in spite of the considerable amount of injustice he earlier experienced.
If you know him as a wonderful comedian, you ought to know him as a good writer as well. Trevor is a cool guy, a good writer, and a clever observer who is able to produce witty, insightful, and entertaining writings.
Noah credits his mother for shaping him into the man he is today. That is why BORN A CRIME begins and ends with Patricia's story.