August 9th belongs to bookworms. It's that special day when the world pauses when bookstores hold their breath when every bookworm rises as one with a whispered need pulsing in their chest: It is TIME to read a book.
Alright so maybe I made up the part about the whispering need to read (since that's an everyday occurrence for readers anyway) but the truth is – August 9th is National Book Lovers Day!
This is an unofficial holiday where people are encouraged to pick up a book and celebrate being a bookworm. The original creator of the day is unknown, but we're pretty sure they were a genius.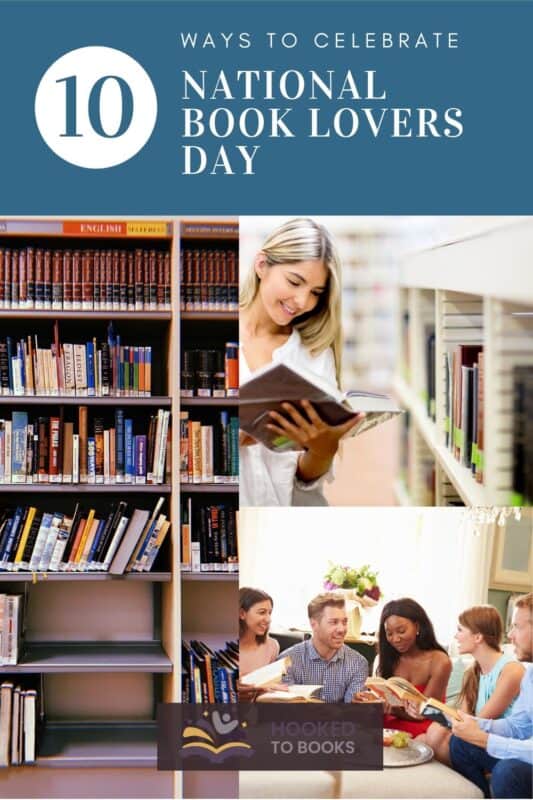 There are plenty of literary-themed book dates to celebrate around the year (we have a list of holiday all book lovers should celebrate!) but the best part of National Book Lovers Day is that feeling of community. We think about the stories that made and saved us.
It's also a good excuse to buy a new book. And you know bookworms: we will take any excuse we can find to collect another novel for our shelves.
So how are you celebrating National Book Lover's Day? The best idea is to start off with carving out some time to read a book of course. But it's a special day! Here are some gift ideas and fun activities you can do to celebrate this day of bibliophile happiness.
1. Buy A Book for Yourself (Or For A Friend)
This is the most obvious suggestion in the world, but sometimes we actually need to give ourselves permission to splurge on a few extra books. Behind almost every book, there's an author crafting stories for your pleasure and to challenge you, and they deserve our support too. Buying books isn't just extravagant pleasure: it's a way to support the arts.
There's also something special about slowly building up your own collection of beloved volumes and stacking them in neat rows on your shelves. Do you have kids? Have you started collecting books for them yet?
If a child grows up with books easily in reach, they're more likely to read for fun. (And we know how good reading is for developing brains.) You can also give books to your friends! Sometimes this is the best way to convince someone to try your favorite.
They can't wriggle out of reading if you stand very, very close, and eyeball them while presenting them with your favorite book. "Just read it," you whisper ominously. They will, oh they will.
2. Invest In An eReader
While we're talking about buying books, there's no denying that physical books take up a lot of space and it isn't convenient to travel with a 600-page book crammed in your bag.
This is the perfect opportunity to explore the option of eBooks and eReaders. If you're not sure which Kindle to buy or which Kobi eReader is the best, check out our reviews for them!
I also love eBooks for convenience. It's easier on your wrists and they're so delightfully portable. Buying an eBook is often half the price of a physical novel. You can also head over to library affiliated websites like Overdrive to borrow eBooks for free legally!
3. Eat a Book Cupcake
I'll quietly admit right now one of my ultimate aims in life is to eat a cupcake with a book cover on it…there's just something alluring about the idea of eating words. (Metaphorically!)
So if you're going to splurge and bake something for National Book Lovers Day, try printing some book covers and attaching them to toothpicks to decorate your cupcakes in bookish flags.
You can truly make the day special by saying you ate the entire Lord of the Rings in two bites. (Don't eat the paper though…)
4. Browse a Bookstore
There's nothing like walking down rows of books and lovingly running hands across the spines of all the stories you've read – or are desperate to try.
Heading over to a bookstore on this day would make a fantastic outing, plus give you a chance to "accidentally" buy a book or two and support your local indie bookstores! Some bookstores may even be running events on this day, so check out their websites to see.
5. Go On a Bookish Expedition
As much as I wish I was suggesting you pop over to Narnia for tea and sardines with Mr. Tumnus, that probably isn't going to happen. (I mean, do you even have an old vintage wardrobe at an old English estate? You need to work on that.)
But there are plenty of books set in real-life locations that you can actually go to and wander around to your bookish heart's content. You can check out these 10 Vacation spots from iconic American Novels here for inspiration!
If none of those places are close, try flicking through some of your recent reads and seeing if you can recreate a similar outing. Maybe it's just a simple beach trip with a picnic, or finding a forest path wander down.
You can always take a photo of yourself and your favorite book for some quality outdoor reading and to share on #bookstagram.
6. Buy a Bookish Mug
Bookworms are a bit notorious for our love of tea (or coffee!) while we read. It's soothing to be turning book pages while sipping a warm drink and ignoring the world outside. (The last part is optional, but come now, you know that's how you feel when you're reading a good book.)
But you don't want to be drinking from a boring mug when there is a literary world before you, full of books that need to be acknowledged!
Try this Jane Austen mug with all these gorgeous quotes! Or a mug to confirm you do need all your books (and more besides). There's a gorgeous Lord of the Rings mug or a Harry Potter cauldron to sip your butterbeer from. Honestly the options are limitless! Get yourself a mug as exciting as your taste in books.
7. Bookish Outfits
If you're going to accessorize, National Book Lovers Day is the time to do it. If you're going to wear socks, there is no reason not to wear incredibly epic bookish socks while you're at it.
Like try these Free Dobby Harry Potter socks or I Like Big Books And I Cannot Lie socks. You can also invest in a bookish scarf full of gorgeous literary quotes. Or you can try Alice in Wonderland fingerless gloves or a dress that is secretly a bookshelf.
When they said "dress to impress", they clearly meant try as much as you possibly can to look like a book. Who can criticize you for dressing to show the world your love for books on this special day owned by all bibliophiles! It's your time to shine.
8. Write A Book Review
This might be giving you pained flashbacks to school, but I'm not talking about a tedious book report. Book reviews can be as fun and spicy and full of voice as your own personality!
The best way to encourage others to read is to tell them why a book is so good, and that's what book reviews should truly be about: what you loved, what you didn't love, what inspired you or helped you think or made your day. Sometimes a book review can just be a few sentences left on Amazon or Goodreads.
This helps boost authors and it's especially important for your underrated favorites. What better day to give back to the authors who give us so much than by writing a review and sharing your thoughts and feelings? Today is the day for it.
9. Clean Up Your Bookshelves
We're going to assume you just happily bought a few books in celebration of National Book Lovers Day. (It's fine! We all do it. No judgment here.) But maybe your bookshelves at home are a little cramped, or maybe a complete mess.
Maybe you've got a stack of books you've grown out of or really would love to see rehomed to someone who might love them. Try tidying up your shelves, reorganizing your books, and culling a few that don't hold your heart anymore.
There's no shame in cleaning out books. Donate them! Find a Free Little Library to add them to, a second-hand store, or maybe a shelter or school. And if you're left with too many empty shelf spaces? Well…I guess it's time to buy a few more.
10. Cozy Up And Read
Can you steal a few hours (or even the day!) to read? There's honestly nothing better than having delicious and luxurious uninterrupted reading time, and you do deserve to snatch some extra minutes to read. We have some suggestions on how to accessorize your reading nook! Whether you're reading out loud to your kids or collapsing into a comfy chair with a book alone, let yourself get lost in the adventure of storytelling today.
About the Author
CG Drews is a YA book blogger with the goal to read every book in existence. She's aiming for immortality for this. When not reading, she writes novels and blogs at paperfury.com.