Hey book lovers! Are you thinking about taking a trip but can't decide where to go? Why not spring for plane tickets to the real-life settings of your favorite books? Any bookworm would go nuts for these American literature-inspired vacation spots.
You'll get some quality geek-out time as you explore the burrows of your favorite classic novels, plus you'll get to visit a totally new destination that's a little off the beaten path.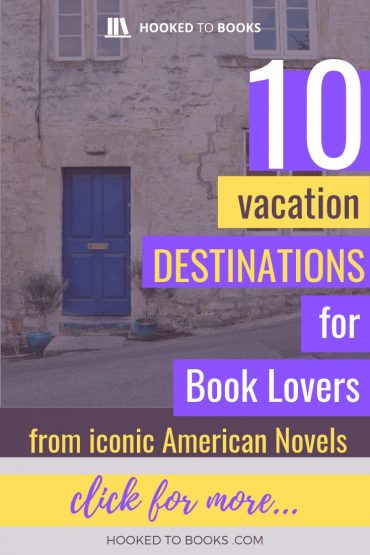 Here are ten vacation spots perfect for those who love reading:
A vacation to the fictional "West Egg" neighborhood from F. Scott Fitzgerald's "The Great Gatsby" was inspired by Fitzgerald's burrow of Great Neck, New York. Legend has it that the author's sprawling estate greatly inspired Nick Carraway's modest home in the novel.
The house still stands today, and if you book a B&B nearby, you could explore the small town of West Egg—I mean Great Neck—and see the location that inspired one of the greatest novels of all time.
---
Our beloved boy-wonder, Tom Sawyer, knew the McDougal cave like the back of his hand, and if you pay a visit to Mark Twain's hometown of Hannibal, Missouri, you'll see the cave that inspired the one in the book.
Now renamed Mark Twain's cave, this popular tourist destination brings in hundreds of school groups a year and has incredible similarities to the one in the book. One short walk through the town will bring memories of Tom Sawyer right to the surface.
The city of Hannibal has embraced the famous novel to an impressive degree with a Tom Sawyer-themed parade on National Tom Sawyer day as well as a costume contest. In short, this charming, southern town will make all of your Tom Sawyer dreams come true.
---
Some people take trips to "find themselves" as Holden Caulfield did in J.D. Salinger's "Catcher In The Rye". Do you still remember reading that book in high school and dreaming about running away to a big city one day?
It seems like the ultimate teen hipster adventure, and you would have done anything to have the kind of freedom that Holden did.
Well, your luck might be changing because the New York Times has graciously released a map of Holden's journey through New York that will surely unlock the wandering bookworm rebel within.
Even though most of the locations in the novel are fictional, "Catcher in the Rye" expert, Peter G. Beidler has managed to pick up on certain clues peppered throughout the novel that point to some real-life locations in New York.
Seriously, what's more fun than getting lost in New York, the J.D. Salinger way?
---
If you want to get the most exciting part for your nostalgic buck on your next vacay, consider visiting "The Spaniards Inn" in London, England.
This iconic bar has been featured in many classical works including "Dracula", "Ode to a Nightingale", as well as Dickens' "The Pickwick Papers."
One look at the Spaniards Inn and you just KNOW that British authors would have flocked there back in the day to get their work done alongside a frothy pint.
It's like a little, serene cottage in the middle of the city. Any book lover would revel in the cozy, wood-planked confines of the Spaniards Inn. Maybe you'll sit in the same spot as Dickens himself!
---
Torquay is a vacation destination for all horror fans out there. If the idea of feeling like you're living in the pages of an Agatha Christie novel sounds like fun, try booking a room at the lavish "Imperial Hotel" in Torquay, England.
Rumor has it that Christie booked many stays there and mentions it as "The Majestic Hotel" in his books including "Peril at End House", "The Body in the Library", and "Sleeping Murder". That's a little creepy, but it honestly sounds like a pretty cool place to stay…
---
Ulysses reads somewhat like a love letter to Ireland and what better way to pay homage to one of your favorite books than to follow in the hero's, Leopold Bloom, footsteps.
Time your vacation for around June 16th, and you'll find yourself in the midst of thousands of other Ulysses fans, retracing Bloom's route.
It's like a book lover's dream come true!
---
The book "Little House on the Prairie" was a staple read for most little girls under the age of 12. If you were a big fan back then, why not make your childhood come full circle by visiting the place where Laura Ingalls grew up?
Not only will you have the opportunity to visit the Ingalls' home, which was built in 1887 by Charles "Pa" Ingalls himself, you'll be able to take a tour of the schoolhouse as well as the surveyor's house that was featured in the pages of "On The Shores Of Silver Lake" book.
You'll feel like a real pioneer!
---
As kids, we would dream about having a teddy bear that came to life and playing in the hundred-acre-wood. You'll be happy to know that A.A. Milne's "Winnie The Pooh" book series is alive and well in the town of East Sussex, England.
Milne was initially inspired to write the series as he watched his son, Christopher Robin play in the Ashdown Forest that backed onto their property. Nowadays, people will come from far and wide to explore the woods, play Poohsticks in the stream and maybe spot a Heffalump or two.
---
Bleak House – St Albans, Hertfordshire, England
Charles Dickins' "Bleak House" was inspired by his own vacation home in Essex which over-looks the English channel. In the book, we get the impression that the house is well…bleak, in that there is fog everywhere, dark halls and heaviness in the air.
The Essex Marsh where the house sits lends itself to this thick, foggy atmosphere. It's almost like you're stepping into the pages of the "Bleak House" book itself.
---
When Lucy Maud Montgomery was in the midst of writing the "Anne of Green Gables" book series, she would often remember her visits to her cousins' farm called Green Gables Farm.
She would base multiple locations in the book on the farm and surrounding areas like "Lovers Lane" and "Balsam Hollows".
The house is now a national relic, open to tourists who wish to see where the inspiration for the books began. If you've ever wanted to visit Canada's maritime coast, now is your chance!
---