Tony Hillerman is an icon when it comes to fiction and non-fiction about Native American and Southwestern stories. His books have been read and loved by millions. Born in 1925, Hillerman started writing in 1970 and kept writing until the day of his death in 2008.
With over 35 books in the series, especially his most famous fiction series, Leaphorn and Chee, having over 25 books, it cannot be easy to know where to start. So, to help you embark on this journey of thrill and mystery, we have created the complete list of all the books by Tony Hillerman in reading order.
From his fiction series and children's books to great non-fiction books, you'll find all the books arranged in the order on this exhaustive list. So let's get started with his most famous book series.
Leaphorn And Chee Books/ The Navajo Mysteries
The Leaphorn and Chee books are Tony Hillerman's longest-running and most popular book series, capturing the attention and love of millions of readers for their exciting plots and great character conflicts that arise due to the plot.
The Leaphorn and Chee series, also called The Navajo series, is about two lead characters named Joe Leaphorn and Jim Chee. They belong to the Navajo Tribal Police and work together to solve some of the most confusing cases. But that's not the only thing that makes this series so interesting.
There is a lot of character dynamic that goes on in this series. The two protagonists do not agree or get the other's point of view. The story serves as a murder mystery and a pusher for character growth. The protagonists learn a lot and grow a lot as they work together.
The Navajo Mysteries started way back in the 1970s, but Tony Hillerman's death in 2008 led to a small pause after 18 novels in the series. The series was later helmed by his daughter, Anne Hillerman. The first book she wrote was Spider Woman's Daughter.
There are currently 26 books in the series. Here are all the books in the series arranged in reading order.
| Sr. No. | Title | Publication Date | Print Length | Author | Publisher | Where to Buy |
| --- | --- | --- | --- | --- | --- | --- |
| 1 | The Blessing Way | January 1, 1990 | 201 pages | Tony Hillerman | Armchair Detective Library | Amazon |
| 2 | Dance Hall of the Dead | January 1, 2003 | 166 pages | Tony Hillerman | The Reader's Digest Association, Inc. | Amazon |
| 3 | Listening Woman | November 4, 2007 | 289 pages | Tony Hillerman | Sidewinder Publishing | Amazon |
| 4 | People of Darkness | January 1, 1994 | 202 pages | Tony Hillerman | Otto Penzler Books | Amazon |
| 5 | The Dark Wind | January 1, 1982 | 214 pages | Tony Hillerman | Harper & Row | Amazon |
| 6 | The Ghostway | January 1, 1985 | 213 pages | Tony Hillerman | HarperCollins | Amazon |
| 7 | Skinwalkers | January 1, 1986 | 216 pages | Tony Hillerman | HarperCollins | Amazon |
| 8 | A Thief of Time | June 1, 1988 | 209 pages | Tony Hillerman | Harper & Row | Amazon |
| 9 | Talking God | January 1, 1989 | 239 pages | Tony Hillerman | Harper & Row | Amazon |
| 10 | Coyote Waits | January 1, 1990 | 209 pages | Tony Hillerman | Harper & Row | Amazon |
1. The Blessing Way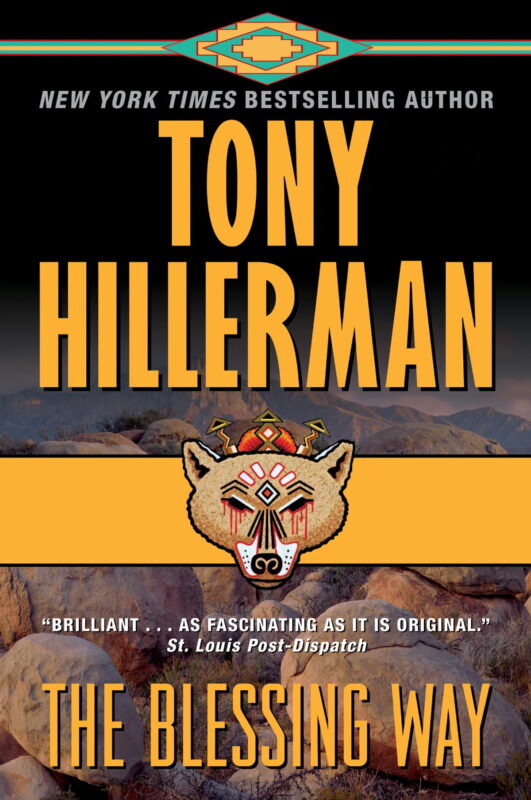 The Blessing Way starts the Navajo series with a fascinating and supernatural premise. A murder has shaken the town and how the murder was committed is a baffling mystery.
A body was discovered with a mouth filled with sand. That is all there is for the clues of the murder. No tracks, no weapons, nothing. As mysterious and confusing as it is, there is something more at play. At least, this is what lieutenant Joe Leaphorn thinks.
Leaphorn thinks that there are some supernatural forces and that something evil is planning something. Read the exciting novel about how Leaphorn solves the case and discovers who or what is behind the horrifying murders.
2. Dance Hall of the Dead
The Dance Hall of Dead is the second installment of the series, and it has all the elements that made the first book such a massive success. There's a murder mystery with many supernatural elements, and the protagonist discovers much about the different tribal people involved in the case.
A young boy named Ernesto Cata, belonging to the Zuni tribe, disappears, leaving just a large pool of blood behind. His best friend, George, who might have some crucial information about Ernesto, has also disappeared.
But as Leaphorn investigates and finds different people, he discovers so much about the Zuni traditions and the possible fate of Ernesto.
3. Listening Woman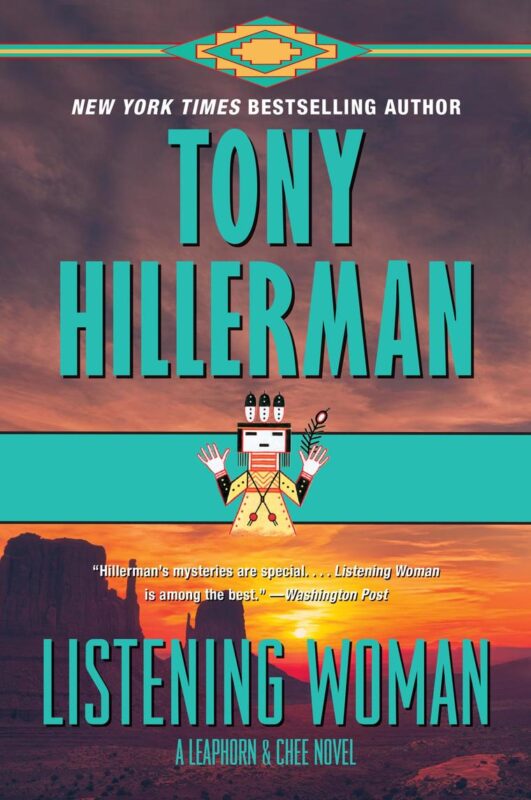 Listening Woman would be perfect for people who want to know about American Indian culture, their history, and their lives, and at the same time, to read a gripping and interesting murder mystery with supernatural elements.
The story is about two people getting murdered for no apparent reason, and the only witness to the crime, the "listening woman," who is a blind healer, was meditating. So the identity and the reason for the murder are behind the curtains, and it is up to Leaphorn to lift them.
Leaphorn uses his knowledge of the American Indian culture to discover what's happening. But as Leaphorn digs for clues, some disturbing things are revealed to him.
The blind healer says that one of the victims, Hosteen Tso, used to tell her about some secret, of which he spoke in riddles.
4. People of Darkness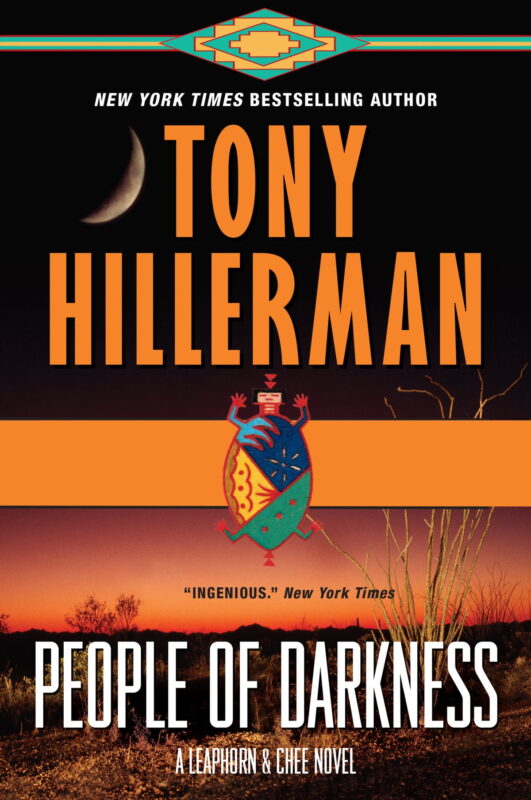 If you were wondering why this book series is called Leaphorn and Chee series when there's just one guy. Leaphorn, you're about to get an answer by doing all the investigations.
The fourth book in the Navajo Mysteries series, People of Darkness, has Jim Chee as the protagonist who has the mammoth task of solving the case. The case is as perplexing as the other ones in the series.
A dying man is murdered, and a box of rocks with no apparent value is taken by a group called the "People of Darkness." Now a wealthy family is paying sergeant Jim Chee $3,000 to get it back. What's so special about the box? And what are these "People of Darkness" planning?
5. The Dark Wind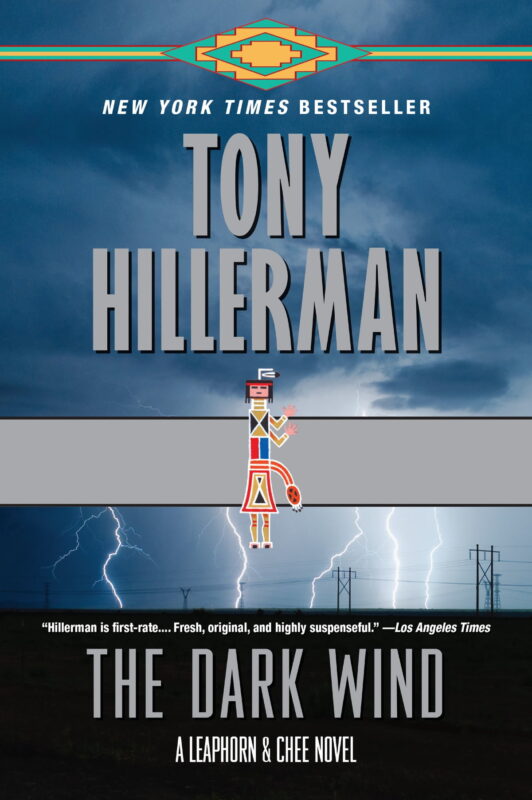 What makes the Leaphorn and Chee series so great is the vivid, detailed, and accurate description of the Native Indian people and the culture Hillerman presents in the books. Their beliefs, mythology, and culture are interesting in themselves to make the books a success.
There is so much happening in "The Dark Wind." Jim Chee is assigned to investigate someone damaging the windmill that supplies water to the Hopi Indians. While doing that, he witnesses a plane crash in the middle of nowhere.
But as he approaches the crash site, he discovers multiple things that perplex him.
The story then starts with Chee trying to tie all these events together and find out what's going on and what will come next. A gripping story with a set of fascinating characters.
6. The Ghostway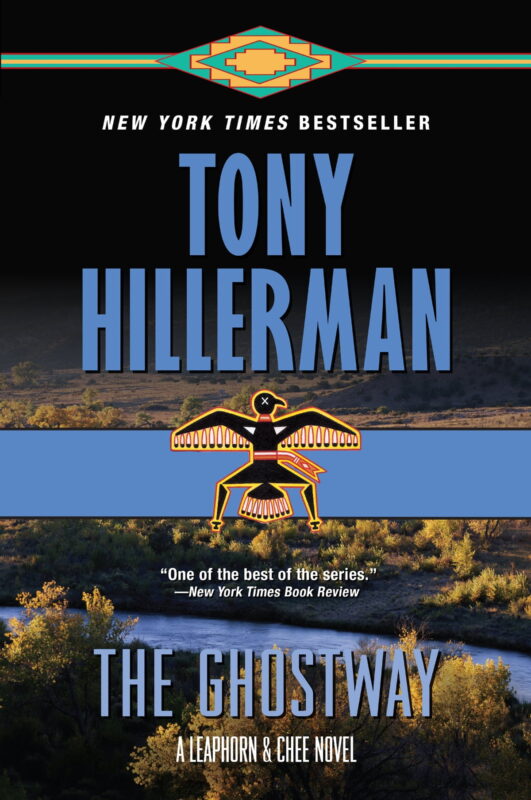 The Ghostway is one of the most polarizing books in the series. Either you'd love it or don't like it at all. Called by some, the most interesting and enjoyable book in the series yet. But some people do not like that this book is set in Los Angeles, not the Midwest.
A seer named Hosteen Joe sees another Navajo man, Albert Gorman, murders another man and suffers mortal wounds. This case is then given to Jim Chee by the FBI, who has to travel to Los Angeles to find Gorman and conduct further investigations.
The book presents some rituals of the Native Indian people, which are the book's highlight. There's a detailed description of "Ghostway," a ritual to cleanse someone who has been in contact with a malevolent ghost.
7. Skinwalkers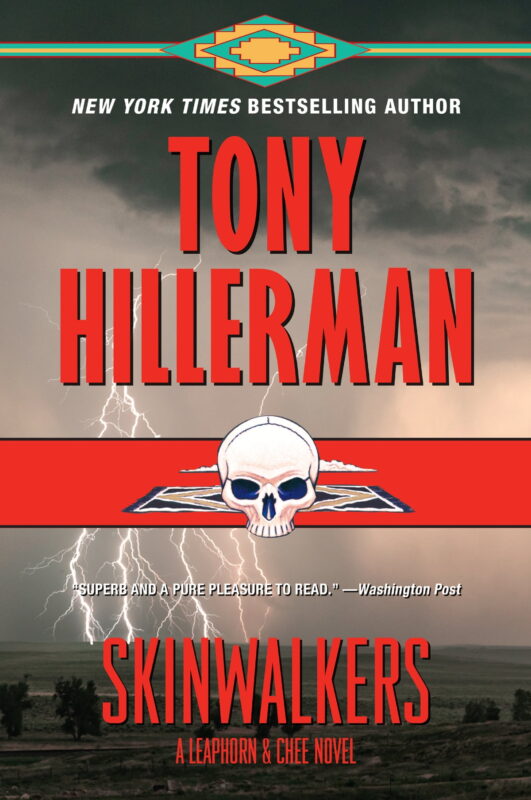 If you are having difficulty deciding which of the two protagonists is more interesting, you are in for a treat. Skinwalkers is the seventh installment of the Leaphorn and Chee series, and this book puts both protagonists together to solve one of the most baffling cases ever.
There is a hint of the supernatural, a lot of mystery and thrill, and a book chock full of exciting twists and turns. The story starts with murders that could be related to some horrible witchcraft practices.
Things get worse when there are three murders, all miles apart. But something indicates that there is a connection between them.
8. A Thief of Time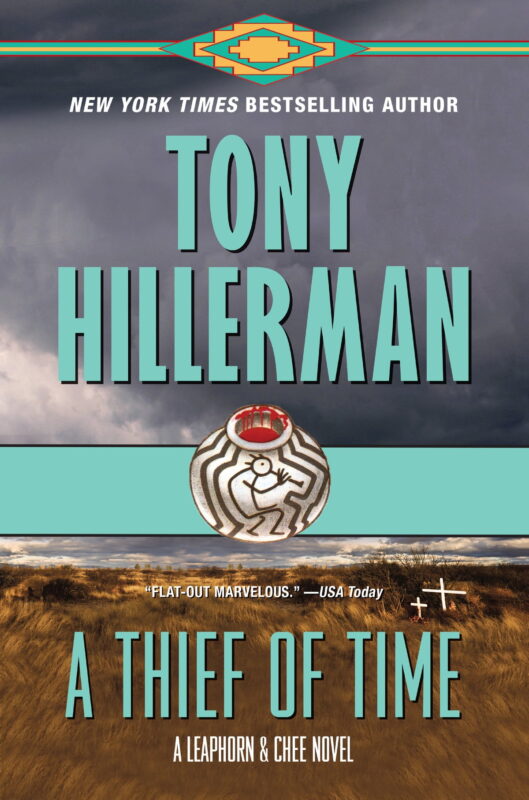 A wholly baffling and massively entertaining novel, A Thief of Time presents the readers and the protagonist with a horrible murder shrouded with mysteries. And dangers.
A group of ravagers that goes by the name "Thieves of Time" desecrate sacred lands to rob and loot. But one day, an anthropologist goes missing. The detectives find that the anthropologist was about to discover something meaningful that would change the course of history.
But something more chilling is discovered. Two dead bodies are found with bullet marks that fit the one owned by the missing anthropologist. What's going on? And what was the discovery?
Apart from a great, gripping story, a lot of character development and personal, internal struggle makes the story even more enjoyable.
9. Talking God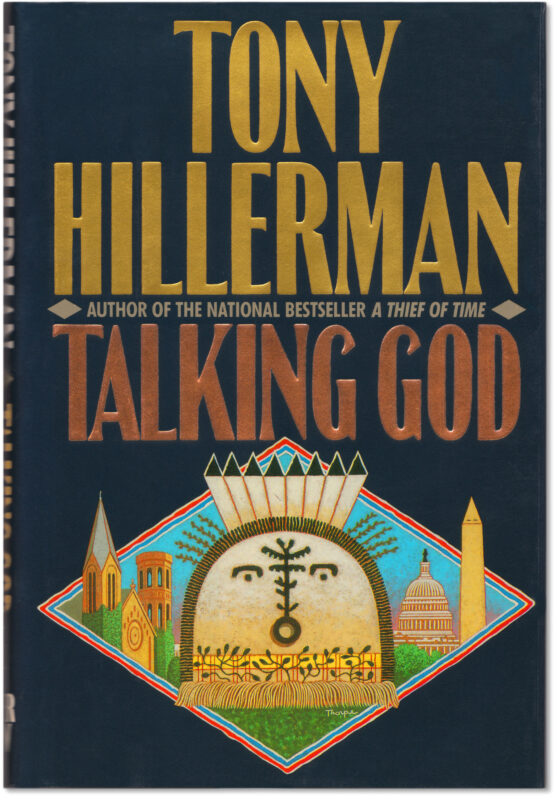 Talking God is a very interesting and fresh take on the Navajo Mysteries series. Interesting because of the story and ideas it explores. Also, we get to see the distance between the two protagonists and how they are not well accustomed to each other. There is still some level of animosity. But the exciting story takes the center spot soon.
The antagonist in this novel is Augusto Pinochet, who is white but also has Native Indian lineage. He is filled with hate against white people. This makes his character complex and fascinating.
The exciting thing about the story is that both Chee and Leaphorn are working on different cases. Still, they are working on the same case from different angles. Get this book and get on a ride with a complex plot that will give you an adrenaline rush.
10. Coyote Waits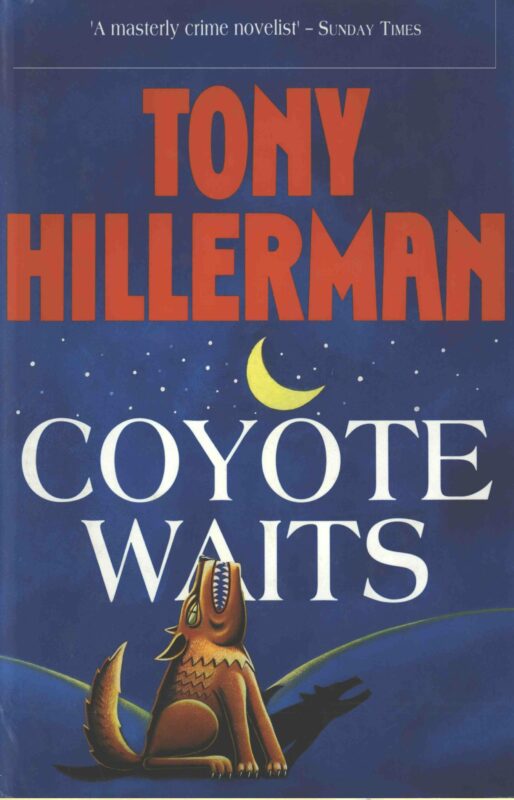 Coyote Waits is another great addition to the excellent series where the books start with a bang, and this time, quite literally.
A police officer, Delbert Nez, is killed in a terrible car fire accident. But things take a completely different turn when the real cause of death is revealed to be a bullet wound.
Who is the killer? No need to look for him. The supposed killer is an old shaman called Ashie Pinto. But just as with other books by Hillerman, things are not as simple as they seem.
Nez was a close friend of Chee, and to find out who killed his friend, Chee and Leaphorn team up to investigate the case. Upon questioning the shaman, he refuses to say anything. He is neither confessing to the murder nor denying it.
11. Sacred Clowns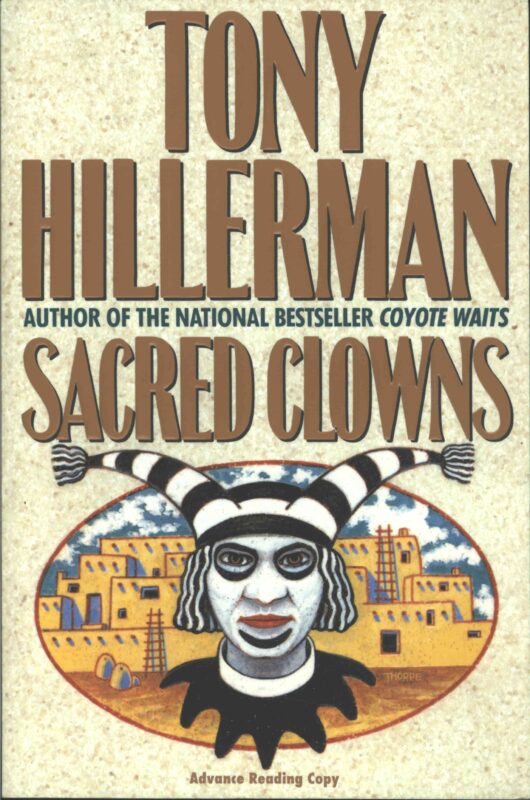 What a frenzy the town goes into when a school teacher is murdered, and a kid is kidnapped. This event sets so many things in motion and sends the readers on a rollercoaster ride of mysteries, emotions, twists and turns.
Joe Leaphorn and Jim Chee are tasked to find the grandson of a concerned woman. Chee finds the boy watching sacred clowns perform in a Pueblo ceremony. But they fail to get the boy as there is a commotion, and the crowd panics. The clown is murdered in this commotion.
This leads to a complex mystery revealing many things about Navajo culture and beliefs. A great read that will keep the readers hooked till the end of the book.
12. The Fallen Man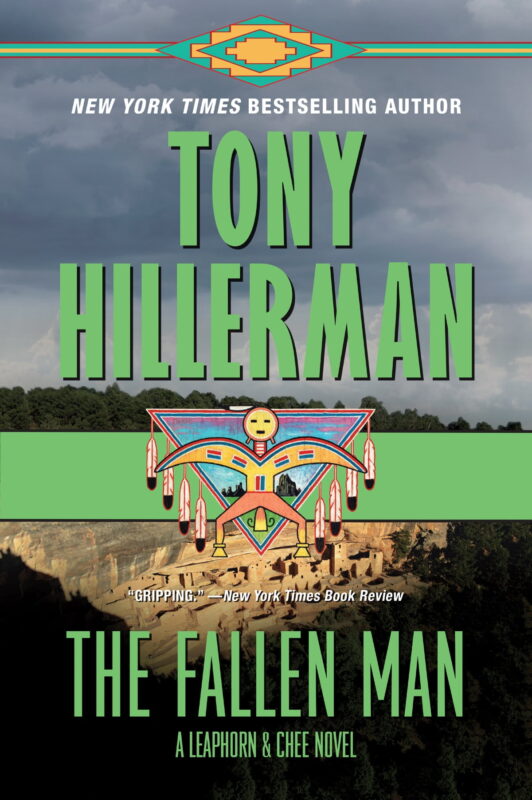 In "The Fallen Man," the loved protagonist, Joe Leaphorn, has retired from police work and now works as a private investigator. The story kicks off at a high pace when a skeletal remain of a human is found on the edge of Ship Rock mountain.
The skeleton is said to have been there for more than a decade. While this is not as mysterious as it seems, since the case went cold so many years ago, finding the killer becomes impossible, and some new development breathes life into this case.
A trained sniper kills an old canyon guide on the Navajo reservation. This killing sparks a hint in Leaphorn, and he believes that this killing and the skeleton share something in common. Read the book to see how the story unfolds and brings unexpected twists and turns.
13. The First Eagle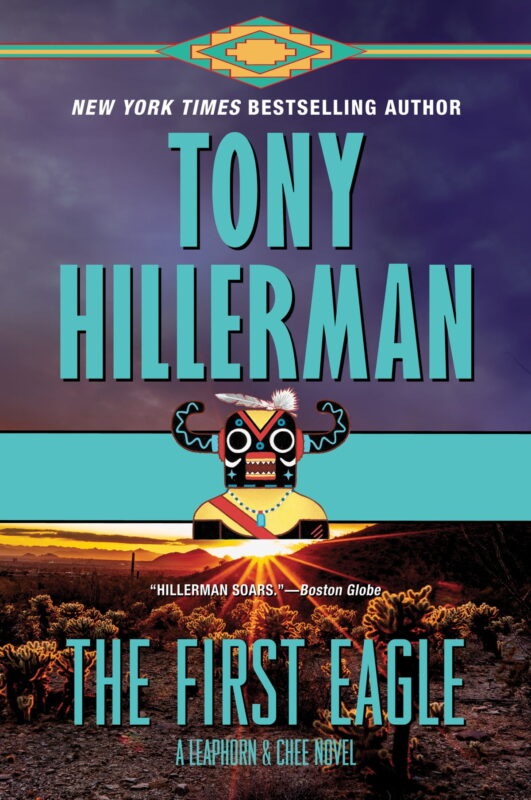 What happens when you mix the threat of a murderer or a group of murderers killing for some sinister reasons and the possibility of a scary Navajo witch seen as a skinwalker?
You get a fantastic story that will keep your eyes glued to the pages and keep you turning to the next one.
The First Eagle starts with a simple and solved case when Chee finds a Hopi poacher at the site of a murdered Navajo police officer. But things are not as simple as they seem. Leaphorn gets into the case, and the readers discover how complicated things are.
A female biologist researching a dangerous plague goes missing. What is going on? Leaphorn and Chee must solve this case before things get worse, and panic mixed with superstition takes an ugly form.
14. Hunting Badger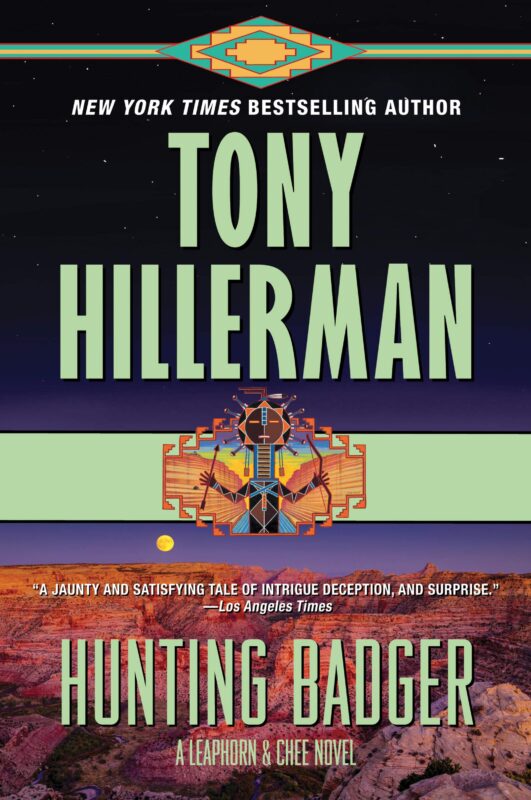 Hunting Badger presents the readers with a high-octane action and thriller story, which also has some exciting character development as both Chee and Leaphorn, who were strangers before, are developing a bond.
Three men raid a gambling casino, and they leave no trails behind. No one knows where they are. This prompts the FBI to get involved. While investigating, much misinformation and wrongful suspects turn it into a red herring.
Leaphorn and Chee decide to launch their private investigation using their skills to uncover the truth. The story leads to a very dangerous and nail-biting manhunt that could cost the lives of the two protagonists.
15. The Wailing Wind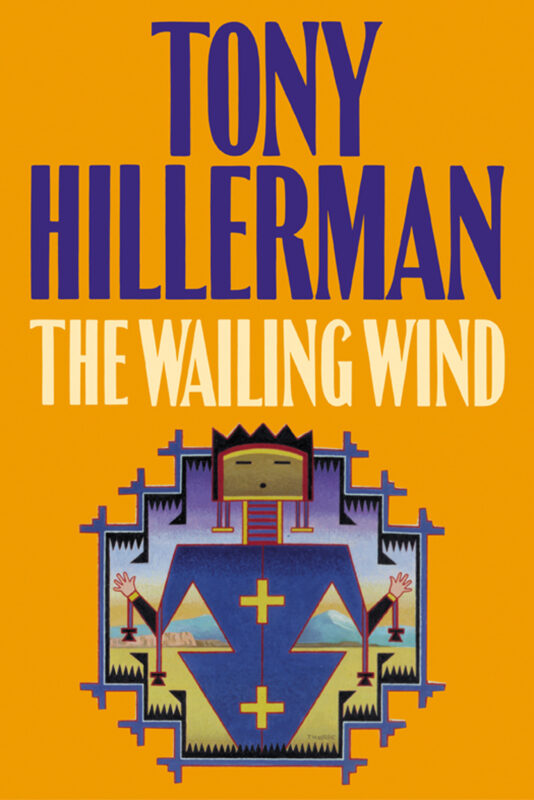 The Wailing Wind starts with a perplexing setup. A recruit to the Navajo police, Bernadette Manuelito, finds a dead body in a blue pickup truck. The man has been shot dead, and one thing gets her attention; an ex-convict's phone number in his pocket.
Being a rookie, she mishandles the case, and the FBI is livid at her. She reaches her boss, Jim Chee to save her, and he tries his best to protect Bernie from the shower of fire FBI will rain on her. He called Leaphorn for help, and soon they found out what was happening.
There is a great love angle to this story, along with a great mystery that goes way back in the past, showing us the history of Leaphorn's career as a police officer, along with the complexities of Jim Chee.
16. The Sinister Pig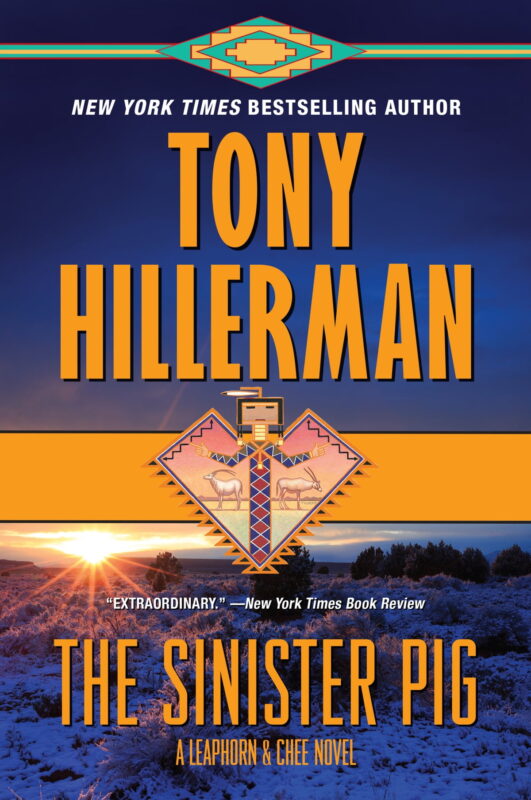 The Sinister Pig is a dark story about the murder of a person near the Jicarilla Apache natural gas field. The reason for the murder is unknown, and there is no one to put on the list of suspects.
While this is a case of manslaughter, the FBI insists on taking over the issue, calling it off as just a hunting accident with no intent or motive. Jim Chee is aware that this was a murder, not an accident. But he cannot understand the FBI's reluctance to let them handle the case.
Joe Leaphorn is back in action to help Chee figure out what's happening. As the investigation continues, many things are revealed that show greed, anger, revenge, and a plot that needs to be put to an end.
17. Skeleton Man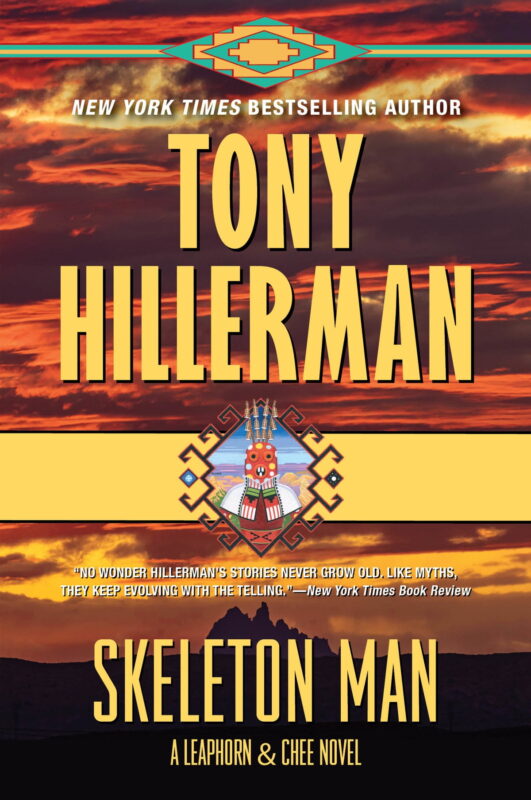 The novel "Skeleton Man" is an exciting story that explores the idea of human greed and its dangers. This concept is wrapped in a very interesting premise, explored by equally interesting characters; Joe Leaphorn and Jim Chee.
A horrible plane crash in 1956 led to the death of 172 passengers. Their remains still lie somewhere among the cliffs of the Grand Canyon. A fortune is scattered on those cliffs as well. Interestingly, someone was carrying a briefcase full of precious stones and diamonds.
But soon, people start getting a hint of what's there, and then chaos ensues. Chee and Leaphorn are back at it again to figure out if someone has already found this treasure, and they find out there is a killer on the loose, and even their lives are in danger.
18. The Shape Shifter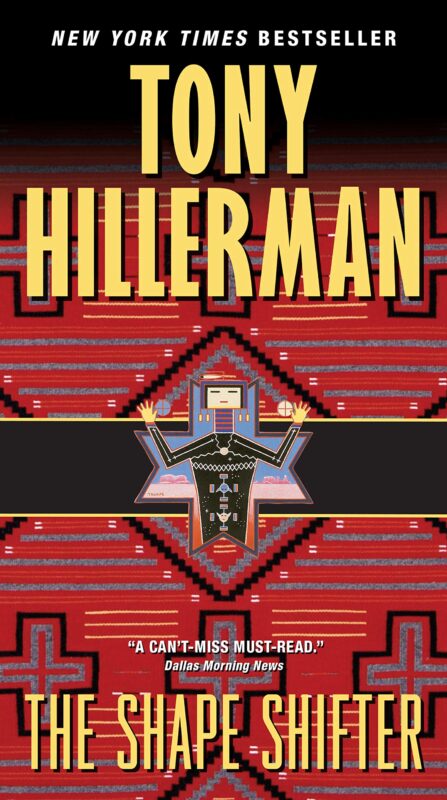 The Shape Shifter brings an old case back to life, and this time it is essential for Joe Leaphorn to solve this case and get it out of his mind like a thorn. While Leaphorn is considered being a legend when it comes to solving cases, there is one case, his last case, that remained unsolved.
But recent developments indicate that there is more to the case, and it has not gone cold yet. A man brings a photo to Leaphorn that shows a very precious Navajo rug that was destroyed. But it might still be there, somewhere.
With Chee and Bernie away from this case, Leaphorn must act alone and solve this case. Because not only is the case very personal to him that needs to be solved, but a killer might also be on the loose. Read how Leaphorn manages to solve the case in this thriller novel.
19. Spider Woman's Daughter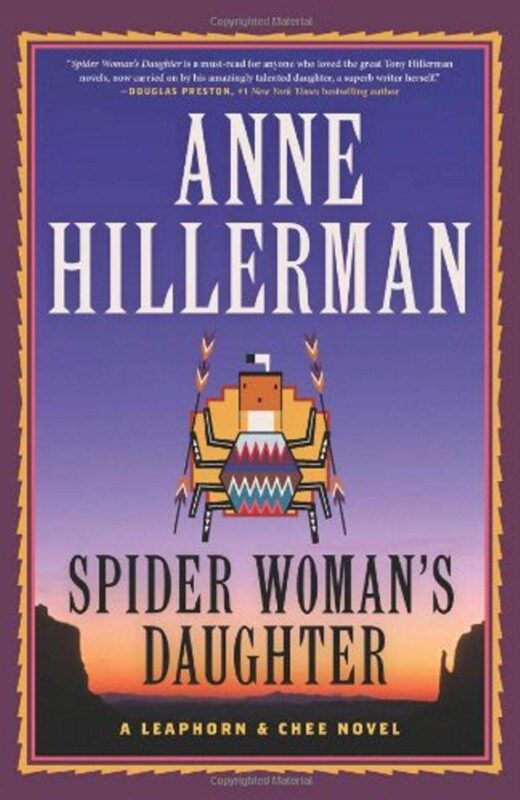 This book is essential in the series as Tony Hillerman does not write it. Due to his death in 2008, Anne Hillerman took the pen to complete this novel. And she has done a great job in adapting to the writing style.
While written by a different author, since she was so accustomed to her father's writing style, this book never feels like something different from the previous books in the series. It fits right in and brings so many new things to the story.
Another great thing about this book is that it puts Bernie as the lead character who must solve this confusing case of a shooting. With the help of Chee, Bernie finds out a lot about the hidden truths, and so do the readers. A very gripping and entertaining book that will keep you hooked on the series.
20. Rock with Wings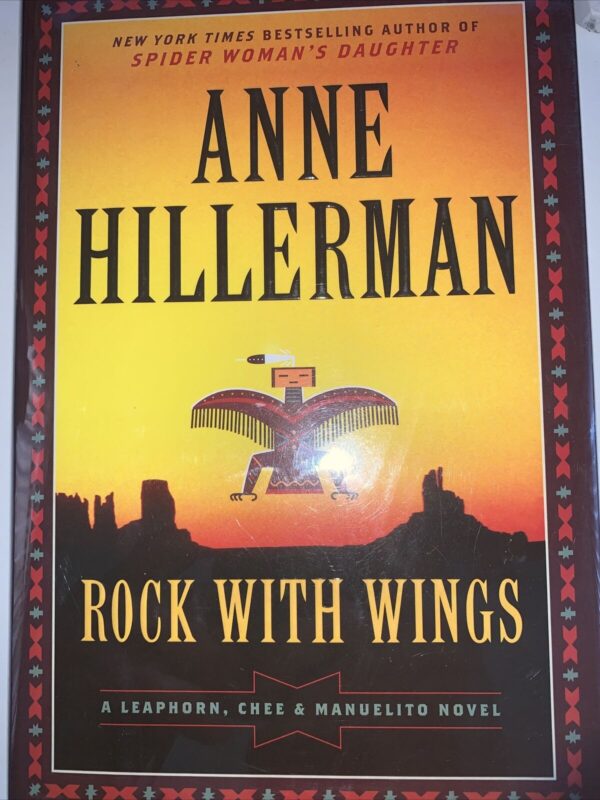 Rock with Wings puts the spotlight on the two main characters in the story, Jim Chee and Bernie Manuelito. The two try to get close and spend time together, but the call of duty puts them far apart.
Both Chee and Bernie are working separately on two cases. Jim is on a case that will lead him to murder. The unraveling part that Chee is involved in will excite the readers as it is one of the most well-written parts of this book.
Bernie is managing the heat after a drug bust goes wrong, which later leads to her finding out so much about the corruption and the power play that goes on under the seemingly simple businesses.
21. Song of The Lion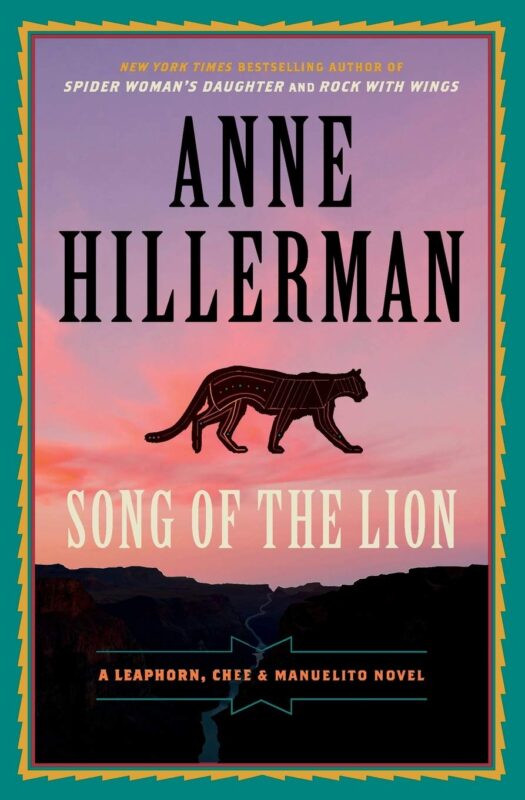 A terrifying and shocking thriller novel that will take you by surprise, Song of the Lion, is the third book in the series by Anne Hillerman, and she has gotten a good understanding of where to steer this giant ship of the Navajo book series.
The entire town, along with Joe Leaphorn, Jim Chee, and Bernie Manuelito, is shaken when a young man is killed in a car bomb.
This scale of the attack is unheard of, and there is no doubt that someone very powerful is behind all this. The young man killed was a mediator planning a multi-million dollar project.
Chee and Bernie are at it again, working together, finding all the clues, and trying to put the pieces together to uncover the truth. What seems to be an act of terrorism turns out to be something far more elaborate and driven by sinister motives.
22. Cave of Bones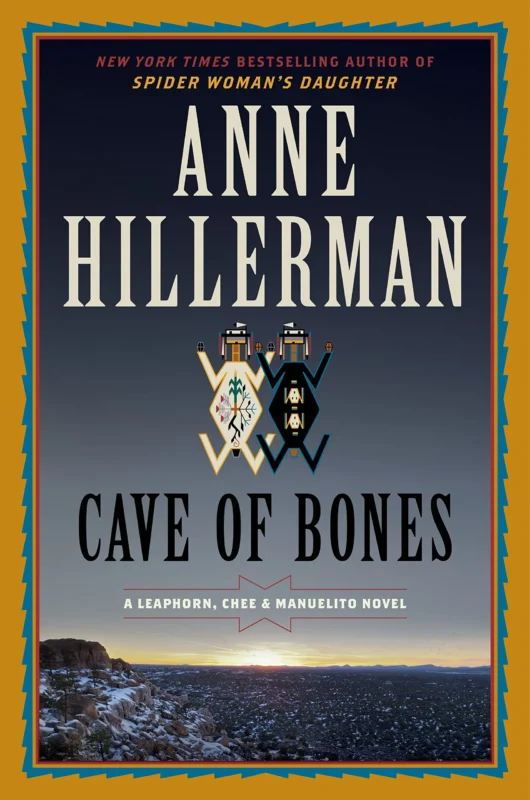 Cave of Bones again puts Bernie Manuelito at the center stage as she drives an investigation of a case that's chilling and downright scary. A young girl does not return from a trek, leading the trek instructor to go look for her.
While Bernie is struggling with the investigation, Chee is working hard to solve his share of problems. But after a few hours, Annie comes back, traumatized by seeing a human skeleton. While she is back, the danger is not over, as the instructor is now missing.
Things from the past start emerging as the man he sent to prison is out. There is a complex relationship dynamic that makes this story great to read. Readers will find that the murder mystery aspect of this story takes the back seat while the characters shine.
23. The Tale Teller
People who are fans of the legendary Joe Leaphorn will love this book. He is back to the center stage. But what's more is that what made the Navajo series so interesting was the implications of the supernatural; witchcraft, magic, dark omens, and so forth All these elements gave the stories another dimension.
That unique dimension is back with this book. Leaphorn has to investigate a traditional dress that holds significance. But there are so many dead ends in the investigation, and confusion occurs when the prime suspect is killed. Someone is behind all this, and there is some witchcraft being practiced.
The Tale Teller is a riveting thriller that will give readers a fresh and unique take on the loved character Joe Leaphorn while keeping all his great aspects the same.
24. Stargazer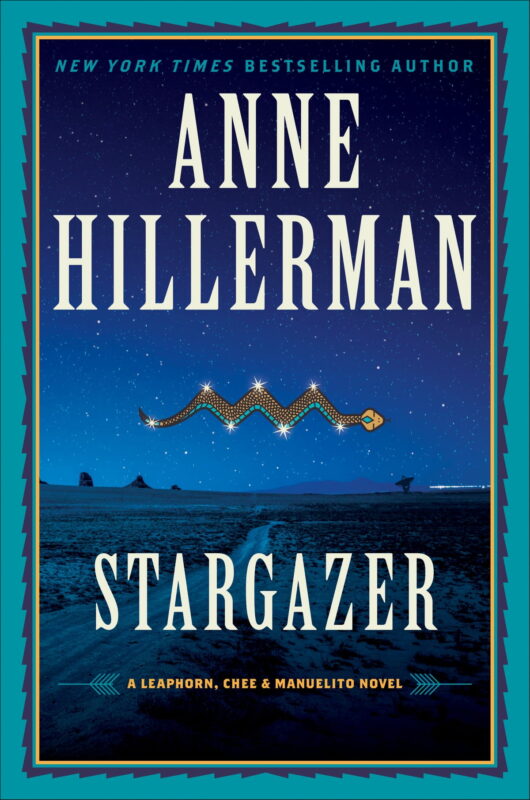 Bernie Manuelito is back in this novel, driving the plot of Stargazer. With a mellow and slow start, the book quickly takes up the pace when Bernie is called to help one of her old friends and roommate Maya.
Maya has been missing for some days without any clue, and the worst has already been assumed. Her brother asks Bernie to find out what happened to his sister. Bernie's initial investigation reveals that Maya murdered her husband. Still, the case unravels and shows twisted facts and something more sinister.
Apart from a brilliant mystery to solve, there are also elements of personal conflicts, conflicts with her husband Jim Chee, and other issues at play. All these elements make the already fantastic story even better.
25. The Sacred Bridge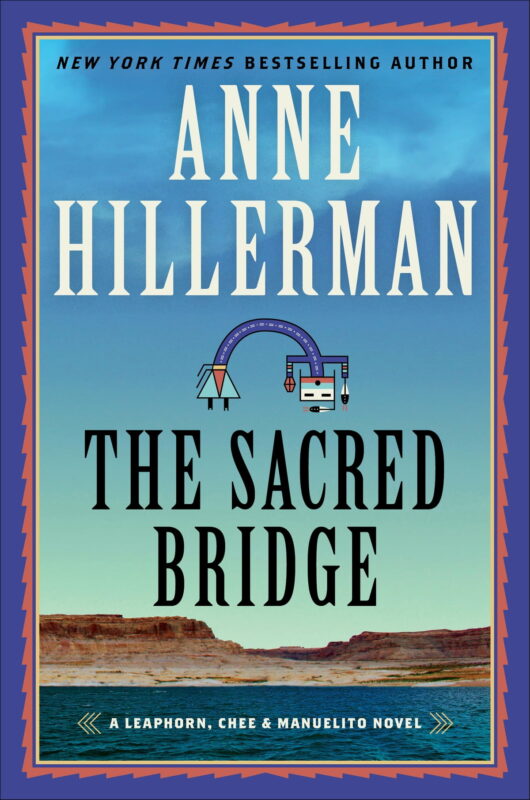 If you think that after Anne Hillerman took over the series, Jim Chee was left out, you are right. While Bernie and Leaphorn got their stories, Chee was always in the backseat. But that changes with the latest book in the series, The Sacred Bridge.
Jim Chee takes a journey to Antelope Canyon and Lake Powell. After going through a lot of internal and external struggles, Chee needed this vacation. Still, he finds something hidden, a mystery Leaphorn encountered decades ago.
Chee finds a body floating in the lake and this dead person is someone important. What seems like an accident is a devious plot, and the murderer or murderers are still at large. Read the book to know how the mystery unfolds.
26. The Way of the Bear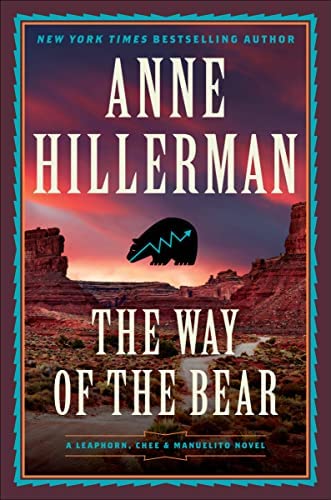 The Way of the Bear is the upcoming book in the series, scheduled for release in 2023. A mysterious murder confuses Chee and Bernie. A paleontologist freezes to death just a few steps away from his car. How did this happen? But before anything is found, another death makes the case even worse. We are sure this book will be as great as all the other books in the series.
Standalone Novel
Besides the Navajo series, which is Hillerman's most beloved and popular book series, he also wrote two great standalone novels with interesting characters and a deeply thought plot. Here are the two books in the series.
The Fly on the Wall
Finding Moon
The Fly on the Wall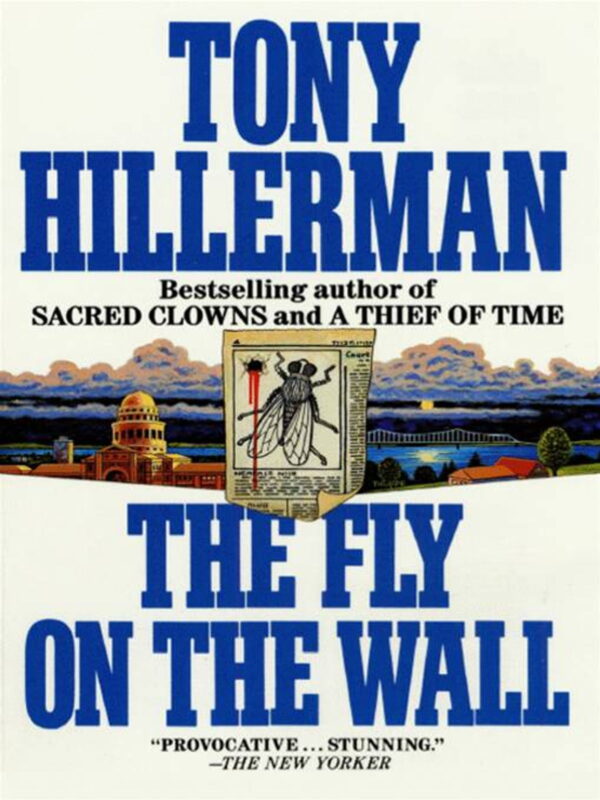 The Fly on the Wall was published in 1971 and was a success. The book is about a police officer named John Cotton. Cotton is a "live and let's live" kind of guy. He sees the corruption, the plots, and the planning but is not bothered by it. He is a fly on the wall.
The character of Cotton is very complex. He is not a hero, but he does his best to avoid trouble. His knowledge of influential people makes him the target. But things change when his friend is murdered, and he is in a tough spot..
This book is perfect when you do not want to start a series but also want a great book to read while traveling or just to kill some time.
Short Story
Tony Hillerman published two short story books, and both are great anthologies of contemporary fiction and non-fiction of some of the best stories from the American west. These books are fast-paced and perfect for lovers of mysteries.
Here are the two books in the series. Since these are anthology stories, there is no reading order to them.
Children's Book
Hillerman also wrote a great children's book, along with Janet Grado as the story's illustrator. The stories are for children over the age of ten years. These books are perfect if you want your children to know more about the culture of Southwestern Indian people.
Here's the list of the two books in this series. There is no specific reading order to these books, so start with any.
Non-Fiction Book
There is a reason why Tony Hillerman is considered one of the best writers about Native Indian culture. He was well-versed in their mythologies, beliefs, culture, rituals, etc. While he put all these things in great detail in his fiction book, if you want to read about some of the real stories, go for all of Hillerman's non-fiction books.
Hillerman wrote 9 non-fiction books. Since these are non-fiction books, there is no reading order. So we have arranged them in their release order. Take a look:
Conclusion
There is a treasury of great stories in the culture and history of Native Indian people. With a dash of mystery, thrill, complex characters, and the essence of the supernatural, Tony Hillerman and Anne Hillerman have created some of the best thriller novels rooted in Native Indian culture.
Start with their Navajo series if you want some of the best and most detailed stories about Southwest Indian culture, rituals, people, and society. The mysteries are fresh in every book, and you'll be hooked to reading every book in the series. Happy reading!