John Sandford is the New York Times Bestselling author behind the smash hit Lucas Davenport and Virgil Flowers series.
Sandford has written fifty-five gripping titles to date, and if history is anything to go by, we can expect plenty more to come.
So far, every one of this distinguished author's novels has been featured on the New York Times Bestsellers list, and many of them have debuted at number one. So, if you love edge-of-your-seat, high-octane thrillers, you won't want to miss John Sandford's work.
John Sandford Books
In this post, I'll give you a full rundown of every book by John Sandford, including his popular series, standalone titles, and non-fiction work.
But before we explore his impressive bibliography, let's learn a little more about his life and career so far.
Who is John Sandford?
John Sandford, whose real name is John Roswell Camp, was born in Cedar Rapids, Iowa, in 1944.
After graduating high school in 1962, he enrolled at the University of Iowa, completing a bachelor's degree in American Studies and a master's in Journalism. Between his two degrees, he also had a stint in the US Army, serving in Korea as an Army Missile Commander.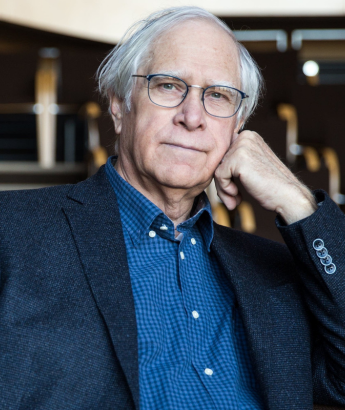 After qualifying as a journalist, he started his career as an army reporter before joining The Miami Herald, where he eventually became an editor.
In 1978, he left the Herald to work as a reporter and columnist at St. Paul Pioneer Press, a job he stayed in for twelve years.
John Camp found great success as a journalist, and in 1986, his outstanding reporting work earned him the coveted Pulitzer Prize.
But in 1989, he shifted gears from journalism to fiction, and his career as a novelist began.
His first two books, The Fool's Run and Rules of Prey, sparked two of his most popular series and brought him instant fame in the literary world.
But the quick succession of his novels was a concern for his publisher, who thought he needed a pseudonym. And so, taking inspiration from his great grandfather, civil war veteran Henry Sandford, John Camp's pen name, John Sandford, was born.
Since those early days, John Sandford has become a household name, thanks to his three hugely successful crime thriller series and standalone novels.
Each new book he releases slides straight into the upper ranks of the bestseller's charts, including, of course, his latest 2022 titles, Righteous Prey and The Investigator.
The Complete List of John Sandford Books in Order
If you're ready to explore John Sandford's work, you're in the right place.
Below, I'll list all his books in series and publication order, starting with the Prey books.
The Prey/ Lucas Davenport Books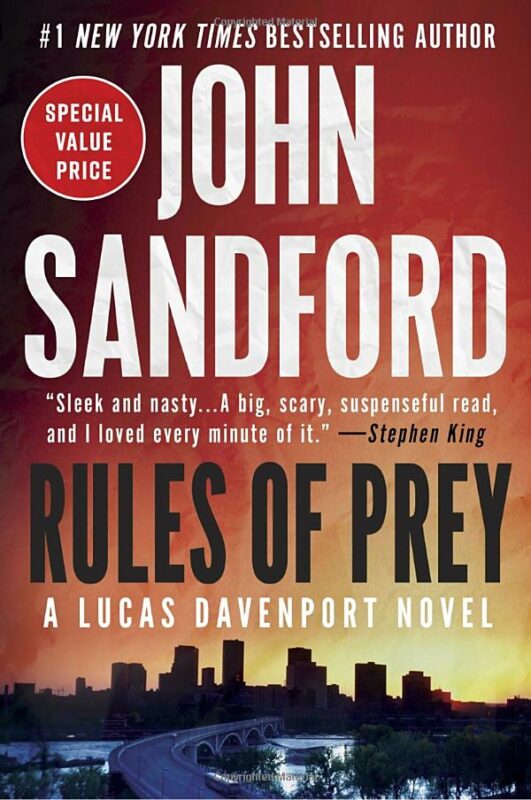 The Prey novels star Sandford's most iconic protagonist, Lucas Davenport.
Davenport begins the series as a detective with the Minnesota Police Department. Still, when a scandal forces him to resign, he becomes a government deputy chief in charge of his intelligence unit.
Later, he returns as an investigator for the Minnesota Department of Public Safety's Bureau of Criminal Apprehension (the BCA), where he remains until the conclusion of the 2015 novel Gathering Prey. But ultimately, Davenport quits the BCA and goes it alone as a US marshal.
Whatever role he takes on, Detective Lucas Davenport is an independent maverick who seeks justice in his own unorthodox way.
The Prey/ Lucas Davenport Books in Publication and Reading Order
There are currently thirty-two Prey/Lucas Davenport books. To get the most out of the series, it's best to read them in the order they were published, listed below.
The Kidd Books
This contemporary thriller series stars a computer genius named Kidd, who joins forces with his cat burglar sidekick, LuEllen, to sabotage shadowy government agencies and con their way across the United States.
Working outside the law, they have their own special brand of justice. Kidd's razor-sharp intelligence and mastery of the long con, combined with LuEllen's quick wit and street smarts, make these renegades a remarkable pair.
But they aren't just partners in crime; they're partners in love, too, and as their series develops, so does their sexual chemistry.
Suppose you've already read the Prey series. In that case, you might recognize Kidd from the novels Silken Prey and Extreme Prey, where he takes on a leading role.
The Kidd Books in Publication and Reading Order
To get the most out of the Kidd series, it's best to read the books in the order they were published, listed below.
The Virgil Flowers Books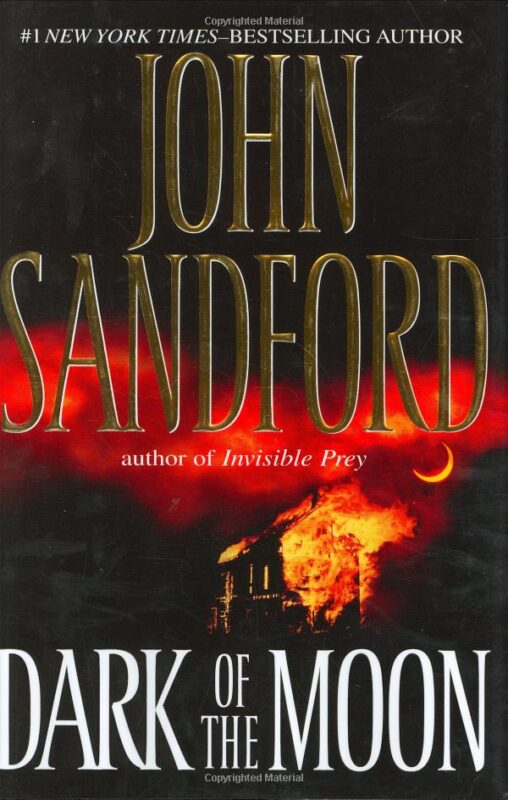 Fans of the Prey/Lucas Davenport series will already be familiar with Virgil Flowers as Davenport recruits him into the Minnesota Bureau of Criminal Apprehension. But before he joined the team, he was a US Army and military police officer, and he also had a stint as a cop in Saint Paul.
Virgil Flowers is an avid outdoorsman who is most at home tracking and hunting wild animals, fishing, and practicing his impressive survival skills in the wilderness. And his bushcraft abilities prove to be extremely useful while he's on the job, too.
Check out our dedicated Virgil Flowers post for more detailed information on this gripping series.
The Virgil Flowers Books in Publication and Reading Order
There are fourteen Virgil Flowers books to explore, with the most recent two crossing over from the Prey/Lucas Davenport series.
To get the most out of the books, it's best to read them in the order they were published, listed below.
The Singular Menace Books (with Michele Cook)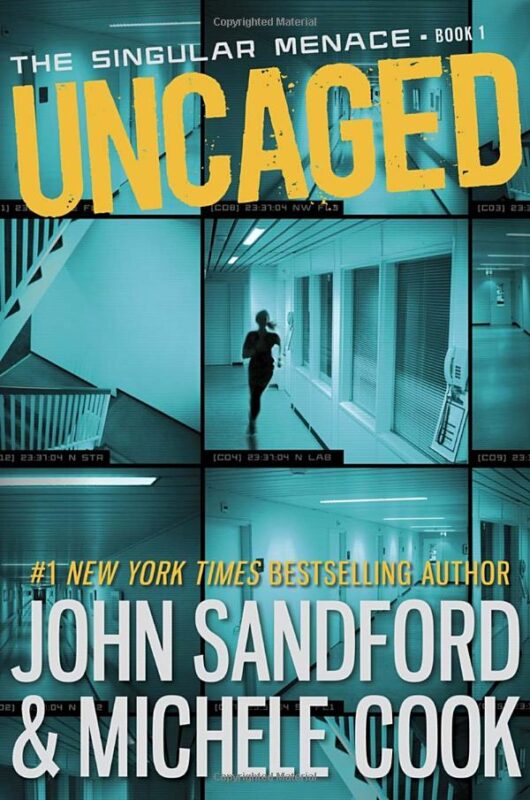 In 2014, John Sandford joined forces with fellow thriller author Michele Cook to pen the Singular Menace series.
These young adult mystery thrillers begin when sixteen-year-old Shay Remy sets out on a dangerous mission to track down her computer hacker brother, Odin.
But soon, she finds herself in an action-packed pursuit to expose the truth behind sinister experiments conducted by a powerful and secretive corporation.
The Singular Menace Series in Publication and Reading Order
There are four Singular Menace books in total, and to get the most out of the series, it's best to read them in the order they were published, listed below.
John Sandford's Standalone Books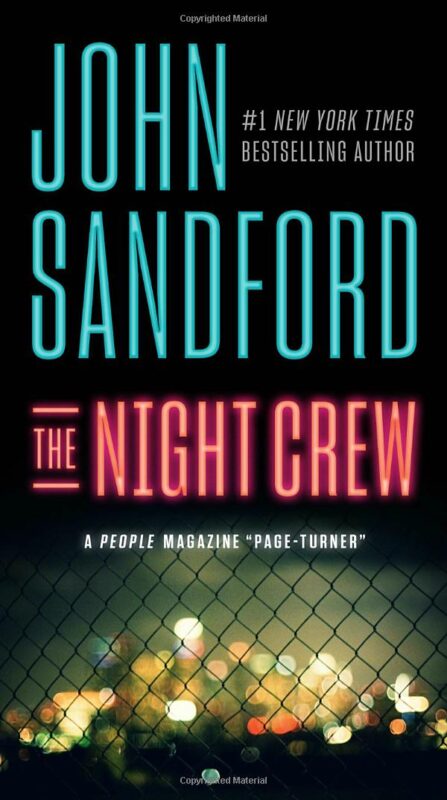 Alongside his four smash hit series, John Sandford has several standalone titles to explore.
The most recent, the 2022 novel The Investigator, features Lucas Davenport's daughter, Letty Davenport.
John Sandford's Short Story
In 2006, John Sandofrod penned the popular short story Lucy Had a List, which tells the chilling tale of a grammar-obsessed golf teacher and her very important list.
The story was originally published in the sports mystery anthology, Murder in the Rough: Original Tales of Bad Shots, Terrible Lies, and Other Deadly Handicaps from Today's Great Writers (2006.)
John Sandford's Non-fiction Books in Publication Order
During his career as a journalist, Sanford published two fascinating non-fiction books, both under his real name, John Camp.
The first is a detailed examination of the life and art of John Stuart Ingle, which went on to win him the Pulitzer Prize for Journalism.
The second is an unbiased examination of the booming plastic surgery industry, written in collaboration with distinguished surgeon Bruce Cunningham.
The book offers fascinating insights into the increasing popularity of elective cosmetic surgery. It also helps readers to understand the benefits and the risks of numerous popular procedures so that patients can make an informed choice.
The Eye and the Heart: The Watercolors of John Stuart Ingle (1988) (Published as John Camp)
Plastic Surgery: The Kindest Cut (1989) (Published as John Camp)
Conclusion
John Sandford is one of the world's most acclaimed thriller writers. His bestselling novels have captivated readers around the globe for decades, and with two brand new books and plenty more to come, there's no better time to explore this electrifying author's work.
Are you a John Sandford fan? If so, I'd love to hear about your favorite reads. Drop me a comment in the box below!