Greek mythology might date back thousands of years, but these dramatic tales of heroes, monsters, gods, and goddesses are still captivating readers around the world to this day.
AT A Glance: Our Top 5 Picks for Greek Mythology Books
These fantastical stories capture the imaginations of teenagers and adults, transporting us to a world where Titans and Oylpians ruled the earth, the skies, and the underworld.
If you or your teen is fascinated by these ancient tales, you've come to the right place. I've compiled a list of the nine best Greek mythology books to read this year. Some are fictional retellings that bring a new dimension to these well-known stories, and some are translations and commentaries of the classics.
Best Greek Mythology Books
IMAGE
PRODUCT
FEATURES
PRICE
The Greek Myths by Robert Graves
• Originally published: 1955
• Pages: 2 volumes (370 pp, 410 pp)
Circe by Madeline Miller
• Genres: Novel, Historical Fiction, Fantasy Fiction
• Awards: Goodreads Choice Awards Best Fantasy
Gods Behaving Badly by Marie Phillips
• Genres: Novel, Fantasy Fiction, Humour, Speculative fiction
• Page count: 320 (paperback)
The Greek Plays: Sixteen Plays by Aeschylus, Sophocles, and Euripides
• Genre: Drama
• Page count: 864 (Hardcove)
The Silence of the Girls by Pat Barker
• Genres: Novel, Greek mythology, Historical Fiction, War story
• Page count: 304 (Hardcover)
Persephone: The Daughter of Zeus, by Kaitlin Bevis
• Genres:
• Page count:
The Iliad by Homer, translated by Caroline Alexander
• Genres: Poetry, Epic poetry, Fiction
• Page count: 608 (Paperback)
Mythos: The Greek Myths Retold by Stephen Fry

• Genre: Fairy tale
• Page count: 432 (Paperback)
Fifteen Dogs by Andre Alexis
• Genres: Novel, Literary fiction, Allegory
• Awards: Giller Prize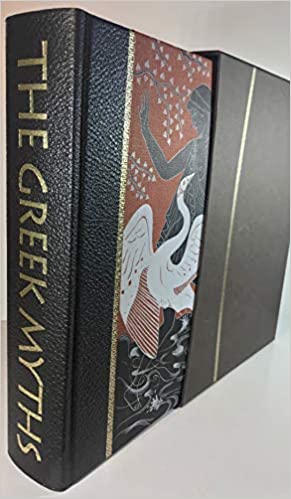 If you're new to Greek mythology, or you're looking for a refresher to brush up your knowledge, this comprehensive collection by renowned poet and scholar Robert Graves is the perfect place to begin.
Using his years of research and expertise, Graves retells each ancient Greek myth with passion, imagination, and flair. From Midas and his golden touch to the voyage of the Argonauts, and Theseus and the Minotaur to the Trojan war and more, everything you ever wanted to know about Greek mythology is in the pages of this much-loved book.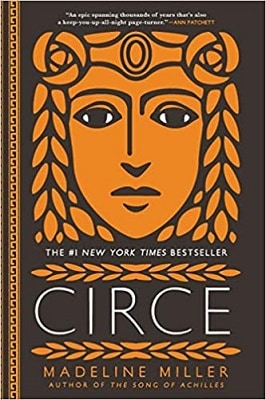 This daring retelling of the story of Circe recasts this infamous goodness as a brave, independent heroine in her own right.
Born in the house of the mighty sun god Helios, Circe is somewhat of an outlier. She's not strong and overruling like her father, nor is she powerfully alluring like her mother. Instead, she is simply human. As she grows up, she is rejected by the gods and turns to other mortals for friendship. But before long, Circe discovers that she really is blessed with a power beyond the mortal world; the power of witchcraft.
Zeus soon gets wind of Circe's hidden abilities, and, feeling threatened, he banishes her to a deserted island. But instead of withering away, it's here that she hones her power and excels in her craft, growing stronger and more powerful by the day. She learns to tame terrifying beats and defeat her enemies with ease.
But ultimately, there's a penalty to pay for any woman who dares to stand alone in powerful defiance, and she finds herself in battle with one of the most powerful gods in the universe, Odysseus. Circe is strong, but so is he, and this is a test unlike any other she has known.
Now, she's forced to decide between the world of vengeful gods from which she hails or the mortal realm which she has come to know and love.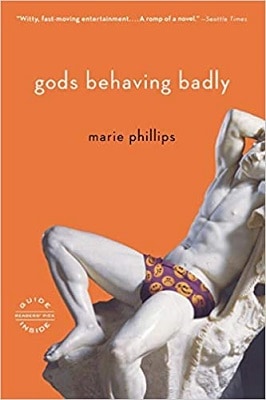 In this humorous novel, author Marie Phillips places some of our favorite Greek gods into modern-day city life.
Alice, a hard-working cleaner, has taken on a new job in an apartment in London, but there's something unusual about the residents. It turns out the twelve gods of Olympus didn't die out in history; they are alive and well, and living here in this small flat in the heart of the British capital.
But their powers are waning, and it's clear that their glory days are over. Apollo is now working as a TV psychic, Artemis is a local dog walker, Dionysysus is a struggling DJ, and Aphrodite is forced to work as a call girl.
In these cramped conditions, power struggles between these once almighty gods are inevitable. But what starts out as lighthearted bickering between Aphrodite and Apollo soon escalates into a terrifying battle of wills, and neither of them seems likely to back down.
Alice and her would-be boyfriend Neil suddenly find themselves caught in the crossfire, and they begin to fear for their lives. If they don't act fast to stop this war between the gods, the whole of humanity could be at stake. Now, these mere mortals will have to channel their inner mythical heroes if they have any hope of saving the world.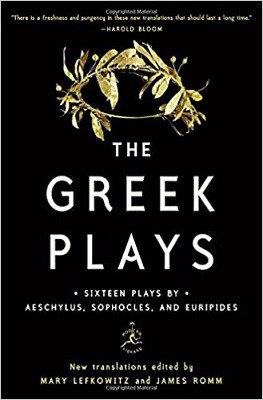 The plays of Ancient Greece are some of the world's most enduring and beloved in the world. These great dramas have influenced poets, artists, philosophers, and scholars throughout the centuries and have shaped literature, art, and culture for millennia.
This highly acclaimed book contains easy to follow translations of sixteen timeless plays, including Prometheus Bound, Agamemnon, Bacchae, Electra, Antigone, Medea, and Oedipus the King. It's a comprehensive cross-section of the most well loved Greek dramas, with thoughtful and thorough translations that capture the true essence and meaning of the originals.
This anthology also features helpful introductions to each play, with annotations at the bottom of every page to clarify meaning. It's a fantastic study guide and an all-around essential for those who want to learn more about these world renowned ancient dramas.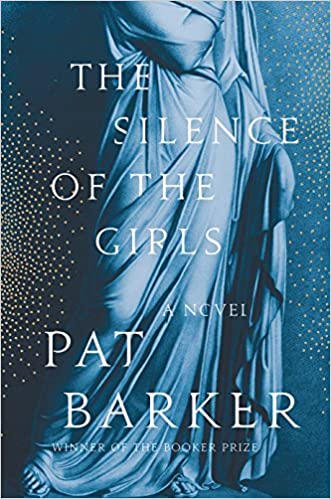 For over a decade, the ancient city of Troy has been at war with the powerful Greek army, who are thirsty for revenge after Helen was captured and stolen.
Meanwhile, Briseis sits behind the scenes of this bloody war, watching and waiting to see how it will play out. She was once the powerful queen of Lyrnessus, a neighbor and ally of Troy, but all that was snatched away when Achillies and his army destroyed her city and murdered the men in her family.
Now, she's forced to become Achilles's concubine and lives in fear. She's lost everything she ever held dear, and she's not alone; there are thousands of women like Briseis, living out their lives in the shadow of a blood-soaked war.
This heart-wrenching yet captivating tale offers a fresh take on this classic Greek myth and presents the Trojan War from Briseis's own unique and harrowing perspective.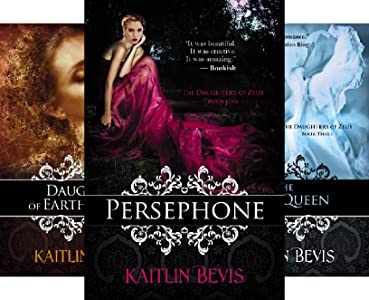 Up until now, high school junior Persephone has lived a relatively ordinary life growing up in Athens. She studies, hangs out with friends, and works part-time at her mother's flower shop. But suddenly, her life is turned upside down when Boreas, the evil god of winter, shows up. It turns out that Persephone is a real-life goddess, daughter of Zeus and Demeter, and Boreas is out for her blood.
Her mother, the goddess of agriculture, comes to her rescue and sends her to the safety of the underworld until spring returns. When she arrives, she is betrothed to Hades, the handsome god of the dead. He offers her protection from Zeus's evil schemes, but as far as Hades is concerned, their marriage is nothing more than an arrangement of duty. He will keep her safe but has no intention of becoming her lover. But each time Hades swoops in to rescue Persephone from danger, the pair fall a little more in love, even if they won't admit it.
As time passes, Persephone's powers grow, and she blossoms into a fully-fledged goddess. But is it enough to shake free from her father's evil grasp, and is she willing to give up her life in the realm of the living to join Hades in the underworld for good?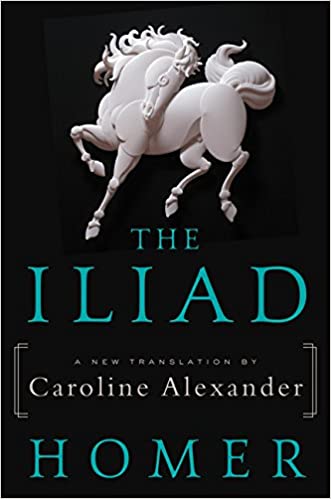 Recounting the most momentous weeks of the decade-long war between the Greeks and the Trojans, Homer's Iliad is essential reading for anyone interested in Grecian myth and legend. Taking place in the besieged city of Ilion, the story explores the tragedy of war, from its fiery beginnings to its sorrowful conclusions.
It paints a harrowing portrait of lives that were ravaged by the Trojan War, from reigning kings, heroes and heroines, to the everyday women, children, and civilians who endured this Bronze Age conflict. Though this ancient epic was composed far back in 730 BC, Homer's Iliad is a poignant evocation of the destruction that all war inflicts upon society, no matter where or when.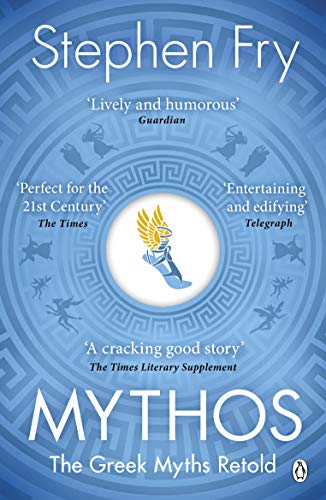 The beloved actor, writer, and comedian Stephen Fry breathes new life into some of his very favorite Greek myths.
Using his unrivaled storytelling ability, he focuses predominantly on the retellings of Hesiod's Theogony, Ovid's Metamorphoses, and Apuleius's The Golden Ass, giving us a fresh, witty, and deeply human perspective on the great gods and goddesses we thought we knew.
Don't worry if you're not already clued up on Greek mythology; Stephen Fry intended this work for experts and novices alike. During the introduction of the book, Fry reassures us that no background knowledge is necessary, and states "there is absolutely nothing academic or intellectual about Greek mythology; it is addictive, entertaining, approachable and astonishingly human."
If you loved this book, then you're in luck; Fry has two follow-up titles based in Greek mythology; Heroes, and Troy, and they're equally as addictive, hilarious, and enlightening as this one.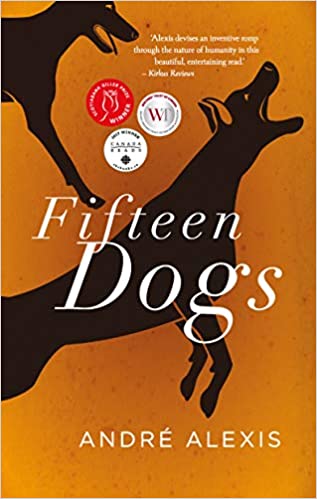 Killing time in a Toronto bar one evening, Hermes and Apollo question what it might be like if animals had the intelligence of human beings. Sure of himself, Apollo offers Hermes a wager; animals would be even more unhappy than humans are, and if he's wrong, he'll pay with a whole year of servitude.
And so the gods shake on it, and off they go to grant both consciousness and language to a group of unsuspecting canines housed overnight in a nearby veterinary clinic.
The dogs react in different ways to their newfound abilities. Half of the pack resist the change, preferring their old dog ways and rejecting this new way of thinking. But the other half embrace their minds and their mouths, and the gods watch on as the dogs become increasingly divided. Now, they must all learn to navigate their new perspectives, thoughts, and feelings in a suddenly unfamiliar world.
This humorous, heartwarming, modern-day apologue explores the beauty and the pain of human consciousness with a mythological twist.
Conclusion
Whether you're a teenager or an adult, any fan of Greek mythology will love reading these top titles. And for those who are new to these ancient stories, these books are a great place to start.
I tried to include a mixture of factual retellings and translations, plus some adaptations that breathe new life into these classic tales. Did I miss any awesome Greek mythology books that deserve a recommendation? Let me know in the comments!
Check out these other great posts!