We love free offers as much as the next person! Do you not want to spend out on a monthly audiobook subscription? Then why not check out our list of the best free audiobook apps below?
There are many free audiobook apps available and we are going to cover the best here. With some free audiobook apps, you will have to be registered to your local library.
Others, you can simply download the app, choose your preferred audiobook and start listening straight away! Whilst keeping your financial mind at rest.
If you're not too concerned about spending out on a monthly subscription we recommend you see our list of the best audiobook apps here.
Moving on, please keep reading to see which free audiobook apps are actually worth downloading.
LibriVox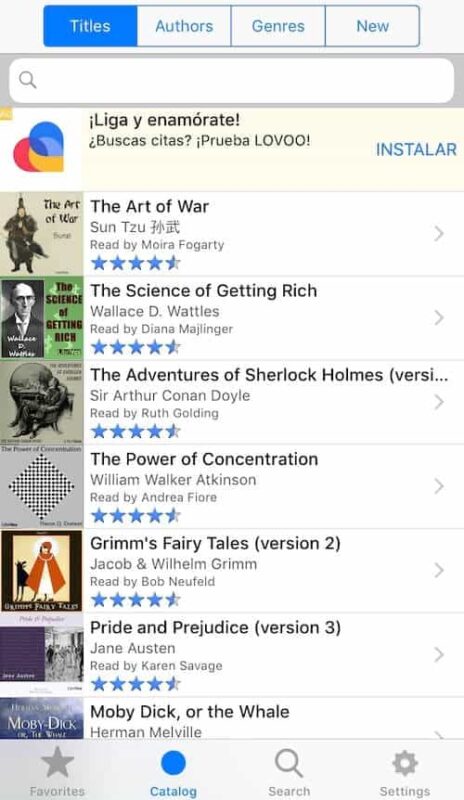 LibriVox was founded in 2005 by Hugh McGuire to offer free listening to books in the public domain. This is done by using volunteers to narrate the titles. They currently offer over 12,000 free audiobooks on their website and app.
It is very straightforward to use, you don't even have to sign-up for an account. To start using LibriVox's free audiobook app hit download in your app store and then locate which audiobook you want to listen to. All of these free audiobooks on LibriVox can be downloaded for offline listening.
There are of course some cons to their free service, the main one being that some recordings aren't of the highest quality. As well as that some titles don't have one narrator, you may find yourself listening to an audiobook with multiple people reading it. That being said the service is completely free and the more popular audiobooks are generally at a decent recording standard.
If you are willing, you can register to become a narrator and possibly have it listed in their free audiobook library. This is a good way to repay them and the other volunteers for offering this many audiobooks for free.
OverDrive
OverDrive is one of the free audiobook apps that incorporates your library membership, enabling you to borrow free audiobooks and ebooks. If you aren't a member of your local library, you can go to their website and locate your nearest one using the map and search bar.
There are libraries that allow you to register via their overdrive website. Although a couple that we found did ask for a yearly membership fee. One was £20 which is just short of £2 a month. Remember that you don't get to keep the books though, and you could be waiting on the best audiobooks due to lots of people wanting to borrow it too. Yes, that's right digital copies of books and audiobooks are limited as well, this is due to the distribution rights of publishers. If this is the case then we recommend searching for the title you want with one of the best audiobook apps and taking advantage of their free trial period.
Overdrive is currently available on a wide range of different devices. As well as being on the standard Android and iOS devices, you can also access the OverDrive app on Kindle Fire, Macs, PCs and Windows devices.
Libby, by OverDrive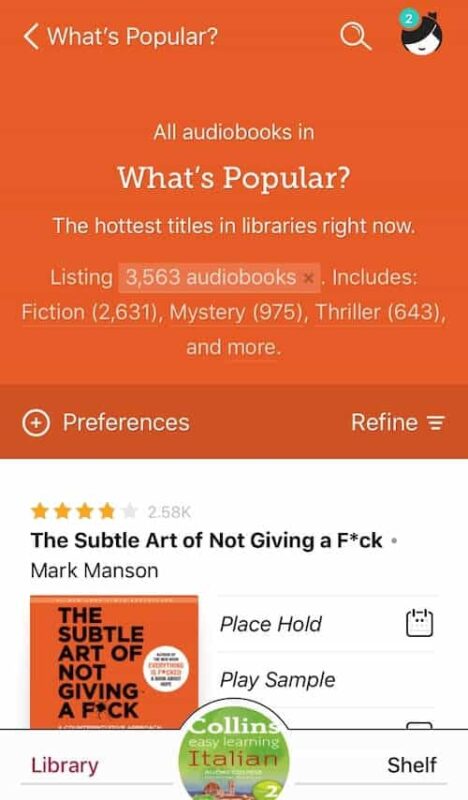 Libby is the new app from overdrive. Its layout is up there with some of the best audiobook apps on the market and it's completely free to use. As the app is an offshoot from OverDrive.com remember that you still need to have a local library membership. The Libby app is currently available to download on iOS, Windows and Android mobile and tablet devices.
Libby is perfect for kids audiobooks, due to having picture books with follow-along audio. If you're a parent and reading this, we highly suggest that you download Libby. It's a great way to introduce children to different forms of media, not just what's on the TV.
What's also great about Libby is that you can easily switch between which library card membership you borrow with. Each digital library may stock different titles, therefore if you hold more than one membership it can grant you access to even more free audiobooks.
Hoopla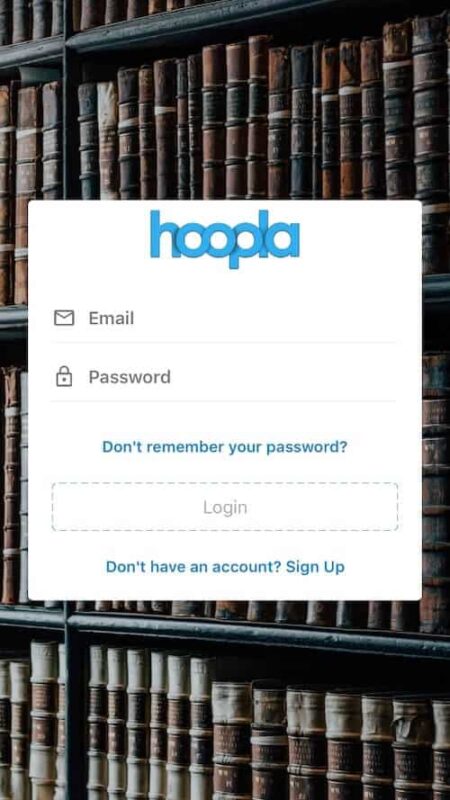 Hoopla is the next free audiobook app on our list. It works in exactly the same way as the previous two, registering with your local library card. However, what's great about Hoopla is that they offer movies, ebooks, comics and more as well as what we go there for, free audiobooks!
When it comes to Hoopla's audiobooks section once you have registered you can choose any title to rent for 21 days at a time. As long as it is available. The Hoopla app is built for offline listening, just download the audiobook of your choice and then listen without having to worry about your mobile data. The only downsides to the Hoopla audiobook app are that they don't allow you to skip to specific chapter points. However, the app will pick up where you left off from your last listening session.
We also found that the quality of the audiobooks was at a good level, only twice we experienced half a second cutouts. Head over to your devices app store and give Hoopla a try for yourself.
Audiobooks HQ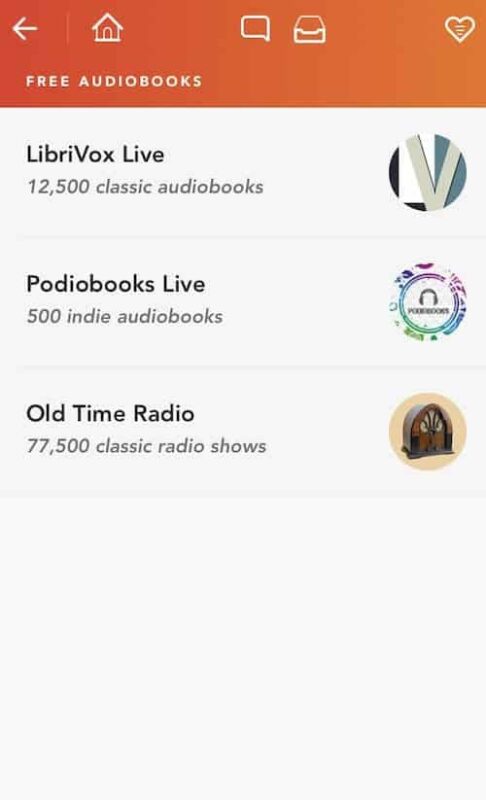 Audiobooks HQ is another free audiobook app that incorporates the LibriVox library. You can access over 11,000 audiobook titles currently. There are in-app advertisements and you can get rid of these by buying the premium version for £1.99.
You may be asking what the point of downloading this app is if all they have is free audiobook recordings from LibriVox. To start the actual app is much more user-friendly than the LibriVox app. There are some additional extras on the Audiobooks HQ app too. These include 500 indie audiobooks, that they call podiobooks. On top of that, they offer 75,500 old radio recordings dating all the way back to the 1930's! This free audiobook app is perfect for anyone that wants to relive the past with original recordings.
Audiobooks HQ free app also gives you recommendations based on what you have listened to before. This is a nice addition to a free audiobook app, that some others don't offer.
Loyal Books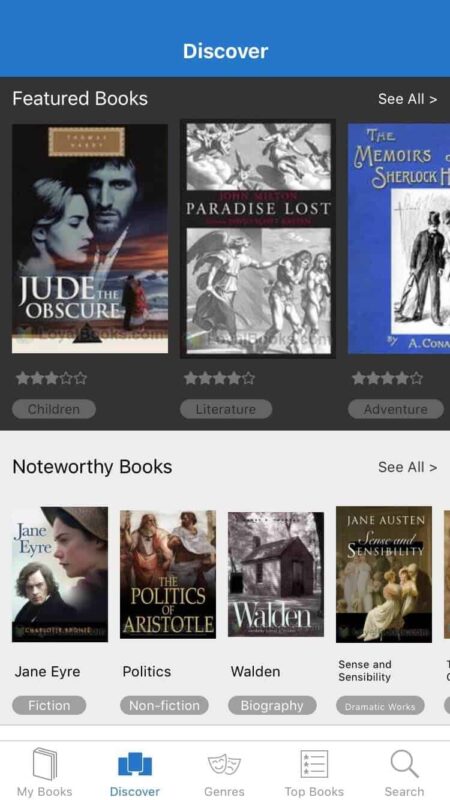 The next free audiobook app that we will mention is Loyal Books. Their website feels a little dated, but the Android and iOS app are slightly more modern. The audiobooks featured in the Loyal Book free audiobook app are pulled from LibriVox. Essentially, you would use Loyal Books if you prefer the app interface.
You do also get access to 35,000 ebooks that you can read on your mobile phone too.
This free audiobook app comes with advertisements. If you are willing to pay £2.99 you can remove all ads shown in the app. To remove the playback banner ads this will cost you just £0.99.
Free Audiobook Apps with Free Trials
These next few audiobook apps that I'm going to feature I wouldn't class as free audiobook apps. However, all three of them do offer a free trial period, in fact, two of them give you two free audiobooks that you get to keep forever! These audiobook apps are of course free to download too, it is just the monthly subscription cost that will kick in once the free trials end.
Audible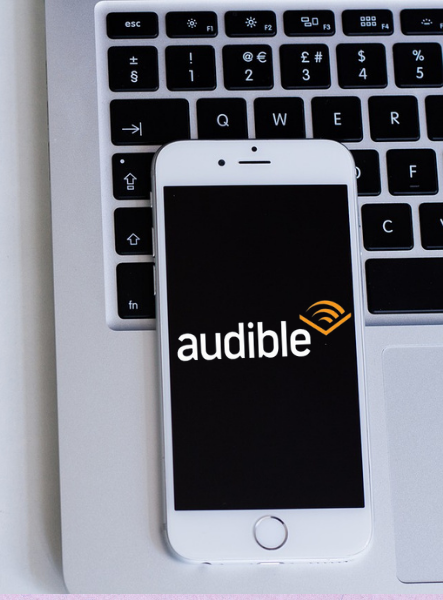 We've mentioned Audible over and over on this website, but that's because when you're discussing audiobook apps they are the first that comes to mind.
Android, iOS and Windows users can make use of the Audible app to listen to their favourite audiobooks. When you register with them you get to pick two free audiobooks! Not just one, but two! Download the app, register and then you can benefit from this generous offer!
Audiobooks.com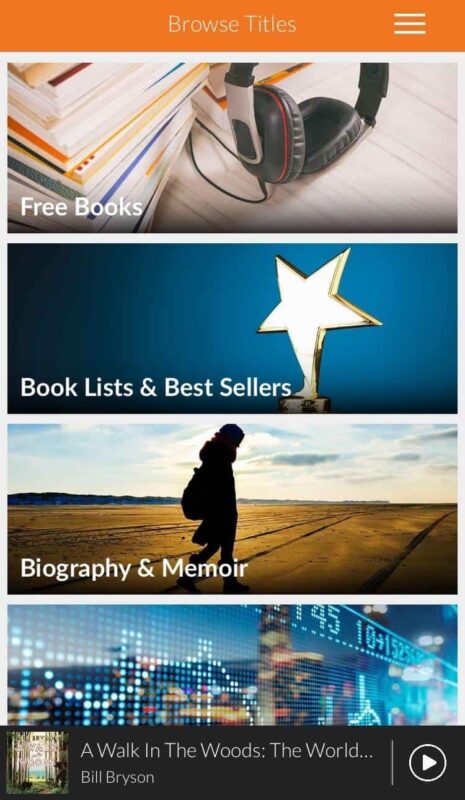 Audiobooks.com offer their audiobook app for iOS and Android users. Just like Audible, you are able to enjoy a free audiobook once registering to their service.
What we like most about the Audiobooks.com mobile app is that you can purchase new audiobooks through the app, a lot of the other audiobook apps don't allow this feature.
I love it when services make my life easier, definitely one reason to give Audiobooks.com a try!
Scribd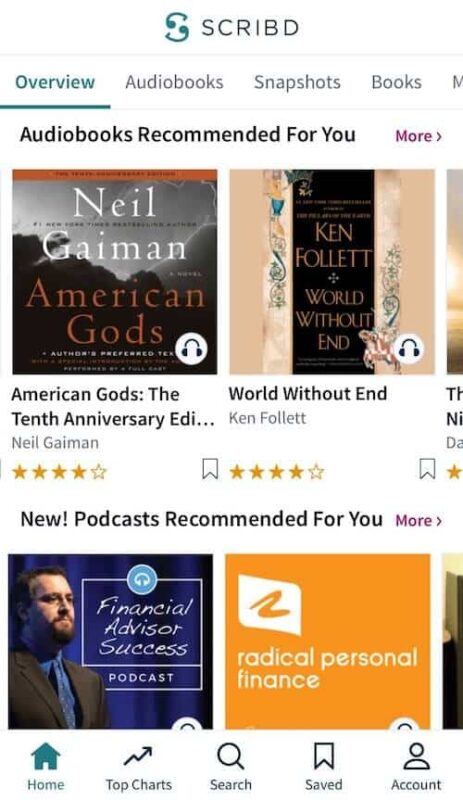 The Scribd audiobook app can be downloaded free of charge! Once you have registered for an account you will be able to start using their 30 day free trial.
For this you will have to provide billing information. This is so that the subscription can continue if you enjoy their service after the trial period.
Scribd's app is very straightforward to use, we doubt you'll have trouble getting used to it.
Their app is currently available on iOS and Android devices. Allowing you can enjoy multiple audiobooks a month with their free trial. Click here to try it now!
BookBeat (only UK)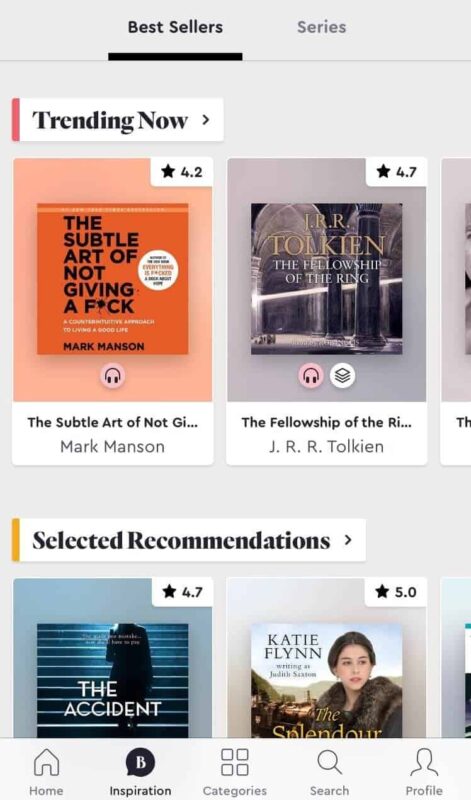 If you're based in the United Kingdom and searching for an audiobook app, BookBeat is definitely one to consider. First of all, you will receive a 14-day free trial when you sign up.
This enables you to test their app, see if you find it easy to use and like the interface. For us, the BookBeat app is one of the prettiest of all the audiobook apps on the market.
There is one downside to BookBeat's service, which is that they don't offer their product in the United States or Canada. But, we'll be the first to update you if this changes.
For all audiobook lovers in the U.K. you can enjoy BookBeat's pretty app.
Which is the Best Free Audiobook App?
That is the end of our article on the best free audiobook apps. Before you head off to download one of these apps that we have mentioned, we wanted to state which is our 'best free audiobook app'.
For us, the best free audiobook app is…Libby! Depending on your local library, Libby offers a great selection of audiobooks and ebooks. You can borrow multiple audiobooks at any one time and can also put audiobooks on hold, a maximum of 5.
If you are registered to multiple libraries you can add them all to Libby, enabling you to get access to even more great audiobook titles.
To be honest, all of the free audiobook apps that we have mentioned above are great. It's now for you to see which one you think is the best.