We've all heard of Ernest Hemingway's brilliance. His works have long been a fixture in high school and colleague, often dissected and scrutinized word for word.
He's most certainly one of the most influential writers today. He's the same man who's coined the notable Iceberg Theory, now widely used in books and media.
If, for any reason, you've not heard of Ernest Hemingway, here's a short overview of who he is.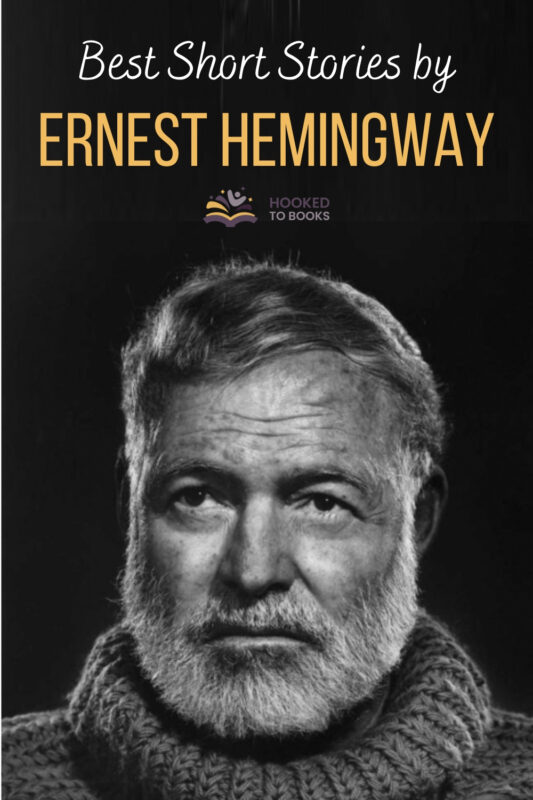 Who is Ernest Hemingway?
Ernest Hemingway was and still is, considered to be one of America's greatest 20th-century novelists.
He published 7 novels, 6 short-story collections, and 2 nonfiction works throughout his lifetime, most of which are considered classics of American literature.
What truly makes Hemingway's works notable is the impact of his stories on one's subconscious. Hemingway doesn't use flowery words or overly poetic idioms in his books to convey emotion. His writing is straightforward, unadorned, and deceptively simple.
Despite that, his written words carry a heavy burden of unspoken implications.
The power of his books lies in the accumulation of the small details he writes. It's effective in ways a lot of books aren't.
With that said, let's look at some of Hemingway's best short stories, cherry-picked from The Complete Short Stories of Ernest Hemingway.
Top 10 Best Short Stories by Ernest Hemingway
In no particular order, here are our top 10 list of Hemingway's greatest short stories.
And just then it occurred to him that he was going to die. It came with a rush; not as a rush of water nor of wind; but of a sudden, evil-smelling emptiness and the odd thing was that the hyena slipped lightly along the edge of it.
Let's start this list off with a classic. The Snows of Kilimanjaro, published in the summer of August 1936, has always been regarded to be one of Hemingway's best short stories.
This book follows the narration of a couple, Harry and Helen, on an African safari. Harry's dying of gangrene poisoning. Helen sits by his side, helpless.
In his final moments, Hemingway recounts Harry's regrets, fear, and sadness in a series of flashbacks. These are described so intricately that you, as a reader, would feel as if you're experiencing the pain Harry feels.
The primary theme of this story is confronting death alongside feelings of isolation and regret. It's not so much that Harry's afraid of death. Harry's emotions of regret far overshadow his dread.
Harry reminisces of life he should have lived, the books he should've written, and the first woman he's ever loved.
This short story will make you question your own mortality. The Snows of Kilimanjaro is a painful journey, folks. But it's one that makes you yearn for a life you've never lived before.
What did he fear? It was not fear or dread. It was a nothing that he knew too well. It was all a nothing and a man was nothing too.
A Clean, Well-Lighted Place tells the story of two unnamed waiters, one old and one young. They're talking about the sole patron in their cafe, an old deaf man who comes every night. He sits alone and drinks brandy until past closing time.
This short story explores life's meaning and the loneliness it brings, in addition to how one struggles with despair.
The title of this book comes from how two of the main characters describe the cafe as a "clean, well-lighted place", because of the comfort and company it provides.
The short story makes us think that perhaps there's something in all of us that desires nothing more than a clean, well-lighted place to spend our time in. Maybe that's all that really matters.
I wanted to try this new drink: That's all we do, isn't it—look at things and try new drinks?
Hills Like White Elephants explores the psychology of human communication. The plot is quite simple; it's about man pressuring a woman into getting an abortion.
This short is one of the few examples of Hemingway's Iceberg Theory, a technique that tells a deeper meaning not immediately evident on the surface.
As the term "tip of the iceberg," suggests, Hemingway uses as few words as possible to indicate the larger, unwritten story told in Hills Like White Elephants.
It's a very quick read, only 4 pages, and is written mostly entirely out of dialogues. Hills Like White Elephants proves that a story that doesn't need a lot of descriptors and analogies to be considered a work of art.
This, perhaps, is the reason why it's so memorable.
He did not want to do any courting. He did not want to tell any more lies. It wasn't worth it. He did not want any consequences. He did not want any consequences ever again. He wanted to live without consequences.
The Soldier's Home is about a man named Harold Krebs, a soldier who returns home from World War I. It tells of Harold's experience after a dreadful, life-changing journey, and finds it difficult to cope with how much he's changed, while everything around him remains the same.
We follow Harold as he struggles to live in normalcy after the war in spite of his PTSD and depression.
As the story progresses, we're shown how everyone around Harold treated him without sympathy or care. Due to this, he's forced to pretend and hide the pain he feels in his mind.
Soldier's Home perfectly captures the cruelty of mankind; how people would turn away from one's pain without understanding what's causing it.
How should a woman act when she discovers her husband is a bloody coward? She's damn cruel but they're all cruel. They govern, of course, and to govern one has to be cruel sometimes.
The Short Happy Life of Francis Macomber is one of Hemingway's longer short stories, and it's considered one of the author's classic studies of fear.
The main themes of the story are courage, redemption, and the act of cutting ties with another's manipulation.
In the story, Francis Macomber and his wife Margot are being accompanied by Robert Wilson, a seasoned hunter, in their trip to Africa. An encounter with a wounded lion causes Francis to panic and freeze, which subsequently earns the contempt of his wife, who calls him a coward.
This is a story about many things, which can truly only be experienced when read. Hemingway does an excellent job of describing fear and panic in the most haunting way possible.
The Short Happy Life of Francis Macomber has violence, blood, guts, and gore. If you're into all those things, or simply wish to experience the excitement of the hunt, you'll surely love this one.
No, he would not be afraid. Others, yes. Not he. He knew he would not be afraid. Even if he ever was afraid he knew that he could do it anyway. He had confidence.
The Capital of the World is about a waiter named Paco, who leaves his home village to follow his dreams of being a bullfighter in Madrid.
Without giving away too many spoilers, this short story is a tragic chronicle of a young idealistic boy, wanting to be a part of something bigger.
Just like Hemingway's "A Clean, Well-Lighted Place", The Capital of the World follows the belief that individuals must create their own value in order to live a life worth mentioning. Life, Hemingway writes, is meaningless otherwise.
I want a cat. I want a cat now. If I can't have long hair or any fun, I can have a cat.
The Cat in the Rain is a story about isolation, both public and personal, and loneliness it brings.
An unnamed American woman desperately seeks companionship from the people around her, including her husband George, but never seems to find it. In order to dampen the suffocating loneliness she feels, she becomes fixated on getting a cat.
Loneliness here is depicted in multiple scenarios; by the clipped, brief conversation she indulges with her husband, a passing encounter with a hotel owner and a maid, and by the shivering stray cat trying to find warmth out in the rain.
The feelings depicted are almost palpable, so heavy that you'd feel the weight of it in your heart.
This one's a truly beautiful story that expertly sings the tale of estrangement. It's one of my personal favorites on this list.
He had been waiting to die all day, ever since nine o'clock in the morning.
A Day's Wait is based on actual events in Hemingway's life. His son reacts similarly to the main character of the story when he came down with a fever.
The story tells of two characters; 9-year old Schatz and his father. When Schatz falls ill, his father calls for a doctor who diagnoses him of mild influenza. Due to the lack of communication between father and son, Schatz believes that he's suffering from a highly infectious disease and fears the possibility of death.
This is due to the fact that his classmates once mentioned that people may die with temperatures of 44 degrees or more. In comparison, his fever was 102.
The young boy doesn't know the difference between degrees Fahrenheit and Celsius, and assumes, that he doesn't have much longer until he passes away. Whereas his father sees a passing illness, Schatz thinks he is facing imminent death.
A Day's Wait is a heart-touching story that perfectly shows the importance of communication in a father-son relationship. It's a very short, quick read, with just slightly over 1000 words.
You killed him for pride and because you are a fisherman. You loved him when he was alive and you loved him after. If you love him, it is not a sin to kill him. Or is it more?
The Old Man and the Sea tell the story of an old fisherman named Santiago, and his fight with a giant Marlin fish he kills while out fishing in the Gulf.
What follows is a tale of dream-like, stream-of-consciousness narrative, as the old man matches strength and wits with the great fish. It shows his struggles out in the sea and all the dangers that follow him, including a frenzy of hungry white sharks on his way home.
This short has been given many awards, notably the Pulitzer Prize for Fiction in 1953 and the Nobel Prize in Literature in 1954.
The message of this book is simple but carries a lot of depth. "Man can be destroyed, but not defeated."
It's a beautiful story that tells of courage, intelligence, and, above all else, friendship.
Fall for them, but don't let them ruin you.
The End of Something features one of Hemingway's recurring characters, Nick Adams, who's also his autobiographical alter ego.
This short story details the end of Nick and his girlfriend Marjorie's relationship. It's only 5 pages but the narration is utterly brilliant. Simple, yet full. Actions that speak a thousand words.
It tells of a dead lumbering town, of a love lost, of wanting without understanding why. Hemingway tells all these in only five pages.
Final Thoughts
All of the listed short stories above can be found in The Complete Short Stories of Ernest Hemingway organized in chronological sequence. This book contains the first 49 short stories he's written, plus a number of other works. It also includes a foreword by his sons.
If it's your first time reading Hemingway's works, or simply want to revisit the world he's established so intricately, I'd recommend A Clean, Well-Lighted Place.
For a short, but emotional, quick read, Cat in the Rain will surely resonate deep within you and would leave you longing for more.
Want more Hemingway? Check out these articles