Bob Goff is a leading Christian author who has penned several bestselling books throughout his career. But he hasn't always made his living as a writer; he was an accomplished lawyer for more than 25 years, running his own law firm in Washington State.
Yet these days, he describes himself as a 'recovering lawyer after switching from full-time legal representation to championing his own philanthropic foundation. Named after his first book, 'Love Does,' the foundation protects human rights. It provides high-quality education to children in current and recovering conflict zones around the globe, including Uganda, Somalia, India, Nepal, and Afghanistan.
Bob also spends a lot of his time traveling the world as an international motivational speaker, sharing the lessons he's learned working with disadvantaged children in some of the world's poorest communities. He also hosts a popular weekly podcast. In recent years, he's launched the Dream Big Framework, a method workshop designed to help people achieve their lifelong ambitions.
At a Glance: Our Top Pickup for the Author Bob Goff and Their Reading Order
Books by Bob Goff
It's clear from Goff's resume that his life's work is to serve others, and that's exactly what his books are all about.
To date, he's published four successful titles for adults; Love Does (2012), Everybody, Always (2018), Live in Grace, Walk in Love (2019), and his most recent bestseller, Dream Big (2020).
He's also authored two spin-off children's books; Love Does for Kids and Everybody, Always for Kids.
Each book offers a unique lesson for readers, but there's also a unifying theme to Goff's work; he's on a noble mission to help others live their best lives through faith in themselves and in God.
If you're new to Bob's work and you're ready to dive into his books, you might be wondering which title to read first. Luckily, the ideal Bob Goff reading order is pretty simple; start at the beginning, with his first book, Love Does, and work through in chronological order.
Below, you'll find the best Bob Goff reading order, along with a brief description of what each of his books is all about.
#1. Love Does: Discover a Secretly Incredible Life in an Ordinary World (2012)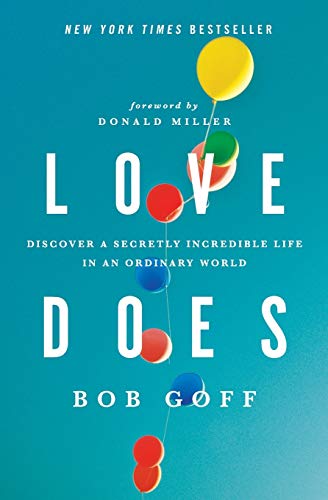 This New York Times Bestseller is packed with fascinating true stories from Goff's early life, beginning with a college freshman.
It wasn't Goff's grades that got him into law school; instead, it was simple, sheer determination. He sat outside the Dean's office every day for a week before they eventually took pity on him and allowed him to enroll.
He applied the same determination to his love life, too, pursuing his wife for three whole years before she finally agreed to go on a date with him.
Rather than getting down on himself for failing at the first hurdle, Goff has always been a firm believer that God loves a trier, and so throughout his life, he's tried his best in everything he's done.
His go-getter attitude has opened the door to countless adventures along the way. As a young man, he spent a full 16 days out in the Pacific with just five other guys and a crate of canned meat for company. After becoming a father, he embarked on a world tour with his kids to meet heads of states worldwide (and sample ice cream from each of the different nations). During this tour, he first visited Uganda. The locals loved him so much that they made him the Republic's Honorary Consul.
Underpinning every one of Goff's fascinating tales is one simple thing; love. But Bob also knows that love alone won't get things done. Love needs to take action. When love Does, extraordinary things begin to happen. The mundane becomes magical, and the world opens up with brand new possibilities.
#2. Everybody, Always: Becoming Love in a World Full of Setbacks and Difficult People (2018)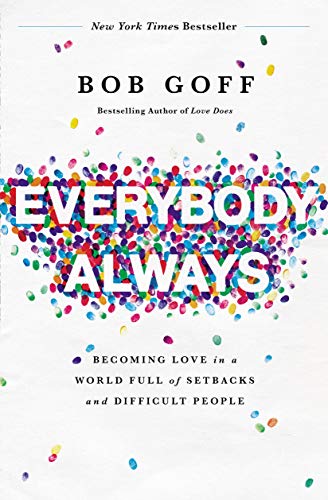 Goff's 2018 follow-up to love Does saw him enter the New York Times Bestseller's chart for a second time running. Continuing with the theme of love, he explores what happens when we choose to love others with abundance, even when others don't always love us back.
It's not easy to show unrestrained, limitless love to our fellow human beings. All too often, fear, worry, and doubt get in the way. Still, when we push past our inner critic and open ourselves up to love without shame, insecurity, or inhibition, we bring magic to the world. The world gives us magic right back.
Goff shares fascinating stories from his own life where he let love guide the way, like when he became unlikely friends with a witch doctor in Uganda. His limitless love for his fellow man has transformed his own ordinary life into an extraordinary one. With Everybody, Always, he hopes to help us to do the same.
#3. Live in Grace, Walk in Love: A 365-Day Journey (2019)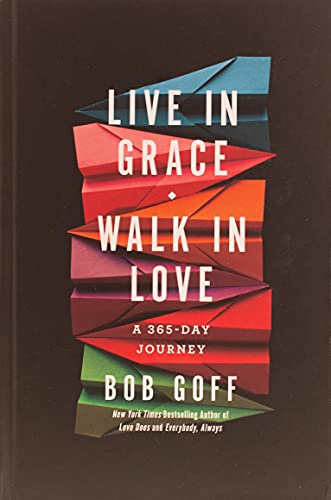 Live in Grace, Walk in Love takes the wisdom and teachings of Goff's first two books and applies them to an actionable year-long calendar of devotions and meditations.
Bob shares a thought-provoking lesson to prepare the reader for the day ahead in each entry. He imparts these daily nuggets of wisdom to transform the reader's life over the space of a year, one day at a time. Using his captivating storytelling skills and his trademark sense of humor.
Goff also includes powerful Bible verses alongside his own words of wisdom to solidify the daily message, grounding readers in their faith in God. Each daily devotion is designed to help us overcome fear and embrace a confident, liberated, and loving existence that can last for a lifetime.
Bonus Read: 10 Best History eBooks of All Time
#4. Dream Big: Know What You Want, Why You Want It, and What You're Going to Do About It (2020)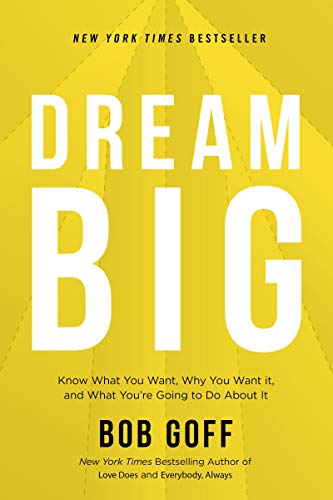 Bob Goff's latest offering is based on his hugely successful Dream Big workshop, designed to help people achieve their lifelong ambitions. Reading this book is the next best thing to taking the course, and by the end of the last page, you'll be armed with all the tools you need to turn your dreams into reality.
Goff believes that far too many of us let fear and doubt hold us back. We assume our dreams are too big, grand, and audacious to ever become a reality.
But when it comes to dreams, bigger is actually better. Suppose we let fear limit us to safe, small, easily achievable goals. In that case, we stay trapped in the shallow end of life, never allowing ourselves to reach our limitless potential. We're cheating ourselves out of our big dreams, all because we're scared to fail.
Dream Big says enough of the self-limiting beliefs; it's time to embrace the life we truly deserve.
Bob Goff's Books for Children
After the smash-hit success of his first two books, love Does and Everybody, Always, Goff created a spin-off version of each, designed especially for younger readers.
Love Does for Kids, published in 2018, introduces little learners to the power, wonder, and Love of God, so they can get to know Him better and be loving, faithful servants for Him in the world.
And Everybody, Always for Kids, Goff's latest book published in 2021, is a beautifully illustrated guide to help children love themselves, and others, without fear, shame, insecurity, and inhibition.
They're the perfect inspirational guides for young Christians who want to strengthen their relationship with God and live a life rich in love.
Conclusion
Bob Goff has made a career out of embracing life and loving others. His motivational books with a Christian message have helped countless adults and children to live a life full of love and embrace their biggest dreams, all with God at their side.
Have you read any of Bob Goff's inspiring books? If so, how have they changed your life?
Let me know in the comments below!
You May Also Like to Read: The 8 Best Horror Authors of All Time (Our Rankings)