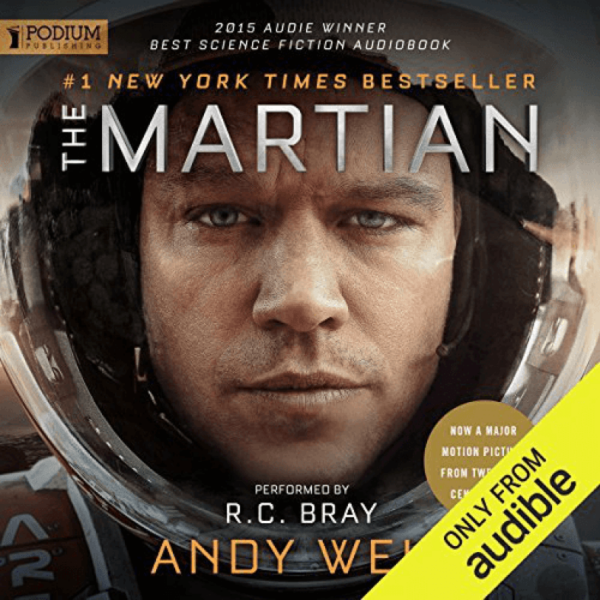 The Martian audiobook is one of the most reviewed titles found on Audible today. Andy Weir wrote the book back in 2011 and struggled to find a publisher. He then decided to self-publish on Amazon, where the title started to gain traction. The Martian audiobook was published in 2013, 2 years before the release of the award-winning film starring Matt Damon. In fact, it was the audiobook version that propelled the title to become one of the best audiobooks. We have the founders of Podium Publishing to thank for this. If you haven't listened to this amazing audiobook yet, we suggest that you do so now!
The Martian Audiobook
Author – Andy Weir
Narrated by – R.C. Bray
Type – Unabridged Audiobook
Length – 10 hours & 53 minutes
Language – English
Release date – 22/03/2013
Publisher – Podium Publishing
Genre – Science Fiction
The Martian audiobook story synopsis
The Martian audiobook follows the story of an astronaut named Mark Watney in the year 2035. Watney and his crew have arrived on Mars for a month-long expedition. Not long after their arrival, a vicious storm puts them in a sticky situation. Watney is left stranded, which leaves the rest of the crew no choice but to abort the mission otherwise they will risk all of their lives.
The whole crew believes that Mark Watney is now dead after the storm. However, he is not. Annoyingly for him, he has little resources, so he now has to make do with what he can muster and create. He manages to grow potatoes using his botanical and engineering knowledge.
We aren't going to proceed with any more of the story. The Martian audiobook fits this type of publication so well due to the way the story is told. As most of the book is from Watney's point of view you instantly get absorbed into the narrative.

Audible
Audible boasts the largest audiobook store. With a simple mobile and tablet app it's difficult to look elsewhere. Amazing Audible exclusives are the cherry on the cake! New Audible users will receive a 30-days free trial for the best audiobook service on the market!
About the author
Andy Weir is the author of The Martian audiobook. He was born in California in 1972. His career background was in computer science after studying at the University of California. During his early working life, he worked for companies such as AOL and Blizzard.
Weir was writing for his own pleasure which started in his twenties. His main focus was on the science fiction genre as well as some comics. Ultimately, Weir is best known for his novel The Martian that he self-published in 2011. In 2013 he sold the audiobook and publishing rights.
Luckily for us, Andy Weir continued writing. Most notably publishing Artemis and then short stories called The Egg and Other Stories. These were both released in as audiobooks in 2017.