Stuart Woods has been one of the most prominent and read authors of our time. A charismatic personality who lived an extravagant life, his mind created some of the most gripping thriller novels and well-crafted characters.
If you are about to embark on this journey of reading all the books written by Woods, there are some preparations you need to make before you begin the journey. Woods has written over 5 different book series, and knowing the correct reading order is very important to start any of these series.
Complete List of Stuart Woods Books in Order
So here is the complete list of Stuart Woods books in reading order, along with a brief description of each of the series so that you can know what you are getting into. First, let's take a look at all the different book series Woods has under his name. This list also includes standalone novels as well as non-fiction books.
| Sr. No. | Title | Publication Date | Print Length | Publisher | Where to Buy |
| --- | --- | --- | --- | --- | --- |
| 1 | New York Dead | September 1, 1991 | 303 pages | HarperCollins | Amazon |
| 2 | Orchid Beach | November 4, 1998 | 336 pages | Harper | Amazon |
| 3 | Herbie Fisher Books | August 02, 2017 | 512 pages | Thorndike Press Large Print | Book Shop |
| 4 | Santa Fe Rules | January 1, 2009 | 385 pages | HarperTorch | Amazon |
| 5 | Chiefs | July 5, 2005 | 608 pages | G.P. Putnam's Sons | Amazon |
| 6 | Smooth Operator | May 09, 2017 | 352 Pages | Large Print Press | Book Shop |
| 7 | The Prince of Beverly Hills | October 14, 2004 | 336 pages | Putnam Adult | Amazon |
| 8 | White Cargo | July 1, 1988 | 350 pages | Simon & Schuster | Amazon |
| 9 | Blue Water, Green Skipper | August 2, 2012 | 282 pages | Putnam | Amazon |
1. Stone Barrington Books
The most popular book series by Stuart Woods is his Stone Barrington series. The name Stone Barrington might sound a little out of place, and if you think that, you wouldn't be alone.
Woods' editors advised him to change the name of the protagonist, but he declined.
Whatever the name, The Stone Barrington series has been a record-breaker. The first book in the series came out more than three decades ago, and it is still going strong.
There are over fifty-five novels in this series, with the fifty-sixth released this October. People love reading the Stone Barrington series. But why?
The Stone Barrington series is about the protagonist of the story, Stone Barrington. A graduate in law, he decided to join the New York police department. But things go awry, and he finds himself in a tight spot. Barrington is forced out of the force.
The series starts with New York Dead, where Barrington finds himself in the middle of a mess. Murder, mystery, and a lot of thrill. The Stone Barrington series deserves all the praise. The star here is Stone Barrington.
A very close imitation of Stuart Woods himself, Barrington is a charmingly cocky guy who has the skills to prove his confidence. A rebel, and a driven soul, he has a distaste for authorities and always is in the mood to go against the flow. A great character that will keep you hooked on the series.
Start With: New York Dead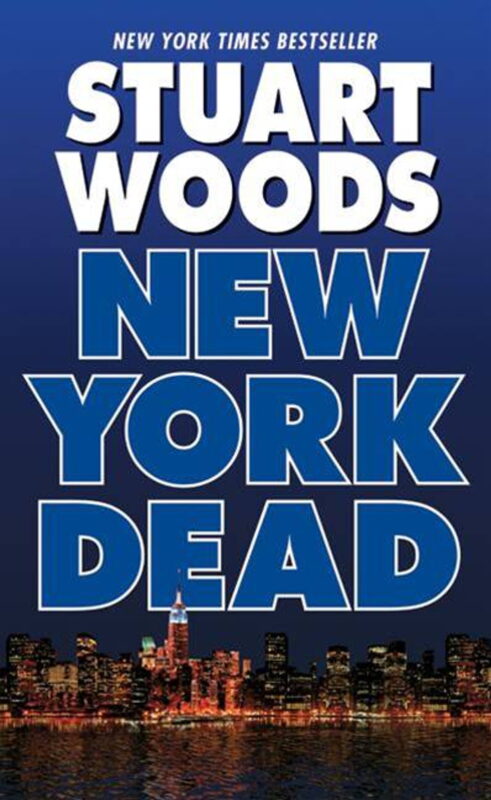 The perfect book to start with for people who are looking for a crime thriller packed to the brim with mystery. This book introduces the cocky yet charming protagonist of this series, Stone Barrington.
An intelligent man with the skills to prove it. He works as a cop, with nothing extraordinary happening to him.
Until one night, he gets stuck in the middle of something far larger and more sinister than he could ever imagine. Watch him discover a web of criminals, conspiracies, and an evil plot that he is unknowingly a part of. A brilliant read that feels light yet engrossing and entertaining.
Here are all the books of the Stone Barrington series in reading order.
2. Holly Barker Books
The Holly Barker series is an excellent book series of thriller/detective stories. This series is sometimes also referred to as the Orchid series. The Holly Barker series follows the story of Holly Barker, a police officer in the fictional city of Orchid Beach. She faces different challenges, with crime popping up left and right.
The great thing about this series is how connected it is to the other series. Characters from the Stone Barrington series, Ed Eagle books, and other works of Stuart Woods keep coming in this series. It is truly a pleasure to see familiar characters coming into this series.
The Holly Barker series has some of the best murder mysteries by Woods. The stakes are high, and Holly usually finds herself in difficult situations with no one to help her. All she has with her is her faithful dog and the will to solve the crimes before the killers hurt other people.
Start With: Orchid Beach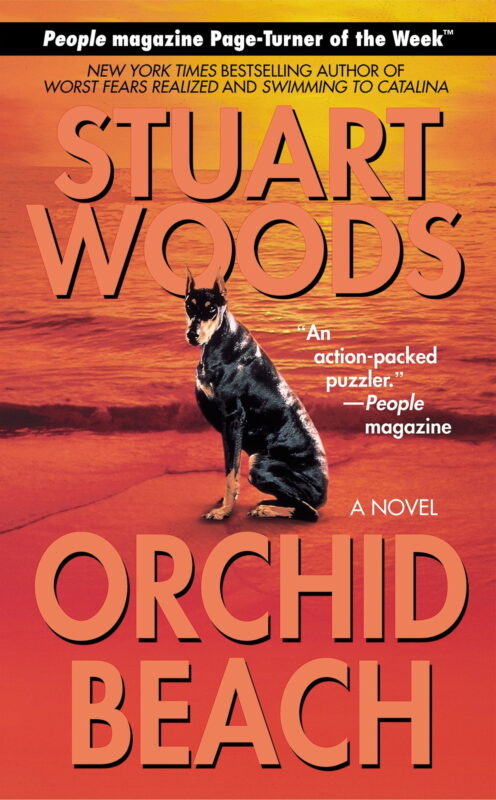 A strong female protagonist who goes through a lot of internal and external struggles to establish herself, Orchid Beach is a brilliant take on the dichotomy of what appears to be and what goes on underneath.
The books are based in the fictional city of Orchid Beach, which resembles Florida a lot. But behind this sunny city with palm trees and beaches is a dark underworld of crime and sinister organizations trying to seize complete power.
Holly Barker, the protagonist of the story, and a cop in the Orchid Beach police department, finds herself at the center stage to uncover the mysteries of the city's underbelly when her colleague is murdered. A new city filled with new people possesses another threat to her; who can she trust, and who is conspiring against her? A fantastic read to start with, especially if you want a female-driven story.
Here are the five books of the Holly Barker series in their reading order.
3. Herbie Fisher Books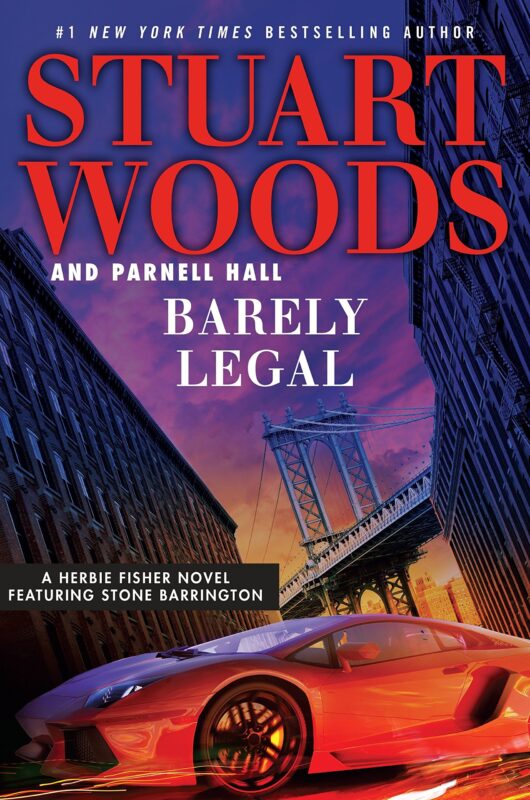 Another great series that deserves a second book in the series, Herbie Fisher is about the protagonist of the same name, Herbie Fisher. Fisher is a scared, sad guy who severely lacks confidence. But guess who comes into the picture to train him? Stone Barrington himself.
With the training from Barrington, Herbie Fisher grows as a character to develop into this amazing and charming person who is ready to take on the world of crime. A great, quick read for people who want to read something similar to the Stone Harrington series.
There is just one book in the Herbie Fisher series.
4. Ed Eagle Books
What do you imagine the person to be when you hear the name "Ed Eagle"? You surely would imagine a tall man who can manage any situation he is put into. This is exactly what Ed Eagle is in the books.
A six-foot-seven muscular guy who is also an attorney takes on the world of crime. This hot-shot criminal attorney takes some of the most challenging and dangerous cases. The first book, Santa Fe Rules, introduces the readers to Ed Eagle.
A famous movie producer sees his name in the newspaper in a homicide report along with his wife and friend. But who wants him dead? Is it a threat or just a cruel joke? Things get worse when the DA arrests the movie producer. But when another cruel murder takes place, he approaches our protagonist, Ed Eagle.
Watch how Ed Eagle manages to solve the cases and how the story puts light on his dark past, revealing some of the most horrible incidents from his life. The characters are interesting in this series, especially Ed Eagle. He is likable, and relatable as well.
Start With: Santa Fe Rules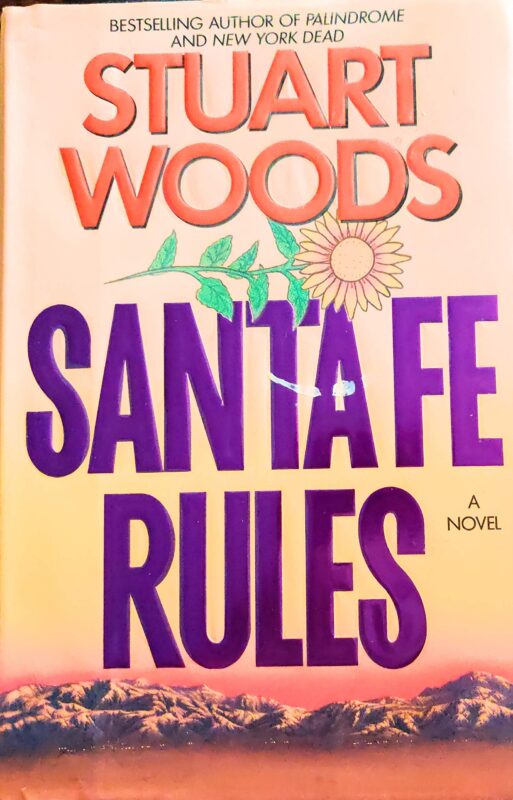 As is the case with every other Stuart Woods novel, Sante Fe Rules starts with a bang. A mystery is introduced that will leave the readers scratching their heads in confusion. Wolf Willet, a famous movie producer, is shocked to see his own name in a newspaper report about the death of three people. Among the people who died were his wife, his friend, and himself!
Such a perplexing case can only be handled by someone with experience and ways to manage tricky situations. Enter Ed Eagle. This six-foot-seven criminal attorney is ready to take the case and solve the mystery, stopping the criminal from committing more murders.
There are four books in the series, the first of which came out in the year 1992. Here are the four books in reading order.
5. Will Lee Books
The Will Lee series is also one of Stuart Wood's most famous book series. The story takes place in 1920s Georgia, where Will Henry Lee, a cotton farmer who failed to become successful at it, becomes a police chief.
This is where Lee gets to shine. The stories cover him solving crimes to grow as a person. You get to see Lee becoming chief of the police to a Senator in Georgia, and eventually the President of the country.
From solving cult murder mysteries in the small towns of Southern states to grand, thrilling stories of Russian spies and espionage, the Will Lee books have everything for everyone who wants to read gripping and thrilling stories.
The books in this series are not just thrilling mysteries, but also provide a commentary on society, racial discrimination, and other ideologies that existed.
It is great to see so many layers of stories and emotions in this series. The protagonist. Will Lee is also a complex character.
Readers will see Will struggle to get his point across, fail in his ambitions but then try again. His will to keep moving forward and not fall back or stop is what makes this series so brilliant. He is courageous and strong and has a desire to do good.
Start With: Chiefs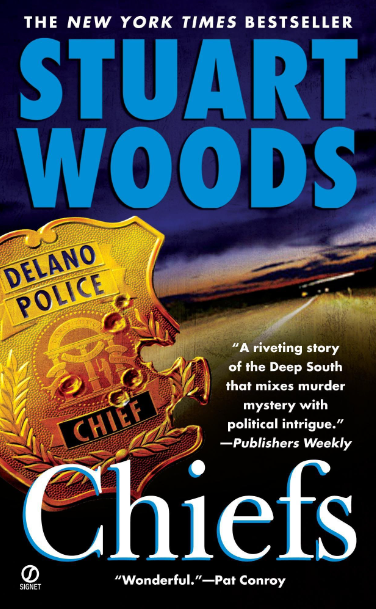 Chiefs is a brilliant book that offers a completely different and refreshing take on murder thrillers. Not only is the story unique when it comes to the themes and topics it touches upon, but the characters in the novel are also very layered and complex.
The protagonist of the novel, Henry Will Lee, is perhaps one of the best characters Woods has written.
The story touches upon the society of the nineteenth century, how the people viewed the world, and the racism that existed. Watch Lee's journey to becoming the senator and then the President of the country.
But don't let the theme fool you. Beneath this brilliant story is a gripping thriller novel that people expect from Woods. Chiefs and the entire series is a very enjoyable and thrilling read.
Here are all the seven books in the Will Lee series arranged in the reading order.
6. Teddy Fay Books
If you liked reading the Stone Barrington series, you are going to love the Teddy Fay books as well. The very first novel in this series, Smooth Operator, starts with a bang. When the President requires the help of Stone Barrington, he thinks that there is another man more fit for the job than him.
Teddy Fay is a charming man who has got the skills to get things done, either the right way or the wrong way. What we mean is that he does not care much about the authorities. This is why Stone Barrington likes him a lot because he is a lot like him.
The story starts with a fresh new perspective of Teddy Fay (Billy Barnett), who is an ex-CIA agent. The great thing about Fay is how creative he gets when solving mysteries. His ability to take disguises, figure out how to manage difficult situations, and his rebellious nature makes this series such an interesting read.
Teddy Fay is not a black or white character but a gray one. This makes the readers sit on the fence, occasionally questioning his modus operandi. But what's known for sure is that if you like thrilling stories, you'll love the Teddy Fay series.
Start With: Smooth Operator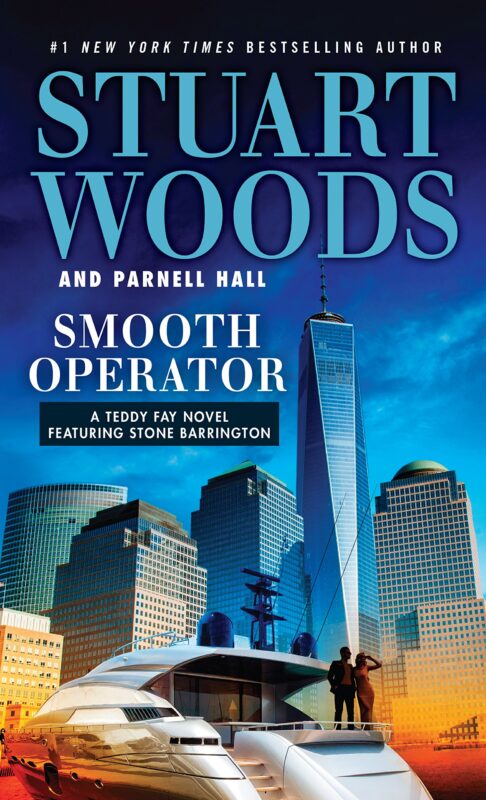 With the introduction of the protagonist Teddy Fays by none other than the charming Stone Barrington, Smooth Operator takes the formula that makes the Stone Barrington series so successful and makes it even better.
A fast-paced storyline with a protagonist that is built very much like Stone Barrington himself, Smooth Operator is a quick read that will take you through the ups and downs of a political thriller in a quick and smooth way.
Teddy Fay is an ex-CIA agent who specializes in multiple skills, ranging from his reckless-when-necessary behavior, a disregard for the rules and almost never playing by the rules, and an excellent master of disguise.
Fay has ways to solve some of the most challenging conundrums, and it is a treat to see him work and figure out the problems posed.
There are five books in this series. Take a look at the reading order of these books:
7. Rick Barron Books
The Rick Barron series is another great series with a brilliant protagonist. Rick Barron is a detective, but instead of the setting being in some desolate city in the south, this story takes place in the glamorous parts of Beverly Hills.
Barron gets in a disagreement with his superiors and loses his job. But the next job that he lands takes him into a new world, a world of celebrities, crime, and threats from every corner.
The story gets even more interesting as murders start to occur and it is now on Barron to figure things out using his detective skills and prevent this from going south.
Start With: The Prince of Beverly Hills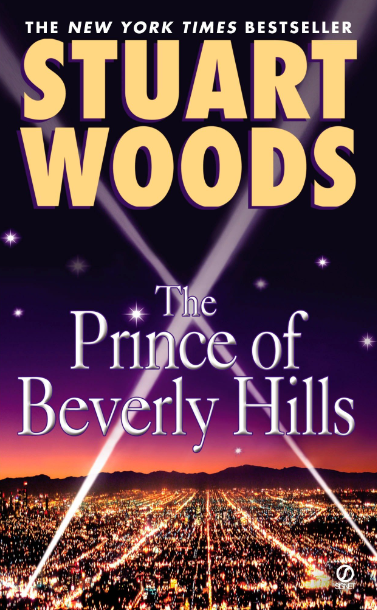 After a series of unfortunate and fortunate events, Rick Barron loses his job but lands another one that is way better than his previous job.
His new job requires him to protect some of the most famous and elite people in the movie industry. With his charm and dedication, he is called the "White Knight" of movie stars and also the "Price of Beverly Hills." But not everything that shines is gold.
Quickly he is exposed to the dark side of the ever-shiny movie world. The studio that he is supposed to protect, faces a dangerous threat – a couple of murders, and plots against the people who run the studio.
It is up to Barron to take charge and stand at the front line to protect the people he is supposed to.
There are two books in the Rick Barron series. Take a look at the books in reading order.
8. Standalone Novels
Stuart Woods wrote a lot of standalone novels that are not a part of any series. But these books are worth a read because they have the essence of Woods' writing style and storytelling.
Since these are standalone novels, there is no specific reading order for these novels. So we have provided the book list in their release order. This would be the best way to read these novels.
White Cargo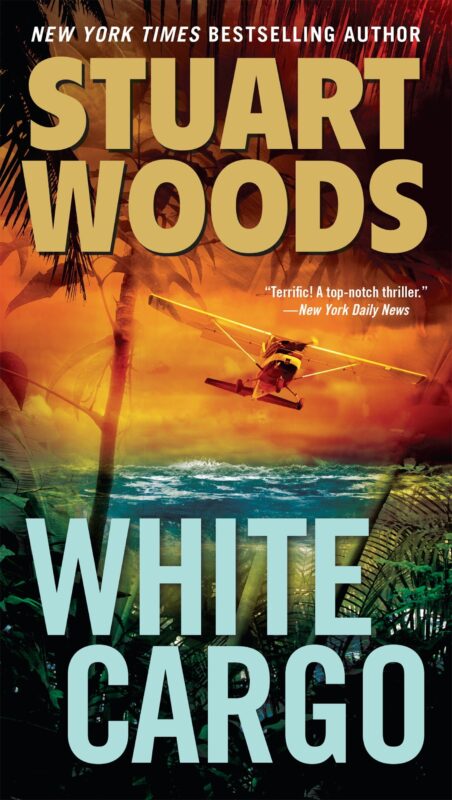 White Cargo is one of Stuart Woods' most popular and thrilling standalone novels that will hit you right in the heart. The story of White Cargo is about a man called Cat Catledge (Woods has a knack for naming his protagonist quite bizarrely).
A multi-millionaire who decides to take a trip on a cruise to the Panama Canal with his wife and daughter.
But tragedy strikes while they are on the journey. His daughter is taken from them. After some time, he gets a call and hears a voice so familiar that he gets the chills.
The story then takes a turn when he decides to go back to the place where he lost his daughter to get her back, knowing that she might be alive.
9. Non-Fiction Books
Want to know more about the author and his thinking process? Grab these non-fiction books written by Stuart Woods that opens a window into the life of the author. Since these are non-fiction books, there is no reading order here as well. So we have arranged the books in their release order.
Blue Water, Green Skipper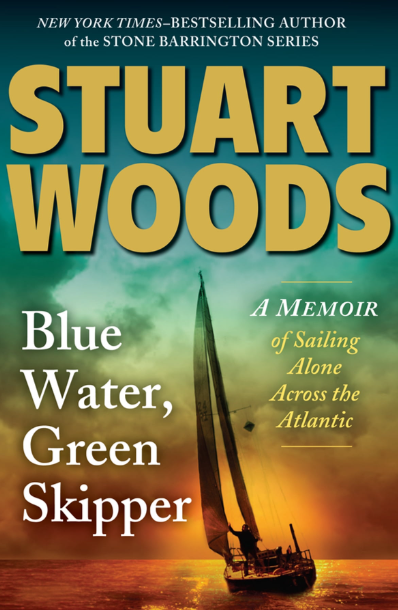 Blue Water, Green Skipper, is about the life of Stuart Woods and his experiences as a novice sailor. These books offer such a great insight into the life of the author and give you a glimpse at the ways he gathered experience and could conjure amazing creations such as Stone Barrington.
The novel mostly focuses on how the author got into sailing and all the stories associated with his experience as a sailor. It is an interesting read if you would like to know more about the author. His excellence in writing captivating stories expands beyond fiction, and this novel is an example.
Conclusion
So that was all about the books written by Stuart Woods. From the fictional series of Stone Barrington to the non-fictional yet grander than fiction story of the author's life, dive into the world created by Woods and enjoy some of the best thriller/action stories written.
While the list of books is long, the high-paced writing style and the great characters in the story will never make you feel bored.