Agatha Christie's Miss Marple books are one of the most beloved detective fiction series.
This elderly amateur sleuth made her debut in 1927 in the short story, The Tuesday Night Club. Since then, she's stolen the hearts of millions of readers worldwide.
Agatha Christie went on to pen a series of twelve full-length novels and multiple popular short stories starring this iconic character. And even today, more than four decades after the author's death, Miss Marple is still one of the most recognized fictional detectives in literature.
So, if you love a good murder mystery and have never read the Miss Marple books, then I highly recommend you try this classic series.
Agatha Christie's Miss Marple Books
In this post, I'll give you a full rundown of every novel in the main Miss Marple series and a summary of each. Plus, I'll list Agatha Christie's Miss Marple short stories so you can continue your reading journey.
But first, let's learn more about this beloved fictional detective.
Who is Miss Marple?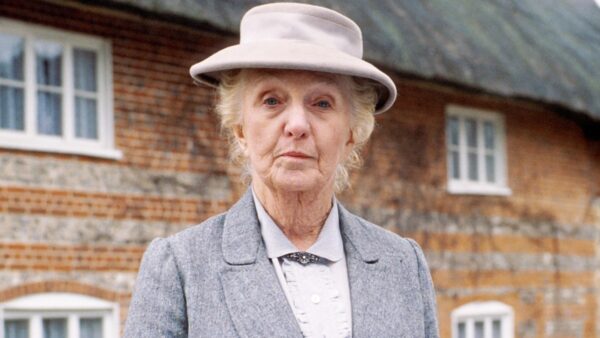 Miss Jane Marple is an aging spinster who resides in the village of St. Mary Mead, a quaint little community with a surprisingly high crime rate.
In Christie's debut Miss Marple novel, the amateur sleuth is portrayed as a nosy neighbor with a suspicious nature and a penchant for gossip.
But as the series progresses, she transforms into a kind-hearted, albeit shrewdly intelligent woman who uses her razor-sharp intuition and skills of deduction to solve criminal cases across England and beyond.
On the surface, Miss Marple is an innocent old lady who wouldn't say boo to a goose, but in reality, she's a formidable force who can suss out a lie from a mile away. She doesn't miss a beat when she's working on a case, and her uncanny ability to join up the dots and piece together clues is no match for even the most cunning criminal.
The Complete List of Agatha Christie's Miss Marple Novels in Order
Here we have listed all the books of Miss Marple in the reading order for you to enjoy.
| Sr. No. | Title | Publication Date | Print Length | Publisher | Where to Buy |
| --- | --- | --- | --- | --- | --- |
| 1 | The Murder at the Vicarage | May 4, 2016 | 304 pages | William Morrow & Company | Amazon |
| 2 | The Body in the Library | May 4, 2016 | 224 pages | William Morrow & Company | Amazon |
| 3 | The Moving Finger | April 12, 2011 | 240 pages | William Morrow Paperbacks | Amazon |
| 4 | A Murder Is Announced | May 4, 2016 | 320 pages | William Morrow & Company | Amazon |
| 5 | They Do It with Mirrors | April 1, 1985 | 184 pages | Bantam Books, Inc. | Amazon |
| 6 | A Pocket Full of Rye | January 1, 1986 | 198 pages | Bantam Doubleday Dell | Amazon |
| 7 | 4.50 from Paddington | October 22, 2018 | 256 pages | HarperFiction | Amazon |
| 8 | The Mirror Crack'd from Side to Side | January 1, 2017 | 256 pages | HARPER COLLINS | Amazon |
| 9 | A Caribbean Mystery | September 17, 2007 | 256 pages | Black Dog & Leventhal Publishers | Amazon |
| 10 | Miss Marple Short Stories | May 8, 2012 | 28 pages | Hueber Verlag GmbH & Co K | Amazon |
1. The Murder at the Vicarage (1930)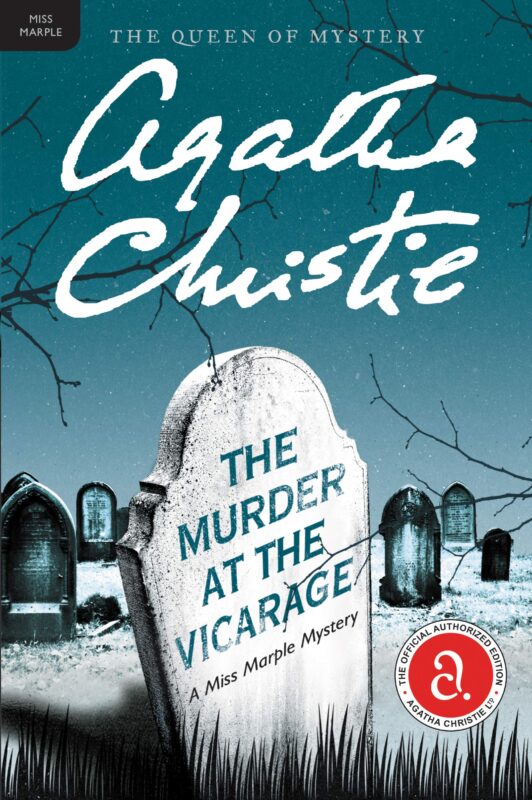 When Colonel Protheroe is found dead at the vicarage, shock descends on the community of St. Mary Mead. And as the investigation gets underway, it soon becomes clear that Protheroe had his fair share of enemies in the village, and finding the killer won't be as easy as the police first hoped.
Enter Miss Jane Marple, a nosy neighbor whose prying eyes might be precisely what's needed to solve the case.
2. The Body in the Library (1942)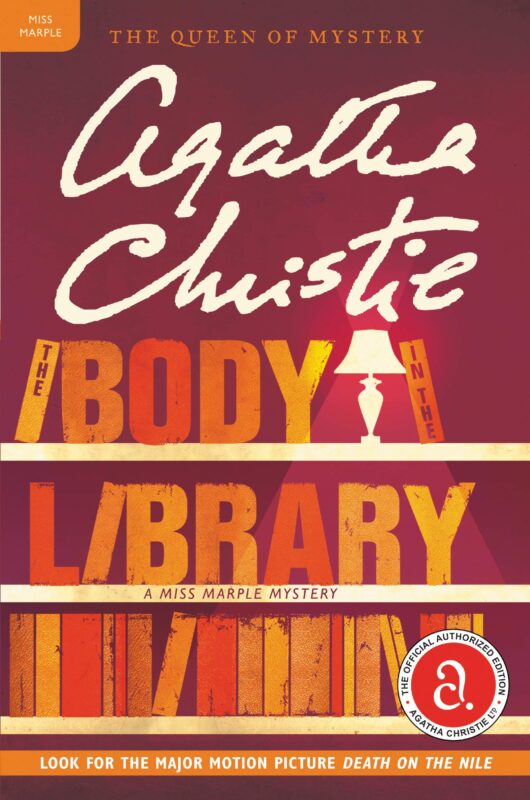 Early one morning, the Bantry family awakes to a shocking scene. On the floor of their library is a woman's body, dressed in an evening gown, with makeup smeared across her face.
Soon after, the corpse of another young woman is discovered, charred, and abandoned in the local quarry. But could there be a connection between the murders?
The Bantry's, eager to clear their name and save their impeccable reputation, call on their astute elderly neighbor, Miss Marple, to help them catch the killer.
3. The Moving Finger (1943)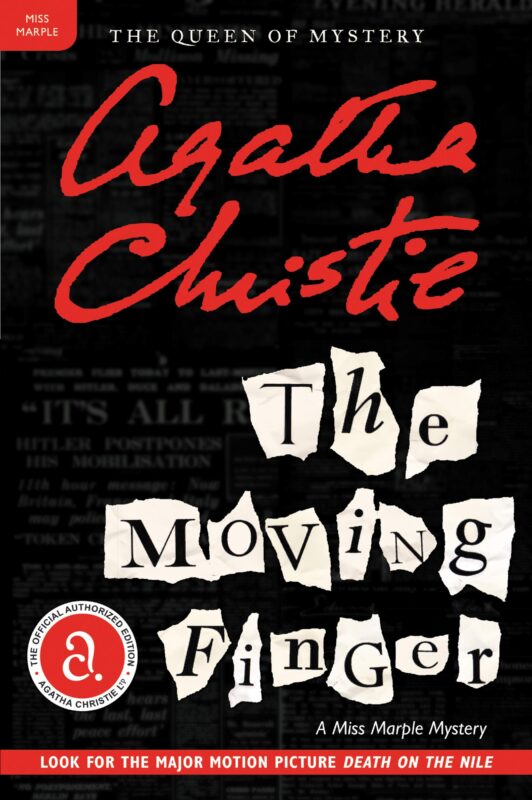 In the nearby town of Lymstock, residents are tormented by a sudden outbreak of hate mail.
At first, the locals assume these anonymous letters are a cruel practical joke. But then, one of the recipients commits suicide, and the community begins to fear the worst.
And so, Miss Marple heads to Lymstock to try and uncover the truth. But as she digs deeper into the case, she suspects the coroner has got it all wrong. This is no suicide, it's a cold-blooded murder, and if she doesn't act fast, more people could die.
4. A Murder Is Announced (1950)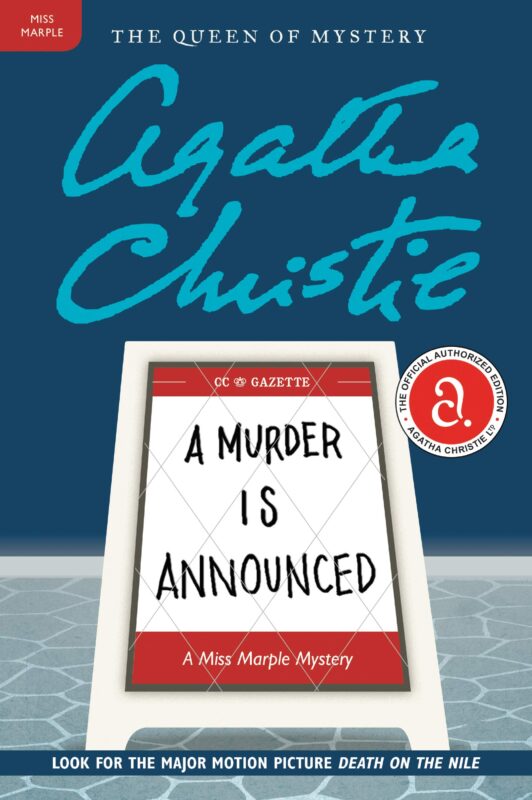 Miss Marple stays in the quaint village of Chipping Cleghorn when a strange and sinister advertisement appears in the local gazette.
It reads: 'A murder is announced and will take place on Friday, October 29th, at Little Paddocks at 6.30 p.m.'
The address is the home of Miss Letitia Blacklock, and now, Letitia is terrified that the victim could be her.
The mysterious announcement transfixes the community, so a crowd gathers at Little Paddocks on the specified day and time, eager to see if the ominous prediction will come true.
And then, like clockwork, at 6:30 p.m., the house is plunged into darkness, and their worst fears are confirmed.
5. They Do It with Mirrors (1952) (re-published as Murder With Mirrors)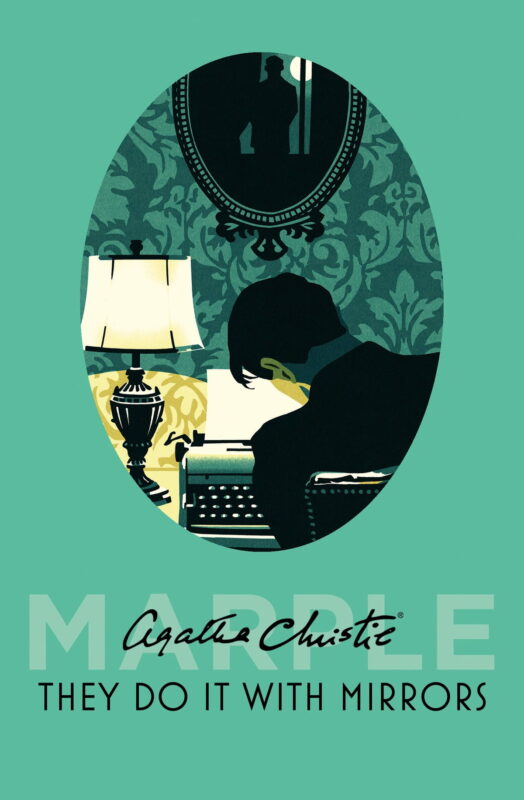 Miss Marple is visiting a friend at her grand Victorian home. But this is no ordinary abode; the house is being used as a rehabilitation center for delinquent youths, and as soon as she arrives, this amateur sleuth senses danger.
And it's not long before her suspicions are proven correct when an angry teen fires a shot at the home's administrator, Lewis Serrocold. But bizarrely, Serrocold and the pistol-wielding youth are left entirely unscathed.
Yet, in another room, someone isn't so lucky. At the exact moment, the revolver fired, a mysterious visitor, Mr. Gilbranden, drops dead. And Miss Marple is sure it's no coincidence.
6. A Pocket Full of Rye (1953)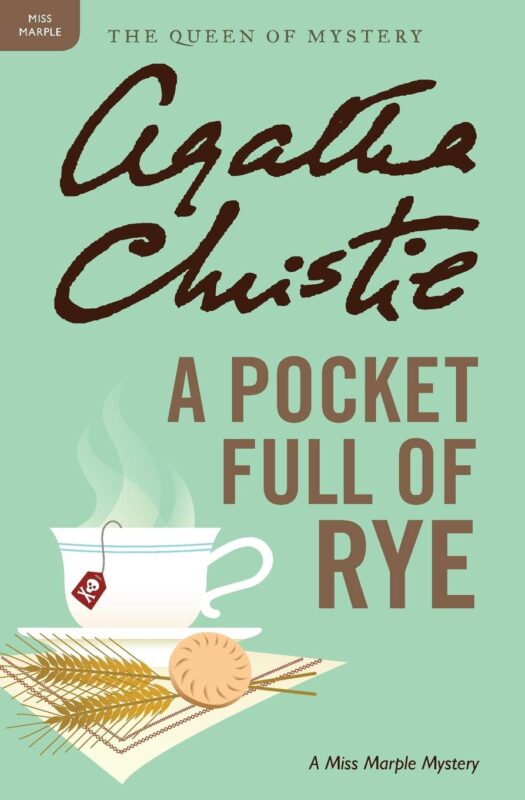 Wealthy financier Rex Fortescue casually drank tea when he suddenly suffered a quick and agonizing death.
In the aftermath of his passing, investigators discover a bizarre clue in the deceased's pockets; slight traces of rye.
And after another incident in the parlor, Miss Marple realizes that an innocent children's nursery rhyme may give clues to the killer's identity.
7. 4.50 from Paddington (1957) (re-published as What Mrs. McGillicuddy Saw!)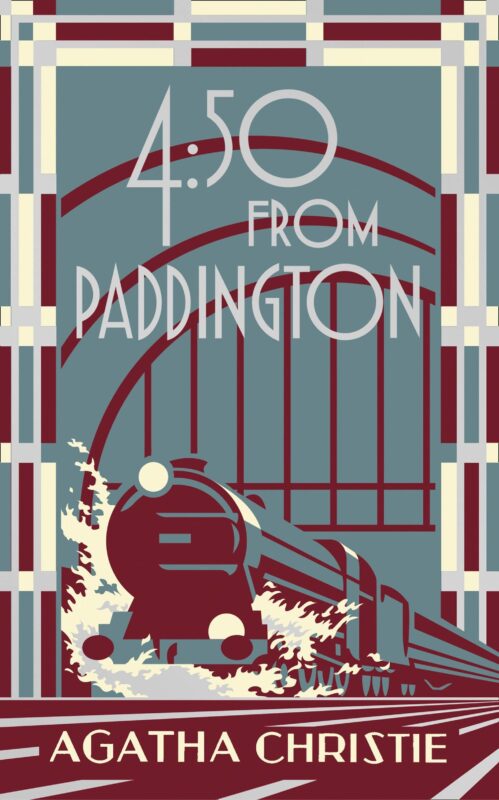 Elspeth McGillicuddy is riding the train when she witnesses a terrifying scene from the window. Along the opposite track, another train passes by, and inside the neighboring carriage, a murder is unfolding.
She watches helplessly as the man grips the woman's throat, strangling her to death. And then, in an instant, the train pulls away, leaving Elspeth shaken and confused.
Nobody believes her story except for her dear friend, Miss Jane Marple.
8. The Mirror Crack'd from Side to Side (1962)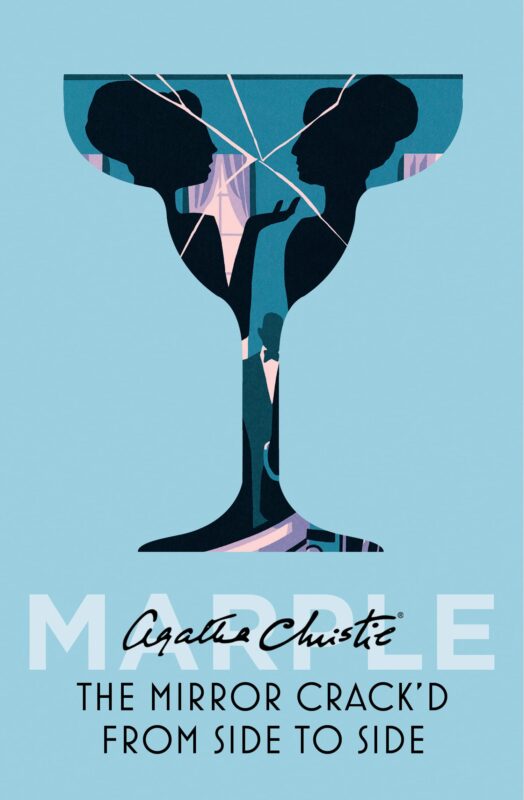 Heather Baldock idolized the glamorous movie star Marina Gregg, so when she finds herself face to face with the American actress, she's awestruck. But as she reaches out to touch her hero, she suddenly suffers a catastrophic seizure and dies.
The post-mortem reveals that Miss Baldock died of poisoning. But who would want to kill this innocent, albeit overbearing, middle-aged woman?
Could the poison have been intended for Marina Gregg? If so, the superstar's life is in grave danger. And now, Miss Marple will stop at nothing until she uncovers the truth.
9. A Caribbean Mystery (1964)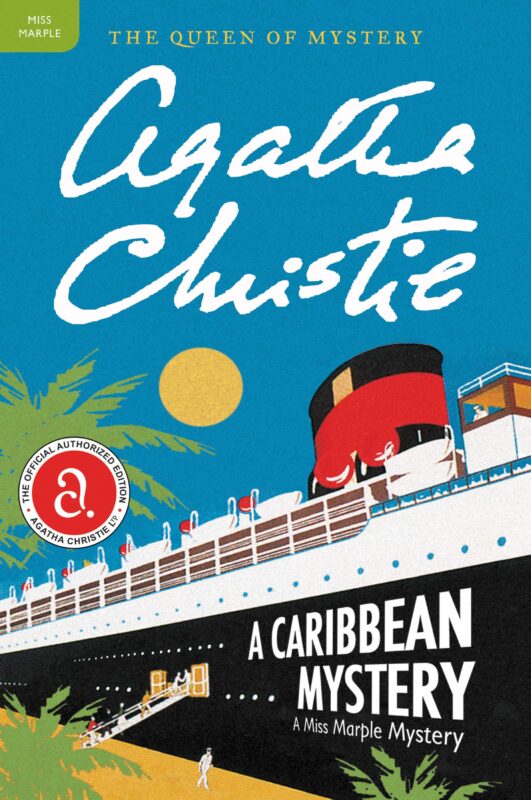 Miss Marple has traveled to the Caribbean for an exotic holiday, but as she basks in the sunshine on the beach, she can't help but feel a little bored. Unfortunately, nothing ever happens in paradise, and she can only take so much relaxation.
But then, things take an interesting turn when a retired army major winds up dead.
Now, far away from her native shores, Miss Marple sets out to solve a murder mystery with a unique tropical twist.
10. At Bertram's Hotel (1965)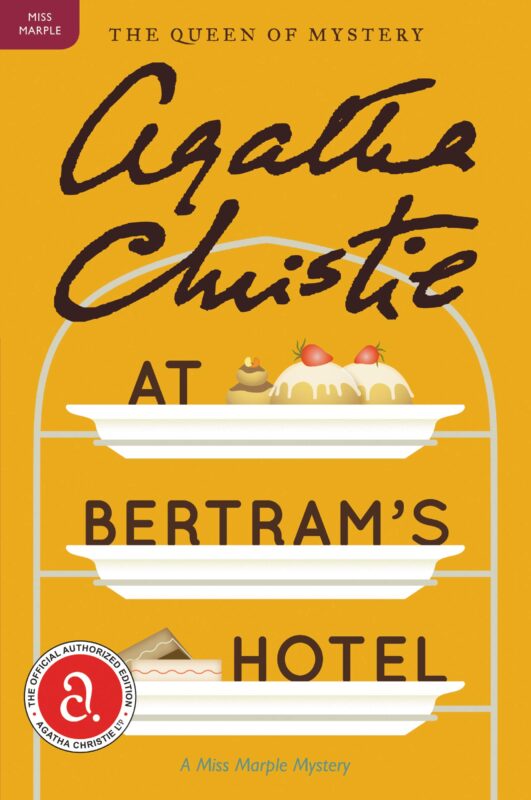 Miss Marple has left her country home for a break away in London. Her destination is the traditional and highly acclaimed Bertram's Hotel, a place that exudes old-world charm and impeccable service.
But as she settles in at Bertram's, Miss Marple can't help but notice the tension and danger that lingers in the air behind the hotel's luxurious veneer.
Yet even she is surprised when a clergyman vanishes into thin air, and a man is found dead.
Now, her holiday in the city is put on hold as she steps in to help the police with a murder mystery and missing person's case that will uncover shocking secrets about this esteemed hotel.
11. Nemesis (1971)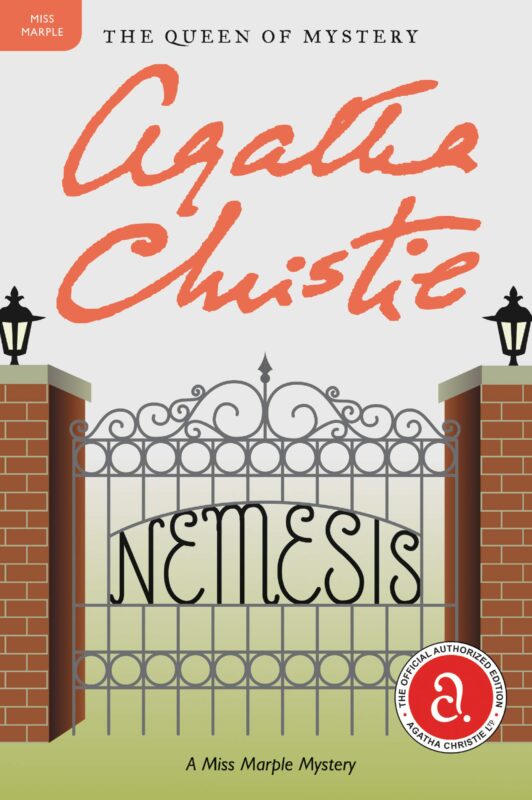 One morning, a letter arrives at Miss Jane Marple's door, leaving her in complete dismay.
During her recent adventures in the Caribbean, she made a brief acquaintance with Mr. Jason Rafiel, and now, he's dead.
But even more shocking is the deceased man's request. Inside the letter are instructions asking Miss Marple to investigate a crime after his passing.
Yet, with no details of those involved or even where the crime occurred, she's got her work cut out. And someone, somewhere, will do whatever it takes to ensure the past remains hidden.
12. Sleeping Murder (1976)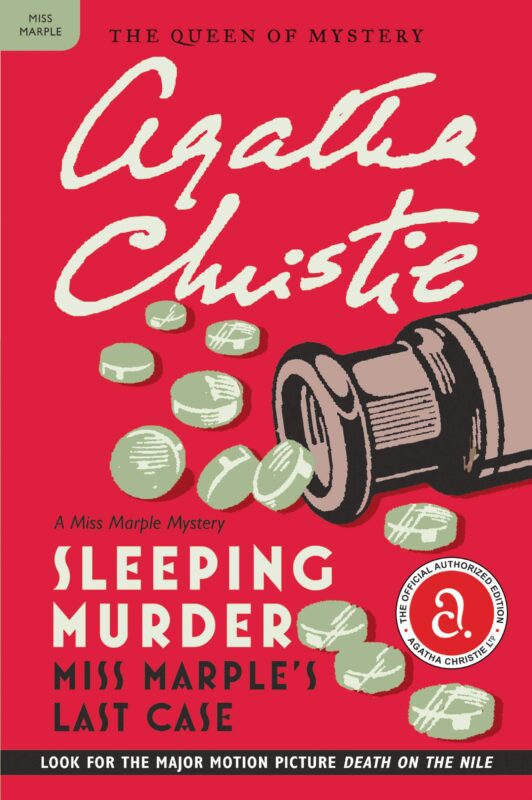 Gwenda immediately falls in love with her large seaside home, but soon after she moves in, she becomes plagued by an eerie feeling of unease.
As tradesmen begin renovating the traditional decor, strange coincidences occur. The wallpaper she dreamed up for the nursery is discovered behind a secret room. And the doorway she planned to create turns out to have already been there, blocked off long ago.
As the strange events unfold, Gwenda becomes increasingly fearful of her new home. No matter how hard she tries to modernize the old house, it seems determined to expose its secret past.
And so, with the help of Miss Marple, she embarks on a mission to exorcize the ghosts and solve a terrible crime committed long before she was born.
Miss Marple Short Stories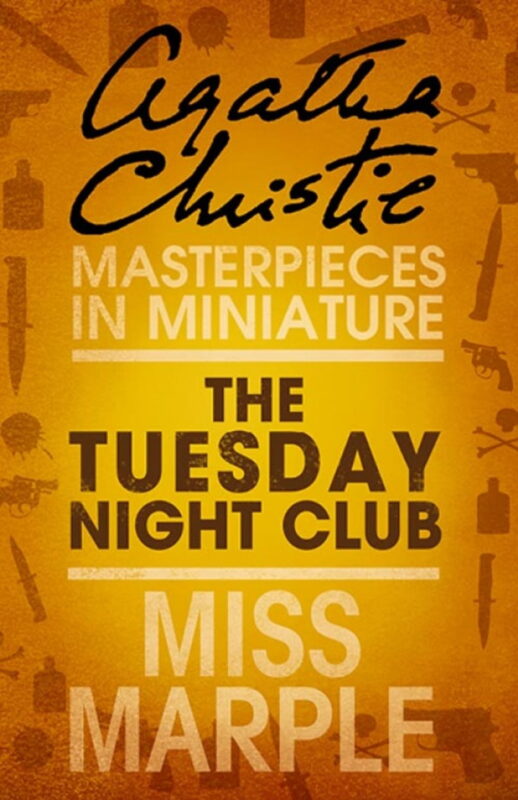 Alongside the main series of novels, Agatha Christie also published twenty short stories featuring her iconic amateur sleuth.
Here they are in the order they were originally published.
A Christmas Tragedy (1930)
The Idol House of Astarte (1932)
Ingots of Gold (1932)
The Bloodstained Pavement (1932)
Motive vs. Opportunity (1932)
The Thumb Mark of St. Peter (1932)
The Blue Geranium (1932)
The Four Suspects (1932)
The Herb of Death (1932)
The Affair at the Bungalow (1932)
Death by Drowning (1932)
Strange Jest (1950)
The Case of the Perfect Maid (1950)
The Case of the Caretaker (1950)
Tape-Measure Murder (1950)
Greenshaw's Folly (1960)
Sanctuary (1961)
Conclusion
Miss Marple is one of Agatha Christie's most beloved creations. This quintessential English detective is a global phenomenon. Even today, many years after the author's death, her adventures still grip readers worldwide.
Are you already a fan of Agatha Christie's Miss Marple series? If so, what's your favorite book? Let me know in the comments below!