What's a poet to do, besides sit on a pile of unread work and meditate/pray/drink away that nagging sense of impending doom? Make a poetry chapbook – it'll help, I swear.
I recently finished producing my first chapbook with the help of my partner (they're a digital artist and book binder, which came in hand).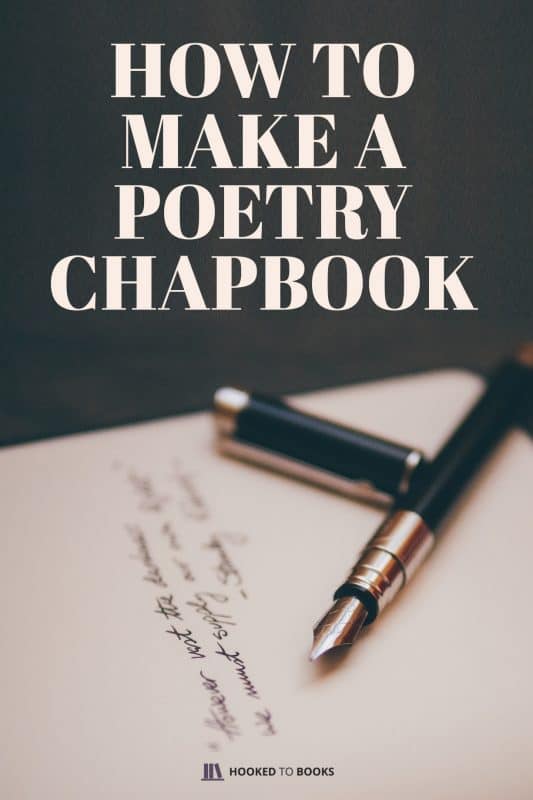 We learned a lot about how to compose a collection, how to process, print and bind it, and how to promote the work on our own.
If you're interested in making your own chapbook, here are the steps that will show you how to make a poetry chapbook.
What Is a Poetry Chapbook?
A poetry chapbook is a short collection of poems that is self-produced, published and distributed.
A chapbook can be as short or as long as you want, although they rarely reach the length of proper collections which can include hundreds of pages.
Chapbooks usually present a series of between 10 and 30 poems that are meant to be read in conjunction with each other. Sometimes they include illustrations or other visual art to complement the poetry.
Content for Your Chapbook
Your chapbook should highlight your poems, since that's your thing, right?
Usually, there's some kind of coherency to the poems binding them together, a silver cord running through the whole book.
This could be a repeating sound, image or subject that brings all the potentially varied parts of the collection together. (Listen, I'm not here to tell you how to be a poet).
Try looking at your work to find poems that fit together, one way or another. Most of the poems I included were written during a particularly formative period in my life, deal with similar topics, and display the development of my voice.
Their individual forms, however, vary widely – some are multiple-page prose poems, some a half-page, some just a few lines.
I even included a list of favorite words that I compiled in my notes app over the past year. The point being, do what you want — it's your poetry book.
Editing a Poetry Chapbook
Moving from a handwritten journal or a rolling Word doc of poetry to a printed format presents a set of challenges I never had to consider before making my book.
Most importantly, the shape and size of your eventual chapbook will seriously affect the visual nature of your work. Line breaks, verse alignment, and spacing are all subject to the frustratingly concrete borders of the printed page.
I decided to print my book in a nonstandard size to accommodate the long lines of my work and to retain the line breaks as they were written.
This is a perk of making a chapbook yourself – you aren't subject to the homogenous size options offered by professional trade publishers or pay-to-print services.
Even so, I reworked some of the poems with the final size in mind to make sure I was happy with their shape and weight on the page.
I set the margins on my working document to match the size of the final printed page, which allowed me to see how they would look when they were printed.
Tip: Most books use a much smaller font size than the 12-point Times New Roman that come standard on most word processors. Make sure you take that into account if you're going to be editing your work with print-readiness in mind. I ended up using an 8-point font – it's large enough to be legible while keeping my line breaks intact.
Designing Your Book
Now that you've completed your manuscript, it's time to think about the cover design, and any other visual elements you might include.
I went with a minimal approach for my cover – it's just the name of the book in all caps with a smaller attribution underneath that says "poems by John Calvin Pierce."
Many people incorporate an image or drawing onto their cover designs, so if you know any artist friends, now's the time to call them up! These can be scanned and incorporated as an image file into your document.
A program like InDesign is useful for laying out PDF manuscripts to confirm that everything fits within the printable margins of your future book.
It takes a little work to figure out, but an InDesign document really is useful if you plan to print your book using a letterpress (like me) or if you use a pay-to-print service. A Word document is fine if you'll be using a standard digital printer to produce your book.
Before you move on to the materials and printing process, you should make a mock-up of your book so you can see how everything fits together and make sure you're happy with the layout and visual aspects.
Just print it on normal paper, cut it down to size, and staple it together. This step is mostly for "quality assurance."
You May Also Like: How to Write a Memoir
Choosing the Chapbook Materials
The papers you choose for the interior and cover are the first aesthetic introduction people will get to your work. It can set a mood and invite the reader to look closely.
I used an off-white medium weight paper for the interior, and a heavy cardstock in four different colors for the cover. The cover paper gives the book a sense of weight and it feels really nice to hold it in your hand – it also has a grainy texture to it that feels, well, natural, and of a higher quality than regular printer paper.
I bought my interior paper from a local Austin paper supply company and the cover paper online from BLICK Art Materials. Buying in bulk helps defray the cost.
Of course, you don't have to use any particularly fancy paper. Plenty of people do produce their chapbooks with standard printer paper, and to successful results.
It just depends on the look and feel you want your project to have when it's done – a heavier paper feels more "serious" and expensive than standard printer paper, especially regarding the cover; and an off-white interior is the norm for professionally produced books, as opposed to the standard bright white of common printer paper.
Beyond paper, you'll have to decide what materials will be used to bind your books (thread, staples, tape etc.) But we should talk about printing the damn thing first.
How to Print a Poetry Chapbook
This is the hard part. Since my partner knows how to operate a letterpress, that seemed like the obvious choice for us.
Letterpress gives a tactile element and a depth to the printed words. Even the occasional imperfection only adds to the charm and physicality of the book.
If you think letterpress is the right choice for you, you'll have to send your manuscript off to a press that makes manuscript polymers – these are flexible plastic sheets that have your manuscript printed in relief, which can then be inked and printed using a letterpress.
Going for this method would add a bit of up-front cost to your project (our polymers cost upward of $200) and also require access to a letterpress machine. It really is a beautiful medium, though, and it's worth it if you can pull it off.
Universities and book arts associations are a good place to start if you're thinking about letterpressing. They might even provide tutorials or individualized attention to help you print your book.
Besides letterpress (which is a rather old-fashioned way of printing, anyway), there are a lot of available techniques you could use to print and reproduce your manuscript.
Standard digital printers are easy to use from home, or you can order a larger quantity of prints from a print shop like FedEx for a relatively cheap price.
If you're looking for a more professional, market standard look, you could consider pay-to-print services. These companies will work with your manuscript to help you design and publish a run of books.
Depending on how much you want to pay, these services can include copy editing, hardcovers, design advice and more. The low-end options usually leave you to your own devices to design the cover and make sure the manuscript fits on the page.
There are a plethora of soft and hardcover options, paper choices and binding styles available, depending on your taste and budget. Some even offer to list your book online for sales, though you'll be paying them royalties on any sales made.
All of these methods have their pros and cons – it depends on the feel of your project and your budget to know which production process is best.
You May Also Like: How Self Published Authors Get Paid for Ebook Sales
Binding Your Chapbook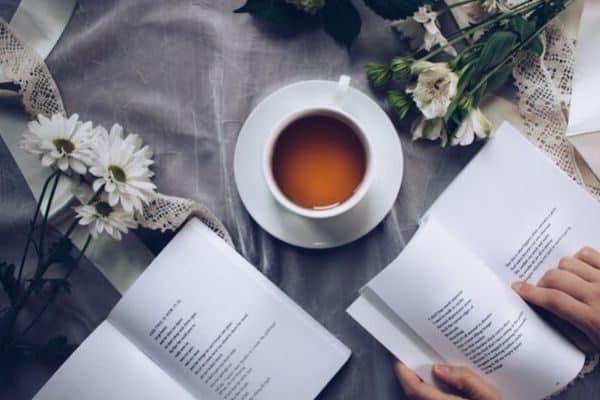 If you've gone with one of the more DIY methods for printing your book, you'll have to bind them yourself.
The classic contemporary chapbook is stapled along the spine, which is an inexpensive and easy way to get the job done.
But hand binding with thread gives the book a sense of maturity and seriousness, and invites people to take a good look at your work. Most people don't interact with handbound books regularly, so when they see one, it sparks a lot of curiosity.
My partner decided on a long-stitch binding method, but there are lots of binding techniques to choose from: coptic binding, kettle stitching and saddle stitching, just to name a few.
The length of your book and the weight of your paper will probably determine which binding method is right for you. There are plenty of online tutorials to help you learn how to use these techniques, and many of them truly aren't undoable.
It just takes a little practice and some quality binding thread and tools. Binding sets are easily available online and at craft stores.
If you've gotten to this point, that means you're almost done with your chapbook. Congrats! The most excruciating parts are over, but it does take a significant amount of time to hand bind each and every copy.
We found that evenings after work were a good time for us to get through binding, especially with a glass of wine or two to loosen us up. Hey, to each their own. Just get it done.
Promoting Your Chapbook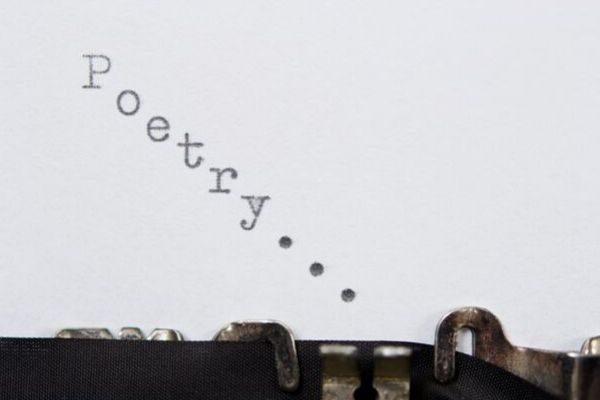 When your chapbooks are done, you've got to send them out into the world on their own to be read, hopefully.
As a 23-year-old, I found that social media was the most effective way to share with my friends and acquaintances (AKA potential readers) that I was finally done with my book, and that they were available for purchase.
I posted pictures of the books on my Instagram story, and sure enough, people I never expected to be interested were messaging me, asking for details and placing orders.
Never underestimate people's excitement at seeing your hard work pay off. The labor of love is visible and tangible, and people respond to that.
If you're looking to reach a wider audience than your own internet friends, you can take copies of your book around to local bookstores and ask if they would be able to carry your book on their local author or poetry shelves.
This will probably be a hit-or-miss tactic, but even just one "yes" is enough to get your work out there. Giving it a shot is all you can do.
If you have a website or blog, post about your new chapbook there so that your fanbase and readers can order a copy.
Whatever promotional methods you use, just keep pushing it until you sell your book. Success never favors the weak of spirit.
Your work is worth sharing and supporting, so act like you know it – even if you have your doubts (and we all do).
You May Also Like: How to Increase Your Amazon Kindle Book Sales
Why Make a Poetry Chapbook?
The chapbook is a satisfying and effective format for sharing poetic work – they carry an air of rebellion to them, insofar as they insist on being physical objects instead of pixels on a screen.
There's nothing wrong with digital-only publishing, but the quiet glee that comes with holding a printed and bound collection of your words is hard to recreate on the internet.
If you're ready to push your poetic career into new places, and if the idea of producing a physical object appeals to you, consider making a chapbook. It's a frustrating, humbling, and rewarding experience.
Check out the author's final product below!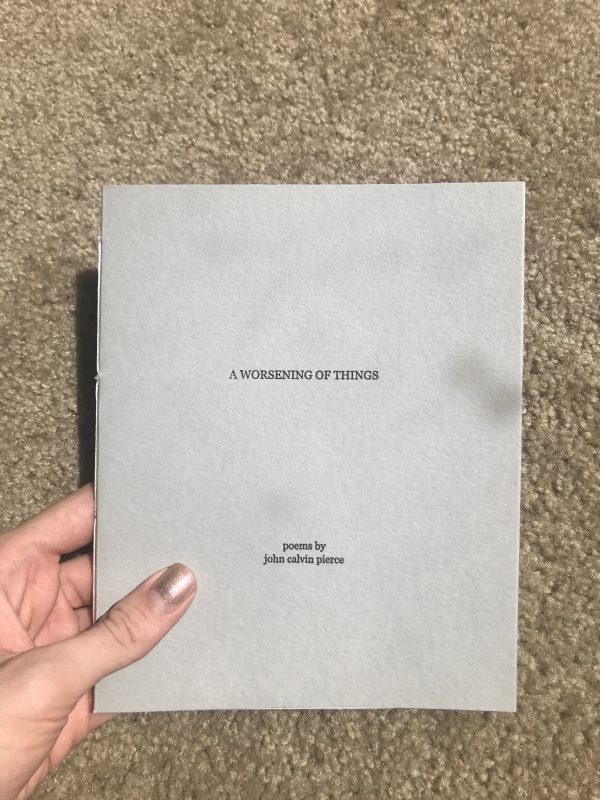 Now you know how to make a poetry chapbook. Do you have any additional tips to share? Leave a comment!