Julia Quinn's bestselling Bridgerton series has been delighting readers since the first book, The Duke and I, was published in 2000.
Set between 1813 and 1825 against the backdrop of Regency England, the series follows the lives of the well-respected Bridgerton family and their individual efforts to find love.
Packed with romance and scandal in equal measure, the series was a regular feature on the New York Times Bestseller's list over the years. And with the recent smash-hit Netflix TV drama adaptation, a brand new set of readers have been drawn to Quinn's captivating aristocratic world.
List of Bridgerton Books in Order
The series consists of eight novels, each following a different Bridgerton sibling. Below, I've listed them in order and give you a short overview of each one.
#1. The Duke and I (2000)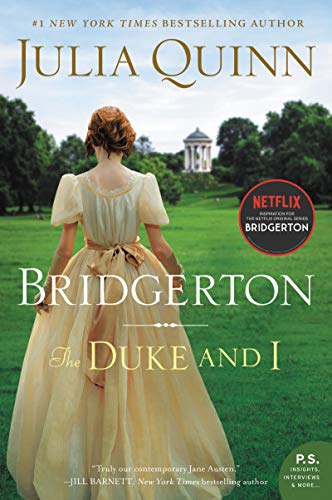 In the strict society of Regency London, it's a commonly accepted rule that young ladies looking for love should always appear affable, but not too affable.
Yet, for Daphne Bridgerton, that's no easy feat. Her kind, honest and friendly personality has won her many friends, but when it comes to finding romance, she's simply too nice to play the game.
But the same cannot be said for the Duke of Hastings, Simon Basset. After a lifetime of rejection from his callous father, he's built up an icy wall around his heart, and vows never to take a bride.
But the pressure to find courtship is mounting for both Daphne and the Duke, and so the unlikely pair agree to stage a romantic relationship that benefits each of them. For Simon, he'll finally be able to shake off the long line of wishful mothers who thrust their daughters in front of him in the hopes he'll take their hand. And for Daphne, a perceived relationship with the Duke will see her reputation and romantic prospects soar to new heights.
Word of the new power couple quickly spreads around town, and the plan seems to be working perfectly for a while. But their relationship of convenience is slowly beginning to transform, and the complicated matter of true love is about to throw a fork in the road.
#2. The Viscount Who Loved Me (2000)
This is the story of Anthony Bridgerton, one of London's most elusive and eligible bachelors. He could have his pick of the ladies, but he's finally settled on the one he wants to marry.
But there's just one problem; his wife-to-be's older sister Kate is determined to stop the betrothal by any means possible. In her view, Anthony is nothing but a rake and rouge, and her sister deserves better.
Kate's meddling becomes an increasing source of frustration for Anthony, yet for some strange reason, when he closes his eyes at night, it's not his future wife that he dreams of; it's Kate.
And something deep down inside Kate is stirring too. The lines between love and hate are becoming increasingly blurred, and if the pair aren't careful, passion could lead them onto very dangerous ground.
#3. An Offer from a Gentleman (2001)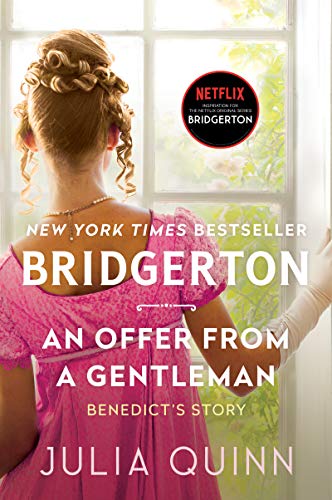 Despite being the daughter of an Earl, Sophie Beckett feels more like a servant thanks to her bitter stepmother's wicked ways.
But when she sneaks her way into Lady Bridgerton's coveted masquerade ball for the first time in her life, she feels like a princess. Spinning in the arms of the impossibly handsome Benedict Bridgerton is a dream come true, but Sophie knows that when the music stops, so will her fantasy.
But in the days that follow, Benedict feels oddly drawn to Sophie, this beautiful yet homely young woman forced into servitude by her stepmother. Although his heart belongs to another, he can't help but come to her rescue, but is it simple chivalry that drives him? Or do the flames of passion run both ways?
#4. Romancing Mister Bridgerton (2002)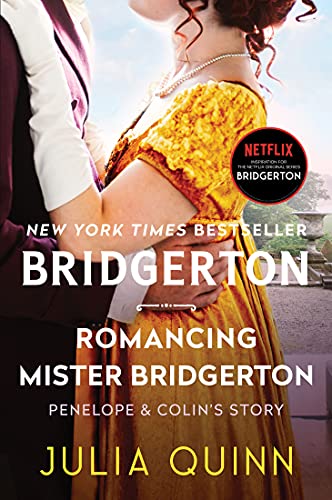 Penelope Featherington has been secretly in love with Colin Bridgerton for what seems like an eternity. She knows everything about him; his habits, quirks, passions, and dreams for the future. At least, that's what she thought, until the day she discovered his biggest secret, and her perceptions of this eligible bachelor were forever changed.
Meanwhile, Colin sees Penelope as nothing but his little sister's best friend, a familiar and uninteresting girl whom he's known half his life.
But upon returning to London after a trip abroad, Coilin's own perceptions of Penelope are also challenged. Suddenly, he sees a new side to the seemingly mousey, innocent Miss Featherington, and he begins to wonder if there's more to this meek young woman than meets the eye.
She has secrets of her own, secrets that could threaten his future or seal it in a happily ever after.
Bonus Read: 9 Fantasy Romance Books Every Fantasy Lover Must Read
#5. To Sir Phillip, With Love (2003)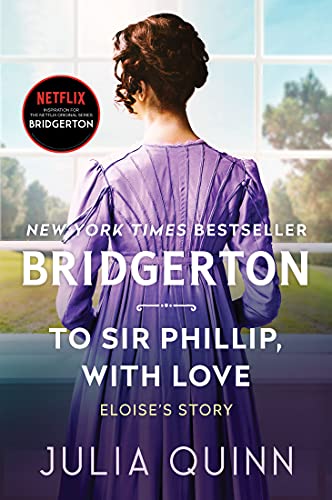 Eloise Bridgerton is a young woman, but in the world of London's aristocracy, she's already considered a spinster. And so, Sir Phillip is confident she'll accept his marriage proposal without a second thought.
But to his surprise, Eloise isn't the least bit interested in marriage, let alone in a man she's never met. This independent, confident and intelligent girl doesn't need a man to find happiness and success; at least, that's what she's always told herself.
Yet the more she thinks about Phillip's offer, the more her curiosity grows, and before long, she finds herself in a horse-drawn carriage under the moonlight, on her way to meet him.
But any hope she had is quickly dashed when she realizes that Phillip is rude and ill-mannered, albeit handsome. And he is nothing like the eligible gentlemen who have previously tried and failed at securing her hand in marriage.
Yet, passion and romance are brewing beneath the surface of the pair's icy exteriors. And all it takes is one kiss to set it alight.
#6. When He Was Wicked (2004)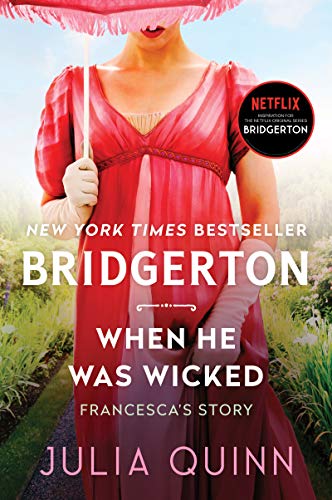 Michael Stirling is not used to being in love. Yes, he's chased many women in his time, but his heart has always remained a firmly closed book. Yet from the moment he set eyes upon Francesca Bridgerton, all of that changed.
Spellbound and enchanted, he knows without a shadow of a doubt that she's the only woman for him. But there's just one problem; Francesca is engaged to be married. And to make matters worse, the groom is Michael's own cousin, and their wedding is a mere thirty-six hours away.
Resigned to heartbreak forevermore, Michael watches on as his cousin and Francesca embark on their lives together. But a twist of fate awaits around the corner, and the course of destiny is about to make a surprising turn.
#7. It's in His Kiss (2005)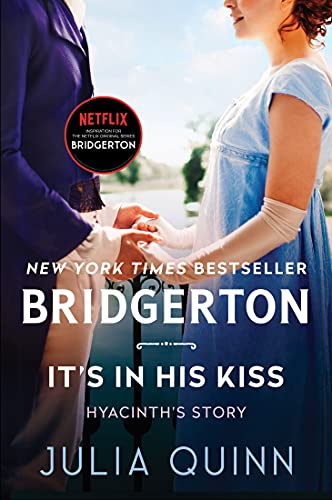 Hyacinth Bridgerton isn't like most other ladies of Regency London. She's brave, outspoken, and fiercely intelligent to boot, yet her bold personality means she's not everyone's cup of tea, so to speak.
But Gareth St. Clair can't help but find her utterly charming, and it just so happens that now, he needs her help.
Gareth has inherited a diary that could help him unlock the secrets of his family's troubled past. The only problem is the diary is written in Italian, and he doesn't speak a word. Yet luckily, Hyacinth does, and so together, they explore the mysterious text in search of the truth.
Now, the pair are about to find out that their greatest discoveries lie not in the handwritten pages of a diary, but in each other.
#8. On the Way to the Wedding (2005)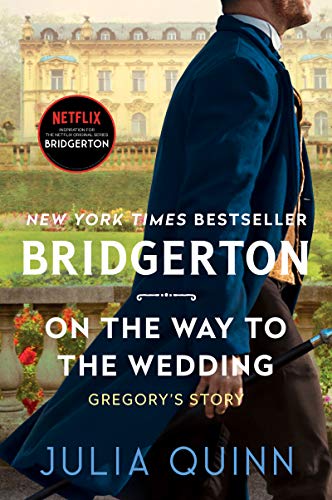 Gregory Bridgerton is different from most of his aristocratic male peers; he's a hopeless romantic, and he's always been convinced that when he meets the right woman, they'll fall deeply in love, and the rest will be history.
Except that's not how it happened at all. Hermione Watson has rejected Gregory for another man, leaving him with nothing but a broken heart. But thankfully, her best friend, Lady Lucinda Abernathy, is ready to step in to help him win back her heart.
As the two conspire to change the course of true love in Gregory's favor, something unexpected happens. Lucy begins to fall for Gregory, and after much hesitation, he realizes he feels the same about her.
But before they can claim their happily ever after, there are a few more hurdles in store for this pair of star-crossed lovers.
Conclusion
Julia Quinn's Bridgerton series has been a hit with romance readers since it began, so much so that the author has been dubbed 'the contemporary Jane Austen' and a 'true master of romance' by literary critics.
And now, with the emergence of Netflix's hugely popular TV series, there's a whole new set of fans ready to devour her work and enter her aristocratic world of romance, sex, and scandal.
If, after reading the series, you're still keen for more Regency-based romance, Quinn has also published a collection of 'second epilogs' which combine to form the 2013 book, The Bridgertons: Happily Ever After.
Plus, you might also want to explore the author's popular four-book Rokesby collection, which features the Bridgerton family and acts as a prequel to the series.
Are you a Bridgerton fan? If so, what is your favorite book from the collection? Let me know in the comments below!