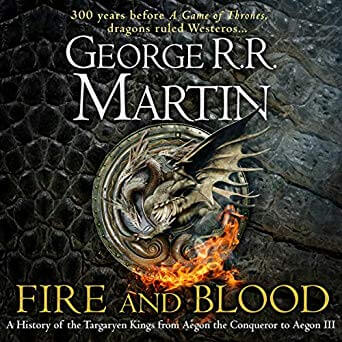 Internationally best-selling author George R. R. Martin has decided to treat fans with fire and fury in his book that narrates Targaryens' history in Westeros. Simon Vance provides an in-depth analysis of the audiobook, an excerpt from Martin's manuscript, the A Song of Ice and Fire series.
When coming up with the book, Martin saw the material was enormous, so he decided to divide it into two volumes of the historical accounts of Targaryen kings. The first volume is what is known as Fire & Blood, and it covers Westeros' history from Aegon's Conquest up to Aegon III Targaryen's time.
Audiobook details
Author – George R.R. Martin
Narrated by – Simon Vance
Type – Unabridged Audiobook
Length – 26 hours & 24 minutes
Language – English
Release date – 20/11/2018
Publisher – HarperCollins Publishers Limited
Category – Fantasy
Fire and Blood Audiobook Synopsis
House Targaryen, the only surviving dragonlord family, decided to reside on Dragonstone centuries before even the Game of Thrones events took place.
Martin commences the Fire & Blood audiobook by describing Targaryens' fortuitous escape from Valyria's destruction and goes ahead with the legendary Aegon Targaryen's – Iron Throne's creator – subsequent conquest of Westeros.
He concludes the story the ascension of young King Aegon III to Westeros's Iron Throne when a civil war nearly tore apart the dynasty. As he recounts the generations of Targaryens who fought to retain that iconic seat, he apportions the same weight to every Targaryen family member.
Even as inbreeding of Targaryens continues, certain characteristics transcend generation —the main ones being a single-minded pursuit of power, snobbishness, and brutality. Some sections of the audiobook are salacious ("it aroused the princess to watch the men disporting with one another"), others are dramatic ("the golden dragon devoured the queen in six bites").
Fire & Blood contains the following episodes:
Aegon I Targaryen's Westeros' Seven Kingdoms conquest in "The Targaryen Conquest."
Aegon I's post-Conquest reign-"The Peace of the Dragon."
Aegon I's sons lives; King Aenys I Targaryen and King Maegor I Targaryen- "The Sons of the Dragon."
Jaehaerys I Targaryen's ascension and reign on the throne, and subsequent succession crisis-"Heirs of the Dragon."
The great civil war – the Dance of the Dragons or "The Dying of the Dragons."
Rule of Rhaenyra's young son Aegon III's reign, and Aegon's regents – "Aftermath – The Boy King and His Regents.
You May Also Read: 40 Best Audiobooks for Your Next Roadtrip | Best of 2022
About the author
The birth of George R.R. Martin occurred on September 20, 1948, in Bayonne, New Jersey. He is the son of Raymond Collins Martin (a longshoreman) and Margaret Brady Martin. His two sibling sisters are Janet Martin Patten and Darleen Martin Lapinski.
Mary Jane Donohoe School and Marist High School are the institutions that gave Martin elementary education. Even at a tender age, his writing skills were evident as he was able to make monster stories and dramatic readings that he sold to the neighboring children. While at high school, he even began collecting comic books that eventually influenced him to write comic fanzines fictions.
Martin later graduated summa cum laude with a B.S. in Journalism from Northwestern University, Evanston, Illinois in 1970 and also took an M.S. in Journalism from the same institution in 1971.
In the 1970s, he also engaged in part-time writing while working as a chess director (VISTA Volunteer), and teacher (Journalism instructor at Clarke College, Iowa). He once married Gale Burnick in 1975 and later divorced her with no children.
After moving to Hollywood, he produced various stories for Twilight Zone at CBS Television and Columbia Pictures Television from 1986-1993. Martin now resides in Santa Fe, New Mexico and is a member of Writers' Guild of America, West and Science Fiction & Fantasy Writers of America.