If you're spending big bucks on an iPad Pro, you're going to want to find a case that protects it from everyday bumps, scratches, and scuffs. While Apple's official folio-style case is a-ok, there are quite a few options on the market that are even more durable, stylish, and intuitive, and they're perfect for book lovers too.
At A Glance: Our Top 5 Picks for Ebook Readers
These iPad Pro cases are suitable for either the 11 inch or the 12.9 inch models and will keep your device safe, so you can enjoy browsing, working, gaming, and reading e-books to your heart's content.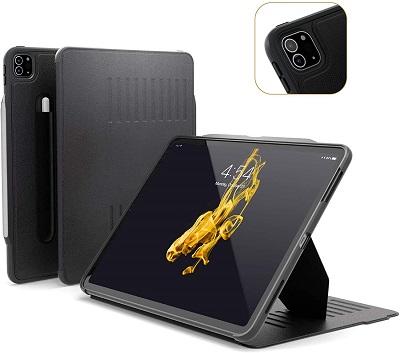 This ultra-slim case doesn't come cheap, but it's by far one of the most protective iPad Pro cases on the market right now.
Comprised of cruelty free, vegan leather, rock-solid fiberglass, and a soft, tactile microfiber coating, the ZUGU Case Alpha Case is incredibly durable. But at just 1.15 lbs, it's super lightweight, too, making it a great choice for those who love to read e-books on their device. It means less wrist strain and is even lighter than many hard-copy books.
If you have the Apple pencil, then this case has you covered. Simply slot into the discreet holder on the spine to charge it up, and when it's full, there's a handy additional storage slot to keep it safe.
The case folds out to double up as a robust stand, making it ideal for watching videos, tv shows, or movies, and with ten magnetically secure angles, there's a comfortable viewing position for every situation.
This tough yet surprisingly sleek case offers total protection for your iPad Pro; it can even withstand drops of up to 5 feet onto solid concrete!
Pros
Durable: can withstand drops of up to 5 feet
Apple pencil charging and storage
Lightweight
Vegan and cruelty free
Cons
One of the most expensive iPad Pro cases on the market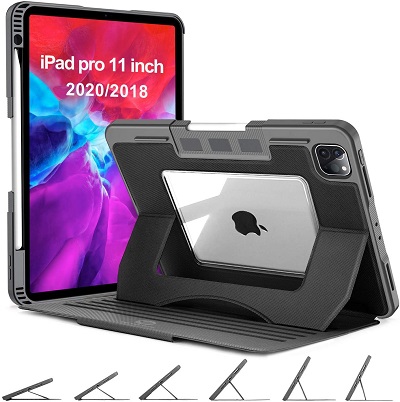 Unlike the sleek and streamlined ZUGU Case model above, this CYCLONE case for the 11inch iPad Pro has a more robust overall look and feel. Built from premium PU leather, this heavy duty rugged design has a shockproof front, back, and corner protection system to stand up to the most severe drops.
The magnetic stand feature has six secure adjustable angles that's are perfect for all situations, whether it's working at a desk, or chilling on the couch reading your favorite e-books. And thanks to the super-strong magnets, you can be sure that your iPad will remain firmly in place at all times; they're strong enough to mount your device securely against any kind of metal!
The CYCLONE also has a built in wireless charging port and storage holder for your Apple pencil (sold separately). There's also a built in automatic sleep/wake feature that activates and deactivates the screen upon opening and closing.
Pros
Durable and robust for complete iPad protection
Strong magnets make it mountable against any metal surface
Apple pencil charging and storage
Affordable price
Cons
Designed for practicality, not style
The SUPFIVES case is like the G.I Joe, Action Man of all iPad cases on the market right now. Even more heavy duty than the CYCLONE, this three layer shockproof protective case has passed a military-grade drop test of :MIL-810G. It also features air-cushioned corners and protective raised edges around the camera, so whatever life throws at your iPad, it'll be safe and secure.
This case comes with a portable shoulder strap and a built in handle strap, making it a great choice for hiking, outdoor adventures, and even e-book fans that love reading outside.
If you also use your iPad for typing or watching movies and videos, there's a 360 degree rotating stand for easy handsfree use.
And just like most of the cases on this list, this SUPFIVES model has a handy storage and charging spot for your Apple pencil.
Pros
Extremely durable, military-grade tested
Portable shoulder strap and built-in handle strap
360 degree rotating stand
Apple pencil charging and storage
Cons
Designed for practicality, not style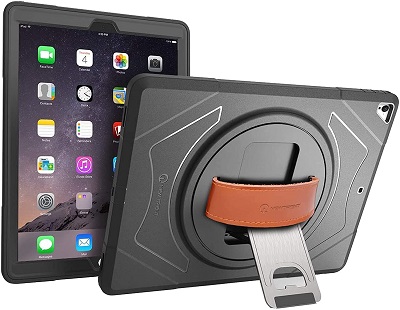 Utility and style meet perfectly in the middle with this New Trent iPad Pro case. The two layer PUT material absorbs shocks, and the case's raised edges mean that even if you drop your device against its corners, it'll come up unscathed. Plus, unlike many other iPad Pro cases on the market, the New Trent case includes a built in screen protector to prevent scratches and cracks too.
This iPad case is one of the more durable models on this list, but it also looks pretty stylish too. The matt black finish is complemented by a premium leather brown hand strap, allowing you to hold your iPad with one hand while reading or watching videos on the go.
And when you're using your device on a flat surface, the 360 degree rotation kickstand lets you view your screen for multiple directions.
Pros
Durable design with an additional built-in screen protector
Stylish brown leather hand strap
360 degree rotation kickstand
Cons
No Apple pencil charging or storage feature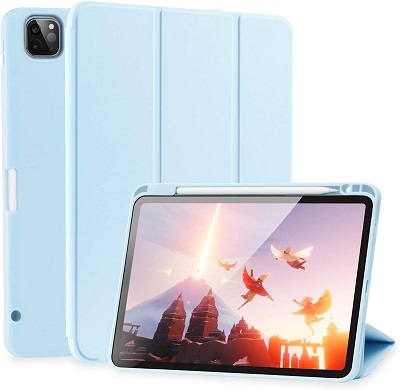 This SIWENGDE case is perfect for careful iPad owners who want a more chic cover to complement their style. It comes in an array of attractive block colors with a soft, tactile finish. And while it may not pack the durability punch of some of the other cases on this list, this model still offers decent protection from scratches, scrapes, and bumps
The built in magnetic strip automatically wakes your iPad upon opening and sends it to sleep when you close it, preserving your battery life for longer. And the tri-fold stand's intuitive shell design means that it's easy to switch up the angle of your screen between typing and viewing mode too.
And like most of the iPad cases on this list, the SIWENGDE has a handy slot to wirelessly charge and store your Apple pencil.
Pros
Sleek and stylish design available in several colors
Supports sleep/wake function
Apple pencil charging and storage
Affordable price
Cons
Offers less shock protection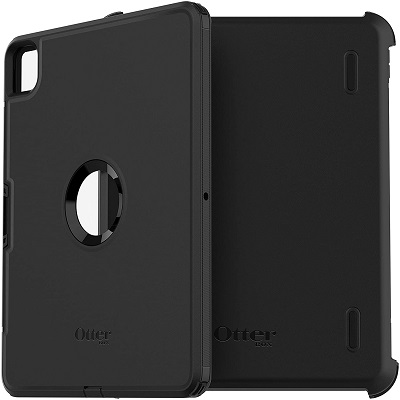 This OtterBox case doesn't come cheap, but if you're serious about protecting your iPad from severe drops, shocks, bumps, and scrapes, then this is a great all-round choice. The multi layer polycarbonate construction offers some of the most rugged protection available and even protects your ports and jacks from dust, dirt, and lint.
But despite being one of the most hardcore covers on the market, this case is surprisingly lightweight and won't strain your wrist too much when you're browsing or reading e-books.
The built in shield stand allows you to view your screen hands free from multiple angles and positions, and it also doubles up as a screen cover, protecting it from scratches and cracks in transit.
This model features an Apple pencil charging and storage pouch, however some reviewers told us it was a little too slack to hold it in place securely. That's being said, if durability and protection is your main concern, then this is a solid choice. It also comes with a lifetime protection warranty, so you can rest assured it'll outlast your iPad Pro.
Pros
One of the most durable, shock-absorbing cases on the market
Protects ports and jacks from dust, lint, and dirt
Shield stand allows for handsfree use and acts as a screen protector
Cons
One of the most expensive iPad Pro cases on the market
Some reviewers thought the Apple pencil pouch wasn't effective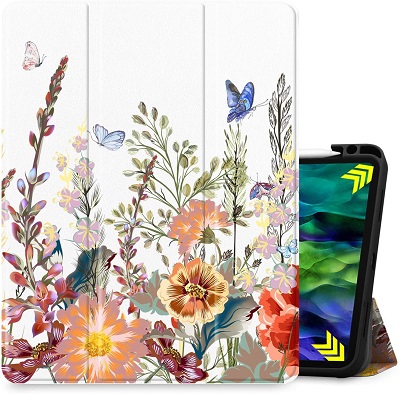 If you're looking for something that makes a statement, then you can't go wrong with this Dongke iPad Pro case for the 12.9 inch model. It's the most affordable and stylish case on our list, and comes in a wide variety of eye-catching designs.
Ultra-slim and lightweight, it certainly doesn't offer the most robust protection out there, but this case is perfect for light users who use their iPads at home for reading, browsing, and other tasks. The front cover protects your screen from scratches and automatically wakes up your device when you open it. It also includes a flip capability which transforms the case into a keyboard or viewing stand.
For users with an Apple pencil, there's a handy storage slot to keep it safe when it's not in use.
Pros
Very affordable price
A variety of eye-catching designs
Slim and lightweight
Cons
Less shock-absorbing protection; best for careful users.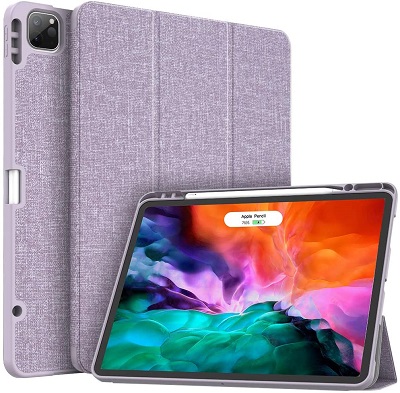 This is the softest and most tactile iPad Pro case we've found. Lined with microfiber material and featuring a soft TPU back shell and PU leather exterior, your device be snug as a bug and protected from drops, shocks, and impacts, as well as scratches to the aluminum and the screen.
The cover's dual standing positions make it easy to adjust your device from typing mode to video viewing and e-book reading mode. And once closed, the cover automatically triggers your device to go to sleep and reawaken when opened again.
If you use your iPad for long periods of time, you'll also appreciate the honeycomb heat dissipation feature, which helps to prevent your device from overheating. And like most cases on the market now, this model also features an Apple pencil holder which stores and wirelessly charges your accessory while it's not in use.
Pros
Affordable price
Soft to the touch, tactile material
Dual standing position for typing and movie viewing/reading
Heat dissipation feature
Cons
Not as shock-absorbing as other models on the market
Conclusion
Whatever you use your iPad Pro for, be it reading, browsing, working, or watching movies, you're going to want to make sure it's well protected. From stylish, lightweight covers to heavy duty, shock absorbing, military grade models, these cases are ideal for book lovers, and general iPad users alike.
Check out these other great posts!
Amazon Kindle Fire Tablet Review For Book Lovers
E-Reader Vs. Tablet: Which One Should You Buy?
5 Best Tablets For Note Taking