At A Glance: Our Top 5 Picks for Books on Writing Poetry:
I've got some bad news –– there's no perfect equation, checklist or instructional diagram that can tell you exactly how to write a good poem. That's what makes poetry an art, and not a science.
But, thankfully, there are resources out there that can help you understand the ways in which poetry works, and that elucidates some of the mysteries of craft, form, meter, and style.
Below you'll find our list of the top five best books on writing poetry.
The Best Books on How to Write Poetry
The following books are a useful starting place to help a new poet get a handle on what it means to fit words into arrangements that can rightfully be called poetry.
Best Books on Craft
Although certainly not the most popular form of poetry these days, metrical poetry (which follows a set pattern of rhythm, rhyme and/or sound combinations) is the oldest form of poetic production and is the basis of all the poetry that follows it, including the more familiar free verse.
Getting to grips with the various forms of metrical poetry, and learning how to recreate them in your own writing, will help you develop an ear for the sounds and rhythms of language –– a skill that is the hallmark of every good poet.
The first two books on this list cover the craft of poetry.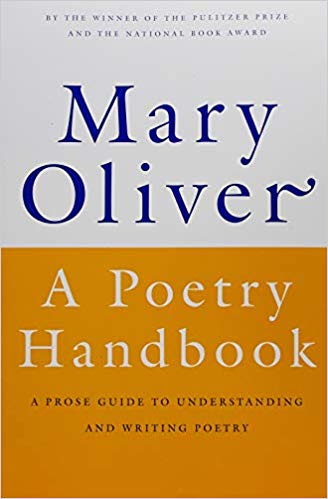 For absolute novices, there is Mary Oliver's concise but valuable "A Poetry Handbook."
Oliver outlines the basic craft of poetry, including meter, rhyme, form and sound, and delivers clear and simple explanations of common poetic terminology like iambs and alliteration, sonnets and scansion, and masculine and feminine rhymes.
In clear and digestible prose, Oliver explains the mechanics of metrical poetry and includes examples of each concept from well-known poems so that you can see exactly how it operates within a larger context.
She also discusses free verse poetry and makes a clear link from metrical to free verse in a compelling essay that argues for the use of learning traditional forms before experimenting with contemporary writing.
For someone without much formal training or familiarity with the world of the poem, Oliver's handbook is an endlessly useful starting point.
From the back cover:
"This book is not meant to be more than a beginning –– but it is meant to be a good beginning. It is about matters of craft, primarily. It is about the part of the poem that is a written document, as opposed to a mystical document, which of course the poem is also…"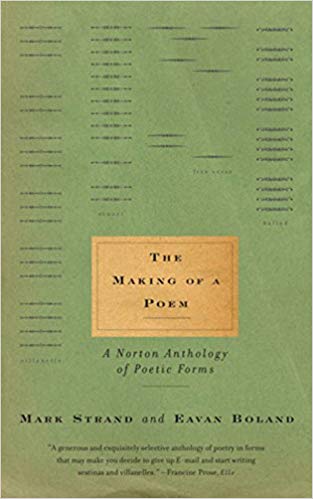 For a more technical and in-depth introduction into the craft of poetry, there's Norton's anthology "The Making of a Poem."
This book traces the history of almost all forms of poetry in modern English, from villanelles to pantoums, elegies to pastorals, odes to open forms, all of which are accompanied by examples from the literature and "cheat sheets" that lay out the basic rules of each before diving deeper into their mechanics.
While considerably more technical than Oliver's handbook, this book is still readable and clear and manages to deliver powerful arguments for the usefulness of studying traditional poetic forms and imitating them in your own work.
The introductory essays by Strand and Boland (both poets themselves) discuss the meaning and importance of poetry in the world today, offering insight into the poetic impulse at large.
This book is for those who are serious about poetry, and who want to understand the inner workings of some of the greatest pieces of writing in the English language.
A challenging read, for sure, but definitely rewarding.
Best Poetry Books on Content
Beyond the structure of poetry, of course, is the content, and that has to come from your own head.
No amount of mechanical skill can manifest the "mystical document" that Oliver mentions.
The next two books offer a look into the writing process and give practical insights about the meaning and worth of literary pursuits.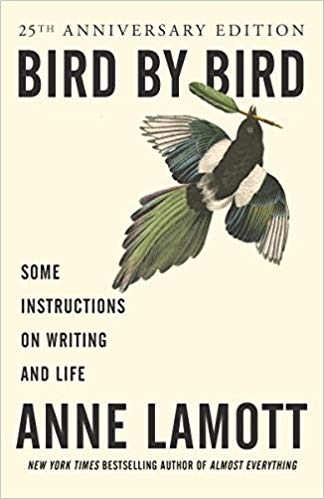 Anne Lamott's book "Bird by Bird" is an incredibly useful, and often hilarious, discussion of ways to mine your own life for inspiration and suggests strategies for actually getting it down on the page.
While it focuses on fiction writing, plenty of advice and exercises she presents are useful for any kind of writer.
She talks about "shitty first drafts," jealousy, loneliness, writer's block, memories and motivation, all with levity and a personable prose style.
This book is a wonderful thing to read if you're feeling terrified by the prospect of becoming a serious writer, or if you're just feeling stuck on a project.
She offers practical advice about planning and editing drafts (yes, poets write multiple drafts, too), finding people to edit your work, and how to deal with constructive and not-so-constructive criticism.
The book includes plenty of personal anecdotes and reads very easily, almost like its a letter from your mom –– or maybe your weird aunt.
It's a fun read — and makes you excited to write.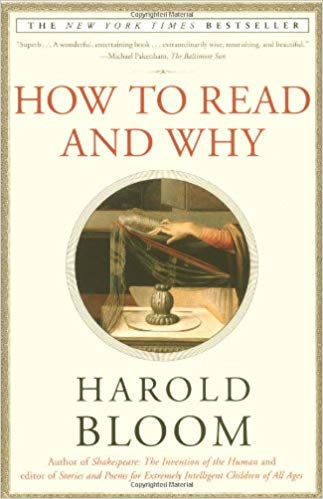 The late Harold Bloom is one of the West's most important critics. This book investigates the meaning of literature and its importance in our lives as human beings.
It argues that the purpose of literature is to help us discover and understand our own selves.
While not about the process of writing per se, Bloom's interrogation of how to read well implicitly explores how to write well.
It helps us recognize what is good about a piece of literature, and lays bare the magic at work in some of our most beloved works.
The book looks at all forms of writing, including the work of poets like Blake, Tennyson, Whitman, Dickinson, Shakespeare, and Wordsworth.
He picks apart how the poems do what they do and discuss how their forms and the content fuse to create that "mystical document."
He helps us see what is valuable in us, and how language can facilitate its expression and dissemination.
It's not an easy read, but it's an important one. And it offers a foundational introduction to the Western canon and the concerns of literature in the English language.
His analysis of the reader's mind is a seriously useful tool for the writer, too, and argues for the importance of poetry in the modern world.
Best Book of Poetry
Beyond instruction and analysis, though, is the matter of actually reading poetry.
Only by reading the work of others can you see how the techniques and forms discussed in the previously mentioned books actually operate in real-time and understand how poetry marries form and content to create "a mystical document."
Reading poetry is the most essential and effective tool to help you write better poetry. Seriously.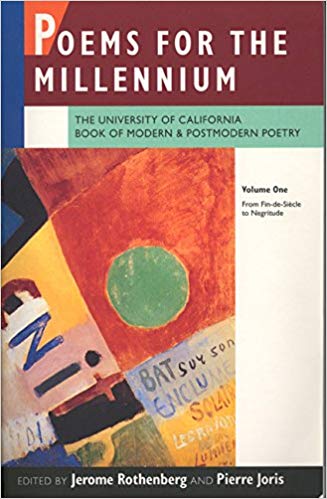 Anthologies are a good place to start if you're not sure what kind of poetry you're interested in or can't decide which poets to focus on.
This hefty two-volume anthology presents poems from every major poetic movement of the 20th century and beyond, and features critical essays that investigate how the poems work, what they mean, and why they matter.
Since it deals with modern and postmodern poetry, this anthology looks past traditional metrical poems and delves into the revered, and obscure, avant-garde works of the modern era.
It reaches outside of the Anglophone world and includes, in translation, works by poets from all over the world.
I'll warn you here: a good number of the poems included are difficult to read and even harder to understand.
Thankfully, the included essays help contextualize and explain these sometimes-bizarre and exciting works that you might not be familiar with, unless you're an academic.
It's a great starting place if you want to familiarize yourself with what's been going on in the world of poetry over the past one-hundred years, and is an important reference book.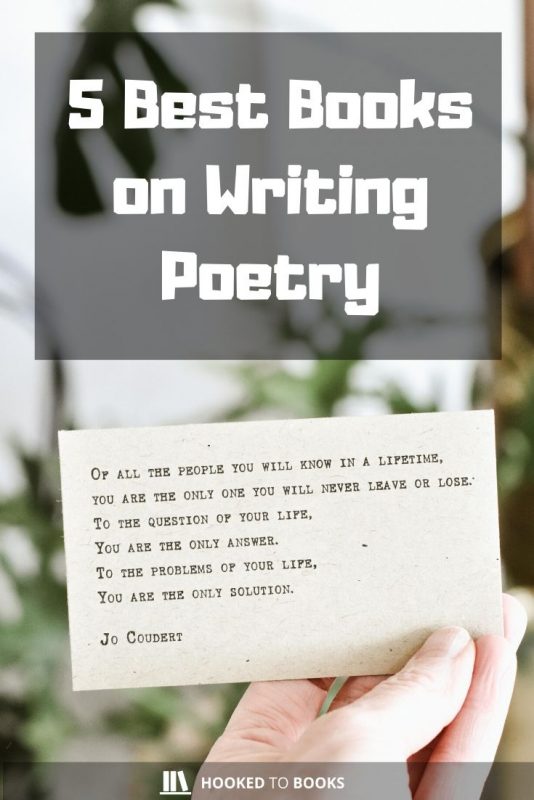 Continued Reading
Besides the five books previously listed, I'd like to recommend (in no particular order) a few of my favorite collections in case you're looking for more:
Godspeed
The best books on writing poetry are by no means the end-all-be-all, but they offer a good starting place if you're looking to understand how "the mystical document" that is the poem operates and works its magic.
The best advice I can give any new poet is to start reading, and then start writing.
And then keep writing.
John Calvin Pierce is a poet and journalist living in Austin, Texas. He holds a degree in English Literature and Creative Writing from the University of Texas at Austin. His debut chapbook, "A Worsening of Things," was released this year.