Readers can grab a book to read anywhere and everywhere; however, most of them do not get the time to read during their daily hectic schedule, which leaves them the option to read during nighttime.
But reading at night is not a simple task due to many reasons. The most crucial issue with nighttime reading is the availability of lights. You do not want to disturb your sleeping partner or kid by keeping the lights on at night, but as a reader, you cannot let this hamper your reading habit, right?
So, it's better to look for solutions to the problem.
As an avid reader, the best solution for me was book lights! Wireless reading lamps are popular gadgets used by readers who prefer reading at night or in cozy spaces. Apart from book readers, these lights are useful for crafters, students, musicians, and more.
It is essential to choose the most suitable reading lamp for yourself. With a wide range of choices available in the market, I have narrowed the list to the 7 best wireless reading lamps for nighttime readers.
Below, I have briefly discussed each of the reading lamps, along with stating the pros and cons, so keep reading the article before making a buying decision.
7 Wireless Reading Lamps for Readers
After thoroughly evaluating all the gadgets, I have compiled this list of the best reading lamps. Check it out!
1. One Fire Battery-Operated Lamp
You will love the white shade One Fire Battery-Operated Lamp, which is highly portable with its cute and flexible design. It is a rechargeable lamp with a built-in 2400 mAh battery!
Its unique feature is the lamp is foldable into a 'cookie shape' mini lamp and can easily be carried in a bag. With 8 light sources, the lamp's brightness can be adjusted with a long press switch according to preferences; you can either brighten or dim it.
The flicker-free, non-glare LED lights are gentle to the eyes and can be a handy gadget for book readers like us. Just fold it, tuck it in your bag, and take it anywhere you want without any extra hassle!
The lamp also has a light memory feature that returns to the last-use mode, making it user-friendly.
With a 24-month warranty, this is one of the best reading lamps. If you prefer reading on a desk, this lamp will be a great choice.
Pros:
Portable for traveling, compact
Adjustable brightness, light memory
Rechargeable built-in battery
Cordless, eyes-caring
Cons:
2. DEEPLITE LED Desk Light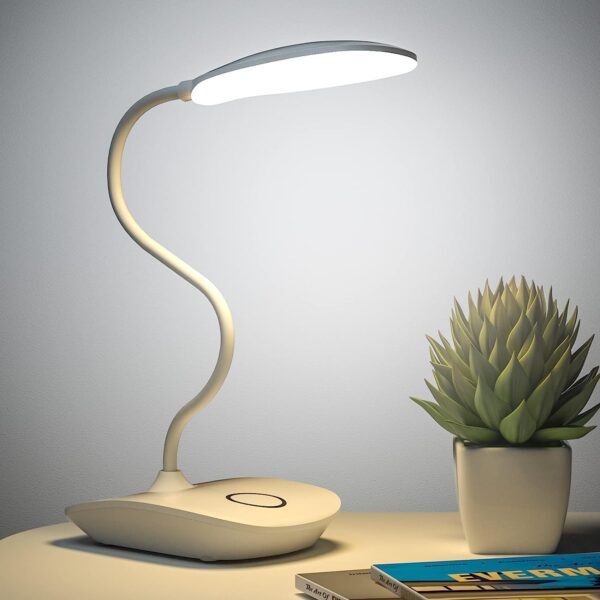 DEEPLITE LED Desk Light is a modern desk lamp with a sleek and stylish design. The lamp has a gooseneck feature with 360-degree flexibility, so it can be folded into a small lamp, and you can easily carry it in your bag.
With 3 color temperatures available, i.e., white light, warm white light, and warm light, it depends on which lighting mode you prefer. The brightness can be adjusted by long pressing the touch base, and the memory feature helps in remembering the brightness and color mode from last use.
The lamp has an 1800 mAh built-in rechargeable battery that will last up to 4-6 hours in full brightness.
The lamp light is gentle to the eyes and flicker-free, with a 12-month warranty available. Overall, it's a great lamp to enhance the look of your desk and also for a smooth reading experience.
Pros:
3 lighting modes, dimmable
Foldable, Portable
Flexible gooseneck
Energy Saving
Lightweight
Cons:
 Have only 1 light source
No Clip
3. BOHON LED Desk Lamp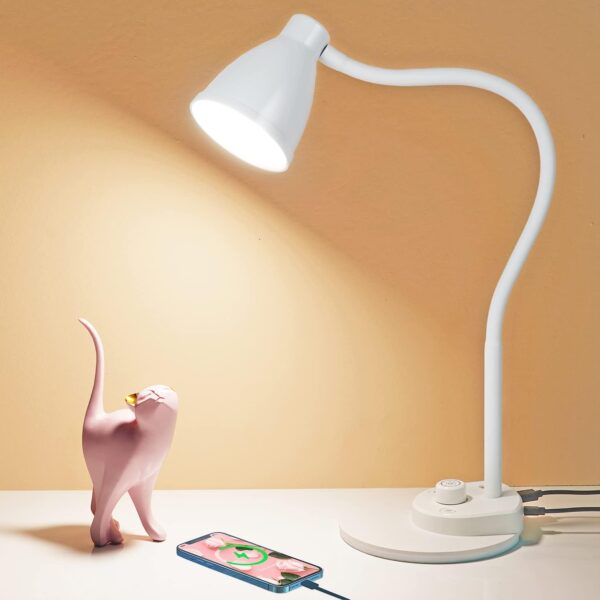 The BOHON LED Desk lamp emits 3000-5500K soft and non-flickering light, which is gentle and friendly to your eyes.
With auto dimming mode, the lamp adjusts the lights according to the environment; for example, if you are in a bright light place, it automatically dims the light to prevent discomfort and accordingly brightens when in a dim light surrounding. The memory feature remembers the last usage setting and changes as per the situation.
It has a knob and key switch to control various functions of the lamp.
The lamp is durable and reliable, with a flexible gooseneck to focus the lamp's light wherever you want. The Lamp is great for use and also has 3 color modes, which you can adjust according to your choice.
Pros:
Auto dimming mode
Flexible gooseneck
Knob dimming
3 color modes
Cons:
When in auto-dimming mode, adjusting the brightness has no effect
No Clip
4. Deaunbr LED Reading Light with Clip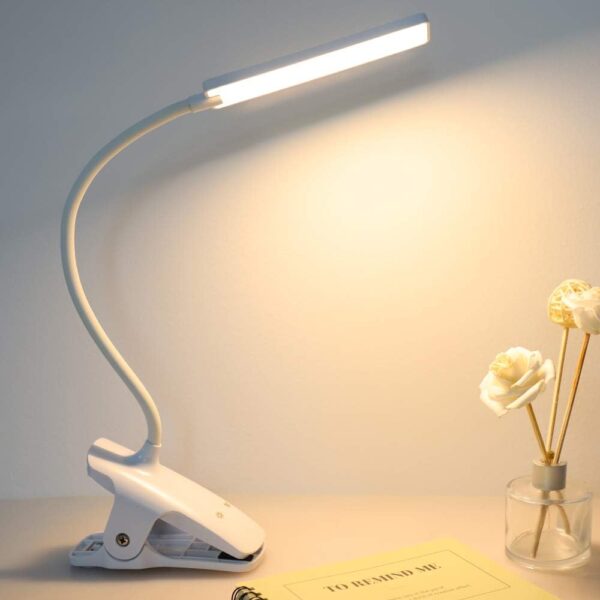 The Deaunbr LED Reading Light comes with the feature of soft and bright light, which further provides three levels of brightness. The lamp has a flexible neck and can be adjusted accordingly.
It has a strong and tight clip that can be clipped in small edges or any other places, and it will stay put, illuminating bright light.
With a built-in 1800 mAh rechargeable battery and a life span of 3 years, it is a good option. The lamp can be used for multiple purposes, such as working, camping, reading, stitching, and more. With a 3-year guarantee, you can use it effortlessly!
Pros:
Strong Clip
Flexible neck and rechargeable battery
24-hour customer service
Cons:
Can be a bit bigger to clip on small books
5. Glocusent 16 LED Clip-On Mini Book Light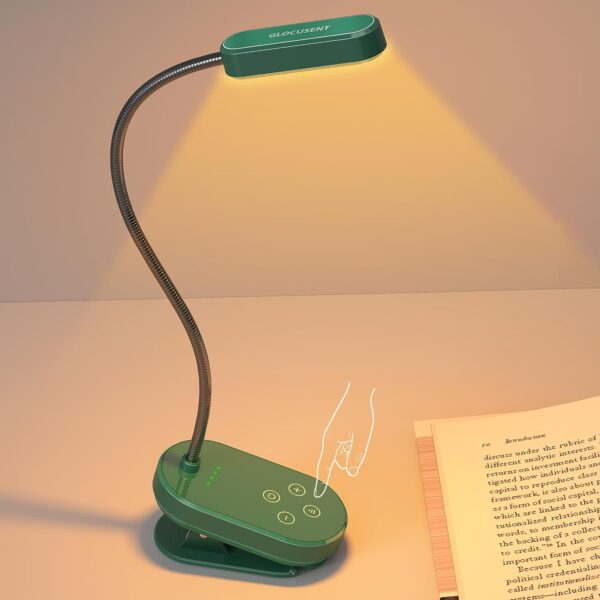 Glocusent LED Clip-On Book Light has a total of 16 premium LED beads for bright and even lighting. It has 3 color temperatures (3000K, 4200K, 6000K) and 5 brightness levels to adjust the lighting mode as per your choice.
With a 1000 mAh built-in battery, you can use it for 80 hours without charging (dimmest level). The clip is secure and tight and can firmly stand on your desk. It also has anti-slippery soft pads to avoid scratches on books or desks.
Pros:
Adjustable color temperature
Dimmable
Portable and Flexible
3 color temperatures
Sturdy clip
Cons:
6. Glocusent Willow Clip-On Book Light
Glocusent Willow Clip-On Book Light gives even illumination with 3 brightness levels and a long & narrow willow leaf design that covers a large area.
The 3 color temperatures (1800K, 3400K, 6000K) offer an enjoyable reading experience with no eye strain. This is one of the lightest book lamps that will not damage your books and needs only a little space. You can adjust the focus anywhere with the gooseneck feature and place it at any place with the sturdy clip.
Pros:
Brightness Adjustable
Lightweight
Blue Light Filtered
Compact
Cons:
The clip can be a little bit big for holding books
7. DEEPLITE LED Desk Lamp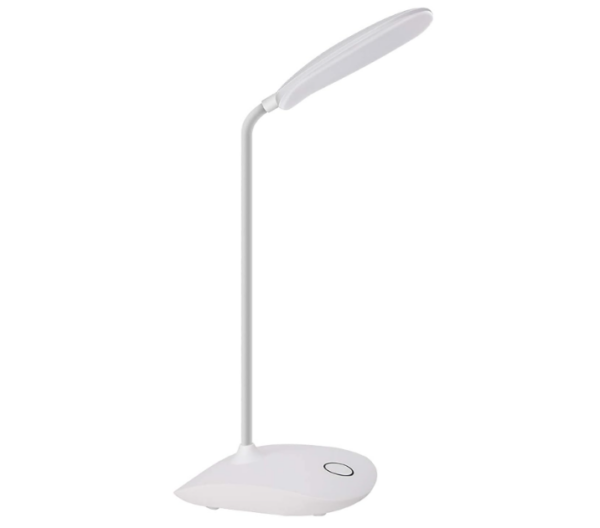 DEEPLITE LED Desk Lamp has a built-in battery and is portable, so you can take it anywhere freely. The gooseneck feature with 360-degree flexibility allows you to focus the light at your desired place.
With 3-level brightness that can be adjusted, this glare-free and no-flicker lamp is suitable for work, stitching, reading, and more. It provides 12 month warranty period.
Pros:
Portable and Flexible
Dimmable
Energy Efficient
Touch Control
Cons:
Things to Consider Before Buying a Reading Lamp
Before purchasing any product, there are a few mandatory things you need to know so you can easily check for those features and services while shopping.
Even when buying reading lamps, you need to consider a few things to grab a reliable product. I have stated a few important things to keep in mind before making a purchasing decision, have a look!
Adjustability
It is important to check the adjustability of a lamp before buying because an inflexible or rigid lamp can create difficulties while doing any tasks. The arms should be movable and flexible, with adaptable color temperature. Auto-dimming is also a feature you will find in many lamps.
High Light Quality
The quality of light also matters when choosing a lamp because proper illuminance is necessary to spread even light in the area. The lamp should be flicker-free to avoid disturbance, and effective glare reduction is necessary to prevent straining of eyes.
Right Lamp According to Desk Size
Always look for a desk lamp that is suitable for your desk. Desk size is essential because choosing a lamp that is too big for your desk can cause problems while using it. So, measure the size of your desk and choose a lamp accordingly.
Price and Warranty
Before buying, you need to decide on a budget. Inexpensive lamps can lack some features, whereas expensive ones have many features, but they might not align with your budget.
So, analyze what features you require in a lamp, set a budget, and then choose a lamp for yourself, but do not forget to buy from a trustworthy brand.
Wrap-Up
Reading lamps are amazing gadgets for book readers, but these lamps can also be used for many other purposes. I hope my list of the best reading lamps was beneficial for you.
Also, a reminder: Do not forget to check the mandatory things to consider before purchasing.
So, what are you waiting for? Go grab the one that suits you the most!
Do you have any recommendations for reading lamps? Share your preferred product in the comments.