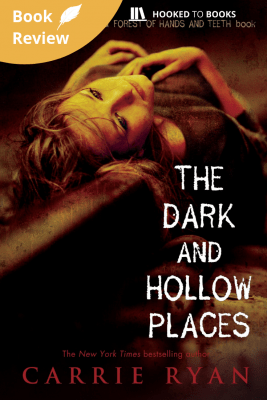 There are many things that Annah would like to forget: the look on her sister's face before Annah left her behind in the Forest of Hands and Teeth, her first glimpse of the Horde as they swarmed the Dark City, the sear of the barbed wire that would scar her for life. But most of all, Annah would like to forget the morning Elias left her for the Recruiters.
Annah's world stopped that day, and she's been waiting for Elias to come home ever since. Somehow, without him, her life doesn't feel much different than the dead that roam the wasted city around her. Until she meets Catcher, and everything feels alive again.
But Catcher has his own secrets. Dark, terrifying truths that link him to a past Annah has longed to forget, and to a future too deadly to consider. And now it's up to Annah: can she continue to live in a world covered in the blood of the living? Or is death the only escape from the Return's destruction? – Goodreads
Y'all. I freakin' loved this book. So so much. There was just so much going on and the story line was so so good. I read it a few weeks ago and I still don't know what to say to adequately describe how much I love this series and how unbelievable sad I am that it is over. All of the books in this series have been on the dark and twisty side but this one seemed to take it a step further – and it was just amazing.
*Might be some spoilers from the previous book(s) – Read at your own risk!*
In The Dark and Hollow Places we meet Annah, who left her twin sister, Gabry, in the Forest of Hand and Teeth many years ago. Annah is so different from Gabry – she is broken and tough and has been living by herself for so long after Elias left that she doesn't trust anyone. When Annah meets Catcher, she must learn to trust him to help her find her sister and then to protect her from the chaos going on in the world around her.
While the first two books are amazing and filled with some tough choices and cliffhanger moments, this book leaves the reader turning the page wondering what will happen next, how will they survive it, and will they make it to the end. Some of the parts were so dark, the things the Recruiters did mostly is enough to give anyone nightmares, and the characters had to fight so much harder in this book than any of the others, that the book kept the reader at the edge of their seat to the very end.
If you would've told me that I would love a zombie series this much I would have told you that you were crazy. No way. But the writing captures the readers, draws them in, and doesn't let go until you turn the last page and you can finally let out the breath you've been holding.
A lot of people have said that this wasn't their favorite of the three – but it definitely was for me. I loved the none stop action, I loved that there were no "love triangles," and I loved that Annah and Catcher were both so broken and needed to be fixed. There were parts of this book that I just wanted to look away because of the cruel things that the Recruiters did. The ending left me wanting so much more – with some questions still hanging in the air but overall it was a satisfying conclusion to an amazing trilogy.
If you haven't read these books – WHAT ARE YOU WAITING FOR?! Seriously, y'all, go – buy – read. You will not regret it.