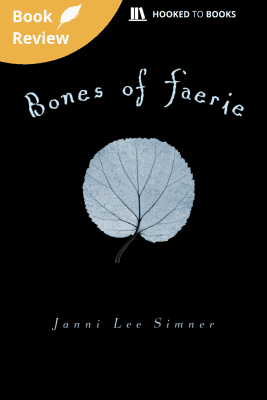 The war between humanity and Faerie devastated both sides. Or so 15-year-old Liza has been told. Nothing has been seen or heard from Faerie since, and Liza's world bears the scars of its encounter with magic. Trees move with sinister intention, and the town Liza calls home is surrounded by a forest that threatens to harm all those who wander into it. Then Liza discovers she has the Faerie ability to see—into the past, into the future—and she has no choice but to flee her town. Liza's quest will take her into Faerie and back again, and what she finds along the way may be the key to healing both worlds.
Janni Lee Simner's first novel for young adults is a dark fairy-tale twist on apocalyptic fiction—as familiar as a nightmare, yet altogether unique. -From Goodreads
I really enjoyed this book. The story is based in a dystopian world in which faeries and humans have fought and destroyed the world around them. Now, the inhabitants of the world are faced with many strange things – trees that can kill them, shadows that walk around without a body, and food that does not want to be harvested from the ground. The only way the inhabitants of Liza's village know how to survive is to get rid of any magic within their town – even if it means killing young children.
When Liza realizes that she has magic, she flees her town and is thrown into a world that she has avoided for so long. Joined by a boy from her town, Matthew, with secrets of his own, they make their way to the closest city to find answers about what is happening to her and the world they live in.
Simner's characters are so well written in this story. I loved Liza – she was smart and caring and vulnerable – and her story is gripping and heart wrenching at times. With the lose of her sister and mother, Liza must find her way out into the world and bring back answers to what is happening to her. Matthew is also so well written. He has secrets that he has kept for years and sharing those secrets opens him up to so many things.
I love the post-apocalyptic world that Simner created. There is so much destruction after The War between the fae and humans and it has effected so many people in so many ways. The world feels real and the reader gets lost in it. Everything is alive and fighting back – right down to the smallest seed – fighting for survival.
I really enjoyed this book. It was a fast read that grabs your attention from the beginning. Its not like any faery stories I have read – and that's okay. The end was satisfying but left me wanting to know more about the world that Liza and Matthew live in.