Autobiographies, biographies, and memoirs. These are the three main formats that tell a real person's life story.
But unless you're in the know, it can be a little confusing to tell the difference between each one. While they all serve a similar purpose, they each have distinctions that set them apart from one another.
In this post, I'll explain the differences between autobiographies, biographies, and memoirs. And to clear up any confusion, I'll provide some famous examples of each one.
Autobiography vs. Biography vs. Memoir
Autobiographies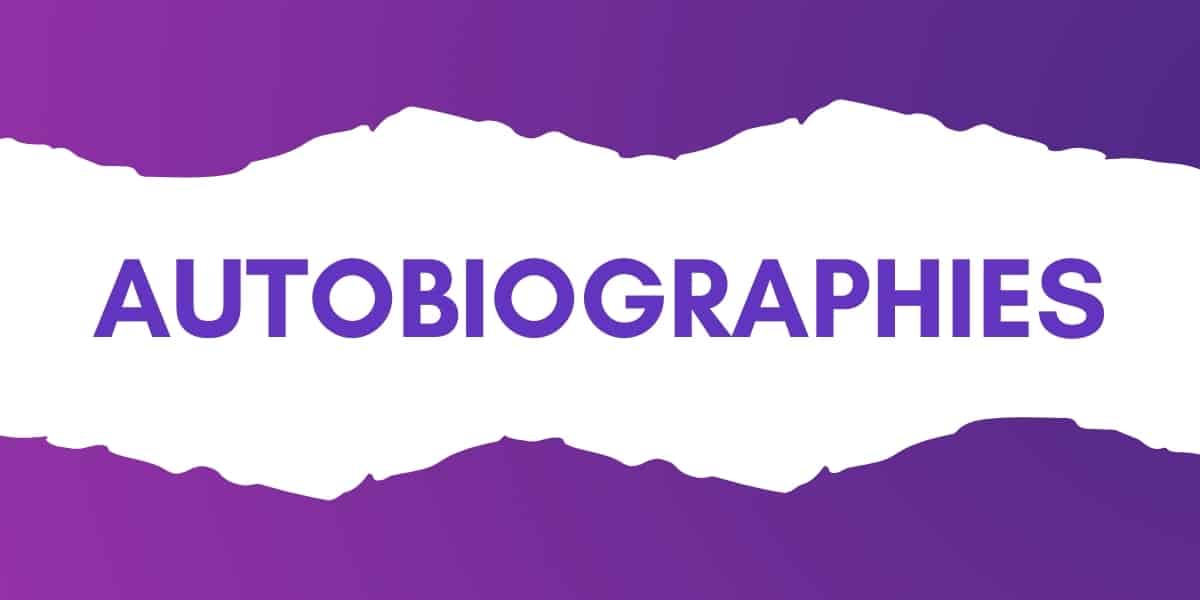 An autobiography is an account of a person's life, written by that person. The word originates from the Greek' auto', 'bios' and 'graphein', meaning 'self,' 'life,' and 'to write.'
Since the narrator is also the subject of the story, autobiographies tend to be written in the first person.
The majority of autobiographies begin by documenting childhood experiences, working their way chronologically upwards through the decades. The author will include major and minor events that have shaped their lives and stood out to them on their journey.
A detailed autobiography will cover things like a person's earliest memories, early family life, and upbringing. They might share stories from their education, their careers, and their relationships, as well as triumphs and challenges they've faced along the way.
Since an autobiography is a life story, most people wait until their later years before they pen their own, but this isn't always true. There are plenty of autobiographies written by younger people too. Anyone that has led an interesting life can write an autobiography.
Here's a few examples of autobiographies written by famous people:
Benjamin Franklin wrote his autobiography from 1771 to 1790. It tells the fascinating tale of his rise to power, from a boy born into a lower-middle-class family in Boston, Massachusetts, to becoming one of America's founding fathers.
Adolf Hitler's autobiography Mein Kampf, meaning 'my struggle,' gives us a raw and eye-opening look into the unseen life of this mass-murdering dictator. It's not an easy or lighthearted read by any means. Still, it gives the reader a fascinating insight into his early life, his rise to power, and his own justifications behind his monstrous genocidal policies.
This is a more unusual example of an autobiography, but it's an autobiography non the less. Ann Frank's real-life diary documents her experience as a Jewish teenager who was forced into hiding during World War II.
Biographies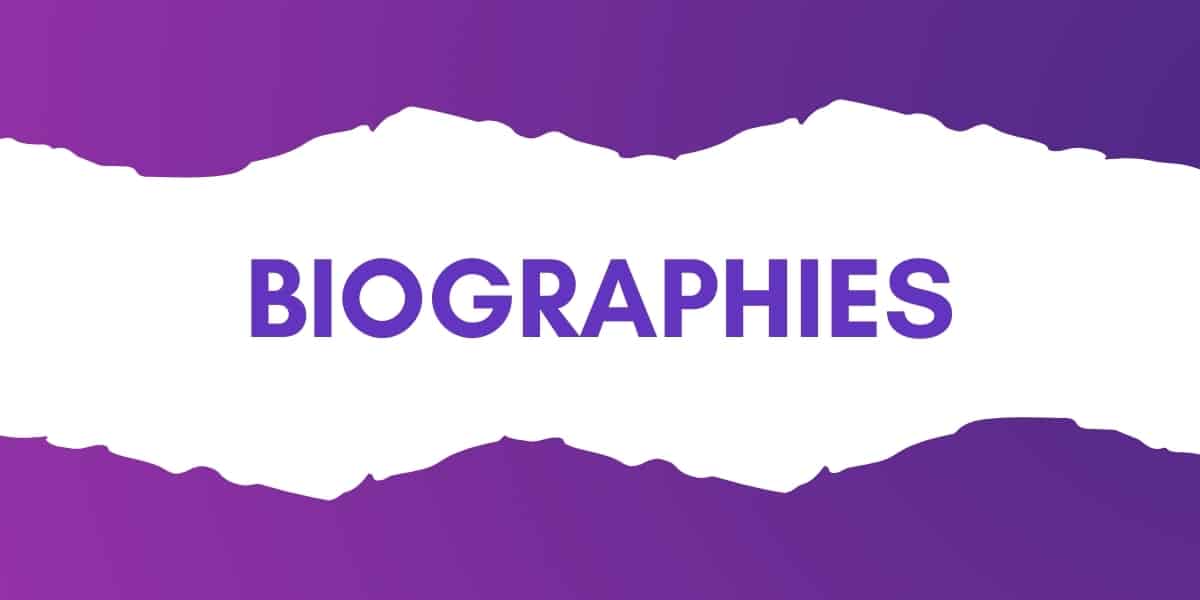 Just like an autobiography, a biography tells a person's life story. But in this case, it is written by another author, rather than the person themselves.
Biographies are most often written about famous, notable people who have led interesting lives. They usually include factual details, such as their birthplace, their education, their partners and relationships, and facts about their career.
But a good biography will also cover how key events have shaped a person's life. Biography authors will compile information from a wide range of sources, including interviews with the person in question or their friends, colleagues, and family members. They may also source information from letters, diaries, past interviews, and periodicals.
Here are a few examples of famous biographies:
Many authors over the year have written biographies about his iconic British prime minister. Still, it's Martin Gilbert's work which has been by far the most successful and celebrated.
Through years of in-depth research, Gilbert gives readers a comprehensive and honest insight into the life of the man who led Britain through the Second World War.
Hayden Herrera wrote this eye-opening biography of celebrated painter Frida Kahlo back in 1983, and it has since become the most authoritative account of her life in print.
The book documents Kahlo's struggles and pain, but it also tells of her artistic prowess and her determination to leave a positive influence on the world.
Rather than focusing on Sylvia Plath's painful struggles with mental health and her turbulent marriage to English poet Ted Hughs, this biography tells of Plath's earlier life, before the pair ever met. Taking information directly from her detailed diary entries, Wilson has complied an insightful picture of the American writer's early experiences before she found fame.
Memoirs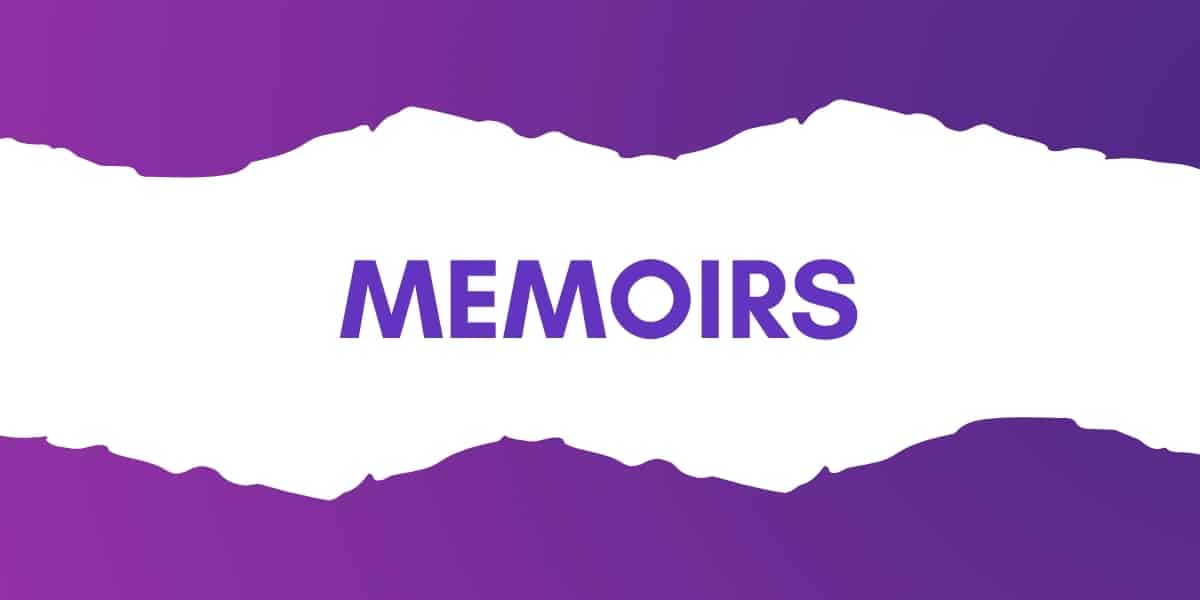 Taken from the French word for 'memory,' a memoir is a non-fiction, self-written account of a person's life. But unlike an autobiography, a memoir focuses much more on the emotional journey rather than chronologically recounting facts and events.
Memoirs are essentially a collection of memories that are important to the author, and they paint an intimate portrait of what it was like to be in their shoes.
Due to the similar nature of memoirs and autobiographies, it's sometimes hard to denote the difference between the two, especially in the modern era when genres are often blended, and new ways of writing become commonplace.
One key thing to remember is that a memoir is usually less of a timeline of events and more an informal, emotional picture of a person's life. Memoirs will often focus on things like past regrets and life lessons learned along the way, whereas autobiographies concentrate on facts and things that happened.
Here are a few examples of famous memoirs:
The American writer and civil rights activist Maya Angelou wrote a total of seven autobiographies and memoirs during her lifetime, but this is the most notable one of them all.
This famous memoir documents the first seventeen years of her life as a young African American woman, and all of the struggles and turmoils she faced and overcame during that time.
This travel memoir written by the New York Times best-selling author Elizabeth Gilbert was subsequently turned into a blockbuster movie starring Julia Roberts.
It documents Gilbert's personal journey of rebirth following a painful divorce and invites the reader to share the valuable and life changing lessons she learns along the way.
Frank McCourt's moving memoir takes us on an in-depth journey through his childhood years when he lived a profoundly impoverished life in Ireland during the midst of the Great Depression.
It won a 1997 Pulitzer Prize and has also been adapted to the silver screen.
Conclusion
Autobiographies, biographies, and memoirs all do one job: they tell a person's non-fictional life story. But as you can see, each one is unique in its own way.
Do you have a favorite autobiography, biography, or memoir?
Let us know in the comments below.
Check out these other great articles!