Rita Mae Brown is the best-selling American feminist author who is most famous for her critically acclaimed autobiographical novel Rubyfruit Jungle. The groundbreaking coming-of-age tale pushed boundaries with its explicit depictions of lesbianism, and even to this day, it's still hailed as one of the most important works in LGBTQ+ literature.
But this celebrated author has many other great books to explore, including gripping mystery series such as her long-running Mrs. Murphy saga, which she co-authored with the cryptically named 'Sneaky Pie Brown.'
So, whether you're looking for a classic novel that challenges societal norms or a cozy mystery read to curl up with, Rita Mae Brown's bibliography has something to suit everyone.
Keep reading as I guide you through this celebrated author's works, from her debut novel to her latest release.
Who is Rita Mae Brown?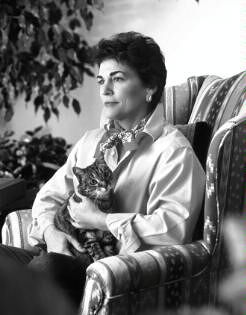 Rita Mae Brown was born in 1944 in the borough of Hanover, Pennsylvania. Her mother was only a teenager when she fell pregnant, so her mother's cousin, Julia Brown, and her husband, Ralph, raised Rita Mae as their own.
After graduating high school, Brown began studying at the University of Florida, where she became active in the civil rights movement. Her involvement eventually led her to be excluded from campus, but that didn't stop her from standing up for what she knew was right. In fact, over her lifetime, Brown has been a passionate campaigner for multiple causes, including the anti-war movement, the lesbian liberation movement, and the feminist movement.
Her writing career began with her world-famous debut novel, Rubyfruit Jungle, which hit the shelves in 1973. From this point onwards, she was a major name on the literary scene, publishing a wide range of novels, poetry, and screenplays.
And even today, four decades after she first hit the scene, Rita Mae Brown is still publishing new material and delighting readers around the globe.
Rita Mae Brown's Books in Order
Rita Mae Brown has written several series and standalone novels. Plus she's also published multiple non-fiction books. But with so many works to explore, it takes time to figure out where to begin.
So below, I'll give you a full list of her works, starting with her series, then moving on to her standalone and non-fiction titles. I'll also include a summary of the first book on each list to help you start your reading journey. Enjoy!
The Runnymede Books in Reading and Publication Order
This five-book series began early in Rita Mae Brown's career with the critically acclaimed title Six of One.
The series is set in the small town of Runnymede, Maryland, which sits right along the historic Mason-Dixon line. The place is steeped with history, but the eccentric local residents make sure that this old town's vibrant heart continues to beat.
It's packed with sassy characters and plenty of small-town charm. Each book takes the reader on a journey into the heart of the American South, to a nostalgic time when manners meant everything, gossip was rife, and a strong sense of community was paramount.
The Runnymede books are interconnected, and the characters and their lives evolve and intertwine with each new book. So, to get the most out of the series, follow the publication order listed below.
Six of One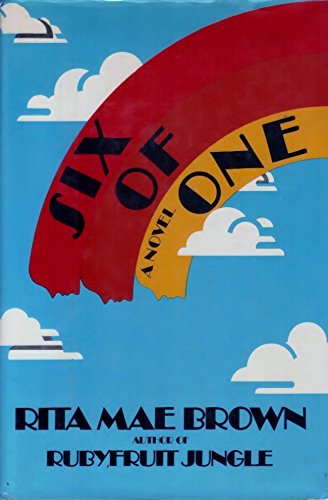 Runnymede, Maryland is small in size, but big in heart. The women who live here are headstrong, witty, hardworking, and sassy, and they each make up the vibrant backdrop of 'Six of One.'
At the heart of the story are Wheezie and Juts Hunsenmeir, a pair of hell-raising, eccentric, and unapologetically outlandish sisters who frequently cause uproar in their exasperated community.
Other unforgettable characters include the elegant and aristocratic Celeste Chalfonte. She's filthy rich, stubborn as a mule, and fearless as a lion; a dangerous combination, especially for the man she ends up murdering.
Celeste embarks on a passionate romance with the beautiful Ramelle Bowman. But there's one thing Celeste can't give her: a child. And so, Ramelle jumps into bed with her lover's brother, Curtis Chalfronte, and ends up bearing his child. Meanwhile, no one in town seems to care too much about the unusual arrangement, even Celeste herself.
Then, there's the landlady of the local speakeasy, Fannie Jump Creighton, who runs her illegal booze-slinging operation from her mansion home to survive the Great Depression.
At the heart of all the action is our narrator, Nicole "Nickel" Smith, a sexually confused young woman who has returned to her hometown to make a fresh start and figure out where she wants to go next. But first, she'll have to learn how to navigate the intricate web of family secrets, scandalous affairs, and a community where everyone knows everyone else's business.
The Mrs. Murphy Books in Reading and Publication Order
This collection of cozy mysteries is Rita Mae Brown's longest-running series. It began in 1990 with the debut title, Wish You Were Here, and it's still going strong. Earlier this year, Brown released the latest addition to the series, Hiss and Tell, and with any luck, we can expect plenty more to come.
The series centers around a thirty-something postmistress named Mary Minor "Harry" Haristeen. Her co-stars are her tiger cat, Mrs. Murphy, and her Welsh corgi, Tucker. Together, the three of them live in the small town of Crozet, Virginia, where everyone knows everyone. Though secrets are plenty, they never remain secret for long.
In each book, Harry and her animal companions are tasked with solving a different mystery, and together, they form an unconventional yet effective sleuthing team.
The Mrs. Murphy books all share a common theme, but each one tells a different story. So, you can read them in any order you choose.
Wish You Were Here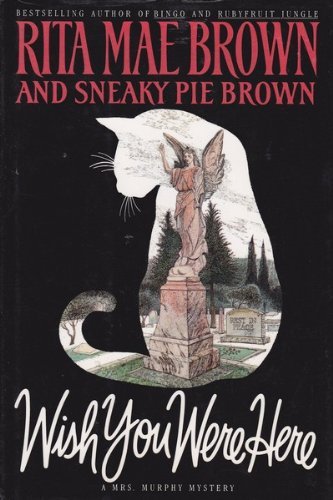 The small town of Crozet, Virginia, has its fair share of secrets. But until recently, they remained buried under the surface of the neatly manicured streets. But now, those secrets are bubbling up to the surface as the town's postmaster, Mary Minor "Harry" Haristeen, begins reading postcards addressed to her neighbors.
She soon notices that several Crozet residents are receiving the same postcard, each bearing a tombstone photograph, and the eerie message, "Wish you were here."
Things take an even more sinister turn when a spate of murders hits the town. Harry realizes that all the victims were recipients of the cryptic postcard.
And so, she decides to do a little digging and conduct her own investigation to catch the killer before he strikes again. But unbeknownst to Harry, her furry friends, Mrs. Murphy and Tucker, are already on the case.
The Mags Rogers Books in Reading and Publication Order
This charming and witty two-part series tells the story of an ex-Wall Street banker named Magdalene "Mags" Rogers. In book one, Mags is leaving behind the glitz and glamor of New York City and heading West towards her great aunt Jeep's ranch near Reno, Nevada.
Alongside her is her trusty dachshund Baxter, and together, they're about to embark on an unforgettable adventure that involves a heavy helping of murder, mystery, and intrigue.
There are just two Mags Rogers books, and it's best to read them in the order they were published, listed below, to get the most out of the series.
A Nose for Justice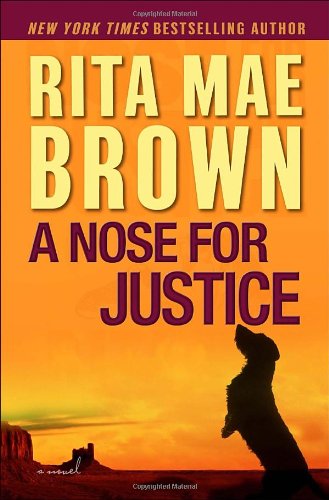 At thirty-four years old, Mags Rogers is starting all over again. Waving goodbye to her high-powered job in the Big Apple, she's heading to Nevada with her dog Baxter to reassemble her life at her great aunt's sprawling ranch. After working under intense pressure for so many years, she's desperate for a slice of the quiet life.
But when she arrives in the tiny desert community, instead of peace and serenity, she's thrust into the middle of a town crisis. The local pumping station has been attacked, and it's threatening the water supply.
The police suspect the incident is related to a recent string of mysterious murders. Mags, enamored by the handsome Deputy Pete Meadows, offers her sleuthing skills to help solve the crime.
Meanwhile, Mag's and her aunt's canine companions are also teaming up to make sure that their beloved humans are safe.
The "Sister" Jane Books in Reading and Publication Order
This bestselling mystery series began back in 2000 with the novel Outfoxed, and Brown is still working on new material. Earlier this year, the latest installment in the series, Lost and Hound, hit the shelves, and it was an immediate hit with critics and readers alike.
The New York Times Book Review called it a "charming series" packed with "cunning foxes, sensible hounds, and sweet-tempered horses."
In fact, animals make up the majority of the cast of these novels, which center around the Virginia fox hunting scene.
At the heart of the action is 70-year-old Sister Jane Arnold, who is the formidable Master of the Hunt. And of course, in true Rita Mae Brown style, murder, mystery, and mayhem are never far away.
The "Sister" Jane books all share a common theme, but each one tells a different story. So, you can read them in any order you choose.
Outfoxed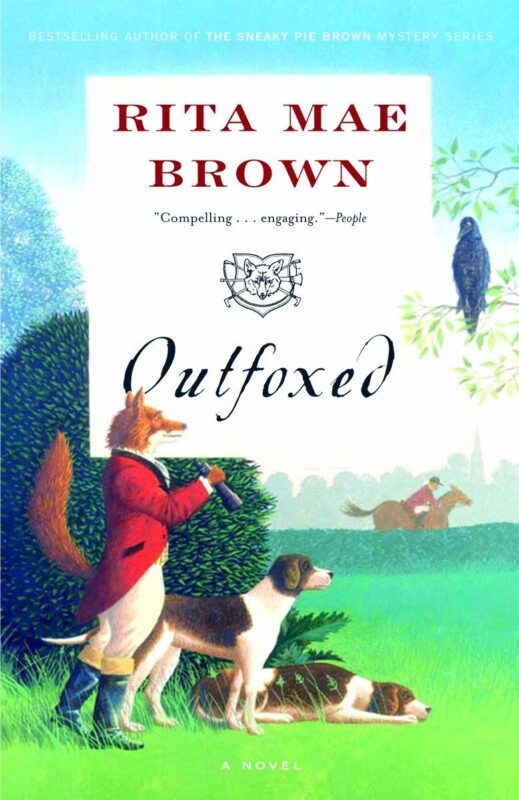 No one commands more respect than Jane Arnold in the misty Blue Ridge Mountains. Known as "Sister" to most, she's the Master of the high-class Jefferson Hunt Club. And even though she's pushing seventy, everyone knows she's not to be messed with.
But Sister knows that she can't go on ruling her kingdom forever, and so the time has come to start thinking about her successor. She's decided to select a joint master who can work alongside her and ensure the leadership can change hands when the time comes without a hiccup.
Of course, in this well-heeled town, everyone wants to become the next Master of the Jefferson Hunt Club. After all, there's no higher honor in the land.
One of the most obvious candidates appears to be Fontaine Buruss, a true Virginian with an extensive background in foxhunting. But with his not-so-squeaky-clean reputation for money laundering and shady business deals, Sister isn't so sure.
Then there's the Yankee, Crawford Howard, who, despite being from the wrong stock, has extra appeal because of his vast wealth. After all, as Sister knows all too well, running a prestigious hunting club costs money.
The stakes are higher than ever, and as the competition begins to heat up, the once amicable atmosphere of this small Virginia town begins to turn hostile. Sides are chosen, rivalries are reignited, and long-time friendships are ripped apart at the seams as the race for power gets underway.
Still, amidst the chaos, Sister keeps a cool head. But even she is brought to her knees when the tension takes a deadly turn.
Rita Mae Brown's Standalone Novels
Rita Mae Brown has also penned several bestselling standalone novels alongside her popular series listed above.
Here they are in the order they were published.
Rubyfruit Jungle (1973)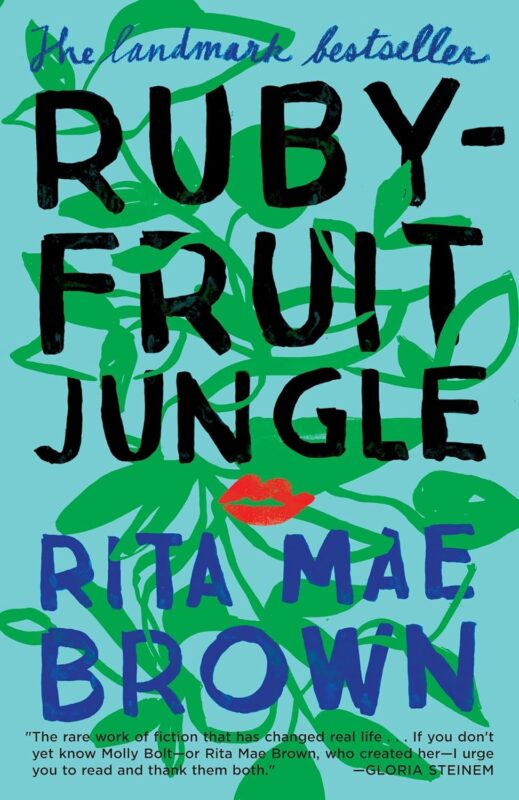 Rita Mae Brown's best-selling landmark novel tells the story of Molly Bolt, a young woman who was adopted at birth and raised by impoverished Southern parents.
With such a challenging start in life, Molly has had to develop a thick skin and a fierce determination to get ahead. But thankfully, she has startling good looks and razor-sharp wit on her side, two assets that cannot be overstated.
Now blossoming into womanhood, Molly is acutely aware that she's different from most girls, not only because of her natural exceptionality but also because she likes women. And she can't help but notice that women tend to like her back. They are positively drawn to her wherever she goes.
Molly is unapologetic in her sexuality and refuses to hide her true self away from the world. Unfortunately for Molly, the world isn't quite ready for her realness, and she faces a series of challenging setbacks as she forges her own path.
Rita Mae Brown's Non-fiction Books
Rita Mae Brown is most famous for her award-winning fiction, but there are several non-fiction books to explore, too.
Here they are in the order they were published.
A Plain Brown Rapper (1976)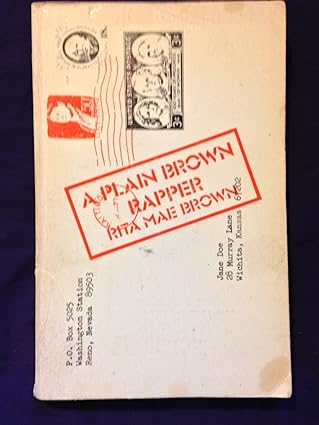 Rita Mae Brown spent decades fighting for social causes, and the Women's Rights Movement has always remained close to her heart.
Unlike many books on this topic, this is a deep dive into the movement told from a lesbian perspective. And so, it asks previously unasked questions that have helped to shape the trajectory of feminism forever.
The book is a collection of empowering essays that teach young women to stand up for themselves and make their voices heard in a world that would rather they sit down and shut up.
Conclusion
Rita Mae Brown's books have influenced generations of young women and helped to shape the landscape of feminist literature.
Her themes of love, identity, activism, and inclusiveness have helped to empower her readers to embrace who they are and help others to do the same.
Plus, her page-turning mystery novels have brought a whole different set of readers into the feminist fold. And even today, four decades later, she's still churning out classic whodunits with a fresh and modern perspective.
Are you already a fan of Rita Mae Brown's work? If so, I'd love to hear about your favorite books. Please drop me a comment in the box below!