---
Guest Post by Marnie Lamb
In these days of user-driven content, more and more people are turning to crowdfunding to realize their goals, both personal and professional. Although I had a hazy idea of the general principles behind crowdfunding, I never imagined that I would launch a campaign, much less one to raise money to get a book published. I first heard of crowdfunding for book publication six years ago during one of my courses in the Publishing program at Toronto's Ryerson University. I recall thinking, "Whoa. That's a bit too new and radical for me."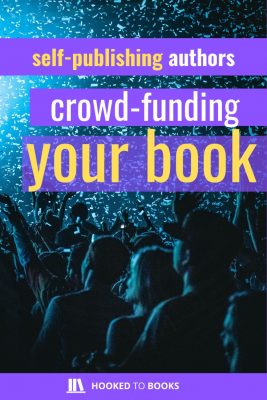 Then last year, Iguana Books, a hybrid publisher based in Toronto, accepted my young adult novel, The History of Hilary Hambrushina, for publication. Iguana operates using a newer publishing model: Iguana publishes only books that meet its editorial standards, but to ensure that it doesn't lose money on its books and can therefore continue operating, Iguana asks authors to either pay the publication costs up front or raise the money through selling advanced copies via crowdfunding. At first, I was going to pay the money myself and be done with it, but my contact at Iguana convinced me to try crowdfunding, saying that a YA novel would be a good candidate for a successful campaign. Buoyed by his enthusiasm, I agreed to take the plunge.
The amount needed to cover production costs was set at $4315.
Before this campaign, the most I'd ever had to raise was $150 for a charity walk. Now I was faced with raising over twenty times that amount.
On Shark Tank, you hear about people launching a Kickstarter or Go Fund Me campaign that exceeds its goal within the first few hours. Listening to these glorious tales, you might easily be trapped into thinking, "All I need to do is set up my campaign, push the start button, and wait for the money to gush in, right?
Wrong. So wrong.
These wonder campaigns are rarer than a sunny day in a Vancouver winter. According to Kickstarter's website, only 35% of crowdfunding campaigns succeed, and 14% never earn a nickel. My informal observations about PubLaunch, a site affiliated with Iguana Books and which raises money for book publication only, show similar results. I count at least seven campaigns that started in the months during or surrounding mine; only one was successful in meeting its goal. The amounts raised in the others ranged from 0% to 25% of the target goal. So why was my campaign a sunny day in a week full of grey skies? I believe that a combination of intuition, forethought, and adjustments along the way was key to my success. I learned three basic principles that can be applied to all sorts of crowdfunding scenarios, not just those involving book publication:
1. Understand that if you build it, they won't come—unless you tell them about it, draw them a map, or even strap them into a car and drive them to "it."
Expecting your campaign to market itself is the biggest mistake you can make. As Bethany Joy Carlson advises, "The success of your campaign and the marketing of your book in general hinge on your willingness to embrace the role of your book's number-one cheerleader."
Tell everyone you know about your campaign. Family and friends, yes, but also colleagues, fellow members of any professional groups, members of your place of worship or any clubs to which you belong, neighbours, friends of friends, your hairdresser, and your dental hygienist. Not everyone will donate, but no one will donate if he or she isn't aware of the campaign. To build buzz, tell them about the campaign weeks before it begins and again as soon as it starts. Remind them halfway through the campaign. I had to ask certain people three times before they donated, but persistence paid off and those pledges came through.
Self-promotion and marketing do not come naturally for many people, including me. If you also fall into this category, you'll need to be prepared to be uncomfortable, at least at first. But I found that the more I spoke about my passion for my book and its story, the more I embraced the role of cheerleader and the more authentic my cheerleading became. I think that being more of an introvert and less of a self-promoter can actually be an advantage when you do have to promote yourself and your causes because it makes your marketing weightier. Your family, friends, and acquaintances know that you're not someone who's always hawking his or her wares. So if you're promoting your crowdfunding project, it must be very close to your heart. That will likely convince more people to listen to and ultimately support you.
2. Find angels who don't fear to tread.
Angel investors are people who are willing to spend money on a cause for the love of the cause—or of the person promoting it. Due diligence is involved, but because angels often have a personal relationship with the fundee, they are more willing to part with their money than are venture capitalists. In the context of my campaign, I'm using the word more specifically to refer to supporters who were willing to pledge money without receiving anything in return.
Because my campaign was premised on selling advanced copies, I assumed that I would raise all the money through book sales. However, for a couple of reasons, that didn't happen. First, several people on whom I'd been counting for donations didn't come through. Second, many people who bought copies purchased the paperback, which was half the price of the hardcover; this meant that I was earning less money than I expected on the same number of sales.
I wouldn't have come close to reaching my goal without the help of a few winged saviours who swooped down and blessed the money pot with large-denomination bills. I wasn't expecting to have to rely on this heavenly support. But if you're planning a campaign, consider sussing out people to whom you're close and who might be able and willing to be your angels, depending on how the campaign goes. As with a guardian angel, you hope you don't have to rely too much on angel investors. But if you do need their help, you'll sure be glad that they're around.
3. Tune out the elevator music.
One of the most surprising and unsettling developments of my crowdfunding campaign was how emotional the journey was. Hope. Fear. Despair. Joy. Anticipation. Uncertainty. Excitement. Anger. Anxiety. Disappointment. Elation. I felt every emotion throughout the six weeks of my campaign. The experience wasn't the clichéd roller coaster. With a roller coaster, you can see what's coming, and the ups and downs are always extreme. Rather, my journey was more like riding an elevator with one button. When I entered the elevator and pressed the button to check my fundraising progress, I never knew where the elevator would take me. Would I shoot up several floors ("Yay! Three hundred dollars more in donations!") or plunge down several ("Ugh! It's been three days and still no new pledges!")? Would I bump up one floor ("Another paperback sold!") or drop down one ("Nothing new. Oh, well. I had two new donations yesterday.")?
This is where you need to lean on your loved ones not only financially, but also emotionally. When you're feeling down about your progress, share your burden with a kind, level-headed supporter who can talk you through the rough patches. And try to maintain some life–crowdfunding balance. Take breaks and recharge in environments that soothe and relax you (for me, this environment is yoga class). This self-management is essential for your health, both mental and physical, but also benefits your campaign. Feeling too confident or too despairing can result in you giving up on marketing, causing you to think, "Why bother?" for opposing reasons.
The crowdfunding world offers no guarantees.
Ultimately, if your cause doesn't appeal to people, your campaign is unlikely to succeed. But learning from the experiences of other fundees, both successful and not, and following best practices for crowdfunding will give you a better shot at that elusive success. It's like having a bigger boat: it won't rid the ocean of sharks ready to drag you down, but it will increase the likelihood that you'll reach land safely.
---
The History of Hilary Hambrushina by Marnie Lamb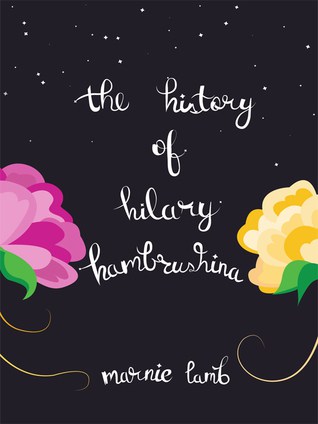 Title: The History of Hilary Hambrushina
Author: Marnie Lamb
Pub. Date: May 31st 2017
Genres: Contemporary, Young Adult
Find it: Goodreads, Amazon, Barnes & Noble, Kobo
Hilary has one goal for her first year in junior high: to become popular. But her plans are turned upside down when her best friend leaves for the summer and a quirky girl named Kallie moves in next door. Kallie paints constellations on her ceiling, sleeps in a hammock, and enacts fantastical plays in front of cute boys on the beach. Yet despite Kallie's lack of interest in being -cool, – Hilary and Kallie find themselves becoming friends. That summer friendship, however, is put to the test when school begins, reigniting Hilary's obsession with climbing the social ladder. As Hilary discovers the dark side to popularity, she must decide who she wants to be before she loses everything.
---
About Author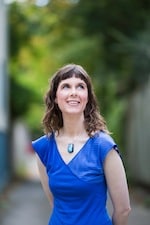 A Journey Prize nominee, Marnie Lamb earned a master's degree in creative writing from the University of Windsor. Her short stories have appeared in various Canadian literary journals. Her first novel, a YA book named The History of Hilary Hambrushina, is forthcoming from Iguana Books. When she is not writing fiction or running her freelance editing business, she can be found cooking recipes with eggplant or scouting out colourful fashions at the One of a Kind Show.
Website | Facebook | Goodreads
---
Giveaway