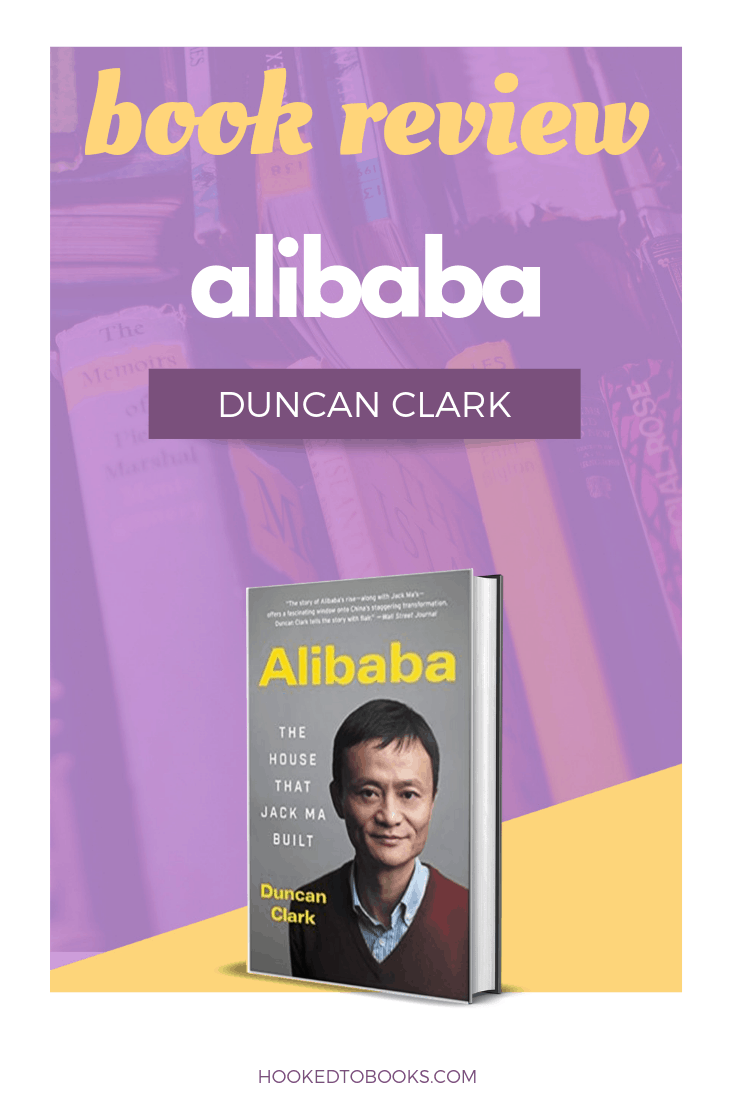 Genre: Computer & Technology Biographies
Author: Duncan Clark
Title: Alibaba The House That Jack Ma Built (Buy the Book)
Summary:
In 1999, in a small apartment in Hangzhou, China, a group of 18 individuals founded a new internet company. These individuals did not come from privileged backgrounds, prestigious universities, or famous companies, but were ordinary people united by a shared vision and charismatic leader.
Their website, Alibaba, has grown to be one of the world's largest ecommerce sites.
Used by hundreds of millions of Chinese consumers, it has fundamentally altered the way consumers shop. In his book, Alibaba The House That Jack Ma Built, former Morgan Stanley employee Duncan Clark explores the origins of this e-commerce giant, and its founder, Jack Ma.
If you love writing, it's time to start a book blog.
start today
(we show you HOW and WHY)
The success of Alibaba is largely due to its charismatic founder and leader, Jack Ma.
Born in Hangzhou, China, during the middle of the Cultural Revolution, Jack had a humble upbringing. Interested by the English language, Jack rode his bike to the town every day to practice his English with the foreign tourists, a skill that continues to pay dividends, as it provides him with the opportunity to network and speak with executives and high-ranking officials around the globe.
As a student, Jack struggled, failing his college entrance exam twice, until finally passing and gaining admission into a teaching college. Jack points to this time as a transformative period in his life, as he learned how to deal with frequent failure and rejection.
In his profile of Jack Ma, Clark shares many of the characteristics and traits that made Jack one of the world's most well-known and prominent businessmen.
Jack demonstrates several qualities that were essential to his success.
Jack's Top 5
High level of ability to persevere through adversity – Jack has frequently persevered through difficult circumstances. This perseverance was on display throughout his early days as he attempted to gain admission into a university and to the early days of Alibaba, as they struggled for venture capital funding and fended off competitors. Successful individuals persevere, even when times are difficult.
Natural leader of employees– He has created a culture at Alibaba that is based on education and development, referring to himself as "Chief Education Officer." He has also worked to make Alibaba a company where individuals are recognized for their contributions, a lesson many readers should learn.
True visionary– He was one of the first Chinese entrepreneurs to realize the potential of the internet, and quickly looked for ways to start ventures to connect Chinese businesses with overseas markets. Successful leaders often can see potential in situations long before others.
Puts customers first in his ventures– Jack's philosophy of "customers first" has contributed to its dominant position in the Chinese e-commerce segment. He constantly obsesses about catering Alibaba's websites to allow its customers to be successful in the Chinese market.
Surrounds himself with talented and diverse individuals– Jack has attempted to surround himself with talented individuals, which has proved to be crucial to Alibaba's success. Because of his lack of technical expertise, he understood the importance of hiring individuals with the right skills and attitude to help Alibaba become a success.
Alibaba's origins date back to Jack's teaching days.
After graduating, Jack started a translation agency with his teaching colleagues to assist Chinese businesses. Accessing the internet on a trip to the United States in 1994, Jack realized its transformative potential.
He returned to China and founded his second business venture, China Pages, a portal designed to connect Chinese businesses with foreign customers.
After his business was purchased by a Chinese state-owned enterprise, Jack worked for the government for a time, but soon launched his next venture, InfoShare.
InfoShare evolved into Alibaba, another portal site designed to connect Chinese small-businesses with overseas customers.

In its early days, Alibaba faced stiff competition from existing Chinese internet portals and American internet companies attempting to push into the Chinese market. Jack was undeterred by the competition, and frequently points out that competition in business should be a "joy."
Instead of capitulating to his better funded rivals, he chose to go on the attack.
Responding to competitive pressures from eBay and Yahoo, Jack moved to diversify Alibaba and began aggressively targeting consumers, which would prove to be the catalyst for growth. That growth resulted in Alibaba's dominant market share.
The company maintains an 80% stake in the Chinese e-commerce market, and its payment platform Alipay is utilized for a whopping $750 billion worth of transactions annually.
Today, Alibaba is focused on its "iron triangle" of competitive advantages: e-commerce, logistics, and finance.
They are aggressively investing in these three areas as the company seeks to gain significant market share.
Alibaba is rapidly diversifying through acquisitions and investments into other areas such as entertainment and healthcare, looking to capitalize on the predicted emergence of the Chinese consumer.
However, Alibaba faces sizeable homegrown competition in these areas, especially from major mobile player, Tencent. Alibaba must work to maintain good relationships with government authorities, and continue to make wise investments and acquisitions to maintain their dominant position.
My Thoughts:
While reading Clark's book, I found the profile of Jack Ma to be helpful in my understanding of traits of successful individuals. I was struck by Jack's ability to persevere through difficult circumstances countless times.
Jack's ability to overcome his challenges, demonstrated through his attitudes and actions, challenged me to do the same in my personal life and career.
I gained a deep appreciation for Jack's management style.
True to his teaching background, he takes great pride in making Alibaba an environment of learning and development. Additionally, he has worked to make Alibaba a culture in which employees are rewarded for their service, and one where hard work does not go unrecognized.
If I am privileged enough to be in a management position one day, I hope to manage and lead my employees as Jack leads Alibaba.
I thought much of what was said in the book about other Chinese internet startups was not helpful, as Clark was not able to effectively draw out the differences between Alibaba and these startups.
Learning about why these startups failed could have been potentially valuable to readers in understanding Alibaba's success, but I felt that the book lacked depth in this area.
Clark's insights into the Chinese economy helped me better understand the transformation that is currently taking place. As he spent a large part of his professional career working in China with Chinese internet companies, he is uniquely well-positioned to provide color commentary on this complex environment.
Clark's thoughts on the Chinese economy piqued my interest. I fully agree with Clark's opinion that Alibaba embodies this fundamental change.
Jack Ma's websites have fundamentally changed the way of life for hundreds of millions of Chinese. They now have access to a wide variety of high-quality products, improved service, and convenience.
This is a fact that Jack and Alibaba understand, and it is visible in their long-term strategy.
I believe Alibaba is in a strong position to capture market share and dominate in areas of the Chinese economy besides e-commerce, and believe that their moves into entertainment, financials, and healthcare will pay large dividends to shareholders in the future.
The market seems to have priced this future growth potential into Alibaba's share price.
Since beginning trading in late 2014, Alibaba has posted a cumulative return of 19.03%.
However, this lags competitors like Amazon and Google, who have posted significantly higher returns over the same period, suggesting that the markets must see some hindrances to future growth.
Alibaba also must do a better job of generating more revenue per employee, as they lag other tech giants like Amazon, Google, and Yahoo.
Personally, I believe that revenue generation per employee will continue to improve over time, as the Chinese e-commerce market continues to mature, and as Alibaba continues to diversify into the different market segments mentioned above.
Introduction
China-based Alibaba is the largest virtual shopping mall in the world. Over 400 million people make purchases on Alibaba's portfolio of websites each year, and it will soon overtake Walmart as the largest retailer in the world by volume.
The company's IPO on the NYSE in September 2014 raised $25 billion, the largest stock market flotation in history.
Alibaba has been revolutionary in transforming the way ordinary Chinese consumers shop, giving them access to a wide range of items and a higher standard of quality than ever before. Alibaba and its websites are playing a pivotal role in China's economic restructuring, helping transition the country into a new economic era.
The man behind this behemoth of Chinese commerce is Jack Ma.
From humble origins, Jack has defied limits and has risen to become an icon for China's rapidly growing private sector, redefining what is possible for Chinese entrepreneurs.
Too many books for your bookshelf? You may need an
e-reader
.
In Alibaba: The House that Jack Ma Built, Duncan Clark, a former Morgan Stanley investment banker, documents the origins of the Alibaba Group and explores the experiences and personality of its founder, Jack Ma.
Jack Ma
Like many of today's successful Chinese entrepreneurs, Jack had a humble upbringing. His mother worked on a factory production line, and his father worked as a photographer at the Hangzhou Photography agency.
Jack was born into a China where private enterprise had almost been completely eradicated under Chairman Mao Zedong during the Cultural Revolution, a time of Chinese political upheaval.
As a boy, Jack became interested in English language and literature.
After leader Deng Xiaoping opened China in 1978 to foreign investment and trade, Jack saw an opportunity to practice his English with the many foreign visitors that were arriving in Hangzhou.
He started waking up before dawn and riding his bicycle 40 minutes to the Hangzhou Hotel to provide free tours for foreign tourists. He did this for almost nine years, practicing his English every day. This dedicated practice has played a large role in Jack's success as a global entrepreneur.
He references this in many public appearances, saying:
"English helps me a lot. It makes me understand the world better, helps me to meet the best CEOs and leaders in the world, and makes me understand the distance between China and the world."

Even with his English language abilities, Jack struggled academically, especially in mathematics. In China, all high school students that plan on pursuing further education must pass a merit-based national entrance exam.
The first time Jack took the test, he failed miserably, scoring a 1/120 in math.
Demoralized by his poor performance, he took a menial job delivering magazines to the Hangzhou train station on a pedicab. With few job prospects, Jack sat for the exam and failed once again, seeing his score decline.
He began looking for work in Hangzhou, sending out 11 job applications, but was rejected 11 times. In his speeches, Jack often recounts how he was even rejected by the local KFC. He was the only candidate out of 24 applicants that was not hired.
Faced with few prospects, Jack resolved to take the exam again, dedicating himself to intensive study.
In 1984, he finally raised his score to obtain acceptance to a local university, the Hangzhou Teachers College. To this day, Jack points to failing the entrance exam twice as a critical component to his development, as the experience demonstrated the importance of not giving up on achieving your goals.
After completing college, Jack began his career as an English teacher and pursued new business opportunities.
In 1994, Jack founded the Hangzhou Haibo Translation Agency, with five staff members.
"Hope" as the agency was called, focused on helping local companies find customers overseas. Hope struggled financially, so Jack and his team began selling goods on the streets of Hangzhou. This transition foreshadowed the development of Taobao, one of Alibaba's most popular sites.
China Pages and the Origins of Alibaba
On a trip to the U.S. in 1994, Jack first accessed the internet. Realizing its potential to revolutionize his business, he had a friend code a website for Hope.
This website was the true origin for the idea of Alibaba- a group of sites helping Chinese companies and merchants find export channels and buyers. Jack called this site China Pages, an English online index of Chinese businesses seeking customers overseas.
China Pages was one of the first companies registered in China that was completely devoted to the internet.
In fact, the internet was so new in China that almost everyone Jack talked to did not know what it was. Jack had difficulty in explaining what "online" meant to his customers, and many thought he was attempting to defraud them.
To overcome this obstacle, he had a Seattle group print out the web-pages and mail them to China, where Jack would show his customers that he had created their web-page.
With the beginning of private internet connection in Hangzhou in 1995, Jack diversified China Pages' business offerings, building webpages for various Chinese government entities.
Even with this additional business line, Jack still struggled to make China Pages profitable, and quickly found itself in danger of collapsing. To save the company, Jack sold China Pages to Hangzhou Dife Communications, a unit of state-owned enterprise Zhejiang Telecom.
China Pages was quickly absorbed by its new owner, and Jack lost control of his venture.
The China Pages experiences taught Jack to not
"be nervous if you face huge competition in the future… with good strategies, you will definitely survive."
This lesson proved critical as Jack's Alibaba Group later battled American internet giant eBay for control of the Chinese e-commerce market.
After the failures of Hope and China Pages, Jack spent a short time working for the Chinese government, leading the development of various websites. Jack began to work on new ventures outside of his government job.
Through his position, Jack had the opportunity to interact with Yahoo co-founder Jerry Yang, which proved to be a transformational experience. Because he spoke English, Jack received Jerry Yang and his colleagues in Beijing, while they were looking for new business opportunities for Yahoo in China.
The meeting resulted in Infoshare, Jack's new internet portal, being named the exclusive sales agent for Yahoo China.
With a new business and source of funding, Jack renamed Infoshare "Alibaba."
Alibaba was chosen for its "open sesame imagery," as well as its ability to be pronounced easily in many languages. A defining aspect of Alibaba was its target market.
While the existing Chinese internet portals focused on linking Chinese businesses to large international companies, Jack chose to target small Chinese businesses, an emphasis that continues today with Alibaba site Taobao.
Finding inspiration from his favorite movie, Forrest Gump, Jack remarked:
"American B2B sites are whales. But 85 percent of the fish in the sea are shrimp-sized. I don't know anyone who makes money from whales, but I've seen many making money from shrimp."
Creating a Foothold
One of the key components to organizational success is hiring qualified and capable individuals. As Alibaba grew, Jack realized that he needed individuals with technology experience to become successful.
For Alibaba, this came in the form of Taiwanese investor Joe Tsai. Almost 20 years later, as Vice-Chairman of Alibaba, Joe still fondly recalls his first meeting with Jack.
In that meeting, Jack outlined his goal for Alibaba- "to connect the millions of Chinese factories with overseas outlets for their products."
After joining, Joe utilized expertise as a Hong Kong-based startup investor to organize Alibaba into a coherent operation.
To raise funding for Alibaba, Jack and Joe traveled to San Francisco to meet with various VC firms. The meetings did not go well, as Alibaba lacked a coherent business plan, and the pair struggled to explain the value in their business idea.
Returning to China, Jack began to take a more active approach in courting the media. He was profiled in Wired Magazine, BusinessWeek, and the South China Morning Post.
Jack's quotes frequently found their way into articles on the Chinese internet bubble. This media attention, combined with Joe Tsai's contacts, led to an investment from Goldman Sachs, a critical component to Alibaba's success.
Armed with the necessary financial resources, Alibaba began designing a new website, and doubled-down on its goal of becoming the leading website in China for business-to-business leads.
By October 1999, Alibaba had signed up more than 40,000 users- many of which were small entrepreneurs who lacked the scale or connections needed to trade through the state-owned trading companies that dominated the Chinese economy.
However, Alibaba still found difficulty in communicating its vision to potential customers.
Jack remarked:
"We don't really have a clearly defined business model."
Due to its lack of consistent revenue generation, Alibaba required a new round of investments and found a new majority shareholder in the Japanese investment firm SoftBank.
Meeting Masayoshi Son at a "speed dating" investment event, Jack captivated the Japanese investment titan with Alibaba's vision. Five minutes into his pitch, Son immediately asked how much SoftBank could invest, a true testament to Jack's persuasive abilities.
SoftBank ended up taking a 30 percent stake in Alibaba, investing $20 million in the company.
After investing, Son remarked:
"I think this will probably be the first Chinese Internet company which will become a global brand, a global success in a big way. I am very excited to make that happen."
Testifying to the power of their vision, Jack and Joe Tsai had raised $25 million for Alibaba from two of the most prominent investing groups in the world in less than a year. They were soon signing up more than a thousand new members a day, rapidly becoming an important player in Chinese e-commerce.
The Bubble Bursts
As Alibaba began to emerge, the internet bubble burst. Hundreds of Chinese internet startups went bankrupt, and many lost opportunities for venture capital funding.
Rather than feel dismayed, Jack was encouraged and saw it as an opportunity for Alibaba, as many of its direct competitors closed their doors. Alibaba moved aggressively to advertise inside of China, and began to develop its plan to expand internationally, broadening its brand.
Jack continued to be an integral component of the Alibaba message, giving speeches at numerous tech conferences and being featured on the cover of Forbes Global magazine, and profiled in The Economist.
While their competitors dealt with difficult times, Alibaba began to refocus, embarking on a strategic plan known as B2C, or "Back to China."
Although Alibaba had received significant funding, they had yet to generate significant revenues. Responding to criticism from investors, Jack and Joe recognized they needed additional management assistance, and brought on Savio Kwan, a former GE employee, as Chief Operating Officer.
Kwan set about trying to "ground Alibaba in reality and make it into a business."
He quickly began reorganizing the company. Kwan cut expenses, onshored technology development, began hiring Hangzhou-based employees to reduce labor costs, and expanded Alibaba's sales team. Even with these strategic changes, Alibaba continued to struggle to develop a sustainable business.
One defining attribute of successful individuals is when they face adversity, they make the most of the situation.
Jack Ma is no different. During these difficult times, Jack considered quitting, so he could return to teaching. However, Jack and his team chose to persevere, wanting to ensure the survival and success of Alibaba. Much of success is driven by simple reactions to our emotional responses.
Jack frequently cites those difficult days in his talks to current Alibaba employees, stressing the importance of not giving up.
He remarks:
"At that time, my slogan was 'Be the last man standing.' Be the last person to fall down. Even on my knees, I had to be the last man collapsing. I also believed firmly at that time that if I had difficulties, there must be someone who had worse difficulties; if I had a hard time, my opponents had an even harder time. Those who can stand and manage will win eventually."
Jack Ma Goes to Battle
Up until this time, Alibaba had been solely focused on linking Chinese businesses with the global business community. Jack began to look at targeting the Chinese e-commerce market.
While this decision was primarily driven by the search for new revenue sources, Jack saw it as a defensive maneuver. American internet giant eBay had just entered the Chinese market by taking a stake in EachNet, a Chinese e-commerce platform.
Jack was concerned that eBay's large sellers would grow their businesses to compete against Alibaba in the B2B space.
With additional capital for the new venture from SoftBank, Alibaba began developing a new site that would be known as Taobao, which is Chinese for "hunting for treasure," that was launched in 2003.
Taobao began to act aggressively against eBay China, taking advantage of eBay's inability to manage EachNet effectively. After acquiring a majority stake in EachNet, eBay created cultural mismatches. They transferred American executives to China, fundamentally altering the website and negatively impacting listings and relationships with Chinese sellers.
Alibaba leveraged its knowledge of the Chinese market, and designed its website and services accordingly, structuring Taobao like a local bazaar, attracting many customers.
Taobao also could better connect with Chinese merchants, providing free listing on the site for their products.
As EachNet and eBay China charged sellers commissions on their transactions, they drove away the massive number of Chinese merchants who were looking for an online e-commerce platform to use. This decision, combined with eBay's decision to offshore EachNet's servers, resulted in the downfall of the site, leaving Taobao as the undisputed Chinese e-commerce market leader.
Boosted by their win over eBay China, Alibaba significantly benefited from Yahoo's failed entry into the Chinese market. Faced with poor results and years of frustration, Yahoo co-founder Jerry Yang made the decision to give control of Yahoo's Chinese business to Alibaba.
It invested $1 billion, taking a 40% stake in the new company.
From this deal, Alibaba built Taobao and Alipay, China's version of PayPal into titans of Chinese e-commerce.
By the time eBay exited the Chinese market in 2006, Taobao's users numbered 30 million. Within three years, they were 170 million, and sales on the platform had grown to $30 billion. With the success of Taobao, Alibaba issued its first IPO in 2007, raising additional funding for expansion.
The Global Financial Crisis
Taking care of customers is a top priority for Jack and Alibaba. In the middle of the global financial crisis, Alibaba's financial situation deteriorated, and its share price plummeted.
Rather than look for new sources of revenue by charging fees to Alibaba site users, Jack instead reduced subscription fees, demonstrating the importance of putting the customers' needs first.
Many analysts identify the Great Recession as the turning point in China's economic focus, as it shifted from an export-based to a consumption-driven economy.
The financial crisis helped Alibaba assist their customers in targeting these consumers more effectively.
As the Chinese factories that utilized Alibaba quickly saw their international customers reduce their orders, they looked inside of China for new revenue sources.
As the market leader, Taobao was positioned well to benefit from the switch, and its market share climbed to almost 80%.
Today, Alibaba is organized into three main websites. Taobao, China's third-most visited website, is the "everything store" where small merchants sell directly to Chinese consumers. Tmall, Alibaba's "shopping mall" like site, is utilized by large retailers and luxury brands to sell directly to Chinese consumers.
Lastly, Alibaba operates a Groupon-style site that has become the largest online group-buying site in the world.
Alibaba and the Chinese Economy
Alibaba and Jack Ma have fundamentally transformed the Chinese economy. Hundreds of millions of Chinese now have access to a wide-variety of quality products, supplied by millions of small businesses and major global corporations.
Shopping online in China has become a lifestyle, demonstrated by the 40% of Chinese that purchase their groceries online. Jack has become the standard-bearer for the Chinese entrepreneurial revolution and is sure to have an even larger impact in the future.
Jack is encouraging Alibaba to pursue opportunities in what he calls the company's "iron triangle."
The iron triangle is the term used to describe Alibaba's competitive edge in e-commerce, logistics, and finance.
By utilizing Alibaba's e-commerce platforms like Taobao, Tmall, and Alibaba.com, Alibaba has significant power in this space, holding a market share of 80%. Alibaba's relationships with the Chinese logistics firms are also some of the best in China, and they can coordinate the delivery of goods to consumers in an extremely efficient manner.
Finally, Alibaba's competitive edge in finance cannot be overstated. Its payment platform, Alipay handles over $750 billion in payments every year. Some analysts value the tool at $25 billion. Alibaba is constantly looking for new ways to expand Alipay into a complete banking tool, accessing a potentially lucrative market for credit cards and loans.
Alibaba and the Chinese Government
Alibaba's second IPO came in 2014, when it raised $25 billion and saw its value skyrocket to almost $300 billion. This number quickly fell, as Alibaba dealt with a public dispute with a Chinese government agency that accused it of selling counterfeit goods on its sites and allowing its employees to take bribes from vendors.
To alleviate the situation, Jack was forced to meet with Chinese internet regulators and commit to rooting out the sale of fake goods on Alibaba, a significant challenge that continues today. Alibaba's relationship with the Chinese government continues to be difficult to assess.
Many analysts believe the Chinese government does not know how to deal with a company that has as much influence as Alibaba.
Jack's continued focus is to maintain a level of strong respect between the two parties. He looks to maintain this relationship with frequent interactions with high-ranking Chinese officials.
Additionally, Jack invites highranking party members to participate in Alibaba's large events such as its Singles Day promotion, watched by millions of Chinese consumers.
Jack is frequently seen as an "insider" with the Chinese government, and this status will certainly be crucial if Alibaba wants to continue its growth into the future.
Jack Magic
Alibaba's massive success could not have happened without Jack's infectious charm and personality. He has utilized it to attract talent and capital to the company.
He has also used it to promote his own personal brand. He is one of the world's foremost communicators, delivering speeches that are easy to listen to, remember, and digest.
Quotes from his speeches frequently circulate online and appear in a wide-variety of newspapers and magazines. He is a master of appealing to people's emotions, filling his speeches with humorous stories and tales of overcoming challenges and defying the odds.
His many public appearances have certainly contributed to the global knowledge of the Alibaba brand.
One unique aspect of Jack Ma is how he chooses to deal with his competitors.
He sees competition as a joy, rather than something to be avoided.
This was most prominently put on display in the early 2000s, as Alibaba dealt with constant threats to its competitive position, especially from eBay.
From this experience came one of Jack's timeless lessons:
"If you can't tolerate your opponents as enemies, you have already lost the beginning of the game. If you hang your opponent as a target, and practice throwing darts at him every day, you are only able to fight this one enemy, not others. Competition is the greatest joy. When you compete with others, and find that it brings you more and more agony, there must be something wrong with your competition strategy."
Jack's emphasis on caring for his employees works to make Alibaba a place where people feel valued. As David Wei, the former CEO of Alibaba said:
"Jack understands people more than any business. He knows business well, but if you ask me [of] the three skills Jack has amongst people, business or IT, IT is the worst, Business is second, and people the first."
Alibaba's first IPO was motivated by Jack's desire to reward his employees.
He knew he needed to give them an opportunity to sell their shares so they could build their lives and reward their families. Jack is also an executive that is focused on providing opportunity.
Speaking about his management style, he said:
"I believe that we should give opportunities to young people in China, sharing the future with them… I believe [in] customers first, employees second, shareholders third. We wouldn't have this company without our staff."
Jack's constant focus on his employees is a lesson many executives in corporate America should heed.
Jack also takes great pride in training and developing his employees. Much of this comes from his passion for teaching. Although he left the profession in the early 1990s, Jack has found new ways to instruct others at Alibaba.
During his time as CEO, he frequently joked that his title meant "Chief Education Officer."
Alibaba prides itself on its hardworking culture.
Much of this is due to Jack's relentless work ethic, and his constant encouragement. In Alibaba's early days, Jack focused on fostering a relentless work ethic to foster growth and innovation.
He encouraged his employees to "learn the hardworking spirit of Silicon Valley… If we go to work at 8 A.M and get off work at 5 P.M., this is not a high-tech company and Alibaba will never be successful." This culture fits Alibaba's origins.
At its founding, Jack Ma and his wife Cathy, were the lead shareholders. It was cofounded by 16 others, six of whom were women. None of the founders came from privileged backgrounds, prestigious universities, or famous companies.
This was a team of ordinary individuals, brought together by a common purpose and a charismatic leader. This certainly speaks to the power of purpose and the ability of a strong leader to unite and encourage a team to success.
Alibaba has looked to maintain this culture and attract and hire this type of person, even as it has grown to be one of the largest e-commerce businesses in the world.
When building up his team, Jack prefers hiring people a notch or two below the top performers in their schools. Jack believes that the college elite would easily get frustrated when they encountered the difficulties of the real world.
In the early days of Alibaba, the earliest hires earned barely $50 per month. They worked seven days a week, many times working sixteen hours a day.
Jack is dismissive of business school graduates, saying:
"It is not necessary to study an MBA. Most MBA graduates are not useful… Unless they come back from their MBA studies and forget what they've learned at school, then they will be useful. Because schools teach knowledge, while starting businesses requires wisdom. Wisdom is acquired through experience. Knowledge can be acquired through hard work."
Alibaba's Future
Although strongly positioned in the e-commerce market, Alibaba is facing significant competition in many categories. To counteract these challenges, it has begun investing aggressively in traditional retailers, increasing its physical presence.
Alibaba is increasingly facing stiff competition from internet giant Tencent, especially in mobile payments and banking, an area cited by many analysts as the next major Chinese economic battleground.
Alibaba is continuing to diversify its portfolio of investments, acquiring mapping companies, social media platforms, and investing heavily in ride-sharing company Didi Kuaidi.
Alibaba is truly becoming a conglomerate.
Beyond technology investments, it has begun developing a healthcare service, has purchased sports teams, and is one of China's leading investors in film, television, and online video.
Alibaba appears to be well-positioned for the projected emergence of the Chinese middle-class consumer with numerous opportunities to capitalize on this new market, ensuring it will be a major player in global commerce for years to come.
Conclusion
In Alibaba The House That Jack Ma Built, former Morgan Stanley investment banker Duncan Clark explores the origins of Alibaba and its founder, Jack Ma.
From its humble origins in a small apartment in Hangzhou, China, Alibaba has emerged as a global e-commerce leader and is fundamentally changing the way Chinese consumers shop for products. Alibaba's success has been largely driven by its charismatic founder, Jack Ma.
Jack has demonstrated an ability to consistently overcome adversity in his life. From college entrance exams, fierce competitors, and global recessions, Jack has demonstrated his perseverance and his unique leadership abilities to take his company to new heights.
Without his leadership, it is likely that Alibaba would not have succeeded.
Additionally, Jack's abilities to envision an internet-driven future have played a crucial role in Alibaba's success. Looking to the future, Alibaba has the potential to become an even larger economic player in China, as it moves into entertainment, healthcare and banking.
HookedtoBooks.com would like to thank the
Titans of Investing
for allowing us to publish this content. Titans is a student organization founded by
Britt Harris
. Learn more about the organization and the man behind it by clicking either of these links.
Britt always taught us Titans that Wisdom is Cheap, and principal can find treasure troves of the good stuff in books. We hope only will also express their thanks to the Titans if the book review brought wisdom into their lives.