On the mention of a lamp, there are a few prescribed notions and memories one carries with them. It could be a childhood memory of toppling off a lamp. If not that, it could be a more recent experience which features a gripping book and a long overnight read.
For me, and many ardent readers, lamps play a role more inherent than most of our possessions. Therefore, unsurprisingly, to buy a suitable and well-lit lamp is a tedious and finicky job. Getting perfect reading lights was never an easy task. This was only until Brightech reading light recognized itself as a worthy option.
When a friend of mine decided to gift me a reading lamp, I came to know about Brightech. The gift, in all honesty, didn't appeal to me. My friends are well aware of the fact that I am an ardent reader. Hence, reading lights are something I already have in my possession.
Though I appreciated the gesture well, the level of expectation regarding the gift was utterly minimal. The gift was a popular product, a Brightech LightView LED Pro. With no particular expectations, when I tried out this product, I was sheerly overwhelmed. The lamp was nothing ordinary lamps and grossly changed the reading experience for me.
A Perfect Hobby Light
The LightView Pro I was gifted, in no time, became my favorite. The features and clarity of the lamp are things I had never experienced before.
The lamp by Brightech is specifically designed to provide a comfortable, and ambient source of light. These famed reading lights by Brightech are a proficient option when it comes to an efficient hobby light.
The unique lamp was embedded with a magnifying lens which is expressly provided to offer higher and brighter clarity. The clear and bright light, when paired with the creative lens, made the words from the book hover.
Unlike normal reading or working lamps, the LightView Pro fits with multiple joints. It had a robust clamp that helped to direct the light flexible.
Most Brightech lamps similar to LightView Pro like- Circle LED, Contemporary floor lamps, etc., are equipped with a light intensity adjuster. At a mere press of the button, the light can be made dimmer or brighter. As a reader, these features proved to be highly proficient for me. My eyes no longer strained from surplus or inadequate illumination.
The lamp was not just a small lamp but an innovated take to redefine indoor lighting.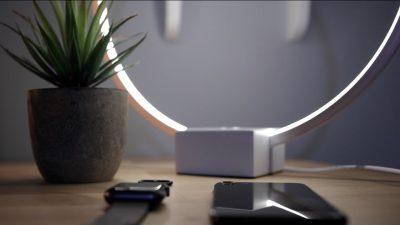 Function and Design
The most important and conspicuous factors that set my Brightech lamp apart from its competition is its state-of-the-art design and structure. The brand aims to create lamps that don't only conform to reading standards but also every decorative notion and occasion. The modernized features and designed sets the LightView LED Pro lamps in stark contrast to the regular lamps:
Compact and fit for every occasion
The LED lights are bolted into the starkly promising design at an angle; maximizing the emanating light.
Highly durable and promises a long-lasting service.
Smooth swivel joints for easy adjustment.
Unique magnifier lamps (LightView Pro) for intricate hobbies like reading, sewing, etc.
Light intensity adjuster to dim or brighten the light.
Safe Natural Light
Natural light is indisputably the most preferred light when it comes to any task. However, when the sun has set, and natural light is unavailable, lamps are the best options.
The incandescent light radiating from the lamps are the most synonymous to the natural light. Brightech reading lights are undoubtedly the leading brand when it comes to subtle and adequate lighting. My very own LightView Pro is a tested and approved lamp. It is designed to provide sufficient lighting that is safe for the eyes.
Regular lamps have a standard bulb lighting which might be sufficient. However, can cause strain to the eyes later on with the changed surroundings. Too dim or extra bright light can cause damage to the eyes.
[socialpug_tweet tweet="Regular lamps have a standard bulb lighting which might be sufficient. However, can cause strain to the eyes later on with the changed surroundings. Too dim or extra bright light can cause damage to the eyes. Read more…" display_tweet="Regular lamps have a standard bulb lighting which might be sufficient. However, can cause strain to the eyes later on with the changed surroundings. Too dim or extra bright light can cause damage to the eyes."]
Brightech reading lights, like my LightView Pro, has the light variation button which allows me to change the intensity. I can, thus, adjust the power of the illumination according to my comfort. This feature grants me control and prevents unwanted damage to my eyes.
A Reading Lamp for Kids
Children often indulge in activities at odd hours. Some kids prefer to scribble and draw and paint at the most random of times. While some youngsters tend to discover their inner book lover when the clock is past evening hours, for them, a good quality lamp in their room can offer them the help they need.
The same lamp used by me for my reading, turns out, is equipped enough to suit a children's need too. The LightView Pro's magnifying lens and LED radiance can provide excellent support to children in their leisure activities.
The ambient light from the lamp is ample and adequate. A child can read without any damaging strain to his/her delicate young eyes. The standard lamps provide unfiltered or non-adjustable lighting. However, mine is safe for their tender vision and produce bright lighting befitting their needs.
My LightView Pro is designed with durable material and a strong core. It can withstand simple negligence and avoid getting broken. As I checked on the Brightech website, I discovered that the same lamp is available in custom designs. It has designs like cartoons and comic themes. This feature is available for other lamps, too. This makes it more tempting for young minds.
Another Brightech lamp, the Circle LED, is equipped with a USB port which comes in handy for students. A unique feature of this lamp is the flexible joint propelled movement. This feature makes the lamp adjustable according to one's comfort.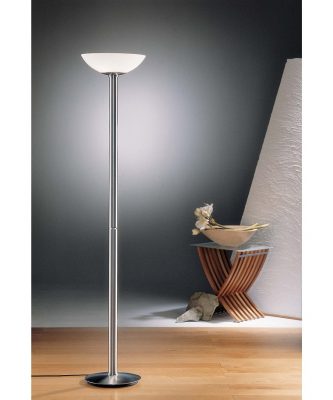 Simple and Occasional
In a confessional tone, the LightView Pro I received was much more attractive to look at than the regular one I had. Its aesthetic look further consolidated the lamp's impressive features.
I realized that Brightech reading lights are designed in a manner that it suits reading table. However, it can also match the living room aesthetics. The modern designs are pleasing to look at and can assume different roles effortlessly.
Thus, it was decided by me to fit another lamp into my budget, and unsurprisingly Brightech was my preferred option. Not only was I impressed by the elegant modernized look, but the pocket-friendly prices for the products left me bewildered.
On searching for other options, I came across the Brightech Sparq 2 collection. It features a sleek and bent design that's wonderful to look at. The leaning arc-like structure is embedded with a powerful LED which serves the purpose of illuminating the surrounding. The sturdy base of the lamp further allows independent adjustment of the light.
Another great option I found is the Brightech Mode Contemporary reading lights. These fancy lamps are structures in a genuine wood base. It adds an aesthetic element while also providing clarified and nice ambient light. These features are seldom found in regular lamps. However, they are being offered at a similar cost range by Brightech, making it an exclusive steal.
In the end, I did some curious research on the brand I have been utterly impressed with. It turns out, Brightech is a Los Angeles based company which is leading an innovative and inventive approach towards indoor lighting. Their extensive range of lighting appliances is a level of high design and sophistication. The quality furthermore is rugged and thus reputed in the domain.
The reading lights by Brightech are labeled as a versatile option by readers, painters, tailors and regular customers alike.
To me, it was a completely unsolicited favor done by a friend which changed my entire reading routine. Therefore if I were to be asked, I would fall short of words praising the lamp I own and the Brightech brand as a whole.