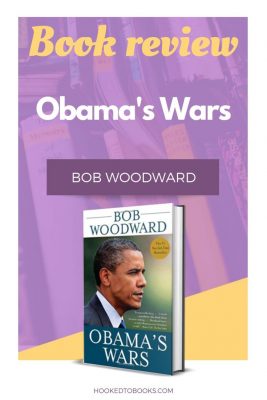 Genre: Non-fiction
Author: Bob Woodward
Book Title: Obama's Wars (Buy the Book)
Summary:
Although the world may know of the United States counterinsurgency efforts as conveyed by President Obama and his staff, the decisions stem from a broader narrative that largely took place behind closed doors. Bob Woodward, in Obama's Wars, tells the detailed story that led to the president's final decisions.
He conducts numerous interviews with our country's civilian and military leaders in addition to scouring through National Security Council meeting notes, memos, letters, emails, transcripts, and diaries to ultimately write "the book designed to present, as [his] reporting could determine, what really happened."
The book begins with a detailed account of the political status quo in the aftermath of the Bush era. As Vice Admiral Michael McConnell, the Director of National Intelligence, and Geoffrey Morrell, Pentagon Press Secretary, brief President-elect Obama on the classified intelligence operations of the United States, he learns that major terrorism hotspots abroad demand substantial action from the United States on an accelerated timeline.
With newly inherited responsibilities, President Obama along with members of the White House and the Pentagon, begin to develop a strategy targeting the looming threats in Afghanistan and Pakistan. The president must take careful action in a mission that cannot be accomplished without the Pentagon's support to carry out the intended mission along with the cooperation of historically unreliable leaders of corrupt governments in the Middle East.
Bruce Riedel, Chairman of the Interagency Policy Review of Afghanistan-Pakistan and General Stanley McChrystal, Commander of the U.S. and NATO forces in Afghanistan, provide a foundation for the counterinsurgency strategy that is later implemented by the military. However, the final strategy decisions are not made without extensive review, debate, controversy, and the fight for more options in a war with finite resources.
Woodward's account of the political reality during the Obama Administration sheds light on the sensitive nature of the strategy review process, as every action considered involves its own unique potential long-term ramifications. Under a public eye that is largely critical, President Obama must ultimately make a polarizing decision while balancing the opinions of the civilian leadership with the advice offered by notable leaders of the military, such as General David Petraeus who proves to contribute an experienced perspective throughout the process.
Introduction
Obama's Wars tells a narrative far beyond the wars themselves; piecing together information from classified meeting notes and interviews, Woodward tells the greater story of political transition to the Obama Administration at a time of intense warfare and geopolitical complexity.
Through an insider's lens, we learn of the flaming tensions in Afghanistan and Pakistan, the way they shape the formation of President Obama's cabinet, and the sensitive interplay between the United States and the Middle Eastern conflict which places significant power in the hands of our freshly minted "First Customer," President Barack Obama.
The Aftermath and a New Beginning
The Obama Administration began in the aftermath of the Bush-era – a time rode with war, conflict, and threats of terrorism, which left President-elect Obama to begin assembling his team during a war "with no good options" and no easy route to pacification. The heated geopolitical conditions necessitated an effective contingency plan for a few hotspots across the Middle East and, in turn, demanded answers to difficult questions. This journey began within the confines of the Sensitive Compartmented Information Facility (SCIF).
In November 2008, President-elect Barack Obama and Mike McConnell, the director of national intelligence (DNI) of the Bush Administration, met in Chicago for the President-elect's first major briefing on the classified intelligence operations of the United States. This conversation would expose him to his new responsibilities–his new challenges–while marking the beginning of his reign as President of the United States.
LOCATION: Sensitive Compartmented Information Facility, Chicago
KEY PLAYERS: President Obama
Vice Admiral Michael McConnell, Director of National Intelligence
Geoffrey S. Morrell, Pentagon Press Secretary
Terrorism in the Middle East
Vice Admiral McConnell explained that although the previous administration placed a significant focus on combatting problems in Iraq and Afghanistan, a new threat emerged from a nuclear-equipped Pakistan and the ungoverned regions where the al Qaeda network and extremist insurgent Taliban branches nest their facilities.
Pakistan's Inter-Services Intelligence (ISI) had been simultaneously pursuing two contrasting narratives–one in which it supports U.S. interests and another in which it funds the Taliban. Although its leadership claimed to be a partner to the United States, Pakistan's focus on its historical priority–India–would continue to stifle its loyalty to the U.S.
Pakistani dishonesty combined with interconnected terrorism in the Middle East forced the U.S. into a compromising position as the fulcrum of a precarious see-saw that, if imbalanced, could spark conflict with an impact spanning the Middle East. If the U.S. left Pakistan, the country would risk being encroached and encircled by Afghanistan, India, and Iran; however, if the U.S. remained in the country, President Obama would need to answer the difficult question, "How do we proceed?"
Cyber Warfare
"Wealth was most often just an entry on a computer."

– Bob Woodward
It is important to note that national security threats did not cease to exist past the glaring terrorism in the Middle East; danger's broad definitional outlines extended to the looming threat of cybersecurity.
Following Chinese hacks into Democratic and Republican campaign computers in the summer of 2008, the U.S. developed offensive strategies including Computer Network Attack (CNA) and Computer Network Defense (CND). CNA, "the most sophisticated stealthy computer hacking," has the power to enter foreign computer systems, while CND protects the U.S. banking, electrical, air traffic control, and telecommunications systems from infiltration.
After receiving his first major classified briefing on national security, President Obama recognized the gravity of the geopolitical status quo, deeming the information regarding both militant and cyber warfare "sobering, but not surprising."
Although he wanted to focus on the war in Afghanistan, the President quickly realized that other hotspots across the Middle East demanded attention from the U.S. No plans were in place to handle Iran, Yemen, or Somalia, nor had the U.S. prepared responses for the possibility of Pakistan becoming a radical Islamic state armed with nuclear capabilities. The current state was dubious, but one thing became clear: President Obama and his team needed to form a bulletproof contingency plan.
"I'm inheriting a world that could blow up any minute in half a dozen ways, and I will have some powerful but limited and perhaps even dubious tools to keep it from happening."

– President Obama
King David, the "Legend of Iraq"
Having taken over the Central Command during the Obama administration, General David Petraeus was in charge of both the wars in Afghanistan and Iraq. During his career thus far, he had built a reputation resembling that of a revolutionary.
He redefined the notion of warfare in his Counterinsurgency Field Manual, recognizing that the U.S. could not "kill its way out of war" but instead must protect the population, provide security, and in turn, enable a stable government to thrive.
During his successful time in the previous administration, General Petraeus had direct access to President Bush and former Vice President Dick Cheney. However, Obama's presidency would drastically alter that reality.
"If President Bush told Petraeus yes, Obama was prepared to say no."

– Bob Woodward
Afghanistan
Nearing the end of the Bush administration, it was concluded that the U.S. could no longer stay in Afghanistan without resolving three major problems, which President Obama would inherit as his own:
Improving governability
Lowering corruption levels
Eliminating Taliban sanctuaries
By the time President Obama's administration began its reign, a large sector of U.S. policy was "on autopilot," which provided a unique challenge to break the passive system in place and impose a new objective-oriented counterinsurgency strategy.
Confronting the AfPak Threat
Prior to President Obama's inauguration, Vice President Biden traveled to Afghanistan and Pakistan with Lindsey Graham, Republican Senator of South Carolina, with one ultimate goal amidst a complex problem: To set the expectations straight with foreign leaders in the Middle East.
During the visit with Pakistan's President Zardari, Vice President Biden and Graham balanced pressure with reassurance in a calculated effort to convey that (1) Pakistan would have to work with the U.S. in order to make progress, and (2) ISI ties with the Taliban cast doubt in American minds.
"We can't fix Afghanistan without Pakistan's help."

– Vice President Joe Biden
In what would later be referred to as "a dinner to remember," Vice President Biden and Graham met with Hamid Karzai, the "manic-depressive" leader of Afghanistan who was notably sympathetic to India.
Because Karzai's government was no stranger to corruption and routine public berating of Americans for civilian casualties in Afghanistan, Vice President Biden and Graham felt it was necessary to finally crackdown and demand that Karzai "cease playing to his domestic audience."
"If you do not show spine… then all bets are off."

– Vice President Joe Biden
Following the meetings with Zardari and Karzai, Graham explained to President Obama that some progress within the next year was absolutely essential, as the current climate necessitated "better governance in Afghanistan, prosecutions for corruption, send[ing] people to jail, or an Afghan army that could go through the door first in a raid"–a long list of objectives that would soon pose great challenges to the administration.
Graham told the president that without those "game-changers," he would lose the public, implying that Republicans would be quick to work against President Obama, just as the Democrats did against President Bush. After shedding light on the solemn yet realistic possibility, Graham was quick to convey something that would persist throughout the rest of President Obama's time in office–a sense of support and shared responsibility for the challenges ahead.
"Mr. President… This is not your war. This is our war."

– Lindsey Graham
If you love writing, it's time to start a book blog.
start today
(we show you HOW and WHY)
LOCATION: Air Force One
KEY PLAYERS: President Obama
Bruce O. Riedel, Chairman, responsible for the Interagency Policy Review of Afghanistan- Pakistan
In just the span of one hour on Air Force One, a conversation took place between President Obama and Bruce Riedel that would mark a significant shift in the consideration of the Middle East's wars. Ceasing his treatment of the terrorism conflicts and war as distinctly separate problems, President Obama would recognize the intertwined nature of the conflicts abroad and would begin, as Woodward posed it, "confront[ing] Afghanistan and Pakistan as two countries but one challenge: AfPak"
Acknowledging Pakistan as the primary threat, Riedel outlined an ultimate goal "to disrupt, dismantle and eventually defeat Al Qaeda and its extremist allies, their support structures and their safe havens in Pakistan to prevent their return to Pakistan and Afghanistan."
By building up the Afghan National Army, he hoped reinforced stability would allow the U.S. and NATO forces to gradually withdraw. However, the gradual diminishment of U.S. presence would require that the U.S. also give the Pakistani military what it needed to fight a counterinsurgency war against terrorist groups: helicopters.
The nature of U.S. engagement with Pakistan was extremely sensitive because there were infinite potential actions to take, and along with that optionality came infinite ways for plans to rapidly go south. The problem was rooted in decades-long tensions between Pakistan and India. Pakistan dreaded having a large Afghan army on its border that might act in alliance with India, and one of the U.S. objectives was to build that army–a substantial risk that would inevitably add another layer of complexity to a region already embroiled in conflict.
On the other hand, further engagement–even sending helicopters–to Pakistan had to be done with utmost caution to avoid provoking a heated response from India's leadership, which was concerned that the U.S. was filled with "closet Pakistani lovers," among its other suspicions.
The Riedel meeting was pivotal for more reasons than the renewed treatment of Middle Eastern terrorism as one problem requiring a unified approach; it also sparked debate about how to define American goals in Afghanistan while also finally targeting the problem of Pakistan with a policy that would be both pragmatic and sustainable.
In regard to the renewed focus on Pakistan, Woodward noted that the U.S. was certainly beginning to address a difficult problem, but also that the review team had not necessarily found an encompassing solution. By attempting to tackle problems in Pakistan, President Obama and his team were inheriting a basket of infinite complexities including the urgency to prevent the Taliban and Al Qaeda from expanding and making further inroads against the state; reinforcing Pakistani governance standards in a status quo that was ridden with contradictions, having expressed support for the U.S. while simultaneously funding terrorist efforts behind closed doors; and, rebalancing Pakistan's engagement to support the civilian sector while holding the army accountable without ultimately weakening the state against insurgent enemies.
Woodward points out that although the one-hour Riedel policy review marked a pivotal point, it lacked a focus on the American role in the war and diplomatic reconciliation among the warring parties, and instead, emphasized the military. Further, President Obama would later come to regret the private nature of the conversation, wishing that at least four or five people were able to provide different perspectives.
KEY PLAYERS:
Joseph R. Biden, Vice President of the United States
Hillary Rodham Clinton, Secretary of State
General James L. Jones, National Security Adviser; U.S. Marine Corps, retired
Following the review of the Riedel Strategy, Vice President Biden, Secretary Clinton, and General Jones concluded that there were three force options:
Counterterrorism "Lite:" No more troops and plan to potentially withdraw
Supported by Vice President Biden
4,000 more trainers for the Afghan army
Recommended by General McKiernan, General Petraeus, and Secretary Gates
Ramping up to full counterinsurgency: One member of the U.S. NATO military, Afghan army, or police for every 40 or 50 people in Afghanistan, requiring 10,000 troops
"A position that no one had even come close to advocating, including Petraeus"
Progress [Or Lack Thereof] Checks Abroad
To the President's relief, a meeting with President Zardari confirmed that the tactic to balance the pressure with reassurance during Biden's and Graham's earlier visit had been an effective tool; some progress had finally been made. A Pakistani operation in the Swat district involved sending 15,000 troops in one of the largest operations against the Taliban; this would be an important step in the right direction.
However, the dysfunctional nature of the leaders of the Middle East would soon be revealed by Zardari's and Karzai's conspiracy theories, namely one claiming that the U.S. was using the Taliban to topple the Pakistani government.
KEY PLAYERS:
Admiral Michael G. Mullen, U.S. Navy; Chairman of the Joint Chiefs of Staff General Stanley A. McChrystal, U.S. Army; Commander, U.S. and NATO forces, Afghanistan
General Jack Keane, retired Army General
Although Pakistan was proving to show some progress, Afghanistan remained a difficult problem for the U.S. Admiral Mullen attempted to get to the root of the problem regarding U.S. efforts in Afghanistan, claiming that "the under-resourcing of Afghanistan was much deeper and wider than even [he] thought. It wasn't just about the troops. It was intellectually, it was strategically, it was physically, culturally."
Admiral Mullen's negative assessment of the leadership was not groundbreaking news; earlier, General Keane had voiced a similar lack of support for the Afghanistan strategy, claiming that General David McKiernan, the previous Commander of U.S. and NATO forces, was the wrong fit for the job. He was old-school; rather than accepting coaching from General Petraeus, he resorted to caution and conservatism to a fault.
After concluding that the biggest missing resource was leadership, Admiral Mullen influenced President Obama to replace General McKiernan with General Stanley McChrystal, who was known for his tendency to constantly question the status quo.
He became the commander who
notably refused to consider "a drop or increase in Taliban attacks to be a reliable measure of progress," and instead, always pushed for something more–something substantial.
"Center stage one day, gone the next."

– Bob Woodward
The McChrystal Assessment
During his yearlong reign as Commander of U.S. and NATO forces, General McChrystal formed a strategy review team–a concept that came straight from General Petraeus's playbook for Iraq. The team would resemble a consulting group, comprised of scholars at the Brookings Institution, the Center for Strategic and International Studies, the Council on Foreign Relations, the RAND Corporation and elsewhere, with the expectation to challenge the assumptions of high-ranking generals.
General McChrystal's guiding questions for the review were ambitious and hard-hitting, including "Is the mission achievable; if so, what needs to be changed to accomplish the mission; and are more resources necessary to complete the mission?"
Following trips through Afghanistan, the team discovered that the war was becoming increasingly Americanized, with NATO simply providing the guise of an international effort despite little actual immersion with the Afghan civilians. They concluded that a successful effort required a better understanding of the Afghan people–a realization that motivated them to recommend that the team "widen the aperture to focus on the people they wanted to protect" and determine who the Afghan people truly were and what it was they wanted.
This movement to protect the Afghan people required four major changes proposed by General McChrystal: (1) accelerate the Afghan National Security Forces (ANSF), (2) prioritize the governance, (3) enhance programs for reconciliation and reintegration, and (4) establish a geographic concentration for the efforts. To achieve the goals outlined in his recommendation, General McChrystal requested that 40,000 more troops be sent to Afghanistan. Although initially stunned, Robert Gates, Secretary of Defense, ultimately expressed support.
"An emphasis on force protection was causing the coalition to lose the Afghan people."

– Bob Woodward
President Obama believed the McChrystal assessment "clarified a gap in what had come out of the Riedel report." In his opinion, "the Riedel report retained ambiguity about what [the] central mission was… It was interpreted by some as an argument for a beefed-up force that was conducting a counterterrorism strategy."
However, the President remained unconvinced of the General's declaration that without more forces, the war would likely end in failure within the next 12 months. President Obama wanted more options, remaining apprehensive about a full counterinsurgency because it implied that Afghanistan may become a U.S. responsibility in the long term.
General McChrystal's assessment also encountered some apprehension from Vice President Biden, who laid out an alternative that he called "counterterrorism plus." Instead of a troop- intensive counterinsurgency, the plan focused on what he believed was the real threat–al Qaeda. Biden believed al Qaeda could be deterred from returning to Afghanistan without a costly U.S. mission to protect the Afghan people.
"If you don't get Pakistan right, you can't win."

– Vice President Joe Biden
LOCATION: The Situation Room
At a gathering with some of his most senior national security team, President Obama posed numerous questions about the counterinsurgency actions that his team would need to address:
Given finite resources, what were the opportunity costs? Were other national interests being overlooked because of the focus on this?
How does counterinsurgency target the dominant problem of corrupt governance?
Do counterinsurgency efforts in Afghanistan even get Pakistan to move in the right direction?
How do we get good intel and targeting with a smaller presence on the ground?
Why do we have to make an accelerated decision?
The President made it clear that he refused to presumptuously accept a solution; he concluded the meeting by emphasizing that none of the current options looked good and that they would need more time before any clear conclusions would be made–a request that would soon be ignored by members of his team who publicly voiced support for more troops.
"We need to come to this with a spirit of challenging our assumptions."

– President Obama
Amid the internal controversy of the matter, President Obama's narrative was becoming increasingly difficult for the public to understand. A loss of Republican support was taking a significant toll on the president's ratings, with "45 percent approving of the president's handling of the situation… down 10 points in a month, 15 points since August and 18 points from its peak;" the administration realized it would not be able to win the public while keeping their perception foggy. Ultimately, it became clear that one crucial question had not been articulated to the public: Why was the United States in Afghanistan, and what are American interests?
The initial intentions to retaliate in response to September 11, 2001, terrorist attacks in a display of American intolerance of terrorism and to deny al Qaeda a safe haven in Afghanistan no longer provided a comprehensive response to why the war ambled along under-resourced for eight years. The administration would have to find a way to articulate their actions to the public, a challenge that stemmed from any White House decision of this caliber.
Further, the decision- making process for this time-sensitive problem was becoming increasingly arduous due to the back-and-forth nature of the discussion. The president would need to begin providing answers rather than questions, and in turn, approve military action in a timely manner.
However, working on a strict timeline was not feasible for the military. "They already planned to protect Afghans, train the Afghan security forces, and help straighten out the Afghan government. The president was now saying all that had to be accomplished on a deadline. For the military brass, it is an axiom that war does not take place on anyone's schedule."
"A War With No Good Options"
President Obama, in a push to create more options in a war that was looking bleak, identified the possibility of a "transfer," which would involve the American presence becoming progressively hands-off while simultaneously empowering Afghan leaders. This was a sensitive and gradual process; the key to an effective approach would be the blending with local Afghan culture in lieu of imposition of Western democracy.
President Obama was finally beginning to show some confidence in a strategy because, in a war with finite resources, the possibility of turning over the security responsibility to the Afghans was appealing. He ultimately wanted to hand the reigns to the Afghans in a plan that would provide clear markers of progress.
LOCATION: Dover Air Force Base, Delaware
On October 28, President Obama traveled to Dover Air Force Base, where he would observe the arrival of 18 Americans killed in Afghanistan. Amidst a strategy review process in the White House, the tragedy reminded President Obama that his decisions had an impact with the weight that would be felt by members of the military and their families. He wanted to see for himself the solemn ceremony, he wanted to meet with the families of the fallen, and he wanted to get a grasp of how the situation was affecting Americans.
"I want to see how hard this is for them."

– President Obama
Following the ceremony, he flew back to the White House on a 45-minute flight that was completely silent.
The Power of Diction
While the administration crafted a strategy, it became clear that diction was far from minutia in the matter; the public perception of internal efforts was completely dependent on the way in which the administration and Pentagon would frame their options.
Secretary of Defense Gates expressed his aversion to the administration's use of the word "defeat" in reference to the Taliban. Because he saw complete defeat as a definite impossibility, he pushed for the use of "degrade" in its place. Further, he disagreed with the phrase "fully resourced counterinsurgency," making it clear that he believed the military would inevitably be forced to operate with limited resources.
Until this point, the goal may have been "to defeat and dismantle al Qaeda", but the objective targeting Afghanistan evolved to one that would place significantly less responsibility in the hands of the U.S. All would soon come to agree that their unified goal in Afghanistan was to "disrupt the Taliban, weaken them so that the Afghans can handle it."
Despite the progression of the conversation, controversy within the leadership would persist. U.S. ambassador to Afghanistan, Lieutenant General Karl Eikenberry, voiced his reservation that the current counterinsurgency strategy relied on a large infusion of U.S. forces, which would require substantial costs and "an indefinite large-scale U.S. military role" in Afghanistan.
Ultimately, a leadership that had been so emphatic about their desire to put the problem in the hands of an adequately capable Afghan military could end up deepening U.S. military involvement and inevitably increasing Afghan dependency. General Eikenberry firmly stood by his belief that the number of troops deployed was not correlated with ultimate success. General Eikenberry's claim was pivotal, essentially isolating the top American diplomat from the military while alienating his counterpart, General McChrystal.
"One of the essentials in counterinsurgency was cooperation between the civilian and military leadership. That had just been blown to pieces."

– Bob Woodward
It was recommended that McChrystal's plan for Afghan National Security forces be increased to 400,000, with a total of 240,000 for the army and 160,000 for the police. However, President Obama's request for evidence that the strategy was both necessary and feasible made it increasingly clear that he did not believe the Iraq model would fit the Afghanistan problem.
Despite resistant arguments against the increase in forces, General Petraeus and General McChrystal continued to defend the push for 400,000. They believed it was backed by necessity to create a training system including schools, buildings, recruiting teams, and personnel–to achieve a monumental goal of creating an entire sustainable infrastructure that would serve a country ridden with terrorism and conflict.
STRATEGY REVIEW MEETING KEY PLAYERS:
President Obama
Robert M. Gates, Secretary of Defense
General David H. Petraeus, U.S. Army; Commander, U.S. and NATO forces, Afghanistan
Admiral Michael G. Mullen, U.S. Navy; Chairman of the Joint Chiefs of Staff
General James L. Jones, U.S. Marine Corps, retired
General Jones implied a consensus goal "to deny the Taliban the ability to threaten to overthrow the Afghan state and provide safe haven to al Qaeda," rather than to defeat or destroy the Taliban. Jones wanted the military objectives to be limited to levels necessary for attaining the goal; however, President Obama stepped in and established a new goal as he saw it: to disrupt. He wanted to only degrade capacity to such an extent that security could be manageable by the ANSF, abandoning the unfeasible goal of defeating the Taliban entirely.
Further, Secretary Gates suggested an exit strategy to thin out U.S. forces in 18 to 24 months; this would provide the beginnings of the exit strategy that President Obama clearly wanted. Reflecting the final presentation of options, the following is taken from Woodward's account of the conversation:
Force Option 1: 85,000
The group agreed forces at this level were not available.
Force Option 2: 40,000
General McChrystal, General Petraeus, and the military felt this provided the best opportunity to protect the population.
Force Option 2A: 30,000 to 35,000 in an extended surge of 24 months
Per Secretary Gates's recommendation, this included three combat brigades, required a specific appeal to NATO for a fourth brigade, which would be held in abeyance, allowing Obama to decide on it in December 2010.
Hybrid option: 20,000
This would require two brigades to disrupt the Taliban with counterterrorism strikes and train the Afghan forces. Enthusiasm from Vice-Chairman Cartwright and Vice President Biden was met with opposition from General Petraeus, who understood from his experience in Iraq that counterterrorism cannot be achieved through infantry brigades.
The strategy review meeting revealed that a rift was growing between President Obama and the military. Although he kept pushing for more, he remained frustrated that the military's options evolved into multiple variations of what seemed like the same plan.
President Obama refused to choose an option which guaranteed that he would be leaving his successor to pick up the problem where he would leave off, but he would have to view that objective through a lens of feasibility and practicality advised by the military and General Petraeus, who had significant experience making sound decisions in Iraq during Bush's presidency.
"The President was looking to the military to provide much more than a way into Afghanistan. He also wanted to find a way out."

– Bob Woodward
After debate and pushback from the military, the President settled on Force Option 2A with 30,000, a push for a relatively short timeline, and a new willingness to deploy 3,000 more troops under exceptional circumstances. Further, he reiterated his aversion against McChrystal's original 2013 target of 400,000 Afghanistan security forces, instead opting for periodic progress checks in order to maintain an effective strategy and amend when necessary.
While making his decisions, the president was fully aware that he would directly counter military support for Force Option 2, and he defended his polarizing decision by emphasizing his refusal to support nation-building or a full counterinsurgency strategy. Now, more than ever, he proved to his advisers that he was unwilling to support an open-ended commitment to Afghanistan, and instead, would take material action in hopes of accelerating the exit.
Ultimately, the president's confidence was met with support from General Petraeus, who reminded others that this would require a unified effort–they would need to "link arms… and pull forward" in order to be effective and efficient. Although immense progress was made in strategy, President Obama would have to address the public about the decision in a speech that had the potential to cause political turmoil.
"If you can't sell it politically, you can't do it."

– General Jones
Months went by with continued apprehension regarding the timeline President Obama had imposed on the military. The passing of time would not indicate clear progress nor positive signals for the beginning of a U.S. transfer of troops from Afghanistan; conversations revealed that some of the lacking progress was largely rooted in the fact that Pakistan, owning the Taliban, held an unhealthy amount of leverage on the outcome of U.S. efforts.
Writing is a gateway to presence. And so much more! Start a book blog to pursue huge profits, enriching presence, meaningful work.
these tips
helped us earn $5,400+ in December 2018.
The Iraq Hero Comes to the Rescue
The administration's interplay with the public remained a powerful force. General McChrystal, in an article in Rolling Stone magazine, called President Obama's strategy review "painful," with a claim that he was "selling an unsellable position." Despite the efforts to recover from the massive political blunder, the issue became unsalvageable. President Obama accepted a resignation from McChrystal and moved to advocate for General Petraeus, who he believed "was the only person who fit the bill." In this pivotal change, the war would now be in the hands of General Petraeus.
"This is the single most important job that anyone in our military could be doing right now."

– President Obama
Throughout the making of Obama's Wars, Woodward pieced together information from transcripts, meeting notes, memos, reports, diaries, letters, and interviews to report a behind-the-scenes account of the president's strategy decision. Ultimately, a personal interview with President Obama would provide the last piece of the puzzle.
During the interview, President Obama explained what shaped his perception in making his ultimate counterinsurgency decisions portrayed through Woodward's novel. The way he views the relationship between civilian leadership and the military differs from that of prior presidents because he grew up in a vastly different time.
Being the first post-war president young enough that the Vietnam War was not a core element of his development, President Obama grew up without the "baggage" that arose from the Vietnam dispute, and in result, had confidence in the civilian leadership's interplay with the military. He explained that he is neither intimidated by the military nor believes they were somehow trying to undermine his role as commander in chief, which led to his confidence in the system.
Moments before parting ways, President Obama prompted Woodward to read his Nobel Prize acceptance speech, shedding light on perhaps the most important aspect of the military campaign: the humanity of it all.
LOCATION: Oslo City Hall
DATE: December 10, 2009
KEY PLAYER: President Obama
"The instruments of war do have a role to play in preserving the peace. And yet this truth must coexist with another–that no matter how justified, war promises human tragedy. The soldier's courage and sacrifice is full of glory, expressing devotion to country, to cause, to comrades in arms. But war itself is never glorious, and we must never trumpet it as such. So part of our challenge is reconciling these two seemingly irreconcilable truths–that war is sometimes necessary and war at some level is an expression of human folly."
HookedtoBooks.com would like to thank the
Titans of Investing
for allowing us to publish this content. Titans is a student organization founded by
Britt Harris
. Learn more about the organization and the man behind it by clicking either of these links.
Britt always taught us Titans that Wisdom is Cheap, and the principal can find treasure troves of the good stuff in books. We hope only will also express their thanks to the Titans if the book review brought wisdom into their lives.