It is a truth universally acknowledged that love stories in books are a lot more magical than in real life. This is true especially if you are a teen without a magic sword, a stolen kingdom or a particularly sassy love interest; one who may or may not be able to shape-shift into a cat.
Books have set the bar high. Usually, our teen years are filled with homework and tangled headphone cords and toast crumbs, making it quite hard to find the ultimate OTP.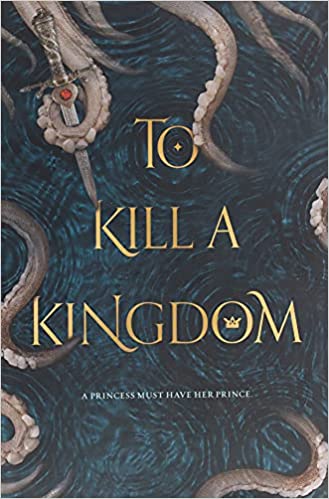 Our #1 Recommended Romance Book for Teens
Alexandra Christo's bestselling To Kill a Kingdom follows the story of Princess Lira, a lethal siren who is revered across the oceans, and the handsome Prince Elian, who is tasked with hunting her down and destroying siren-kind for good.
*We earn a commission if you make a purchase, at no additional cost to you.
Options for whimsical romances dwindled during my teen years — when all the available options in my class became obsessed with country music while I desperately untangled aforementioned headphones to block out that horror.
So when does real life love-interest prospects look bleak? It's time to turn to the ones who will never fail you: books.
Best Romance Books for Teens
There is no shame in longing for a good love story!
We are allowed to be perfectly sappy whenever we wish. We should even be proud of it.
Love stories can be emotional and inspirational. Literary couples often withstand the eras and become universally known: like Romeo and Juliet, Elizabeth and Mr. Darcy, Katniss and Peeta.
Not sure where to start when looking for Young Adult romance books for teens? Allow me to present you with a list of 30 recommendations.
Enemies To Lovers
The best teen romance books are the angsty ones, where the characters are fire and ice together.
You have no idea if it's going to end in kissing or murder. That keeps it exciting.
1. To Kill A Kingdom by Alexandra Christo
Here are the swashbuckling siren and pirate adventure you've been secretly longing for. Cue a romance full of snark and literal stabbing, as Prince Elian goes from being a siren-hunter to falling in love with the siren, Lira. But does she love him back or is she just waiting to eat his heart?
2. The Cruel Prince by Holly Black
Possibly one of the most famous enemies-to-lovers duos currently trending in the YA community, this story is about fae Prince Cardan and his rivalry with the human Jude.
Jude refuses to be walked on, and Cardan is hiding the truth behind why he acts so terrible. They hate each other with an intensity that turns into obsession.
But is it genuinely hate?
3. An Enchantment of Ravens by Margaret Rogerson
Enter the faerie world where humans make art and the fae lords steal it. Isobel is an artist who dares to paint a realistic portrait of the Autumn Prince, capturing his sadness.
Insulted, he takes her back to his Autumn Court for justice, but the perils of their journey drive them closer.
I am obsessed with fantasy books that capture the wit, magic, and an exciting plot, while working in the romance between two who refuse to admit their feelings. Chemistry!
4. Blood Red Road by Moira Young
Prepare to topple into a dystopian world of dust and devastation as we follow the journey of Saba as she goes off to rescue her kidnapped brother and reunite her family.
She's an unforgiving girl, hard as iron, and she can handle this dangerous mission alone… except Jack invites himself along regardless. These two fight like nothing else, but they make a most incredible team.
The romantic tension is off the charts!
5. Spin The Dawn by Elizabeth Lim
Not only is this a Mulan retelling, but it features two characters who have no trust for each other until they're forced on a journey to collect materials to make dresses for the future — Empress out of the sun, moon, and stars.
It's an impossible task and Maia is sure she'll strangle the smooth-talking, arrogant Edan before they get there. Or maybe kiss him!
6. The Love Interest by Cale Dietrich
Everyone knows the YA cliché where two boys fall for the same girl… but what if they were spies and this was their mission? Whoever fails, gets terminated.
Cardan and Dylan are working hard to make their target girl fall in love with them, but they end up falling for each other.
Cutest Romcoms
Let's not forget the good old traditional rom-com! We're here for the cuteness, the comedy, and the blushing delight that comes from your first crush. These books tend to make you softly squee inside.
7. To All The Boys I've Loved Before by Jenny Han
Lara Jean writes letters she never sends to the boys she has a crush on. But then the letters get accidentally posted, and all her sappy romantic soliloquies are out in the world to embarrass her.
This story is adorably cute! It has the fake-dating trope with a childhood sweetheart and a good amount of cakes. This is the rom-com that is so soft and sweet and will make your heart flutter.
8. Heartstopper Vol 1 by Alice Oseman
This is a graphic novel about Charlie (gay, Slytherin, anxious) and Nick (cheerful golden boy, rugby player) and how their unlikely friendship may turn into something more.
If you're looking for cute, this is even cuter than that. The art is simply adorable, and it captures so many feels about coming to terms with your sexuality too.
9. When Dimple Met Rishi by Sandhya Menon
Dimple Shah's focus is building a career as a web developer, not being forced into an arranged marriage by her traditional Indian parents. Then she meets Rishi, who is an adorkable romantic at heart, he's not what she expected.
This one was addictive, adorable, and so engaging as it both challenged and respected traditions.
10. A Quiet Kind of Thunder by Sara Bernard
Steffi has selective mutism, and Rhys is deaf, making them the only two at their school who can communicate with sign language. They both resent being forced together, but then they can't get enough of each other's company.
This one will make you go heart-eyes with the sheer level of softness between these two teens as they balance their disabilities and school workload and the tentative beginnings of love.
11. A Taxonomy Of Love by Rachael Allen
Spencer and Hope were childhood friends before tragedy struck Hope's life and she moved away. Now she's back, and Spencer is giddy in love with her, but she barely looks at him.
He's worried she was going to shun him because of his Tourette's, but they were so close as kids, so can he win her back? Spener and Hope's relationship is fraught with angst and passion and coldness as they work through their struggles with depression and Tourette's.
12. Emergency Contact by Mary H.K. Choi
Sam and Penny are struggling with college, with anxiety, with family and past choices that come back to haunt them. They meet in a coffee shop and offer to be each other's emergency contacts.
It was meant to be a joke, but maybe they need each other more than they'll admit. You will fall in love with these two and their heartaches and intense feelings.
The amount of delicious pastries involved also helps, not to mention the hilarious quips.
13. The Art of Feeling by Laura Tims
After a car accident that broke her lugs, Sam is in constant pain, and Eliot has a condition where he can't feel pain at all. Sam is withdrawn, and Eliot is reckless, and somehow, they end up taking care of each other.
Honestly, this book will break your heart and also make you laugh your head off with the level of quality banter.
LGBT Teen Romances
In a society where being straight is still assumed and two girls holding hands are probably "just really good friends," it's doubly important to have good LGBT romances for young adults on our reading lists. Love is love!
14. Autoboyography by Christina Lauren
Tanner is bi and proud and also struggling to write a book for his high school class.
The class tutor is the adorable Sebastian who Tanner is struggling not to crush on since he can't date straight guys or Mormons and… isn't Sebastian both? Or maybe he's hiding things too.
When it comes to romances, I admit to loving it best when the book is split between sweetness and feels-crushing drama. This one fits that description perfectly.
15. What If It's Us by Becky Albertalli & Adam Silvera
Get ready for the #meetcute of the decade when Ben and Arthur happen to meet at a post office, and something sparks between them. But they don't exchange numbers, so will they find each other again?
Roll out a search, a series of failed dates, and recited Broadway plays and two boys who want to take a chance on love.
16. Ramona Blue by Julie Murphy
Life is anything but comfortable for Ramona who feels too tall, too poor, and too out of place. She's even unsure of her sexuality, is she bi, lesbian, queer?
Then her old childhood friend Freddie tumbles back into her life and Ramona isn't sure if she should chase these feelings or run from them. This story truly caught my heart with its questions about the fluidness of sexuality mixed with how it feels to grow into your identity.
17. Release by Patrick Ness
It's set over a period of 24 hours where Adam's life changes irrevocably as he meets up with his ex, gains a lover, confronts his homophobic family, and faces the biggest loss of his life.
It's such a personal and heartfelt story about deserving love. There's also a twist of magical realism to decode!
18. I Wish You All The Best by Mason Deaver
When Ben comes out as nonbinary to their parents, they're thrown out of the house. There begins a spiral of anxiety and depression that Ben can't control as they have to live with an estranged sister and go to a new school.
Then they meet Nathan; sunshiney, bubbly, and bi. And Nathan isn't taking "no" for an answer to being friends Ben… or maybe more.
This one is the cutest and most wholesome romance ever, but with the stark backdrop of trauma, some queer kids face. The story is a love letter to acceptance.
19. The Gentleman's Guide to Vice and Virtue by Mackenzie Lee
Henry "Monty" Montague is off for his last hurrah, a tour of the continent, before settling down to be trained as a lord. He's dreading it for a lot of reasons: an abusive father, no more chances to be free and reckless, and the loss of his best friend, Percy.
Who Monty can't admit he has feelings for, because their 1800s society forbids it. Prepare to spend an entire novel in stitches from their humorous escapades.
You'll root for them to get together despite the odds.
Romance Retellings
It's impossible to grow out of the magic and wonder of fairy tales! And luckily for us, YA is full of excellent renditions of our old favorites.
20. A Curse So Dark And Lonely by Brigid Kemmerer
This is Beauty And The Beast with twists you haven't had before! Rhen turns into a monster at the end of each season and systematically destroys his own magical country.
The trouble is, when Harper was kidnapped from the modern world to bring true love's kiss that will save him, she has zero interest in anything to do with Rhen but a lot of interest in rebuilding the kingdom. It's a retelling full of spice and determination.
Harper has cerebral palsy and a brave attitude, and Rhen has forgotten how to be charming. It's whimsical and also dark and keeps you guessing whether the retelling will follow the traditional route.
21. Heart of the Raven Prince by Tessonja Odette
In this retelling of the classic Cinderella story, Ember is desperate to be free from her oppressive stepmother's rule. In fact, she's so desperate to escape that she'll even pose as the arrogant Prince Franco's newest love interest.
But what begins as a convenient arrangement with a guy she can't stand slowly turns into something more, something that looks an awful lot like love.
22. Princess of Thorns by Stacey Jay
This is a retelling of Sleeping Beauty… but what if she was on a quest to rescue her stolen little brother?
She ends up forcibly entangled with a stuck-up prince on the journey. But all Princess Aurora and Niklaas' bickering may be covering up their feelings for each other.
This retelling is so full of sass and the most deliciously pointy banter! It's impossible not to ship these two.
23. The Wrath And The Dawn by Renee Ahdieh
It's a retelling of 1001 Arabian Nights, focusing on Shahrzad who is forced to marry a monster-boy king rumored to murder his brides each night. So she tells him a portion of a story, cutting off on a cliffhanger, so he has to let her live the night if he wants to hear the rest.
But perhaps the king is also captive by something darker. This is such a fantastic reimagining, dark and addictive, with plot twists and gorgeous Persian culture.
24. Geekerella by Ashley Poston
What if Cinderella was a geeky girl, in love with her fandom and suffering at home due to an abusive and dismissive step-mom?
What if she ran away to a convention and met the prince of her dreams: the boy playing Prince Carmindor of her favorite sci-fi TV series? But his life is not the dream everyone thinks it is either.
This is the absolute cutest retelling, putting the old fashioned Cinderella plotline into the modern world. Cue fandom culture, awkward meet-cutes, star-crossed lovers, and reclaiming power over your destiny!
25. Splintered by A.G. Howard
Enter the world of Wonderland, this time with Alice's descendant, Alyssa, who's scared that madness runs in her family…until she tumbles into Wonderland herself.
Her guide is a sassy, suave moth-turned-boy who might be hopelessly in love with her. But her best friend from next door, Jeb, will do anything to protect her.
It's a delicious culmination of whimsy, weirdness, and a love triangle that will keep you guessing.
26. Girls Made of Glass and Snow by Melissa Bashardoust
What if Snow White was re-imagined?
This one is split into two timelines, following Mina and Lynet, and the complicated story of snow and ice, betrayal and dark magic, that decides their destinies. It features a queer girl romance and tense rivalry between powerful queens.
About the Author
CG Drews is a YA book blogger with the goal to read every book in existence. She's aiming for immortality for this. When not reading, she writes novels and blogs at paperfury.com.